Found October 28, 2012 on isportsweb.com:
PLAYERS:
Jonathan Papelbon
,
Jeremy Horst
,
Phillippe Aumont
,
B.J. Rosenberg
,
Jake Diekman
,
Michael Schwimer
,
David Herndon
,
Antonio Bastardo
,
Josh Lindblom
,
John Mayberry
,
Kyle Kendrick
,
Justin De Fratus
TEAMS:
Philadelphia Phillies
,
Arizona Diamondbacks
,
Toronto Blue Jays
Beyond the centerfield gate, there will be youth, inexperience and Jonathan Papelbon for the Philadelphia Phillies.  What role has he played in their growth? TAL'S HANDY CAPS   WELCOME, NEWCOMERS: I published after every battle that was not washed out.  I had many summer-long highlights of puzzle pieces, which were especially important after drubbings and defeats.  Please go to my author archives or the Phillies page for my most recent coverage.  Scroll down to Tal's Handy Links at the bottom.  Thank you.   Check out:  Philadelphia Phillies storyline: Center field of attention Baseball-Fix Monday Schedule:   Events will dictate the number from 1 to 4 each for November and December. January to mid-February will be every other week, and it will be weekly after that until the year begins. This is a recent and updated article.  However, my 1st storyline for 2013 will be published on the evening of November 4. Only on a trial basis due to a strong response, the scheduled articles will be supplemented with special fill-ins between main postings, starting in next week.   TIMEFRAMEMAIN ARTICLESSUPPLEMENTS November & December1st Monday Of The MonthThe Other Mondays January To Mid-FebruaryAlternating Mondays From 1/7The Other Mondays Mid-February To AprilWeekly-----     Jeremy Horst Dials Up A 4-Seam Fastball In The 5th At The Bank On August 3 Against The Diamondbacks     3RD OCTOBER BASEBALL-FIX MONDAY         The March Battle:   For the 2nd half the green hurlers in the 'pen were, for the most part, promising. MLB coaching and the other pitchers' tips were a few reasons, while watching the aces work didn't hurt anything either. However, it may have been Cinco Ocho who had the biggest influence on them. He strongly desired the postseason, and he needed them to secure the outs from the starter until the 9th. The turnaround in the relief corps was a very pleasant surprise, but something happened for that emergence. Was it Papelbon? Phillippe Aumont Loads Up In The 8th At The Bank On September 11 Against The Fish     I have isolated their later performances in the table below, and each one found a measure of success. B.J. Rosenberg was a fit for the long-man slot, Jake Diekman was best as a lefty specialist, and the other five filled the frames from the 6th to the 8th. Michael Schwimer was solid before he had a balky wing, and Mike Stutes went down early in the campaign. In 2011, he was outstanding for his first 2 months, but was 50-50 after the league caught up with him. David Herndon was removed from the 40-man roster due to his arbitration eligibility, his July-targeted return and his depth-chart drop.   RELIEVERERASINCE GAMES LHP Antonio Bastardo0.64Aug. 2418 Total14 Good2 Okay2 Bad RHP Phillippe Aumont3.68Aug. 2318 *1143 LHP Jeremy Horst1.15June 2832 *2165 RHP Josh Lindblom2.84Aug. 29151005 RHP Justin De Fratus3.38 Sept. 313 *0832 RHP B.J. Rosenberg0.64Sept. 4080800 LHP Jake Diekman1.50Sept. 4090531 * Full MLB season stats Big John Crashes During The 6th, but notice the relievers' reactions from rookie to veteran On July 27 In Atlanta     The photo shows the tumbling John Mayberry Jr., but the bullpen reveals the experience-based reactions of the 4 relievers. Paps calmly watches the action, knowing it is a 5-1 losing effort in the 6th. Schwimer absorbs the situation, because the phone may ring at any moment with his name called. Kyle Kendrick appears oblivious, because he knows the developments are not headed in his direction. Diekman is the only one surprised by the play before him, and 5 days later he found himself in a Lehigh Valley uniform (AAA). The faces in that shot uncloak their career-path location at that time. Cinco Ocho and a free agent would handle the final 2 innings. The southpaw part of the 'pen equation is filled by Antonio Bastardo and Jeremy Horst. Recovering from his health issues, Stutes will probably have to open with the Triple-A IronPigs. Schwimer did not make an appearance anywhere after August 19, he complained about a sore arm, but his decline had begun a week earlier. His situation is in doubt also. Therefore, three seats will be up for grabs between Phillippe Aumont, Josh Lindblom, Justin De Fratus, Rosenberg (long man) and Diekman (lefty specialist). B.J. could be in the rotation for Lehigh Valley unless somebody stumbles or has a physical malady. Jake probably will need more seasoning unless there is a reason for a 3rd lefty or a temporary replacement. Antonio Bastardo Rears Back During The 7th On September 19 In Queens Every young stud in the relief corps has bounced back from difficult outings, and that assessment is courtesy of Papelbon. On the other hand, Rube Amaro knows that 5 of them could run into extended adversity. Of the 9 candidates for the 6 spots to precede Paps, Bastardo, Horst and a FA would fill half. Aumont, Horst, Lindblom and Schwimer (questionable readiness) have shown the most with the first 3 favored. However, Rosenberg has an excellent chance because he can work multiple frames. This is the one area where the competition is devoid of money or option concerns, which will produce the purest combat in camp.   Here Is A Ruf Clue Of The First 2013 Storyline For Next Monday LINK-UP BELOW: Tal's Handy Caps on Facebook is for notification of posts and any holdups that may occur. It might be worth your while because there are delays of 2 hours on most feeds. Check out my recent publication (The Lower Bar) and the 121 storylines for 2012 on the Phillies page, where there is an excerpt photo. Tal's Handy Stats is daily coverage. I alternated the 2012 ERA For The NL East and the 2012 ERA For The MLB 5. Thank you, to all who bookmarked my page. TAL'S HANDY LINKS   TAL'S HANDY CAPS on Facebook  Philadelphia Phillies storyline: Expectations 1 October after Phillies Tal Venada (Author Archives) Philadelphia Phillies: 2012 ERA for the NL East at final game 162 Philadelphia Phillies: 2012 ERA for the MLB 5 at final game 162  
Original Story:
http://feedproxy.google.com/~r/isport...
THE BACKYARD
BEST OF MAXIM
RELATED ARTICLES
If the Philadelphia region survives the onslaught from Hurricane Sandy, Carlos Ruiz will be the Phillies starting catcher in 2013. The team declined options on Ty Wigginton and Jose Contreras, opting to buy out their contracts. A similar fate is expected for Placido Polanco.  Juan Pierre and Brian Schneider were granted Free Agency. From the Phillies: the Phillies picked up the...
Diekman looked unhittable at times, and wild at others (Phoulballz) With a wicked lefty windup and a fastball that reaches 97 on the gun, Jake Diekman burst onto the scene as a possible eighth inning savior for a Phillies team that absolutely needed one. That good times didn't last for Diekman, but the young reliever showed enough promise that Phillies fans are, and should be...
According to the Philadelphia Inquirer's Bob Brookover, the Phillies have declined Placido Polanco's $5.5 million contract option for 2013.   They will instead pay a $1 million buyout to Polanco.  The oft-injured Polanco is no longer a sure bet.  It remains to be seen how healthy Polanco is or if he will seek playing again.   Polanco was perhaps most productive for the...
It has been just over 7 weeks since Philadelphia Phillies starting pitcher Vance Worley had elbow surgery to remove a loose body and bone spur. Worley has been working hard to rehab and is on track to be ready for Spring Training. Two days after his surgery on September 7th, Worley began running to get himself ready for 2013. Worley now is working out at Citizens Bank Park five...
The Phillies are making moves in the middle of Hurricane Sandy.  This is because the day after the World Series represents the first day of free agency.   Though not much of a surprise, the Phillies have declined their contract options for infielder Ty Wigginton and relief pitcher Jose Contreras, reports Phillies.com's Todd Zolecki.  Each player will get $500,000 to go away...
The Philadelphia Phillies exercised their $5 million team option on catcher Carlos Ruiz for next year, according to NBC Sports' Hardball Talk. Ruiz, 33, had career highs in batting average (.325), home runs (16) and OPS (.935) in 114 games. He will be eligible for free agency after next season.
Photo: Aerys Sports The calendar will soon turn to 2013, putting 2012 behind for good. The 2012 season was not one that Phillies fans will enjoy looking back on; the Phillies were plagued with injuries and finished with their worst record since 2002.  The Phillies had high expectations, but became sellers at the trade deadline and failed to make the postseason. 2012 did have some...
Photo: Philliedelphia/Lindsey Crew  The Phillies made another offseason move this morning. The club decided to pick up catcher Carlos Ruiz's club option worth $5 million. As MLB's Todd Zolecki worded it, there is "no surprise here". The 33 year-old catcher, who will turn 34 before the 2013 campaign starts, is coming off of a career-year in 2012. Despite missing...
According to Ryan Lawrence, the Phillies have exercised the 2013 option on Carlos Ruiz. The option is worth $5 million. Next year the Phillies look to turn things around, their catcher will be a key reason why they do.
It's another edition of our off-season league updates. Each week, we'll take a tour around the globe for a look at Phillies talents participating in various autumn and winter action. Venezuelan League- Shortstop Freddy Galvis (pictured, left) is batting .321 with two doubles, a triple and three home runs through 14 games with Zulia. The switch-hitter is just 2-for-16 (.125...
Cabrera's team may wrap-up a championship tonight but he is not on the roster. Would he fit with the 2013 Phillies? Photo: AP As his Giants look to wrap up a World Series sweep tonight without him, many within baseball are already speculating where Melky Cabrera will end up. Joel Sherman of the New York Post is reporting that the Giants, Mets, Yankees, and Phillies are among...
MLB News

Delivered to your inbox

You'll also receive Yardbarker's daily Top 10, featuring the best sports stories from around the web. Customize your newsletter to get articles on your favorite sports and teams. And the best part? It's free!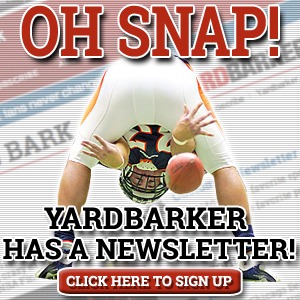 Latest Rumors
Best of Yardbarker

Today's Best Stuff

For Bloggers

Join the Yardbarker Network for more promotion, traffic, and money.

Company Info

Help

What is Yardbarker?

Yardbarker is the largest network of sports blogs and pro athlete blogs on the web. This site is the hub of the Yardbarker Network, where our editors and algorithms curate the best sports content from our network and beyond.