Piecing together a new group for tomorrow's Philadelphia Phillies begins with player 1 or Freddy Galvis. In other words, Dom Brown is facing a challenge from the defensive wizard who provides key hits aplenty. TAL'S HANDY CAPS WELCOME, NEWCOMERS: By design my articles represent a baseball man's thinking, the view from the dugout and the GM's box. Most fans do not consider the budget, prospects on the radar, the organization's weaknesses, the track record, the competition and the other intangibles. Please go to my author archives or Phillies page for my most recent coverage. Scroll down to Tal's Handy Links at the bottom. Thank you. Check out this complementary review: Philadelphia Phillies storyline: Designing the red pinstripes for tomorrow  The new summer schedule will allow me to publish the best 2-3 storylines each week, but there will be an updated calendar included with each feature:  These posts involve commentary, polls and stats for the upcoming 7 days. Post time is mostly 5 to 9 pm for the days listed below. May 27 to June 2 A wild-card feature will be published at times. Any schedule changes and holdups will be posted at Tal's Handy Caps on Facebook. BASEBALL FIX SCHEDULEFORMATTIMEFRAMEPUBLISHING StorylineNitecap InsightThur. & Sun.2-3 Times per Week Story-pollSuds or StudsMon. Once a Week NL East at Game 52 MLB 5 at Game 56Tal's Handy Stats (ERA)Tues. Sat.Twice a Week   Brown Scores during the 5th on May 24 in Washington.   NITECAP INSIGHT       The Next Leader: Sunset is coming for the self-described seedling: Jimmy Rollins, the first from 2001. Cornerstone members come in two types, which are those that develop after prolonged periods of losing or winning. The 1980 squad had a run of 8 campaigns from 1975 to 1982; however, 1983 was more like 1993. This 2008 team has contended from 2005 to 2013, which is 9 tours. Last season they made a strong push in the 2nd half that was short because of missing stars early on. Revere Records the 2nd Out during the 9th for Cliff Lee on May 22 in Miami. Mike Schmidt, Larry Bowa, Greg Luzinski and Steve Carlton captured the first championship of the franchise. Rollins was on the diamond for the red pinstripes before Chase Utley, Ryan Howard and Cole Hamels arrived. Both clubs experienced many defeats before learning how to triumph. Ergo, poor years lead to early draft picks, which is the reason Washington has Stephen Strasburg and Bryce Harper.   On their individual clubs, Schmidt, Rollins, Juan Pierre and Derek Jeter were the headman, which is not a predicable breed of athlete. This new crop of talent will follow a victorious era. Here are 5 regulars who are in the conversation: Brown, Galvis, Ben Revere, Darin Ruf and Cody Asche. The third sacker bats third at Triple-A Lehigh Valley, which is the best hitter's spot, and Ruf has many similarities to Howard. Revere is another Pierre, who was the central figure for the Marlins. However, Brown and Galvis are presently cementing themselves as the building block for tomorrow.   Current Statistics for the Starting 8 @ Philadelphia Phillies storyline: Designing the red pinstripes for tomorrow   Galvis Pilfers 2nd during the 6th on May 22 in Miami. The left fielder projects to 27 homeruns (8 at this time) and 84 RBI (25 for now). By comparison, Howard has 6 bombs, Utley has 7, and they each have 25 RBI. On the other hand, Galvis is a Rollins-like spark plug who could star at second, short or third. He is the 9th starter but that is only a temporary situation for this summer.   Although the general manager drew the blueprints around Brown, Galvis may prove to be future core leader.   Phillies e-mail notification: Email Notifications   LINK-UP BELOW: A link for Phillies e-mail notification is provided above and below. Any schedule changes and holdups that may occur will be posted at Tal's Handy Caps on Facebook. This is the 37th storyline for 2013. Check out my recent publication (The Baby Phillies) on the Phillies page or my author archives, where there is an excerpt photo. Also, my new feature is Story-poll. The last one was (The Early Returns). I will periodically publish the 2013 ERA for the NL East and the MLB 5. Thank you, to all who bookmarked my page. TAL'S HANDY LINKS   Email Notifications TAL'S HANDY CAPS on Facebook  Philadelphia Phillies storyline: Designing the red pinstripes for tomorrow (The Baby Phillies) Philadelphia Phillies story-poll: Suds or studs, trades and decisions (The Early Returns) Philadelphia Phillies: 2013 ERA for the MLB 5 at game 47 Philadelphia Phillies: 2013 ERA for the NL East at game 41 Phillies Tal Venada (Author Archives)
Original Story:
http://feedproxy.google.com/~r/isport...
MORE FROM YARDBARKER
Phillies News

Delivered to your inbox

You'll also receive Yardbarker's daily Top 10, featuring the best sports stories from around the web. Customize your newsletter to get articles on your favorite sports and teams. And the best part? It's free!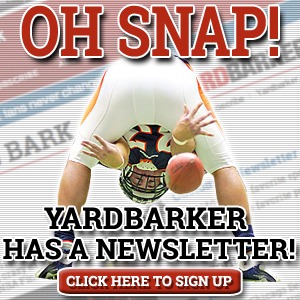 Latest Rumors
Best of Yardbarker

Today's Best Stuff

For Bloggers

Join the Yardbarker Network for more promotion, traffic, and money.

Company Info

Help

What is Yardbarker?

Yardbarker is the largest network of sports blogs and pro athlete blogs on the web. This site is the hub of the Yardbarker Network, where our editors and algorithms curate the best sports content from our network and beyond.