Found December 28, 2012 on isportsweb.com:
The final roster spot for the Philadelphia Phillies could affect Darin Ruf personally. Will this be decided even before day 1 of training camp?   TAL'S HANDY CAPS WELCOME, NEWCOMERS: My articles are designed to represent a baseball man's thinking, the view from the dugout and the GM's box. Most fans do not consider the budget, prospects on the radar, the stick-glove-or-power requirements, the track record, the competition and the other intangibles. Please go to my author archives or Phillies page for my most recent coverage. Scroll down to Tal's Handy Links at the bottom. Thank you.   Check out:  Philadelphia Phillies storyline: Manuel is relieved   Baseball-Fix Schedule When the stove is hot, I will continue the process of the previous Monday's approach, if appropriate.  For early birds Sunday evening is post time. Due to a strong response and a complicated off-season, my reviews will be weekly until spring training ends. The new summer schedule will allow me to publish the best 3 storylines each week, but there will be an updated calendar included with each feature:  Posts involving commentary, polls and stats will be listed for the upcoming 7 days.  This review is updated (2nd posting). TIMEFRAMEFORMATPUBLISHING December to AprilBaseball-Fix MondayWeekly December to AprilSuds or Studs2-4 Times a Month April to Season's EndNitecap Insight3 Times a Week April to Season's EndSuds or Studs2 Times per 10 Days April to Season's EndTal's Handy Stats2 Times per 10 Days     Ruf Enjoys his 1st MLB Homerun in the 2nd at the Bank on September 25 against the Nats   4TH DECEMBER  BASEBALL-FIX MONDAY          The Moving Parts:   The Phils could not close a $1 million gap to sign a 22-homerun hitter, and will consider Dom Brown and Ruf in platoon roles.  Meanwhile, the finances have become slightly more complex, because John Lannan has $2.5 million in incentives. The brain trust usually sets aside $3 million for achieved inducements, and $1.3 million of Lannan's agreement is within his norm. After bringing Ben Revere and Michael Young aboard, Rube Amaro had approximately $17 million for 3 players. He appropriated $6 million for a big-splash reliever to set up Jonathan Papelbon. Then, he calculated $7 million for a right-handed bat with pop, leaving $4 million to plug the bottom of the rotation. Outfield economics: A trade offer was made for Josh Willingham and his $7 million annual paycheck. The proposal to Ichiro Suzuki was for $7 million yearly. A similar amount to Cody Ross for his services was probably on the table.   John Lannan Dials Up a 4-Seam Fastball on September 12 in Queens If Lannan makes 32 appearances and toils for 180 innings, he will earn $3.8 million. He made 30 starts, including Triple A, last year and 33 in 2011. He fired 181.1 frames in 2012 and 184.2 total for '11. That equals $1.3 million additional to be set aside for incentives. That stated, Cole Hamels appeared in 31 games for the top mark ('12) on the 5-man staff. The reason that Suzuki was tendered a 2-season, $7 million offer was that run production can also be achieved with doubles.  Patience is the only virtue with this $7 million ceiling.  Amaro will not and cannot go north of $7 million (average annual value) for 2013. After Ross was acquired by Arizona, it separated the expensive from the affordable talent. Michael Bourne and a few others occupy the sphere that is above the $7 million demarcation. However, Scott Hairston and Vernon Wells are not the answer either.   $178M Maximum Before The Luxury Tax: NOTE:  Click entries button to open more than the visible 10. (Revised as of 12/27) DOLLARSALLOCATIONPLAYERS $72.14MCore FourRollins, Utley, Howard & Hamels $56.50M2 Aces & the CloserHalladay, Lee & Papelbon $06.25M2 StartersKendrick & Lannan $12.00M4 RegularsC Ruiz, 3B Young, CF Revere & LF Brown $03.60MBenchMayberry, Nix, Kratz, Frandsen & Galvis $08.10M4 Bullpen SeatsAdams, Bastardo, Aumont & Horst $01.00M2 Bullpen SlotsRosenberg, De Fratus or Schwimer (plus Stutes, if Healthy) $09.30MSet Aside$5M (Trading Deadline), $3M (Achieved Incentives & Injury Replacements) & $1.3M (Lannan's Incentives) $02.00MBuyoutsPolanco, Contreras & Wigginton $170.89MTOTAL24 Roster Spots $07.11M1 PositionA Corner Outfielder     Dom Brown Homers in the 7th on September 17 in Queens It now comes down to Brown and Laynce Nix against right-handed pitchers. Against the southpaws, there are Ruf, John Mayberry Jr., Hairston or Wells. Two of those right-swinging sticks could be flanking Revere. Unless there is something in the scouting reports that explains an interest, Hairston and Wells are not an improvement over Ruf or Mayberry. Hairston wants 2 tours at $5 million each, while the Halos will probably expect $8 million in relief over 2 summers for Wells. The next step is to search for bargains before Clearwater dominates our consciousness. Last year Ryan Madson was procured at that time. After that there will be the extra outfielders who become available when rosters are pruned to 25. This is where the $7 million enters the picture, if it is necessary. Brown was going to be the left-side hitter in a platoon with Mayberry, if Ross was inked. However, Ruf–who is taking this situation seriously–will probably get a full shot with the blessing of management. At this point his performance during March will prominently figure into the equation, and Charlie Manuel has been noticeably anxious to witness that development.   LINK-UP BELOW: A link for specific email notification is provided below. Any holdups that may occur will be posted at Tal's Handy Caps on Facebook. This is the 8th storyline for 2013. Check out my recent publication (Next on the Docket) on the Phillies page or my author archives, where there is an excerpt photo. Also, my new feature is Suds or Studs.  I will periodically publish the 2013 ERA for the NL East and the 2013 ERA for the MLB 5. Thank you, to all who bookmarked my page. TAL'S HANDY LINKS   Email Notifications TAL'S HANDY CAPS on Facebook  Philadelphia Phillies storyline: The GM's creative juggling ahead Philadelphia Phillies news: Suds or studs, the boss Phillies Tal Venada (Author Archives) Philadelphia Phillies: 2012 ERA for the NL East at final game 162 Philadelphia Phillies: 2012 ERA for the MLB 5 at final game 162  
Original Story:
http://feedproxy.google.com/~r/isport...
THE BACKYARD
BEST OF MAXIM
RELATED ARTICLES
Not only have I, a young-at-heart 56-year old Pennsylvania native who has lived in California for the last 33 years of my life, grown up listening to, watching, reading about and talking about the Phillies, but so did my mother and her mother before her – all Philadelphia natives (go Richie Ashburn!). I truly look forward to watching the Phillies game every day (I must do that...
Chase Utley is a fan favorite in Philadelphia. What Phillies fan doesn't love him? He is gritty, plays the game hard, and has come up huge in the clutch throughout his career. At 34 though, he is no longer the middle of the lineup threat that he once was and the Phillies need alter their plans and find a new hitter for the number 3 spot for 2013. Utley's production has seen a...
When Philadelphia Phillies general manager Ruben Amaro Jr. suggested a few weeks ago that he would be comfortable going with a "double platoon" situation in both corner outfield spots, there were a few people who snickered and thought it was a bluff. But with Nick Swisher and Cody Ross now off the board as free agents and the trade market appearing to dry up, Amaro may...
The Phillies made something of an effort to sign B.J. Upton and pushed hard for Angel Pagan before trading Vance Worley and Trevor May to the Twins for Ben Revere. The move gave them a young, cost-controlled centerfielder who plays excellent defense and offers top-notch baserunning. He probably isn't a finished product yet either, which lends credence to the belief that he...
We were told that Mike Adams likes Bo Jackson and therefore was going to wear #16. The Phillies official roster lists Adams as #16. However, I am hearing now that Adams has worked out a deal with reliever Antonio Bastardo to get jersey number 37 from Bastardo. This marks the...
Bill Baer of Crashburn Alley wrote today of the Phillies optimum use of Domonic Brown: either give him 600 PA or trade him before he either loses his trade value or he becomes too expensive through the arbitration process. Brown, who has only 492 MLB PA, less than a full year's worth, is entering his age 25 season with what appears to be the inside track on the starting right...
The Tampa Bay Rays were in town on June 23 for an interleague series with the Phillies.  The ending to the game would go down as the arguably the most memorable finish to a Phillies game in 2012. The Phillies had a comfortable 6-4 lead heading into the top of the ninth inning.  With Jonathan Papelbon on the mound, there was plenty of confidence that the Phillies would get the victory...
Left-handed pitcher Austin Wright has been a fast rising performer since he was selected by the Phillies in the 8th round of the 2011 draft, out of the University of Mississippi. In his first season of pro ball that year, the 6-foot-4 235-pounder tallied a 4-3 record with a 3.03 ERA and an 11.2 K/9 mark combined with short-season A level Williamsport and Class A Lakewood. In 2012...
Baseball players love to play pranks on each other, but this prank set up by Brett Myers on Kyle Kendrick kind of goes over the edge.  Charlie Manuel and Ruben Amaro Jr. are in on the prank as Kendrick is told that he's been traded to a Japanese baseball team.  
Relaford was a top prospect with the Mariners. He was replaced by an even higher regarded prospect in Rollins. We continue our series of exploring the careers of the guys who were replaced by our favorites by taking a look at Desi Relaford, who was replaced by Jimmy Rollins. The Hero Sitting fourth all-time in franchise history in hits (only 210 behind first place Mike Schmidt...
The Phillies after missing out on some big name free agents are beginning to shape up well, sort of average on paper. The way it looks now the Phillies are pinning their hopes on Howard and Utley to have bounce back years. While this is certainly plausible, "hope" is not very inspiring. It is all in the numbers and if we take a look at the projected lineup for this coming season...
MLB News

Delivered to your inbox

You'll also receive Yardbarker's daily Top 10, featuring the best sports stories from around the web. Customize your newsletter to get articles on your favorite sports and teams. And the best part? It's free!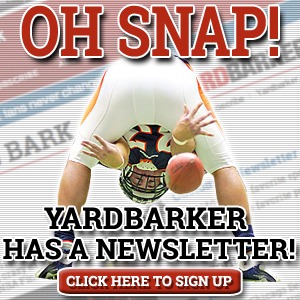 Latest Rumors
Best of Yardbarker

Today's Best Stuff

For Bloggers

Join the Yardbarker Network for more promotion, traffic, and money.

Company Info

Help

What is Yardbarker?

Yardbarker is the largest network of sports blogs and pro athlete blogs on the web. This site is the hub of the Yardbarker Network, where our editors and algorithms curate the best sports content from our network and beyond.