Found April 22, 2012 on Midwest Sports Fans:
Going into their West Coast road trip, the White Sox were at .500 and had their sights set on one thing: winning each of the series that they play in. After they won Friday night's game behind Adam Dunn's strong performance, they could secure the upper hand in the first series by notching a win Saturday afternoon. Luckily for the Sox, their number 5 pitcher Phillip Humber was taking the mound. Humber dominated, becoming the 21st pitcher to throw a perfect game in MLB history. His performance was highlighted by being able to keep his pitch count under 100 (96) and retiring nine batters via the strikeout. The former first round draft pick by the New York Mets has struggled to live up to his potential overall for the first several years of his career, but he seems to have found a comfortable home on the south side of Chicago. Humber carried a solid 3.75 ERA in his breakout season of 2011. Photo courtesy Keith Allison via Wikimedia After having his first start of the year skipped due to a postponement in Cleveland, he was plenty ready to get his first opportunity on the hill this past Monday. It was a battle for Humber, but he pitched well, only letting up 1 ER through 5.1 innings. After that game, I posted about how performances like that would be great to get on a consistent basis from our back-end of the rotation guy. I never imagined that he'd be the guy to give the White Sox what just may be the spark they needed. Now at 8-6, the Sox are going for the sweep in Seattle today. There's no doubt that after being able to celebrate as a team on the field, they have as much momentum as a team can have in mid-April. While it was great to see them out there celebrating, we now just need to hope that sort of occasion becomes a pattern for our White Sox; not perfect games becoming a pattern per say, but that type of positive, upbeat atmosphere is what we need to see from a squad that is trying to shock the masses. Going forward, the White Sox need to capitalize on this momentum. It would be easy for me to say that they have to put this exciting experience in the back of their minds and try to not think of it very often, but for a team that needs to keep the veterans fresh while sparking the youngsters at the same time, I think a perfect game and post-game celebration was exactly what they needed. The first person to attack Humber on the field after the 27th hitter was retired was veteran Jake Peavy. We need the older guys' like him to stay fresh and excited, and it's small things like watching him sprint to celebrate with his teammate that tells me he is indeed in that right state of mind. And it's worth noting that youngsters like Chris Sale were not far behind Peavy in joining the celebration. Now obviously, the Sox aren't the type of team that is poised to dominate at many points in the season, but having your number 5 pitcher throw a perfect game is a great boost of confidence because it reminds you of the great pitching depth you have, and that there are guys from top to bottom that can pick up their teammates. And while the Sox may not have the best rotation, bullpen, or lineup on paper, they are all units that are still very formidable and can shine through to surprise people if many of the players can live up to their potential, just like Humber did on Saturday afternoon. All in all, Humber's performance can be summed up with one word….MERCY! ***** Follow all of Zach's musings on the White Sox at GrabSomeBench.com and follow him on Twitter at @Grab_Some_Bench.
Original Story:
http://www.midwestsportsfans.com/2012...
THE BACKYARD
BEST OF MAXIM
RELATED ARTICLES
Over the weekend, Philip Humber had the game of his life, throwing the 21st perfect game in baseball history against the Seattle Mariners. While the Mariners have a lousy offense and Safeco Field is a fantastic place to pitch, those factors shouldn't diminish what Humber accomplished. A lot of good pitchers have faced a lot of lousy offenses over the years, and only 20 men before...
Philip Humber pitched the 21st perfect game in the history of Major League Baseball on Saturday, and on Thursday, the Red Sox will likely get to face him in Chicago. The Red Sox, 4-10 on the season after blowing a 9-0 lead to the Yankees on Saturday, travel to Minnesota on Monday and Chicago on Thursday. If Humber pitches on five days' rest, he would host the Red Sox at U.S....
Before Philip Humber, there was Lee Richmond. Humber on Saturday became the 21st pitcher in major league history to throw a perfect game, blanking the Mariners at Safeco Field in Seattle. Baseball's first perfect game, however, took place about 50 miles from Fenway Park. Lee Richmond tossed the first perfect game in baseball history in Worcester, Mass., on June 20, 1880. Richmond...
PERFECTION! We all know the Seattle Mariners are starved for offense, well today the Chicago White Sox Philip Humber made them pay. He pitched a perfect game against the Mariners IN Seattle. The game's pitching matchup featured, Humber (0-0, 1.69 ERA) vs. Mariners RH Blake Beavan (1-1, 2.70 ERA). Humber a 29 year old out of Nacogdoches, Texas first drafted by the Mets will...
Philip Humber of the Chicago White Sox threw a perfect game against the Seattle Mariners yesterday. Throwing into debate the definition of the word perfect. Every time you check your email, think... Full story at Bob's Blitz ~ http://www.bobsblitz.com
On the plane trip to Seattle, I'm sure no one expected this. Philip Humber, of the Chicago White Sox, took the mound Saturday afternoon and totally blanked the Seattle Mariners. PERFECT GAME!!! This is the first no-hitter of the season and the first perfect game since Roy Halladay threw one on 5/29/10. Humber throws the 21st perfect game in MLB History!
A no-hitter is one of the toughest feats in all of sports. A perfect game is even harder to accomplish. Chicago White Sox starter Philip Humber managed to toss a perfect game on Saturday, though. He threw 96 pitches and struck out nine batters in a 4-0 victory over the Seattle Mariners at Safeco Field. Humber is the 21st pitcher in major league history to pitch a perfect game. He...
Phillip Humber Welcome to the week-four waiver wire! As many of you may know, I've recently married the woman of my dreams. It was perfect. Our families happily joined us to witness the commitment we were making to each other, at Stone Brewery! All of our guests were able to enjoy beautiful weather, great food and some of the best beers on the planet. Like I...
The Beantown Breakdown, why I'm not so excited about Philip Humber, and my stance on replay. Plus, NHL playoffs and my opinions of NCAA transfers and The Player Formerly Known as Artest. The Dovid Dobin Show 4/23/2012
PHILIP HUMBER: Nice thing for a nice guy. Add Phil Humber to the list of ex-Mets to throw a no-hitter. Tom Seaver, Nolan Ryan seven times, David Cone and Dwight Gooden. Meanwhile, the Mets' franchise doesn't have any. I liked dealing with Humber when he was with the Mets. He was always pleasant to speak with and had a good sense of humor. At the time, I was happy for him when...
Episode 170 Managing editor Dave Cameron makes his weekly appearance on FanGraphs Audio. Topics discussed: Philip Humber's success, and Don Cooper's role in it; the SI.com Power Rankings (fueled by FanGraphs WAR), the benefits and limitations of such an exercise; and the new site feature called FanGraphs Guts! and what it tells us about the majors' current scoring levels. Don't...
This week had many great performances, and I was going to choose New York Yankees center fielder Curtis Granderson's three home run game against the Minnesota Twins. Then, there was the Yankees nine-run comeback against the Red Sox on Saturday. However, Philip Humber gets the nod with his perfect game against the Seattle Mariners. 1
MLB News

Delivered to your inbox

You'll also receive Yardbarker's daily Top 10, featuring the best sports stories from around the web. Customize your newsletter to get articles on your favorite sports and teams. And the best part? It's free!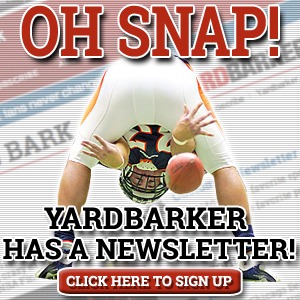 Latest Rumors
Best of Yardbarker

Today's Best Stuff

For Bloggers

Join the Yardbarker Network for more promotion, traffic, and money.

Company Info

Help

What is Yardbarker?

Yardbarker is the largest network of sports blogs and pro athlete blogs on the web. This site is the hub of the Yardbarker Network, where our editors and algorithms curate the best sports content from our network and beyond.