Found May 19, 2012 on Buzz On Broad:
PLAYERS:
Pat Burrell
,
Chase Utley
,
Joe Blanton
,
Vicente Padilla
,
Ryan Sweeney
,
Carlos Ruiz
,
Ken Rosenthal
,
Jon Lester
,
Raul Valdes
,
Joe Savery
,
Rich Hill
,
Alfredo Aceves
,
Jose Contreras
,
Mike Aviles
,
Daniel Nava
,
Shane Victorino
,
John Mayberry
,
Will Middlebrooks
,
Jarrod Saltalamacchia
,
Hector Luna
,
Freddy Galvis
,
David Ortiz
,
Dustin Pedroia
,
Jimmy Rollins
,
Ty Wigginton
,
Josh Beckett
,
Cliff Lee
TEAMS:
San Francisco Giants
,
Boston Red Sox
,
Philadelphia Phillies
,
New York Mets
Final: Red Sox 7, Phillies 5.  WP: Lester (3-3, 3.95) LP: Blanton (4-4, 3.74) SV: Aceves (9)
Pat Burrell walked into the friendly confines of Citizens Bank Park Saturday evening and said his final goodbyes before officially retiring as a Philadelphia Phillie.  His 251 homeruns with the Phillies ranks 4th in franchise-history.
Burrell threw out the first pitch prior to the second game of the home interleague-series against the Boston Red Sox.  His former teammate, Chase Utley, caught his pitch from slightly below the mound as the scoreboard relieved moments from the 2008 championship parade.
"I don't miss playing," Burrell said. "I miss a lot of the baseball part of it, but the playing part I don't because it got to the point where I just couldn't do it with my foot. … I miss seeing the guys."
The Phillies entered the game with a season-best six-game winning streak.  Over that span, they had outscored their opponents 35 to 19, as their pitching staff posted a 2.95 ERA holding their opponents to a .217 batting average.  The offense was just as appealing during that stretch, batting .291 with 9 HR and 5.8 runs per game.
While the offense continued to produce tonight, the starting pitching unforunately faltered.  In 4.1 innings pitched, Joe Blanton allowed nine hits, six earned runs, and four home runs to the opposition.  Per CSNPhilly's Reuben Frank, Blanton is the first Phillies starter to allow four home runs in less than five innings since Vicente Padilla vs. the New York Mets on April 5, 2005.
The Phillies had a rally going in the bottom the 7th down 7-4, but an amazing diving catch by center fielder Ryan Sweeney robbed Carlos Ruiz of getting a multi-RBI XBH.  The offense produced another rally in the 8th, with Rollins hitting an infield RBI-single to close the deficit to two runs, but nothing else came about from it.
With the defeat, the Phillies' all-time interleague record falls to (116-136).
Check out the Phillie Phanatic in the video below hanging out with FOX's Ken Rosenthal. Future successor to Gregg Murphy, perhaps?
Attendance: 45,656 (224th consecutive regular-season sellout).
Starting Pitching Summary:
Jon Lester: 6.0 IP, 8 H, 4 R, 4 ER, 1 BB, 3 SO, 1 HR, 3.95 ERA
Joe Blanton: 4.1 IP, 9 H, 7 R, 6 ER, 0 BB, 4 SO, 4 HR, 3.74 ERA

In the 'Pen:
Raul Valdes (5th, 6th): 1.2 IP, 1 H, 0 R, 0 ER, 0 BB, 2 SO, 0 HR, 0.00 ERA

Joe Savery (7th, 8th):

 2.0 IP, 1 H, 0 R, 0 ER, 0 BB, 1 SO, 0 HR, 3.60 ERA

Vicente Padilla (7th, 8th): 1.1 IP, 4 H, 1 R, 1 ER, 0 BB, 1 SO, 0 HR, 5.71 ERA

Rich Hill (8th): 0.1 IP, 0 H, 0 R, 0 ER, 0 BB, 0 SO, 0 HR, 1.08 ERA

Alfredo Aceves (8th, 9th): 1.1 IP, 1 H, 0 R, 0 ER, 1 BB, 0 SO, 0 HR, 5.19 ERA

Jose Contreras (9th): 1 IP, 0 H, 0 R, 0 ER, 0 BB, 1 SO, 0 HR, 7.20 ERA

Scoring Summary:
Top of the 1st (Red Sox 1, Phillies 0): Mike Aviles homers (7) on a fly ball to left center.
Top of the 2nd (Red Sox 2, Phillies 0): Daniel Nava reaches on missed catch error by pitcher Joe Blanton. Jarrod Saltalamachhia scores.
Top of the 2nd (Red Sox 3, Phillies 0): Jon Lester grounds into a double play. Ryan Sweeney scores.
Bottom of the 3rd (Red Sox 3, Phillies 1): Shane Victorino doubles (6) on a sharp line drive to left fielder Daniel Nava. John Mayberry scores.
Top of the 4th (Red Sox 4, Phillies 1): Will Middlebrooks homers (5) on a fly ball to right center field.
Top of the 4th (Red Sox 5, Phillies 1): Jarrod Saltalamacchia homers (6) on a fly ball to right center field.
Bottom of the 4th (Red Sox 5, Phillies 2): Hector Luna singles on a fly ball to left fielder Daniel Nava. Carlos Ruiz scores.
Bottom of the 4th (Red Sox 5, Phillies 4): Freddy Galvis homers (3) on a fly ball to left center field. Hector Luna scores.


Top of the 5th (Red Sox 7, Phillies 4): David Ortiz homers (9) on a fly ball to center field. Dustin Pedroia scores.



Bottom of the 8th (Red Sox 7, Phillies 5): Jimmy Rollins singles on a ground ball to shortstop Mike Aviles. Ty Wigginton scores.

What's Next:
Sunday, May 20, 2012; 1:35 pm EST
Boston Red Sox (19-21) at

Philadelphia Phillies (21-20)

Josh Beckett (3-4, 4.97 ERA) vs.

Cliff Lee (0-1, 1.95 ERA)

TV: My PHl 17, TBS
Radio: 1210 WPHT, 94 WIP
Matt Rappa is a contributor for Buzz on Broad. You can find him on Twitter at @mattrappa.
Original Story:
http://www.buzzonbroad.com/2012/05/ph...
THE BACKYARD
BEST OF MAXIM
RELATED ARTICLES
Pat the Bat, as we mentioned Saturday morning, went on a Philly bender this weekend in honor of Pat Burrell Retirement Weekend. Of course the guy drank truckloads of booze, went bar hopping at Philly's finest establishments and even was allowed to grace some chick named Jill Marie with his throwing hand on her left breast. Yes, we're still waiting for the shirtless dancing pics...
We suggest you go visit Kyle at Crossing Broad this morning for a full report on what Pat Burrell was up to very early this morning in Philadelphia. There are rumors of Pat the Bat & Chase Utley holding court at some bar called the Pen & Pencil. Needless to say we're on pins & needles waiting for the shirtless pics & the videos to surface. It's Burrell weekend...
You MUST check out this Deadspin article. It's every Pat Burrell stereotype from his whole career in Philly all rolled into one, except it's legitimate. Some highlights: Pat Burrell removed his shirt at the bar the night before his first pitch appearance Saturday,  with Chase Utley and Jennifer Utley Burrell "made an ass of himself" Burrell "stiffed...
You're never going to see Pat Burrell get his day in Cooperstown, but, thankfully, that didn't stop the Philadelphia Phillies from bringing back the fan favorite for one more game.Saturday, "Pat the Bat" was back in uniform and retired as a member of the Phillies."It doesn't seem that long ago, really, that it started," the 35-year-old said. &quot...
Tonight, the Philadelphia Phillies will honor a long time love to  hate/fan favorite, Pat Burrell.  Pat "the bat" was drafted by the Phillies in 1998, as he was first overall pick from the University of Miami.  Burrell played 9 of his 12 years with the Phillies, and will be honored in a pre-game ceremony before tonight's 7:05 start versus the Boston Red Sox.  Burrell...
Pat Burrell made a valiant return to Philadelphia over the weekend to be honored by his former franchise. By the looks of things, he had plenty of fun doing so. Known as a ladies' man throughout his MLB career, the former slugger hit the bar scene pretty hard and apparently got touchy feely in one pic. According to Crossing Broad, the woman who shared this picture on Twitter...
"Dominating" is the word that Red Sox pitcher Rich Hill used to describe former teammate Kerry Wood before injuries affected his pitching career. Wood's retirement was one of the highlights of the weekend. The Chicago Cubs pitcher bowed out after 16 years in Major League Baseball, most of them with Chicago. Hill played with the Cubs and Wood from 2005 to 2008. He talks...
Jon Lester didn't have his best night tonight, however he definitely had a better one than Joe Blanton.  Lester looked to get the Sox a win in hopes of being able to have a shot to take the series on Sunday.  Lester pitched 6 innings, gave up 8 H, 4 R, 1 BB and 3 Ks.  He didn't look sharp and in the later innings he was constantly letting batters on base, however not...
Look Out Ladies! Today, Pat "the Bat" will officially retire as a Phillie after he signs a one-day contract with the team he got his start from. There will be a nice ceremony before the game, he'll throw out the first pitch and most likely collect a standing ovation from the crowd. That's nice, for Burrell spent most of his career (2000-2008) with the Phillies...
MLB News

Delivered to your inbox

You'll also receive Yardbarker's daily Top 10, featuring the best sports stories from around the web. Customize your newsletter to get articles on your favorite sports and teams. And the best part? It's free!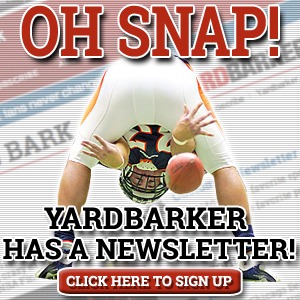 Latest Rumors
Best of Yardbarker

Today's Best Stuff

For Bloggers

Join the Yardbarker Network for more promotion, traffic, and money.

Company Info

Help

What is Yardbarker?

Yardbarker is the largest network of sports blogs and pro athlete blogs on the web. This site is the hub of the Yardbarker Network, where our editors and algorithms curate the best sports content from our network and beyond.