Found November 10, 2012 on Philly Sports World:
PLAYERS:
Ken Rosenthal
,
Josh Hamilton
,
Michael Bourn
,
Scott Boras
,
Ryan Madson
,
BJ Upton
,
Chase Utley
,
Ruben Amaro
TEAMS:
Texas Rangers
,
Atlanta Braves
,
Cincinnati Reds
,
Tampa Bay Rays
,
Washington Nationals
,
Philadelphia Phillies
With the MLB general managers' meetings now concluded, let's take a look at some of the rumors surrounding the Phillies outfield situation that already have the hot stove warming up. We'll start with the big one first. Fox Sports' Ken Rosenthal reported that Phillies GM Ruben Amaro Jr. has been in contact with Josh Hamilton's agent. Josh Hamilton, the Texas Rangers center fielder, who hit .285 with 43 HRs and 128 RBI, is probably the sexiest name on the free agent market. He is sure to command a huge contract that will pay him in excess of $25 million per year. At 31, whoever lands Hamilton will immediately turn into a contender, but will also be married to the slugger during his less productive years at the end of that deal. There is no doubt that Hamilton will help a team, and could certainly help the Phillies offensively, but I'm not certain Hamilton is a fit on this Phillies team. First off, he's a left handed bat, and that is probably the last thing the Phillies need. Secondly, another mega contract for an aging player may not be the best thing for the Phillies. They're already weighed down with them as it is. Josh Hamilton seems like a long shot for the Phillies. Michael Bourn is another player on the Phillies radar. Bourn, the former Phillies prospect that was traded away, has turned himself into a legitimate top of the order hitter. He didn't have his best season last year, but nonetheless he will be highly sought after on the free agent market. His agent is Scott Boras, and many speculate whether the failed negotiations between Ryan Madson and the Phillies last year will leave a chasm in their relationship with the super agent. In the end, that's doubtful. Boras' job is to get deals done for his clients. There is little emotional attachment to whoever decides to pay his client best. If it's the Phillies who make the best offer, then Michael Bourn will be a Phillie. As good as Bourn is however, he lacks the one key component to his game that the Phillies are in most need of… Power. He batted .274 last year and hit 9 HRs. He had a .348 OBP, but added 42 stolen bases. Depending on what kind of money he's looking for, Bourn may not be the answer for the Phillies either. I would not overpay for Bourn's services. He may be young (29) and fast but I'm not sure he gives the Phillies the kind of production that they need. Unless they were to add power at another position. Another name that the Phillies have been connected to, and whose agent Ruben Amaro Jr. has had contact with is outfielder BJ Upton. Upton is 28 years old and is a right handed hitter. He is coming off a season in which he hit .246 with 28 HRs and 78 RBI. BJ Upton is a career .255 hitter and a right hander, and plays excellent defense in center field. Upton seems to be among the Phillies top priorities. While I don't see him as that can't miss kind of player, his power, which has gotten more consistent in recent years, would be a huge plus for the Phillies. At 28, signing him to a 5 or 6-year deal at $13-16 million also wouldn't break the bank or leave you with a washed up player at the end of the term. Upton may be the best fit for the Phillies which is why he's probably been linked to them since last year. The Washington Nationals have also been linked to Upton. It may be early in the offseason, but the Phillies have a lot of work to do, and appear to be wasting little time laying the groundwork. The hot stove is already beginning to warm up and should be ablaze in a few more weeks. As always, we'll be here to keep you updated. Similar Posts: Who's on third? Not Chase Utley Phillies late season rally shouldn't stop offseason moves Ruiz to return to Phillies; Polanco, Wiggington and Contreras have options declined Will the Phillies take one more shot in 2013? Can Ruben Amaro Jr. put the Phillies back together again?
Original Story:
http://phillysportsworld.com/phillies...
THE BACKYARD
BEST OF MAXIM
RELATED ARTICLES
The Seattle Mariners are one of several teams, including the Baltimore Orioles, Atlanta Braves, Pittsburgh Pirates and Milwaukee Brewers, that could possibly target outfielder Josh Hamilton this offseason, reports Jon Heyman of CBSSports.com. The Mariners look like a possible new entry in the Josh Hamilton sweepstakes, people familiar with their thinking suggest....
The New York Yankees, Los Angeles Dodgers, Baltimore Orioles, Seattle Mariners and Milwaukee Brewers are all considered "teams to watch" in the Josh Hamilton sweepstakes, according to Nick Cafardo of the Boston Globe. Teams to keep your eye on include the Yankees, Dodgers (if they trade Andre Ethier), Mariners, Orioles, and Brewers. We have already heard...
IT'S BEEN REAL
The Rangers appear unwilling to offer Josh Hamilton more than a three-year deal, which likely means the team is willing to allow the slugger leave in free agency.
Mariners pursuing big bat The Mariners' offseason has been abuzz this week. First they extended starter Hisashi Iwakuma, and then they resigned reliever Oliver Perez. Now it's being reported by CBS' Jon Heyman that Seattle is in play for the services of slugger Josh Hamilton. Hamilton is arguably the best bat on the free agent market. This is another aggressive move by the...
If All-Star outfielder Josh Hamilton was waiting for the Texas Rangers to set a market for the free agent slugger, it might be time to turn to Plan B. The Rangers aren't likely to meet the reported asking price of six or seven years at $20 million to $25 million per season. Hamilton, 31, is considered a prime free agent but his age and history of injuries, overcame chemical...
Ben and Sam discuss whether Josh Hamilton could end up signing a reasonable contract after all and talk about whether the Yankees can commit to and compete despite their goal to get under the luxury tax threshold by 2014.
Josh Hamilton – (32) LF/CF, 6'4", 240 Lbs, L/L: You look at Josh Hamilton these days and the story isn't so much about his one-time troubles with addiction.  The biggest question that general managers and Sandy Alderson have for concern with Hamilton is his age and the size and length of his desired contract.  Is Hamilton a $25 Mil a year player?  I don't know.  From...
INDIAN WELLS, Calif.-- My message to the Texas Rangers when they lose Josh Hamilton will be the same as it was to the St. Louis Cardinals when they lost Albert Pujols. Happy Independence Day. Nothing against Hamilton and Pujols both are incredible talents. But just as the Cardinals were better off avoiding a mega-deal for Pujols, the Rangers will be better off avoiding one for...
The Phillies need outfielders and they need a power bat.  Josh Hamilton is an outfielder and Josh Hamilton is a power bat.   According to Fox Sports' Ken Rosenthal, the Phillies have "checked in" on free agent outfielder Josh Hamilton. Rosenthal describes the Phillies as "1 of 4" teams Hamilton could land with.   The teams are the Washington Nationals...
BP`s clinical psychologist brings his experience and expertise to bear in evaluating the impact of Zack Greinke`s and Josh Hamilton`s mental health histories on their on-field futures.
INDIAN WELLS, Calif. -- My message to the Texas Rangers when they lose Josh Hamilton will be the same as it was to the St. Louis Cardinals when they lost Albert Pujols. Happy Independence Day. Nothing against Hamilton and Pujols both are incredible talents. But just as the Cardinals were better off avoiding a mega-deal for Pujols, the Rangers will be better off avoiding one for...
Baseball's biggest spenders may be relatively quiet this winter, at least when it comes to big-name, big-money free agents. The New York Post reports that the Yankees aren't likely to be in on Josh Hamilton or Zack Greinke, the two biggest names in free agency this offseason. If New York does splurge on a big contract, the Post reports, it will be on a contract extension for...
MLB News

Delivered to your inbox

You'll also receive Yardbarker's daily Top 10, featuring the best sports stories from around the web. Customize your newsletter to get articles on your favorite sports and teams. And the best part? It's free!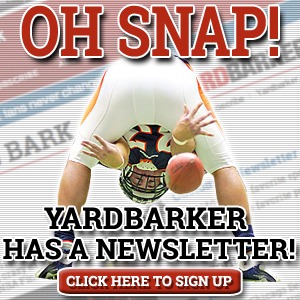 Latest Rumors
Best of Yardbarker

Today's Best Stuff

For Bloggers

Join the Yardbarker Network for more promotion, traffic, and money.

Company Info

Help

What is Yardbarker?

Yardbarker is the largest network of sports blogs and pro athlete blogs on the web. This site is the hub of the Yardbarker Network, where our editors and algorithms curate the best sports content from our network and beyond.