Found November 16, 2012 on Phillies Nation:
Morrison is wild, talented, and is my pick to bring to Philly. Photo: AP This week, you have seen Eric, Pat, and Corey unveil their offseason plans for the Phillies, which have included Nick Swisher, Peter Bourjos, Denard Span, and others. I'm a little bit of a Wild Card compared to the rest of the gang – somewhere in between "Vice President Biden with a live microphone" and "Jeffrey Loria with a baseball franchise" Wild Card. I'm the guy who told Phillies fans to "Get Excited About Chad Qualls" and wrote thousands of words about the possible contributions of guys like Joel Pineiro, Scott Podsednik, and David Purcey. While I got some wrong, I did successfully nab Juan Pierre as not only a starter but a big time contributor and nailed a few roster moves. Being the Wild Card doesn't mean you have to be the Joker all of the time and it has helped me view the Phils a little differently. Keeping with the theme, Wild Card should be the name of the game for this team. As is, this tea...
Original Story:
http://philliesnation.com/archives/20...
THE BACKYARD
BEST OF MAXIM
RELATED ARTICLES
The Marlins have been highly criticized in the wake of their mega-trade with the Toronto Blue Jays, and perhaps rightfully so. It's the team's third firesale in its 20-year franchise history, and second under current owner Jeffrey Loria, who secured about 80 percent public funds for the team's new ballpark which opened in 2012 — a cost which could rise to about $2.4 billion...
The Florida Marlins have signed Juan Pierre, Craig Mish of Sirius 210 XM reports (and later confirmed by Jon Heyman of CBS Sports). The terms of the deal are not yet known. This is probably not the signing Marlins' fans were looking for after the team traded just about every decent player on the roster, but Pierre will definitely will the team. Pierre signed a minor league deal...
The Miami Marlins' blockbuster trade with the Toronto Blue Jays has been the cause of much outrage, and most of it has focused on Marlins owner Jeffrey Loria. Obviously, the next step of that outrage is to animate it. The good folks over at Next Media Animations got right on that, as the Taiwanese animation of the deal certainly lives up to expectations. In it, Loria is shown destroying...
Following the latest despicable Miami Marlins trade, I am holding nothing back this time in ripping owner Jeffrey Loria. I am not one to say I told you so, but… Actually, wait. I am one to say that. I have said it before, I will say it again, although I am sick of repeating the same thing over and over again. Jeffrey Loria is the worst owner in all of professional sports. The Miami...
After dumping more than half of their players in a pathetic attempt to rebuild their sh***y team, the Miami Marlins have reportedly made an acquisition to make up for it. According to Sirius XM's Craig Mish, the Marlins have agreed to a contract with former Phillie Juan Pierre. Pierre, 35, signed a minor-league deal with the Phillies last off season, but played in the big leagues...
Here's a switch: An established player is joining the Miami Marlins rather than exiting the team. Free agent outfielder Juan Pierre agreed to a one-year, $1.6 million deal with the Marlins, the South Florida Sun-Sentinel reported. Multiple media outlets confirmed that the sides came to terms. The Marlins recently agreed to trade five high-profile, high-priced players, including...
Miami Marlins owner Jeffrey Loria doesn't care if he's taking heat for the huge 12-player deal between his team and the Toronto Blue Jays. "We finished in last place. Figure it out," Loria told CBSSports.com on Wednesday as he headed for the Major League Baseball owners meetings in Chicago. Loria was both defiant and almost confrontational in his brief exchange...
The Marlins and owner Jeffrey Loria were already on baseball's hot seat, and the veritable fish tank's water may soon get even hotter. Back in 2009 and 2010 the Major League Baseball Players Association was very unhappy with the Marlins. In the days of revenue sharing among MLB teams, the Marlins, by all outward appearances, had continued to pocket that money rather than spend...
Who knew the Marlins had such passionate fans? The stadium is always empty so it came as quite a shock that so many Marlins bros were pissed off after yesterday's blockbuster trade. Owner Jeffrey Loria caught the brunt of the anger and hate, including numerous death and rape wishes. Really? All this over a washed up Mark Buehrle? An overpaid, injury prone Jose Reyes? One bro, ...
Miami Marlins fans couldn't have been happy seeing Josh Johnson, Jose Reyes, Mark Buehrle, Emilio Bonifacio and John Buck get shipped to Toronto, but surely all those negative feelings will dissipate when they learn of their latest free agent signing. Juan Pierre has agreed to a one-year deal, worth $1.6 million, according to Juan C. Rodriguez of the Sun Sentinel. Pierre played...
Days after trading star shortstop Jose Reyes and standout pitchers Josh Johnson and Mark Buehrle to the Toronto Blue Jays for a slew of prospects, the city of Miami remains wrongly outraged at Marlins owner Jeffrey Loria for conducting yet … Continue reading →
Major league owners descended on Chicago on Wednesday while the Miami Marlins and Toronto Blue Jays worked on a blockbuster trade with implications for the rest of the sport. It looked as if the owners and baseball executives were interested in hearing more about the deal, even if they didn't want to talk about it just yet Marlins owner Jeffrey Loria strolled by a group of...
MLB News

Delivered to your inbox

You'll also receive Yardbarker's daily Top 10, featuring the best sports stories from around the web. Customize your newsletter to get articles on your favorite sports and teams. And the best part? It's free!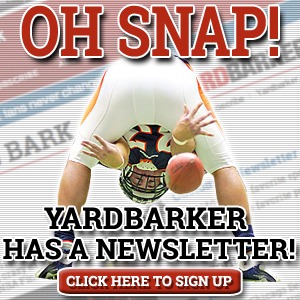 Latest Rumors
Best of Yardbarker

Today's Best Stuff

For Bloggers

Join the Yardbarker Network for more promotion, traffic, and money.

Company Info

Help

What is Yardbarker?

Yardbarker is the largest network of sports blogs and pro athlete blogs on the web. This site is the hub of the Yardbarker Network, where our editors and algorithms curate the best sports content from our network and beyond.