Found April 23, 2012 on Buzz On Broad:
PLAYERS:
Cole Hamels
,
Cliff Lee
,
Anthony Bass
,
Chase Utley
,
Ryan Howard
,
Roy Halladay
,
Joe Blanton
,
Jonathan Papelbon
,
Vance Worley
,
Shane Victorino
,
Hunter Pence
,
Pete Orr
,
Kyle Kendrick
,
Wade Miley
,
Daniel Hudson
,
Ty Wigginton
,
Josh Collmenter
,
Trevor Cahill
,
Justin Upton
TEAMS:
Philadelphia Phillies
,
San Diego Padres
,
Arizona Diamondbacks
After a convincing 4-1 win Friday night, the Phillies dropped a deuce, losing the final two games of their series in San Diego, and were outscored 11-2 in those games. The offense (or lack thereof) seemed to be the hot topic at the post game presser on Sunday. Charlie commented "This is the worst we've played in a long time."
"Oh Crap, Oh Crap, Oh Crap, Oh Crap"
Saturday and Sunday's games both wound up overshadowing a great start by Cole Hamels on Friday, who only allowed one run on six hits. Just before game time on Saturday, the weekend took a sour turn as Cliff Lee hit the DL, and from there the Phillies seemed to be out of the game just like their left handed ace.
Corey Luebke dominated on Saturday, tossing eight innings of two hit ball. On Sunday, Anthony Bass (who?) pitched six innings allowing three hits and five walks for only one unearned run. In case your wondering his name is pronounced bass, not bass (what?). These two games left a dark cloud over the Phillies, who were at least hoping to win the series in San Diego after posting victories in the first two games Thursday and Friday.
The Phillies hope Arizona treats them a little better, as they head to a 3 game set in Phoenix and Chase Utley rejoins the team. Ruben Amaro is optimistic saying
he's heard good things
about Utley's health. They also can expect
an update
on Ryan Howard's injury Monday as he will be examined by a doctor to see if he can pick up some more baseball activities.
Not that Utley and Howard are anywhere near seeing action in a major league game anytime soon, but the Phillies could definitely use them on this West Coast trip. Here are some depressing offensive numbers (and one depressing pitching number) about the road trip that no amount of rally caps and face paint could help.
The Phils have batted .200 with runners in scoring position (12 for 60)
They have left 50 men on base
They have 11 extra  base hits
They have a total of two 2-out RBI's; one by Wigginton the other by Roy Halladay
They've left 28 runners in scoring position with 2 outs.
They've stolen a total of 5 bases.
Joe Blanton has an 0-2 record with a 5.72 ERA and a 1.63 WHIP
I also wanted to accentuate the positive as well, so here are some good numbers. (Side Note: you should watch that show)
The bullpen has not been terrible, allowing 4 runs on 8 hits in 12.1 innings pitched
Jonathan Papelbon has saved 3 games (the only wins), allowing only 1 hit
Roy Halladay, Cliff Lee, Cole Hamels and Vance Worley have combined for a 3-1 record, with a 1.18 ERA, a 1.05 WHIP and 33 strikeouts on the trip
Shane Victorino was hit by a pitch and promptly told everyone in the stadium to screw off (I wanted at least one offensive positive)
The Phillies are long past needing to inject some life into the offense, and they could be getting closer and closer to just saying "screw it" and bring up Dom Brown. He's only hitting .263 with 5 XBH at Lehigh Valley (no one on the Phils right now has more than 4 XBH), but some new blood may be what this offense needs. He may be a liability in left field, but I thought Hunter Pence did his best Dom Brown impersonation yesterday in right, so maybe they will just cancel each other out. Pete Orr would be the likely candidate to be sent to AAA in his place.
Up Next:
Kyle Kendrick gets his first start of the year, replacing Cliff Lee in the rotation. Out of the bullpen this year, Kendrick has pitched 4.2 IP, allowing 4 hits, 1 earned run and striking out 2. In his last outing against the D-backs, Kyle came out of the bullpen and pitched 2 perfect innings.
For the Diamondbacks, LHP Wade Miley gets the nod in place of Daniel Hudson. Miley is coming out of the pen this year, and hitters are batting a modest .206 against him. Only Ty Wigginton has faced him before, going 1 for 6.
Tuesday features Vance Worley vs. Josh Collmenter. Collmenter has been roughed up this year, allowing 14 earned runs in 12.1 innings pitched in his first 3 starts. In one start against the Phillies last year, he allowed 2 runs on 8 hits in 6.2 IP. Worley is coming off a career outing, striking out 11 en route to a victory against the Padres Thursday. He pitched 3 innings out of the bullpen last season vs. the D-backs, only allowing 1 hit.
Finally on Wednesday, Cole Hamels goes for the Phils. He will be opposed by Trevor Cahill. Justin Upton is 4 for 12 against Hamels, who has pitched to a 3-1 record against Arizona, and has a 3.72 ERA against them. Trevor Cahill has only pitched once against the Phils, tossing 7.2 innings, allowing 3 hits and 1 run last June for Oakland.
The Phillies will need to take 2 out of 3 from the D-backs in order to come home with a .500 record on the road trip (They would be 9-10 overall) If they sweep they will be back over .500 on the year (10-9 overall). They will get a much deserved off day after 15 consecutive games Thursday and welcome the Cubs in for a weekend series at CBP.
Original Story:
http://www.buzzonbroad.com/2012/04/ph...
THE BACKYARD
BEST OF MAXIM
RELATED ARTICLES
The Phillies issue the following statement: "After seeing the wound specialist in Philadelphia yesterday, Ryan Howard's wound has gotten smaller and is healing.  We've been advised to limit his activities for one more week to allow it to continue to heal.  We hope that he will be able to re-start his baseball activities thereafter. Additionally, Hunter Pence will...
(Yahoo Sports)Hunter Pence is getting a break tonight, but it's not just for a breather in the midst of his 0-for-15 slump. Pence is dealing with a shoulder injury, according to Charlie Manuel (thanks to Matt Gelb and the beat reporters).If you remember, Pence slammed into the wall at AT&T Park in San Francisco last week, jarring the shoulder. So far, nothing concrete has been...
Good News:* The Phillies scored a run last night.* The Phillies got three whole hits last night, and two of them were by actual position players. Yeah offense!* Freddy Galvis fielded a routine groundball and Chris Wheeler, barely able to speak due his 'physical excitement,' gave a five minute dissertation on how great it was. Who needs to see hits when you can watch a second...
How soon will Ryan Howard make his return to the Phillies lineup? We could be getting more of a sense for establishing that timeline. After visiting the mysterious wund specialist, the Phillies have confirmed that Howard's suture wound is starting to diminish, which means Howard could be getting ready to take part in baseball activities in the somewhat near future. "After...
A little help here, please? Anybody? It may still be early in the season, but the Phillies ship is sinking fast. Is 15 games into the season a bit too early to begin yelling, "Mayday! "? Maybe not… With a 7-8 record, the Phillies are barely staying afloat in the NL East where they are tied for last place with the Marlins. Last nights' awful 5-1 loss to the Padres combined...
The Philadelphia Phillies were doing their best impression of the awful 1972 club in the first weeks of the year. Of course, Phillies fans like myself aren't that delusional to think they've become that bad. Yet that 1972 Philadelphia team won 27 games with Steve Carlton and only 32 with everyone else on the mound – while in the opening weeks of this season, the 2012 Phillies...
The Philadelphia Phillies placed left-handed pitcher Cliff Lee on the 15-day disabled list with a left oblique strain on Saturday.Lee was injured while delivering a pitch in the 10th inning of the Phillies' 1-0 loss to the San Francisco Giants on Wednesday.The lefty is 0-1 with a 1.96 ERA in three starts this season.Right-hander Kyle Kendrick will start in place of Lee Monday...
"Why would I want to go where fans only support you from the third inning through the sixth?"- Cole Hamels, Padres fan?Reference articles:Hamels counts himself among alienated Padres fans - San Diego Union-TribuneCole Hamels, Padres fan - Inside the PadresSo, let's get this straight.  Cole Hamels made some comments in the offseason about Padres fans and possibly coming...
Hot News for SP Cliff Lee
The Phillies surprisingly did something on Monday night that they've only done 7 out of 17 times this season: score more than 2 runs. 5 runs to be exact. They had an explosive inning too, where they plated every single one of those baserunners. Monday even marked the first time a Phillies batter homered with a runner on base. The first multi-RBI HR of the year came off the bat...
Spot-starter Kyle Kendrick becomes the first Phils' starter to last less than five innings as he is knocked out of the box in the fourth inning, before the Phils finally end up losing to the D-backs, 9-5, although scoring five runs in the ninth, highlighted by back-to-back home runs. The D-backs took the lead in the first as, with a runner on second and with nobody out, Aaron Hill...
MLB News

Delivered to your inbox

You'll also receive Yardbarker's daily Top 10, featuring the best sports stories from around the web. Customize your newsletter to get articles on your favorite sports and teams. And the best part? It's free!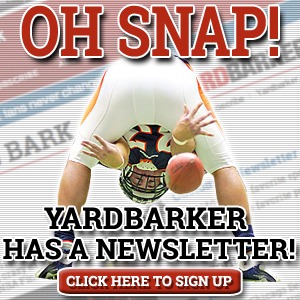 Latest Rumors
Best of Yardbarker

Today's Best Stuff

For Bloggers

Join the Yardbarker Network for more promotion, traffic, and money.

Company Info

Help

What is Yardbarker?

Yardbarker is the largest network of sports blogs and pro athlete blogs on the web. This site is the hub of the Yardbarker Network, where our editors and algorithms curate the best sports content from our network and beyond.