Found February 21, 2013 on Pirates Prospects:
Ben Badler of Baseball America, released his recap of the Pirates 2012 International spending today. Like every other team in baseball, the Pirates had a $2.9 M cap for spending on International players. That cap didn't go into place until July 2nd and it runs until June 15,2013. Any signings made earlier in the year did not count against it, plus there are a few allowances for spending just over the 2.9 M number. The top six bonuses of $50,000 or less don't count against the cap and any player that signed for $7,500 or less, also doesn't count. First to recap what we already knew, followed by notes from Badler's own write-up on the Pirates spending. The two biggest signings this year are sure to cause some confusion for Pirates fans. On July 2nd, they signed third baseman Julio de la Cruz for a $700,000 bonus. Nine days later, they signed outfielder Michael de la Cruz for a $700,000 bonus. The two 16-year-olds are not related. Between them, they accounted for nearly half of the Pirates International spending allotment. On the two de la Cruz's, the Pirates called Julio the best hitter they felt was available on the International market, while Michael was called a little raw, but he had five tool potential and could develop into a 20-25 home run guy On August 1st, the Pirates made their next highest investment, signing catcher Yoel Gonzalez on his 16th birthday for $350,000. His defense was already said to be advanced at the time of his signing, but his bat was a little behind. In November, the Pirates signed another third baseman with a big bat. Johan Herrera is slightly older than the normal high-priced signing, but the 17-year-old showed enough promise with the bat to receive a $300,000 bonus. The Pirates have been busy in the Australian market over the last few years, signing seven players since 2009. None of the players they have signed over that time though, approached the $225,000 bonus that 16-year-old shortstop Sam Kennelly received. In November, they also signed 16-year-old pitcher Nick Hutchings out of Australia. Other signings of note from earlier in the year include 18-year-old outfielder Alexis Bastardo from Venezuela. He's a center fielder with a strong arm and good speed. In March, the Pirates signed three players from Mexico, pitchers Omar Basulto and Eduardo Vera and first baseman Julio Perez. In April, they signed 17-year-old Panamanian pitcher, Dario Agrazal Jr. Notes From Ben Balder's Recap Badler adds a new name to the signings, one that hasn't come up yet. On August 1st, the Pirates signed shortstop Johan De Jesus out of the Dominican. Like Gonzalez, he too turned 16 on August 1st. De Jesus signed for $200,000 and he is a right-handed hitter, 5'11″ 170 pounds. He makes good contact and has strong fundamentals and game awareness, but no tools that stand out. Badler notes that Julio de la Cruz will start the year in the Gulf Coast League, while Michael de la Cruz will likely open up in the GCL. The Pirates have been quick to move top signings recently, last year bringing both Elvis Escobar and Harold Ramirez to the states right away and in 2011, Luis Heredia made the same move. He also notes that Julio should be able to stick at third base as he moves up the ladder. With Michael, he says that the Pirates scouts were higher than most on him, saying most scouts feel his speed, arm and power aren't what the Pirates thought, but notes that the Pirates have done well in the past in International scouting and they really like Michael.
Original Story:
http://feedproxy.google.com/~r/Pirate...
THE BACKYARD
BEST OF MAXIM
RELATED ARTICLES
According to Rob Biertempfel on Twitter, the final rosters have been released for the 2013 World Baseball Classic and the only change among Pittsburgh Pirates players is Ivan De Jesus Jr withdrawing from Team Puerto Rico. Biertempfel says that De Jesus withdrew to stay in camp to compete for a major league job. The final rosters include Jameson Taillon, Russell Martin  and Chris...
If you lock a handful of monkeys in a room, they'll eventually write Hamlet- or so the saying goes.  For the Pittsburgh Pirates, this is their 21st-straight season of locking in a questionable collection of players, and hoping absolutely everything breaks exactly right for the team to finally cross the elusive .500 threshold.  So is this collection of simians any more promising...
It was noted on Baseball America today by Matt Eddy, that the contracts for Brandon Inge and Jonathan Sanchez has some new stipulations that came along with the latest MLB Collective Bargaining Agreement. The new contracts come with three clauses and are applicable for any major league free agents that sign minor league deals. They are as follows: A) They must be told five days prior...
Clint Hurdle has announced today that A.J. Burnett will be his Opening Day starter when the Pirates take on the Chicago Cubs on Monday, April 1st at PNC Park. He has also announced that Wandy Rodriguez will get the start in game two on Wednesday night. After that, the rest of the rotation has yet to be decided. In his first season with the team last year, Burnett went 16-10, 3.51...
It only takes about ten minutes of watching Starling Marte to understand why being a baseball scout is such a difficult job. Why even the best scouts pile up tons of misses for every diamond in the rough that they unearth. I am not a scout by any means, but since moving North Carolina 5 1/2 years ago I've watched plenty of minor league baseball. Most of that baseball has been...
Credit: Ron Vesely/MLB Photos via Getty Images If you want to see what makes baseball scouts drool, look no further than Gerrit Cole, the No. 1-ranked prospect in the Pittsburgh Pirates' organization. Cole, 22, was the No. 1 pick in the 2011 Amateur Draft out of UCLA. He's listed at 6'4″ and 220 pounds. Cole only pitched 15 innings in the Arizona Fall League in 2011, but...
A.J. Burnett has been named the Pittsburgh Pirates Opening Day starter this season. Coming off a 16-10 season while posting a 3.51 ERA, Burnett gets the mound on Opening Day for the first time in his career. Burnett might have had a chance to win 20 last season but fractured his orbital bone while fouling a ball in bunt practice. He lost two months of the season. Burnett has won...
The second weekend of the college season is about to get under way. The Pirates have the #9 and #14 picks in the upcoming June amateur draft. Throughout the college/HS season, leading up to the draft, we will cover the interesting players that are being discussed in the Pirates draft range. There will also be daily notes on past picks by the Pirates who went unsigned. For a recap...
I got down to Bradenton around noon on Wednesday, after about 15 hours of driving from Virginia. For the last two days I've been unpacking the moving truck. That's not finished yet, but I thought I'd take a break for this. The Pirates are set to open their Spring Training schedule today with a Black and Gold intrasquad scrimmage. The teams are set to go five and a half innings...
I came across a fantastic Russell Martin lot recently and considered whether or not to take it down for the better part of a week. Though Russ is now on his second post-Dodger stop (Yankees, Pirates), he's still one of my favorite players and one of my favorite Dodgers of all-time.I eventually decided to take the plunge on the free shipping auction and nabbed the four cards you...
In the last week I've been getting a few questions about the Pirates Prospects 2013 Annual. The book has been in pre-sale status since the Prospect Guide was released in December. That was to allow people to buy both books at the discounted combo pack price. The book still hasn't been released yet, but should be coming out in the next week. Last year the book was released on...
Today Clint "Purple Extension Getter" Hurdle announced that A.J. Burnett will be the Pirates Opening Day starter.  This is some of the least surprising news you'll hear. You may remember last year A.J. was supposed to start Opening Day but allowed himself to be hit in the face with a baseball and thus missed time…
Pirates News

Delivered to your inbox

You'll also receive Yardbarker's daily Top 10, featuring the best sports stories from around the web. Customize your newsletter to get articles on your favorite sports and teams. And the best part? It's free!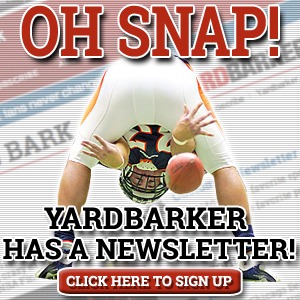 Latest Rumors
The Backyard

Today's Best Stuff

For Bloggers

Join the Yardbarker Network for more promotion, traffic, and money.

Company Info

Help

What is Yardbarker?

Yardbarker is the largest network of sports blogs and pro athlete blogs on the web. This site is the hub of the Yardbarker Network, where our editors and algorithms curate the best sports content from our network and beyond.