Found December 12, 2011 on Pirates Prospects:
PLAYERS:
Joel Hanrahan
,
Jose Veras
,
Jared Hughes
,
Ross Ohlendorf
,
Garrett Jones
,
Carlos Pena
,
Charlie Morton
,
Chris Resop
,
Evan Meek
,
Jason Grilli
TEAMS:
Pittsburgh Pirates
,
Chicago Cubs
The deadline to tender offers to arbitration eligible players is at midnight tonight. The Pittsburgh Pirates have eight players who are eligible for arbitration. Here is a rundown of what to expect by the end of the night, along with projected arbitration values, as projected by MLB Trade Rumors.
Joel Hanrahan – $4,000,000
Hanrahan is a lock to be tendered. He's a huge value for his production out of the closer role, priced at almost $5 M less than what he might get on the open market.
Jeff Karstens – $2,800,000
You have to tender Karstens after the season he had in 2011. Maybe it wasn't fully legit, and he's probably due for a regression from his 3.38 ERA.  His advanced metrics suggested he won't see a huge decline, with a 4.00 xFIP. That would be worth $2.8 M.
Jose Veras – $2,500,000
Of all of the relievers the Pirates have, Veras is the guy I see them non-tendering.  The only way I see him sticking around is through a deal before the deadline tomorrow. Otherwise it would be a waste to give $2.5 M to a reliever when guys like Jared Hughes are projected to start in AAA. If you want to make a case that Veras could stay, you could point to the fact that he has lasted on the roster this long, while arbitration eligibles like Ross Ohlendorf have been released.
Garrett Jones – $2,400,000
In my original arbitration estimates, I had Jones at $1.5 M, which was the biggest difference between my projections and the MLBTR projections. Either way I think the Pirates will bring him back. They have made a lot of comments about not being able to add a first baseman on the open market. I'd like to see them make a strong push for Carlos Pena, and they have the money to make it happen. If they do add a first baseman, it wouldn't be the worst thing to have Jones as an option off the bench. Worst case they deal him away.
Charlie Morton is a lock to receive an offer of arbitration.
Charlie Morton – $2,100,000
Morton is another lock to be tendered.
Chris Resop – $1,100,000
I could see Resop being non-tendered, but I wouldn't agree with it. He had good numbers last year, with a staff leading 10.2 K/9 ratio, a 3.9 BB/9 ratio, and a 1.0 HR/9 ratio. He makes for a decent set up man, and would have value at $1.1 M. Ultimately I think they bring him back.
Evan Meek – $900,000
I have some concerns that the 2010 season might have been a fluke year for Meek, rather than his 2011 season being a down year. He's got the upside of a major league closer, so you can't dismiss him just yet, especially not when he's this cheap.
Jason Grilli – $800,000
He's a little bit older than the rest of the staff, but he had strong results in 2011. His control was a bit off, with a 4.1 BB/9 ratio, but he struck out 37 in 32.2 innings, and only gave up two homers. If I'm looking at just the K/9, BB/9, and HR/9 numbers from 2011, I'd have him third best out of the bullpen. I think he gets tendered.
The locks to be tendered are Hanrahan, Karstens, and Morton. Things could go either way for Jones, Resop, Meek, and Grilli, although I think all four get tendered. The only person I have projected as a non-tender candidate is Veras.
Original Story:
http://feedproxy.google.com/~r/BuccoF...
THE BACKYARD
BEST OF MAXIM
RELATED ARTICLES
The Pittsburgh Pirates have acquired third baseman Casey McGehee from the Milwaukee Brewers in a trade for reliever Jose Veras. The move came hours after the Brewers agreed to terms with free-agent third baseman Aramis Ramirez on Monday. McGehee had a strong rookie season in 2009 and a big year in 2010 but then slumped at the plate in 2011 and lost his starting job to Jerry Hairston...
The Pittsburgh Pirates have traded relief pitcher Jose Veras to the Milwaukee Brewers for third baseman Casey McGehee, per a team press release. Veras was profiled as a non-tender candidate in my article earlier today. McGehee, meanwhile, became expendable when Milwaukee signed Aramis Ramirez to a three year deal earlier this afternoon. McGehee is coming off a year where he hit for...
tweeted: With Jose Veras likely on his way out at tonight's arbitration deadline, the Pirates were able to flip him to Milwaukee (of all places) for Casey McGehee. McGehee, 29, is pretty much the definition of this Pedro Alvarez "contingency plan" we've been hearing about. He's primarily a third baseman (although he has played a few games at first) and will be seeing a...
The Bucs tendered contracts to Joel Hanrahan, Charlie Morton, Chris Resop, Jeff Karstens, Evan Meek, and Garrett Jones ahead of the midnight deadline. They will all be back with the team next season. So will Jason Grilli, who agreed to a $1.1 million deal. The Bucs also tendered a contract to the newly acquired Casey McGehee, who is arbitration eligible.  If you missed it, McGehee...
Nobody ever accused Milwaukee Brewers GM Doug Melvin of being slow to the trigger. Hours after signing Aramis Ramirez to be the Brewers' third baseman for the next three years, Melvin traded the incumbent at third, Casey McGehee, to the Pirates in exchange for reliever Jose Veras, according to the Milwaukee Journal-Sentinel's Tom Haudricourt. The move seemingly clears the...
The Pirates acquired third baseman Casey McGehee from the Milwaukee Brewers in exchange for reliever Jose Veras Monday night, the team announced, adding insurance in case Pedro Alvarez continues to struggle.
The Pittsburgh Pirates have acquired third baseman Casey McGehee from the Milwaukee Brewers in a trade for reliever Jose Veras.
Hours after agreeing with Aramis Ramirez on a contract to play third base, the Brewers traded Casey McGehee to the Pirates for right-handed reliever Jose Veras.
This probably shouldn't be as much of a surprise as it was, but the Brewers capped off a busy day by trading Casey McGehee to the Pittsburgh Pirates for reliever Jose Veras. With Aramis Ramirez signing with the Brewers earlier in the day and the non-tender deadline at 11 p.m. Central, today seemed like a good bet to be McGehee's last with the Brewers one way or another...
With the midnight non-tender deadline fast approaching, I'll update this post through the night as we figure out who the Pirates do and don't offer contracts to. We already know that Jose Veras has been traded to the Brewers for Casey McGehee, who will presumably be tendered.We also know that the Pirates signed Jason Grilli to a one-year/$1.1 million deal. Grilli, you'...
MLB News

Delivered to your inbox

You'll also receive Yardbarker's daily Top 10, featuring the best sports stories from around the web. Customize your newsletter to get articles on your favorite sports and teams. And the best part? It's free!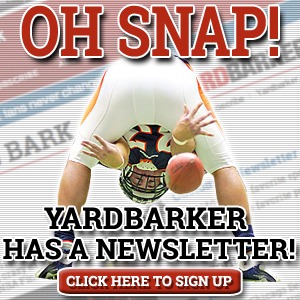 Latest Rumors
Best of Yardbarker

Today's Best Stuff

For Bloggers

Join the Yardbarker Network for more promotion, traffic, and money.

Company Info

Help

What is Yardbarker?

Yardbarker is the largest network of sports blogs and pro athlete blogs on the web. This site is the hub of the Yardbarker Network, where our editors and algorithms curate the best sports content from our network and beyond.