Found September 16, 2012 on Pirates Prospects:
PLAYERS:
Pedro Alvarez
,
Edwin Encarnacion
,
Clint Hurdle
,
Jeff Locke
,
Joe Mather
,
Chris Resop
,
Anthony Rizzo
,
Starling Marte
,
Alfonso Soriano
,
Rick Vanden Hurk
,
Jared Hughes
,
Chad Qualls
,
Justin Wilson
TEAMS:
Pittsburgh Pirates
,
Toronto Blue Jays
,
Chicago Cubs
Pedro Alvarez has had four multi-homer games this season, and his two long ball performance showed off his impressive power at Wrigley Field on Sunday. When Alvarez is locked in at the plate, the third baseman drives the ball out of the ballpark. Literally.
Both Alvarez's home runs — No. 28 and No. 29 on the season — sailed out of the stadium and landed on Waveland Avenue in Chicago. It was part of his 2-for-5 day, where he drove in five runs.
The first dinger from Alvarez came on a 1-0 pitch for a two-run shot in the fifth inning to left-center field. The second was also an opposite field blast, which like the first, cleared the seats and bounced out of the stadium. It drove in three more runs for the third baseman in his two-homer day. Alvarez has hit 18 of his 29 home runs in day games this season. Only Toronto's Edwin Encarnacion (19) has more in the Majors in afternoon games.
"Just trying to keep it simple. Just trying to go up there and compete pitch to pitch. Just maintain focus," Alvarez said of his recent approach.
Alvarez hasn't been able to be consistent this season at the plate. The third baseman is either hot or cold, but when he heats up, he goes on a tear. Alvarez entered game action hitting just .167 (8-for-48) in September after going hitting for a .322 clip with five homers and 12 RBI in the month of August. That impressive month earned him National League Player-of-the-Week honors for week the of August 27-Sept 2nd after hitting .458 (11-for-24) with four home runs.
Manager Clint Hurdle believes that with more experience, Alvarez has the ability to develop more consistency moving forward. The Pirates are helping him work towards making those hot streaks longer, and the rough patches, which all players go through, shorter.
"There is something to be said about seeing pitches better, and there's something to be said about different guys making pitches look like strikes that end up as balls," Hurdle said. "Where they're attacking the strike over, are they leaving hittable balls in the strike zone? [Are] there things looking like strikes coming out of their hand then disappearing on him? That is the next challenge for Pedro, understanding when he needs to go at stuff, when he needs to layoff stuff."
"He has just stayed focused, stayed steadfast in his approach. We've varied somethings. He doesn't work as much, but he still works with great intensity, with great focus, with great preparation. With the swing he's got, it's still a high risk, high reward swing. There's going to be some extremely hot periods and there's going to be some periods where there's going to be some swing and misses. That's what you look for with the more experience, more at-bats, to develop more consistency moving forward."
Home Runs Hurt Locke in Third Big League Start
Jeff Locke has come a long way from the left-hander that got his first taste of the Majors last September in 2011. The rookie took strides this year after gaining more experience not only in the big leagues, but with more outings at the Triple-A level as well. He has a more confident mound presence this season. But the two biggest differences Manager Clint Hurdle said have been the ability to throw more strikes, which has ramped up this season, and the improvement of his secondary pitches, including the development of his changeup. The left-hander also added more of a twist at the plate, which he also attributes to his success this year.
Coming off a two-run six inning performance against Chicago at home on the 9th, the long ball is what hurt him on Sunday in his third big league start of the season.
Locke allowed two homers his last outing at PNC Park, but both came with no men on base. Today he gave up two, with the second ending his outing early.
With one out in the fifth, Locke allowed a first pitch homer to Joe Mather to left center field. After Barney singled, Rizzo took a 2-0 pitch for a two-run shot to end the rookie's outing early. A single to Soriano to follow forced Manager Clint Hurdle to call upon Chris Resop from the bullpen, who gave up an RBI single to charge Locke with his fifth run of the outing.
Locke looked solid after the first inning, in which he allowed a run to Chicago. Locke was close to escaping the first inning by putting up a zero, but two, two-out hits just out of reach of the Pirates' gloves allowed the Cubs to get on the board first.
After retiring his first two batters, Anthony Rizzo ripped a double into the gap into left center field. Starling Marte attempted to run the ball down and made a great diving play, but the ball deflected off the tip of his glove. Locke's next batter, Alfonso Soriano, followed by hitting a single up the middle to plate the first run. Barmes, too, made a diving attempt at the ball, but was just out of reach for the shortstop. The left-hander whiffed Starling Castro to end the frame.
Locke went on to allow just one hit over his next three frames before the four-run jam in the fifth. Overall, Locke was charged with five runs on seven hits over 3.1 innings. He walked one and struck out two while throwing 74 pitches, 47 strikes.
Bullpen Explodes in Loss to Chicago
For what has been a strength for the majority of the season, the Pirates bullpen struggled to get the job done in Chicago on Sunday. After left-hander Jeff Locke exited his outing early, Pittsburgh was able to battle back and take a four-run lead in the sixth. But the 'pen combined to allow eight runs from six different relievers sailing the club their 72nd loss of the season.
Rick VandenHurk and Jared Hughes both were unable to retire a batter in their appearance at Wrigley Field. VandenHurk loaded the bases on two hits and a walk before Manager Clint Hurdle decided to go to Hughes to attempt to escape the frame. Hughes allowed a RBI grounder up the left side before Anthony Rizzo launched a grand slam for Chicago to take a 10-9 lead.
For Hughes, it marked his second blown save of the roadtrip, after allowing his two inherited runners to score on Monday with the lead in Cincinnati. Hughes has been charged with seven earned runs over his last 15 appearances (17.1 innings).
Chad Qualls was able to toss a scoreless frame before the bullpen gave up three more runs to Chicago in the eighth. Chris Leroux ran into trouble in his second inning of work. The right-hander allowed an RBI double to Soriano before two more hits brought in lefty Justin Wilson. The rookie threw a 97 mph fastball, which was launched to right field to plate two runs before a fly out ended the frame.
The loss came a day after snapping their seven-game losing streak. The club has now lost 12 of their last 15 games and have dropped to 3.0 games back of St. Louis for the second Wild Card spot.
Original Story:
http://feedproxy.google.com/~r/Pirate...
THE BACKYARD
BEST OF MAXIM
RELATED ARTICLES
Per the MLB.com transactions page, relief pitcher Evan Meek has been outrighted to Indianapolis. The right-hander was designated for assignment last week to make room on the 40-man roster for Rick VandenHurk. His outright assignment means the Pirates will retain him in the organization for now. However, Meek has enough time in baseball to qualify as a minor league free agent after...
The Pittsburgh Pirates will be moving their New York-Penn League affiliate to Jamestown, according to Guy Cipriano. We heard yesterday that the State College Spikes had signed with the St. Louis Cardinals, ending the relationship with the Pirates. Earlier today, Rob Biertempfel mentioned that a deal was in place with Jamestown, and that Jamestown has applied with the NYPL for permission...
Prior to the season we heard word that the State College Spikes weren't satisfied as a Pittsburgh Pirates affiliate, and were considering looking for a new organization after the 2012 season when the deal expired between the two teams. According to Rob Biertempfel, the Spikes have signed a two year deal with St. Louis, making them a Cardinals affiliate. Earlier today, Biertempfel...
Five former Pittsburgh Pirates born on this date, including one that was related to a United States President. In his Jolly Roger Rewind, John Fredland takes a look back at a game from 1978 with a big hit from Scrap Iron. Rich Robertson (1968) Lefty reliever for the 1993-94 Pirates. He was a ninth round pick by the Pirates in the 1990 draft out of Texas A&M. Rich was drafted...
James McDonald has been removed from the Pittsburgh Pirates' starting rotation. McDonald has fallen off considerably since a strong first half. The 27-year-old right-hander has allowed 14 runs in his last three starts -- a total of 12 innings pitched. He walked four batters and allowed four runs in just 3 2/3 innings in a loss to the Chicago Cubs on Friday. Manager Clint Hurdle...
After a three hour-plus rain delay in Chicago on late Monday night, the Pirates were looking for a solid pitching performance before having to fly back to Pittsburgh for the quick turnaround on Tuesday. The club got just that as Kevin Correia held the Cubs to just two hits and the bullpen was able to close it down in the 3-0 shutout. Correia tossed arguably his best start of the...
Pittsburgh Pirates Live Game Chat
Jameson Taillon has the raw stuff to become a frontline starter. He also has the mentality. The 20-year-old Pittsburgh Pirates prospect has an advanced feel for pitching, which is a reason he could reach the big leagues as soon as next year. Drafted second overall in 2011, the 6-foot-6 right-hander finished the season with Double-A Altoona after spending most of it in High-A. In...
The Pirates and Cubs didn't get under way until 11:42 PM eastern time thanks to a rain delay, but the Bucs actually made it worth the wait with a solid win. Kevin Correia was remarkable. He pitched probably his best game as a Pirate, completely sailing through the Cubs lineup with no problems at all. He allowed just two hits over seven innings, both singles by Darwin Barney. The...
What an absolutely pathetic display yesterday.  Just downright awful.   If this team were a horse it would be shot.  They are heartless from the manager on down. I really have nothing else to say.  Pathetic. Jared Hughes should be shut down, not used four times in five days.  The guy is completely drained, but [...]
I like to read message boards.  I often frequent the Steelerfury message boards.  They allow me to post my blog posts on their Pittsburgh Sports forum and a decent group of people talk Bucco-baseball.  It's nice really.  Anyway I was reading there and one of the members posted this. If they don't make the playoffs, [...]
An incredible run over the last month has vaulted the Milwaukee Brewers into the thick of the NL wild-card race. The Pittsburgh Pirates are right there with them, but they've hardly resembled a playoff team lately. The surging Brewers look to continue their astonishing playoff push in Tuesday night's opener with the Pirates, who might be weary after arriving home this morning...
MLB News

Delivered to your inbox

You'll also receive Yardbarker's daily Top 10, featuring the best sports stories from around the web. Customize your newsletter to get articles on your favorite sports and teams. And the best part? It's free!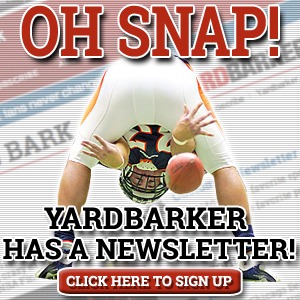 Latest Rumors
Best of Yardbarker

Today's Best Stuff

For Bloggers

Join the Yardbarker Network for more promotion, traffic, and money.

Company Info

Help

What is Yardbarker?

Yardbarker is the largest network of sports blogs and pro athlete blogs on the web. This site is the hub of the Yardbarker Network, where our editors and algorithms curate the best sports content from our network and beyond.