Found October 03, 2012 on Pirates Prospects:
PLAYERS:
Kevin Correia
,
Juan Francisco
,
Clint Hurdle
,
Justin Wilson
,
Eric Hinske
,
Reed Johnson
,
Alex Presley
,
Josh Harrison
,
Michael McKenry
,
Wandy Rodriguez
,
Bryan Morris
,
Tommy Hanson
TEAMS:
Pittsburgh Pirates
,
Atlanta Braves
Image Courtesy: Pittsburgh Pirates
Kevin Correia walked off the mound with two-outs in the seventh inning to a warm applause from the home crowd at PNC Park. The right-hander held the postseason bound Atlanta Braves to just one run in what is likely his final start as a Pittsburgh Pirate.
"I don't think about any contract stuff or where I'm going to be at until after my last start," Correia said after picking up the win. "It really doesn't even feel like the season is going to be over in a couple days when you're coming into today knowing you're going to pitch. I'll take a few weeks to kind of not think about baseball and then I'll figure whatever's going to happen out. It really doesn't enter your mind when you're pitching."
After putting up zeros over his first three innings and holding Atlanta to just one hit over that span, the Braves were able to scratch across home plate in the fourth. Doubles did the damage against Corriea, whose second extra-base hit to left field by Juan Francisco drove in the first run.
Correia went on to allow one more hit over his next two more frames before giving up a pinch-hit single with two-outs in the seventh. Manager Clint Hurdle called upon left-hander Justin Wilson, who allowed Eric Hinske to double, but a great play at the plate nailed the runner out to end the inning. Reed Johnson attempted to score from first on the knock, but Alex Presley's throw to Josh Harrison was lined to Michael McKenry at the plate who tagged the diving Johnson to end the inning.
Overall, Correia was charged with just one run on six hits over 6.2 innings. He walked one and struck out five while throwing 97 pitches, 61 strikes in his final start of the season. Correia finished with a 4.21 ERA over 171 innings.
"It's huge," Correia said of ending on a good note. "It seems like when you go into the offseason with a bad one, you can't stop thinking about that for weeks and weeks. It's nice to have a good one to just go in on a positive note. Just kind of rest your mind a little going into the offseason."
Correia was moved into the bullpen just after the Pirates acquired Wandy Rodriguez from Houston at the trade deadline.  After seeing four relief appearances, and several spot starts, Correia saw an improvement in not only his runs allowed, but also his strikeouts. Correia struck out 20 batters in the month of September after punching out just nine overall in both April and May.
"I just felt the way he was pitching and what he had done, it wasn't anything other than we felt this was the best way for us to go in the rotation," Hurdle said. "I don't want to say it was a reward, I felt he was deserving of the start."
"I made the adjustments that I wanted to make in the second half," Correia said. "I wanted to strikeout a few more guys because I knew I could. Just go out there and win some more games. I think I was able to do that. If I had a couple things go my way, I think I could have had a great second half. The team didn't finish like I wanted it to…I'll look back at it later and be happy with it overall."
"I just kind of just changed myself into more of a groundball, try to get quicker outs kind of pitcher coming in. the first half, I just wasn't getting deep into starts and it wasn't pitch count related. I kind of just figured that if I wasn't going to be out there for more than five, six, seven innings, you might as well try to use up your 100 pitches and get some more strikeouts. I was able to do that to a certain extent I think."
Correia signed a two-year deal with the Pirates in December of 2010. The 31-year-old made the All-Star team in his first year with Pittsburgh after posting a 4.79 ERA over 154 frames.
"I think they've been good," Hurdle said of Correia's time with the Pirates. "I think he's been able to honor the contract. I think we've been representative of the contract…The innings pitched, all those hard numbers I think they've been good. He made an All-Star team. A lot of people lose sight of that. He was a guy that wanted to be more than a No. 5. We gave him that opportunity. He's come in and pitched well…I believe he's been an asset."
"Would I think there would be any invested interest in him in the offseason? I would, but obviously I don't speak for the industry because I was shown it blankly how wrong I could be at one particular point in time."
Morris Satisfied With First Trip in Majors
Bryan Morris didn't get the opportunity to make his Major League debut until he was recalled as a September callup after the Triple-A postseason ended on the 10th. The right-handed reliever was promoted to the bigs earlier in the season, but was not used out of the bullpen.
Morris has made five appearances — the first was his big league debut —  in relief with just one game remaining in the season.
"It was a life long dream coming true basically," Morris said of his first outing. "I had a lot of nerves early when I was warming up and I had a lot of energy. Hopefully it stays like that for a long time."
The 25-year-old has allowed one run on two hits over five innings with two walks and six strikeouts. The lone run came in an outing against Milwaukee where he allowed both of his hits given up and one of the two walks. His other three outings have been hitless frames, which included his most recent on Wednesday where he struck out two of the three batters he faced.
"The short time up here has been good," Morris said. "Just the experience of getting into big league games, it's a good feeling. Hopefully I get a lot more chances coming up next year."
Morris heads into spring training in 2013 without any options. That could benefit him with breaking came out of spring training for the first time in his career. The organization has been able to get looks at Morris at the big league level, and the results have been solid.
"With the limited time that I've been in games, I've just tried to do my best to attack the zone and go out there and get as many outs as I can as long as I'm in the game," Morris said. "I'm satisfied with what's happened so far."
Notes:
– With their 44th win in Pittsburgh last night, the Pirates have produced their best overall single season home record at PNC Park (44-35). Their only other winning season in the 12 seasons of play at PNC Park came in 2006 when they finished 43-38.
– Pittsburgh entered game action ranked eighth among National League teams with a 3.88 ERA. The last time the Pirates pitching staff finished a season with an ERA below 4.00 was in 1998 (3.91) and the last season in which the team ERA was lower than 3.90 was 1992 (3.35).
– Garrett Jones blasted a two-run homer on  a 2-0 pitch in the fifth inning off of Tommy Hanson. It marked Jones' 27 on the season. The Pirates are just one long ball shy of tying the club record of 171 hit in 1999.
Original Story:
http://feedproxy.google.com/~r/Pirate...
THE BACKYARD
BEST OF MAXIM
RELATED ARTICLES
A.J. Burnett didn't have his best stuff in the final game of the 2012 season on Wednesday, but that didn't stop the home crowd from giving him a standing ovation when he walked off the mound in the two-run sixth inning. The frame was highlighted with a pinch-hit single to leadoff the inning from veteran Chipper Jones in his last regular season at-bat before hanging up his cleats...
Last week the Pittsburgh Pirates placed four prospects in the top 20 of Baseball America's 2012 Gulf Coast League list. This week their lower level prospects received more recognition from Baseball America, placing three prospects on the 2012 New York Penn League top 20 list. The list can be seen here, and scouting reports can be read here for subscribers. Luis Heredia was the...
It took a while –10 big league starts and 67.2 innings to be exact — for Jeff Locke to notch his first Major League win, but the lefty rookie was able to get that notch that in his solid final start of the 2012 season. Locke has come a long way from the left-hander that made his Major League debut with Pittsburgh last September against the now Miami Marlins. Locke tossed 16...
At the start of the year I ran a few polls, asking for over/under predictions on several key topics for the 2012 Pirates season. Now that the season is over, I thought it would be a good time to look back and see the results of some of those key story lines. Pedro Alvarez Home Runs Take Our Poll Remember back at the start of the season when people wanted to send Pedro Alvarez...
PITTSBURGH (AP) -- Kevin Correia pitched effectively into the seventh inning, Garrett Jones homered and the Pittsburgh Pirates won consecutive games for the first time in four weeks, beating the Atlanta Braves 5-1 Tuesday night. A day after being eliminated from the NL East division title race, the wild-card Braves rested several regulars and shuffled players in and out of the lineup...
Kevin Correia pitched effectively into the seventh inning, Garrett Jones homered and the Pittsburgh Pirates won consecutive games for the first time in four weeks, beating the Atlanta Braves 5-1 Tuesday night. A day after being eliminated from the NL East division title race, the wild-card Braves rested several regulars and shuffled players in and out of the lineup throughout the...
Starling Marte broke into the Major Leagues with a bang. The Pirates outfielder homered on July 26 to deep left-center field in Houston on the first swing of his major league career.
 The Pirates came up with a nice victory on Monday night…and while it didn't matter for them, they set off a celebration in Washington D.C. because the Braves loss clinched the NL East for the Nationals. So it was kind of relevant. Jeff Locke finally earned his first major league win, and he certainly deserved it. He was uncharacteristically wild (five walks) but for the first...
I hope the Pirates sweep the Braves.  Not because I want their record to improve.  At this point that doesn't matter.  Mostly because I can't stand the Braves or that d-bag Chipper Jones.  I want the Chipper Jones retirement tour to go bad.  I want his career to end on a sour note. I know, [...]
The Bucs' 2012 season ended with a bit of whimper on Wednesday afternoon, as they lost in a lifeless fashion that was representative of much of their play in August and September. The loss dropped their final record to 79-83. A.J. Burnett had an uninspiring final start, as the Braves singled him to death and stole three key bases. He ended up allowing all four runs in just 5.2...
Well the 2012 season is coming to an end today as the Pirates are getting ready to try and finish their campaign off with a three game sweep of the Atlanta Braves, who will be playing in the one-game Wild Card playoff on Friday after a season in which they won 93 or 94 games. The fact that a 93/94 team might be eliminated by the 87/88 win Cardinals in a one-game playoff is absolutely...
MLB News

Delivered to your inbox

You'll also receive Yardbarker's daily Top 10, featuring the best sports stories from around the web. Customize your newsletter to get articles on your favorite sports and teams. And the best part? It's free!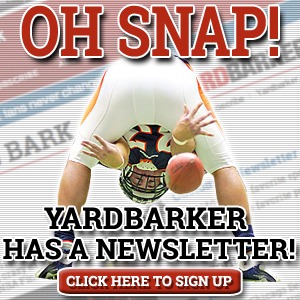 Latest Rumors
Best of Yardbarker

Today's Best Stuff

For Bloggers

Join the Yardbarker Network for more promotion, traffic, and money.

Company Info

Help

What is Yardbarker?

Yardbarker is the largest network of sports blogs and pro athlete blogs on the web. This site is the hub of the Yardbarker Network, where our editors and algorithms curate the best sports content from our network and beyond.