Found April 07, 2013 on Pirates Prospects:
PLAYERS:
Jeff Locke
,
Clint Hurdle
,
Jonathan Sanchez
,
Michael McKenry
,
Russell Martin
,
Hyun-jin Ryu
,
Vladimir Guerrero
,
Starling Marte
,
Neil Walker
,
Andrew McCutchen
,
Gaby Sanchez
,
Pedro Alvarez
,
Jose Tabata
,
John McDonald
,
Carl Crawford
,
Nick Punto
,
Matt Kemp
,
Adrian Gonzalez
,
Juan Uribe
,
Tim Federowicz
,
Justin Sellers
,
Jerry Hairston jr.
TEAMS:
Pittsburgh Pirates
,
Los Angeles Dodgers
,
Toronto Blue Jays
Jeff Locke says he has "gotten much better" over the last two years. A weekend start at Dodger Stadium presents Jeff Locke a familiar setting for a new kind of outing. He pitched here in September 2011 for his second career Major League start and first on the road. It was even his first time in California. It was an experience Locke says was "overwhelming," and he was done after only three innings without even getting a strikeout. "By the time I came out of the game, I didn't even feel like I did anything," Locke said. But that was a late-season start after his Triple-A season had already ended, and his August recall last year was not that different. This time, Locke comes to Dodger Stadium with a new delivery and a more "comforting" situation as part of the opening 25-man roster. "They wouldn't have you here if you didn't deserve it or if they didn't have trust and belief in you," Locke said. The 25-year-old lefty realizes much of his Big League status is based on just 27.1 innings of success in Spring Training. His six Florida starts culminated in a 2.63 ERA, 15 strikeouts and a locker with the Pirates. But with so many pitchers making their recovery back to the Majors, what does Locke have to do to keep the spot he has earned? "There's nothing really more to be done in Triple-A unless he finds a challenge here that he's not able to meet right now," manager Clint Hurdle said. The pitcher's numbers with Indianapolis last year line up with Hurdle's statement (10-5, 2.48 ERA, 131 K, 43 BB in 141.2 innings). The manager added that Locke "has the weapons to compete," from his changeup to working his fastball on both sides of the plate, and a breaking ball with "nice, tight depth." Locke watched fellow left-hander Jonathan Sanchez succeed against the Dodgers on Friday, and took note of the fact that he has to stay aggressive in pitching to a team that has swung the bat the fewest times in the NL through five games (41.6% swing rate). McKenry Makes Debut As with Locke, Sunday will be the first game of 2013 for catcher Michael McKenry. The backstop says Locke is "a lot of fun to catch," but there is at least one focus for a season debut. "You're gonna have to slow his heartbeat down today," McKenry said. "That's the tendency when guys are making their first start." McKenry is "ecstatic" to start, but he steps into the lineup at a time when the Pirates' offense has been nonexistent. He says he will not press to make an instant impact after his career year (.320 OBP, .762 OPS, 12 HR) one season ago. "We gotta go back to Little League sometimes," McKenry said. "Just see it and hit it." Pirates fans should take note that McKenry is now number 19 after allowing new catcher Russell Martin to take number 55. When McKenry and Locke take the field, reliever Chris Leroux will become the only player on the Opening Day roster to not have made an appearance in 2013. Pirates Face an Unfamiliar Ryu The Bucs do not have a lot of video on Dodgers' Sunday starter Hyun-Jin Ryu, just a few starts for South Korea in the World Baseball Classic and Summer Olympics plus Ryu's 6.1 innings with only one earned run Tuesday against the Giants. "We've seen what we've been able to see," Hurdle said. "We've got to get him up in the zone, back him up. The fastball's firm, the other stuff is going to make his fastball play a little bit better." The left-handed Ryu did give up 10 hits in his MLB debut in front of close to 50 Korean photographers and reporters. Rob Biertempfel of the Pittsburgh Tribune-Review noted to Hurdle that Ryu, 26 years old, does not throw between starts or in the offseason, an unusual approach. Though the Dodgers knew what was coming when they posted $25.7 million to negotiate with Ryu, followed by a six-year, $36 million contract. "When you go out and get the best player in South Korea, and he's done things a certain way, I guess you're gonna honor that," Hurdle said. "I think there is room for individuality… Vladimir Guerrero, in 2010, I can count on one hand the number of times he came in to the cage for me to work with him. All he took was [batting practice]. Sunday Lineups Pittsburgh Pirates (1-4) LF Starling Marte 2B Neil Walker (S) CF Andrew McCutchen 1B Gaby Sanchez C Michael McKenry (2013 debut) 3B Pedro Alvarez (L) RF Jose Tabata SS John McDonald (first Pirates start) LHP Jeff Locke Los Angeles Dodgers (3-2) LF Carl Crawford (L) 2B Nick Punto (S) CF Matt Kemp 1B Adrian Gonzalez (L) RF Jerry Hairston Jr. 3B Juan Uribe C Tim Federowicz SS Justin Sellers LHP Hyun-Jin Ryu
Original Story:
http://feedproxy.google.com/~r/Pirate...
THE BACKYARD
BEST OF MAXIM
RELATED ARTICLES
At the start of the season, the Pittsburgh Pirates looked to have a great situation at the top of their rotation. A.J. Burnett had made 31+ starts each year since 2008. Wandy Rodriguez had made 30+ starts each year since 2009. They looked like guys who could give the Pirates a full seasons worth of starts, while potentially putting up 200 innings each. Rodriguez left tonight's...
The Pirates released Jeremy Farrell. The Pittsburgh Pirates have released third baseman Jeremy Farrell, according to the latest minor league transactions from Baseball America. Farrell didn't make either of the top level teams out of Spring Training. In two seasons with Altoona he combined for a .241/.330/.346 line in 610 at-bats. Farrell also had problems staying healthy throughout his career.
Charlie Morton is increasing his pitch count after being placed on the 15-day DL. Greetings from Dodger Stadium, where it should be another beautiful Los Angeles night. Here's a link to Friday's recap if you missed it. Pirates manager Clint Hurdle provided updates on some of the team's injured pitchers: Charlie Morton (elbow) will throw two innings in an extended game Monday...
Pirates (1-4) at Dodgers (3-2) 4:10 PM–Dodger Stadium, Los Angeles MLB.com Gameday TV: ROOT The Pirates look to avoid a series sweep (or at least avoid a series shutout) today against the Dodgers. They've dropped eight straight at Dodger Stadium and have obviously been completely dreadful at the plate so far this year. It's gotta change some time soon.. Tonight's starters…...
Three more pitchers make their season debut today, two of them can be considered sleep prospects, though they are on the opposite ends of the chart. Phil Irwin pitched great last year and was added to the 40-man roster this off-season, putting himself on the map for Pirates fans as a possible call-up during this season. On the opposite end is 19-year-old Tyler Glasnow, who pitched...
Starling Marte was called up to the Pirates in July of 2012. The young outfielder finished the remainder of the season in Pittsburgh. Playing in 47 games, Marte hit .257, he smacked five home runs to pair with six triples, three doubles and 12 stolen bases. Marte told PiratesDugout.com's George Von Benko through an interpreter that he hopes an offseason of hard work pays off this season.
TOP OF THE SYSTEM A look at how the current top 20 prospects did today.  Note that this list doesn't include players currently in the majors. If a player is in the majors, he will be removed, everyone below him will be shifted up a spot, and a new player will be added to the bottom of the list. Rankings are from the pre-season rankings, and links to each prospect writeup can be...
The Pittsburgh Pirates jumped out to an early lead against the Los Angeles Dodgers on Sunday afternoon. Starling Marte, who was the only Pirate to get a base hit off of Clayton Kershaw in Saturday nights game , led off the game with a single to left field off of MLB rookie Hyun-Jin Ryu. Ryu got Neil Walker to pop out to shortstop before Andrew McCutchen hit a two-run home run to...
A bittersweet night in Phoenix saw a Pirates win as well as an injury to perhaps the Pirates' best pitcher.  The Arizona heat warmed up the Pirates' bats as they scored a season-high 5 runs to give them a 5-3 run over the Diamondbacks. Wandy Rodriguez was standing in the on-deck circle before he had…
Through six games, the Pirates have scored eight runs and allowed 16. That puts them dead last in the NL in runs scored and second in runs allowed. They are 1-5. Through six games, the Diamondbacks have scored 37 runs and allowed 27. That puts them third in the NL in runs scored and ninth in runs allowed. They are 5-1.  If we're being honest, right now I'm more concerned...
Pirates (1-3) at Dodgers (2-2) 9:10 PM–Dodger Stadium, Los Angeles MLB.com Gameday TV: ROOT The Bucs will look to right the ship tonight out in Los Angeles, but the timing couldn't be much worse for a matchup against the best pitcher in the NL. The many struggles on offense have been well chronicled so far, but here's a quick summary: OK, official offensive slashes: 127/.195...
Swept.  It's embarrassing.  Watching these guys bat actually makes me embarrassed.  Like I'm out there doing it. That guy knows. Someone else who knows a thing or two is Matt Shoemaker.  He is looking for someone to replace Kevin Correia. That should take care of my plugs for this preview. Now it's on to Arizona.…
MLB News

Delivered to your inbox

You'll also receive Yardbarker's daily Top 10, featuring the best sports stories from around the web. Customize your newsletter to get articles on your favorite sports and teams. And the best part? It's free!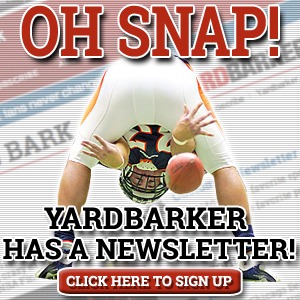 Latest Rumors
Best of Yardbarker

Today's Best Stuff

For Bloggers

Join the Yardbarker Network for more promotion, traffic, and money.

Company Info

Help

What is Yardbarker?

Yardbarker is the largest network of sports blogs and pro athlete blogs on the web. This site is the hub of the Yardbarker Network, where our editors and algorithms curate the best sports content from our network and beyond.