Found August 09, 2012 on Pirates Prospects:
PLAYERS:
Jeff Locke
,
Clint Hurdle
,
Kevin Correia
,
James McDonald
,
AJ Burnett
,
Erik Bedard
,
Wandy Rodriguez
,
Rod Barajas
,
Stephen Drew
,
Jared Hughes
,
Pedro Alvarez
TEAMS:
Pittsburgh Pirates
,
Arizona Diamondbacks
Jeff Locke was impressive in his 2012 debut for the Pirates on Thursday at PNC Park. The left-hander, who was recalled on Wednesday, was promoted to serve the club with length from the bullpen — a role that he's never been called upon to do in his professional career.
But the 24-year-old looked nothing like a rookie on the mound in Pittsburgh.
"I think there's nerves anytime you pitch at any level. If you're not nervous, then you're not right," Locke said after the game.
He's come a long way since making his Major League debut on September 9, 2011 against the Marlins. Not only did the experience of pitching in the Majors last year help, but so has the new delivery he put into play in spring training as well as maturing in Triple-A.
"I feel much more confident this year," Locke said. "I'm not sure if it's because I spent two-third of the year last year in Double-A, short time in Triple-A. I don't know, I just feel much more confident this year. I feel like I belong here. A place where I can help out the club and do whatever is needed of me."
Those valuable experiences allowed him to make a perfect impression.
Locke tossed 2.1 perfect innings. He gave up no hits, runs, walks and struck out Aaron Hill swinging with one out in the ninth inning. The left-hander threw 37 pitches, 22 for strikes in his season debut. Manager Clint Hurdle said after the game they liked what they saw from him.
"Yeah we did," Hurdle said. "I think everybody did. Very good composure on the mound. Mixed his pitches well. He kept the ball in the strike zone and used all his pitches, so yeah I like what we saw today."
"It feels good to just go in there and do what you can to help," Locke said. "Keep the game what it is. Give the offense a chance to come back. All in all, it feels good to just get back out there again. Today was my fifth day, start day, so it feels just good to go back out there and compete. And obviously at this level, it's second to none."
The outing, however, came in a situation that Locke has been unfamiliar with. Since being drafted in 2006 in the second round, Locke has been a starter. He was called upon with two-outs in the seventh inning with a runner on base. Not only did Locke inherit a runner, but he came in mid-inning. The 24-year-old said he talked to some of the relievers for advice prior to his outing.
"It's something I've never done in my life before," Locke said. "To come in, in a game like that, you take a little bit of a different mindset. It's not going to be an extended period of time like a starting role would be. But just try to stay composed out there and get ahead of guys, throw strikes and let your defense do some work."
"I feel like you can kind of let it go a little more. Just go out there and attack them and try to give it your best…My command is working with the different delivery now, things are working and lefties are getting out."
As of now, how Locke fits with the club is undermined. With throwing in long relief, the left-hander could be deemed unavailable tomorrow considering his lack of experience on back-to-back days. The club could decide to bring up another reliever to take his spot. Or, perhaps, Locke made an impression keeping him in the big leagues.
"We'll huddle up and see what kind of strategy we want in play as we move forward," Hurdle said after the game.
With Kevin Correia's spot start on Wednesday, the right-hander will be down three days before being available again from the bullpen. Hurdle did, however, kept the option open for another spot start as they continue to battle through the 20 game stretch without an off day.
"If he would pitch in the bullpen, if we go that route, it would be [Sunday]," Hurdle said. "We've bumped everyone back a day with the spot start by Kevin…At this point in time in the season, I think you're also asking for trouble if you continue without an off day that gives them the off day."
"We've got a few days to decide on that. It's not imamate right now since we just had one yesterday. We've got the next five days planned out."
The rotation set for the next five days is James McDonald on Friday, A.J. Burnett Saturday, Erik Bedard on Sunday, Jeff Karstens on Monday and Wandy Rodriguez on Tuesday.
Two Homers Spoil Rodriguez's Home Debut
Wandy Rodriguez took the mound at PNC Park for his home debut on Thursday against Arizona and felt some nerves. Prior to the game, Rodriguez told catcher Rod Barajas that he was a little excited, which perhaps caused the two-run first inning.
After striking out Stephen Drew to start the game, Aaron Hill ripped a double into the north side notch . The next batter launched an 0-1 fastball for a two-run homer to the porch in right field. The lefty induced a groundout for the second out, and was able to get a fly out to end the inning.
From there, Rodriguez battled through his next four frames, putting up zeros and holding the D-Backs to three hits until the sixth inning.
With two-outs, Rodriguez dished up his second two-run homer of the game, this time to Will Nieves.
"I don't know what's going on with me," Rodriguez said. "I've lost two games, and it's only been [because] of one pitch…It's only been one or two pitches that's missed in the games and they've hit the ball…Today in the last inning, I hung a breaking ball and he hit a home run. I feel bad because I tried to do the best I can and have the team win."
"I think about that situation and that home run was very bad, because the pitcher's next, and I tried to throw a good breaking ball, but I missed my spot and he hit the ball very well…The first home run I tried to hold the score because I know my teammates, we can win the game. I tried to hold it the most I can."
Overall, Rodriguez allowed four runs on seven hits over six innings. He walked two and struck out two.
"You book in two-run homers — story for the game for him," Hurdle said. "The pitch to Kubel was down and in, it's not up at all. Just his purple zone unfortunately…Rod came before the game and asked if he might be excited because it was his first home opener. He was. The first two innings, he was probably a little fast-forward. And then he got to settle down."
"What I saw was the 15 outs between the two-run homers. The volume of work to close off the first all the way to get to the sixth…You saw a guy confident on the mound, went right after people, changed speeds, used his fastball. Wasn't much margin for error today and the two pitches caused him four runs."
Pirates Monitoring Hughes Workload 
Jared Hughes has had an impressive rookie season with Pittsburgh. But with any player comes stretches where they struggle. That time is now for Hughes, who has allowed seven earned runs over his last seven innings of relief.
On Thursday, the right-hander allowed a hit followed by a two-run homer in the seventh inning over two thirds of an inning. Two nights prior, Hughes allowed a three-run homer in relief.
"That's probably an area that we will continue to talk about as we continue to monitor these guys as we move forward," Hurdle said. "The consistency of the sinker wasn't where it was earlier. You saw him pitch the first two batters, very good sinker ball diving really well…Then you see the ball that's left up. He's a big reason that we are in the position that were are right now, the volume of work. As we talk through all our guys through the stretch, I'm sure we will have some conversation in his area as well."
Alvarez Out of the Lineup for the Third Game in Last Five Days
Pedro Alvarez was out of the starting lineup against Arizona on Thursday. Although there was a tough lefty on the bump, Alvarez has been struggling at the plate recently. Over his last 10 games, the third baseman has a .235 average with no extra-base hits. His last long ball came on July 22nd.
It marked the third game in the last five that Alvarez had been benched.
"I think just the volume of at-bats lately because I'm not going to hang my hat on a day game guaranteeing him swinging the bat well," Hurdle said on why he was not starting." It really hasn't played out that way. He's got a big portion of numbers for a while that weren't working that way. Right now, I'm just looking at the quality of at-bats."
Original Story:
http://feedproxy.google.com/~r/Pirate...
THE BACKYARD
BEST OF MAXIM
RELATED ARTICLES
Jeff Locke will serve as the long man in the Pirates' bullpen. Jeff Locke was promoted to Pittsburgh on Wednesday to provide the club with a volume of innings if the team needs him. With Correia making the spot start against Arizona, and Jason Grilli deemed unavailable in relief due to pitching on back-to-back nights, the bullpen was short arms. The left-hander has been a starter...
Indianapolis Indians  3,  Charlotte Knights  0 (Box)   It still counts. Justin Wilson pitched a no-hitter. Even though the game was cut short, after 7.5 innings due to a thunderstorm, Justin Wilson still gets to count this game as a no-hitter. Wilson pitched eight no-hit innings, including one in the pouring rain, before the game was halted.  In fact, he simply mowed down the...
Photo by Mark Olson James McDonald has struggled the second half of the season. The McDonald that Pittsburgh saw in the first half of the season was impressive. He entered the break with just a 2.37 ERA and looked to be the club's ace of the staff. His evolution drew so much attention that some were surprised he wasn't chosen to pitch in the All-Star game for the National League...
Follow me on Twitter @jim_krug       (Opening image credit usatoday) The website was up and gone so quickly that if you weren't talking Pirates' baseball today, you probably missed it.  Luckily, at first gazing upon the sheer idiocy of the concept myself, I immediately preserved a screen shot, like an astronomer wtinessing the sudden, unexpected beauty of a collapsing...
TOP OF THE SYSTEM A look at how the current top 20 prospects did today.  Note that this list doesn't include players currently in the majors. Rankings are from the post trade deadline update. 1. Gerrit Cole, RHP, Altoona (2-4, 3.93) - DNP 2. Jameson Taillon, RHP, Bradenton (6-7, 3.91) - DNP 3. Luis Heredia, RHP, State College (2-1, 2.28) - DNP 4. Alen Hanson, SS, West Virginia...
It's been two weeks since the last time Kevin Correia made a start for Pittsburgh. He was moved into the bullpen when the club acquired Wandy Rodriguez a few days before the trade deadline. Correia made one appearance during that span in relief, where he struggled and allowed four earned over two frames, in adjusting to the new role. Not since when he was with the San Francisco...
According to a source, Jeff Locke is headed to Pittsburgh to join the club. Kevin Correia is slated to spot start on Wednesday for the Pirates. Locke, who was scheduled to start for Triple-A, was promoted likely as insurance arm. The move is not yet official. No word yet on the corresponding roster move.
Three former Pittsburgh Pirates players born on this date, plus we have a transaction of note, that involved a future Hall of Fame manager. In his Jolly Roger Rewind, John Fredland covers a Pirates no-hitter from 36 years ago. The Trade On this date in 1919, the Pirates traded outfielder Casey Stengel to the Philadelphia Phillies in exchange for utility fielder Possum Whitted. Stengel...
©2012 Raise the Jolly Roger. All Rights Reserved..
Four former Pittsburgh Pirates players born on this date, including a player who was around for just one game, and a shortstop for the first team in franchise history to win an NL pennant. We also have one trade of note and John Fredland, in his Jolly Roger Rewind, takes a look at an extra innings affair from 35 years ago against the Cubs. The Trade On this date in 1971, the Pirates...
The Pittsburgh Pirates and Cincinnati Reds are in a chase for the NL Central as well as the best record in the National League. A big reason for each team's success have been their bullpens. They are the best two teams in the league in bullpen ERA and it's not even close. The next best team is almost a full run behind them. The Pirates came into Tuesday night's game against...
Based on how they've performed at PNC Park coupled with San Diego's play on the road, the Pittsburgh Pirates should be able to end their lengthy home losing streak to the Padres. Of course, if scheduled starter James McDonald's struggles continue, another defeat could be imminent. McDonald again hopes to break out of his second-half funk and help the Pirates avoid losing...
MLB News

Delivered to your inbox

You'll also receive Yardbarker's daily Top 10, featuring the best sports stories from around the web. Customize your newsletter to get articles on your favorite sports and teams. And the best part? It's free!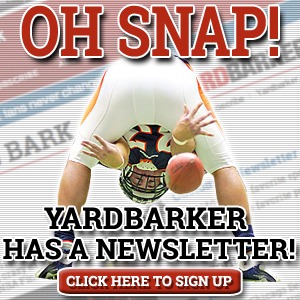 Latest Rumors
The Backyard

Today's Best Stuff

For Bloggers

Join the Yardbarker Network for more promotion, traffic, and money.

Company Info

Help

What is Yardbarker?

Yardbarker is the largest network of sports blogs and pro athlete blogs on the web. This site is the hub of the Yardbarker Network, where our editors and algorithms curate the best sports content from our network and beyond.