Found April 12, 2012 on North Side Notch:
Jon from McEffect, Brian from Raise the Jolly Roger, Cory from Three Rivers Burgh Blog, and myself are back at it with the seventh of our weekly installments of the Pirates Round Table Podcast. This week we discuss the rotation, the hitting woes, and the first week of the season. Click here to listen/download. Listen on iTunes.
Original Story:
http://www.northsidenotch.com/2012/04...
THE BACKYARD
BEST OF MAXIM
RELATED ARTICLES
A.J. Burnett will make his next rehab start Monday, 4/16 with Class AAA Indianapolis, Hurdle said. — Bill Brink (@BrinkPG) April 12, 2012 A.J. Burnett has made two starts so far for high-A Bradenton and will move his rehab to AAA-Indianapolis. Neal Huntington had said that he hopes to get Burnett's pitch count up to 100 before having him join the Pirates, so expect two more...
One key question for 15 of the 25 players the Pittsburgh Pirates took north from Spring Training, in order of most relevant to least… 1. 3B Pedro Alvarez- Will this be his breakout year, or is he written off as the middle-of-the-order impact bat the Pirates desperately need to find elsewhere? Alvarez's 2010 rookie debut showed Pirates' fans flashes of what...
The final score of this game wasn't so bad, but the Pirates might as well have been down 40-1 by the time it ended early this morning. No one that took the mound last night looked very sharp (notably, Bedard failed to locate the way he did in his first game and was very hittable while Evan Meek's 93 mph fastball is fooling no one), the defense was almost universely terrible...
Pirates (2-4) at Giants (2-4) 4:35 PM EST–AT&T Park, San Francisco Here is the MLB.com Gameday No TV in Pittsburgh // Radio: 93.7 The Bucs will participate in another home opener today as the San Francisco Giants open up this afternoon by the bay. Hopefully this one goes a little better than the first two. Today's game isn't on TV in Pittsburgh, because heaven forbid the...
Final: Giants 5, Pirates 0 WP: Matt Cain (1-0, 3.00 ERA) LP: James McDonald (0-1, 3.86 ERA) Not too much to say about this one. The Pirates had one person reach base. One. A James McDonald ground ball single was the only thing that kept Matt Cain from being in a commercial with Kate Upton. I'm sure Cain is devastated. Everyone is slumping it seems at the exact same time and...
We're only a week into the season, but I'm running out of ways to say, "The Pirates stink at hitting." Let's try this one on for size: In the first two innings tonight, Chris Capuano struck out five hitters and four of them went down looking. Capuano's not a bad pitcher -- most of us in the Pirate bloggerverse had him on the radar as a potential signing...
Swept out of LA.  That is very bad news.  Now the Buccos need at least two wins in this series to salvage a respectable road trip. Also, I will try to do all the previews this week but if they are lacking in quality or quantity it is because I will be out of state [...]
It's never fun when the Pirates go out west and play super-late games, but at least tonight playing at 10:10 has the added benefit of not going directly head-to-head with Game 1 of the Penguins/Flyers series. Erik Bedard gets his second Pirate start tonight against Chad Billingsley and the Dodgers.We're all waiting to see the first breath of life from the Pirates' offense...
Yuck, huh?  What a crappy night for Pittsburgh Sports. The Pirates need to start hitting.  I know it's obvious but that's all their is too it. Neil Walker has just 1 hit in 13 at bats.  Unacceptable. Jose Tabata has 3 hits in 18 at bats, slightly better but still unacceptable. Andrew McCutchen has 5 hits in [...]
Well, if you were among those of us that thought the offense would finally get going a bit against a mediocre pitcher…you were very wrong. The Bucs were again quiet at the plate in a 3-2 loss to Los Angeles, giving the Dodgers the sweep. If you watched the first couple innings and decided to go to bed early…I don't blame you. The Pirates were as bad as I have ever seen them...
Pirates News

Delivered to your inbox

You'll also receive Yardbarker's daily Top 10, featuring the best sports stories from around the web. Customize your newsletter to get articles on your favorite sports and teams. And the best part? It's free!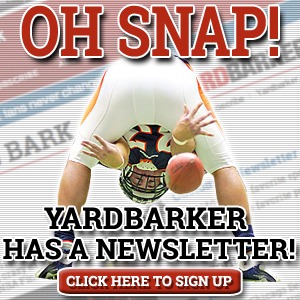 Latest Rumors
Best of Yardbarker

Today's Best Stuff

For Bloggers

Join the Yardbarker Network for more promotion, traffic, and money.

Company Info

Help

What is Yardbarker?

Yardbarker is the largest network of sports blogs and pro athlete blogs on the web. This site is the hub of the Yardbarker Network, where our editors and algorithms curate the best sports content from our network and beyond.