Found November 29, 2012 on Raise the Jolly Roger!:
The Pirates have reached a deal with free agent catcher Russell Martin, pending a physical. The deal is for $17 million over two years. Martin, 29, was the Yankees' catcher in 2011 and 2012 after five years with the Dodgers. He's a three-time All-Star and has a reputation as a good defensive catcher, but has seen his offensive numbers decline over the last few seasons. He hit just .211 in 2012, although a career-high 21 homers and a good walk-rate made him a fairly average hitter (92 OPS+). He was one of the best catchers on the free agent market this year, and with the Yankees (and Rangers) involved, I didn't think the Bucs would land him even if they tried. Well, they did try and as they must do to convince any free agent to come to Pittsburgh, they gave him a very good offer that he wasn't able to refuse. When the rumors about Martin and the Pirates started coming up a couple days ago, I said that I'd much rather see the Pirates go with Michael McKenry as their primary catcher and try and bring in a solid starting pitcher (which will cost a heck of a lot).  I still feel that way, although I can certainly get behind Martin a little bit after acknowledging that the Bucs overpaid. They'd have to over pay for any free agent. There was talk earlier in the week that Martin was seeking 4 years/$40 million, and that the Bucs were offering 3 years/$25 million. The actual terms (2 years for $17 million) are a lot more reasonable. I'll break my thoughts on him into pros and cons… The good: Martin is an upgrade over Rod Barajas. (Duh.) While McKenry had a much better slash line than Martin in 2012, I don't think anyone was banking on him being very productive in a starting role. Martin is experienced with a solid track record, but he's also just 29 (he'll turn 30 in February). He's durable and reliable; he caught 128 and 125 games in his two years with the Yankees, so we won't be looking at a situation where McKenry's starting 2-3 times a week. While it's tough to get a solid handle on a catcher's defensive ability, Martin has a pretty good reputation. His career CS rate is 30%, although that was down to 24% last year. The Pirates gunned down 8% of runners last year. Martin won't completely rectify this situation by himself–pitchers are a big part of it too–but it's notable that he threw out 24% of runners when catching for A.J. Burnett with the Yanks in 2011. This year with Burnett on the mound, that rate was 5%. Martin's batting average is low, but he uses a good walk rate to get on base at a decent clip. In 2012 he walked a higher rate (10.9%) than any Pirate position player did. He also brings some good power to the table (21 bombs last year) and posted a career high .192 ISO in 2012. That comes with a fairly large grain of salt, as Yankee Stadium is quite hitter-friendly, but this chart makes me feel a little better about that. The bad: Martin's primary numbers at the plate (other than HR's) have been on a steady decline for years, bottoming out at .211 in 2012. Like I said, his OBP and power still give him some value as a hitter. Still, the overall trend is a concern, and while he had a career low BABIP in 2012, he also saw a spike in his strikeout rate (19.6%).  His defense is supposedly good, but Pirates pitchers will have to get the ball to the plate quicker for him to throw people out. Martin is clearly an upgrade for the Pirates, and unless he becomes the next victim of the Pirate Free Agent Curse, he should be a useful player. While $8.5M/yr might be a little more than he's worth, it's still fairly reasonable. I just think that  it wasn't the best use of resources. I'm worried about the Bucs' pitching depth and wanted them to go after a starting pitcher near the top of the market…and with this Martin signing on the books, I don't see much of a chance of that happening now. The Martin signing also clearly shows that the Pirates aren't ready to give Tony Sanchez the reigns at catcher any time soon. I had a hunch (and slight hope) they'd find some backup-type in the offseason, start McKenry, and bring up Sanchez midway through the year to split time or possibly take over the job. Sanchez hasn't hit much in the minors, though, so the Pirates are setting him aside for two years here. That's pretty disappointing for a first round draft pick that's already reached Triple-A. Check out Sanchez's tweet after the Martin news came out: What? You guys thought it was going to be handed to me on a silver platter? Gotta earn it. Haven't so far. — Tony Sanchez (@Tony26Montana) November 30, 2012 I can't get behind the Martin signing too much, but a lot of that depends on what the rest of the offseason looks like. If the Pirates continue to spend and upgrade (and that starts tomorrow by tendering Jeff Karstens), then I approve.  If this is their "big move" (and while it may not seem like a big move, it's the biggest FA contract in team history…passing Clint Barmes **WELP** ) of the winter, then I won't be pleased. Here's a nice highlight video of Martin's 2012 season: PHOTO: Rick Osentoski-USA TODAY Sports
Original Story:
http://raisethejollyroger.com/2012/11...
THE BACKYARD
BEST OF MAXIM
RELATED ARTICLES
Much of the deliberation over whether or not Russell Martin deserves the two-year, $17.5 million contract he pulled in from the Pittsburgh Pirates yesterday will hinge on how his defense is viewed. Martin has been measured as a tremendous pitch framer, and for many that will be enough to put a notch in the team-friendly side for this contract. But what about his arm Martin threw...
Earlier today I wrote my "First Pitch" article, titled "Why the Pirates Shouldn't Sign Russell Martin". I spent some time taking a deep look at Martin, and looking at the Pirates' situation. I had it all set up to post at midnight. Then the Pirates signed Martin to a two year, $17 M deal. Nothing really changed with my thoughts below, except for the fact that the move...
The Pittsburgh Pirates were reportedly hot in pursuit of former Yankees catcher Russell Martin, and for two years and $17 million, Martin is now a Pirate. Martin, who will turn 30 this coming February, made $7.5 million with the Yankees this past season, his second with the club. In 133 games, he had 21 homers and a .211/.311/.403 line, providing 2.2 wins above replacement for...
A few updates on Russell Martin today. **Yesterday we heard a report that the Pirates offered $25 M over three years. Later we heard that amount was high. George A. King III of The New York Post says that the Pirates offered two years initially, then moved to a three year, $22 M offer. **Daniel Rathman of Baseball Prospectus looks at Russell Martin's value (subscription required...
As you may have noticed, I (Jason) have been attempting to write more here on good ol' TPA. I owe Bill and Mike a lot and I haven't really been handling my obligations lately. Tonight, though, I had to spend five hours proofreading a book for my wife, so I was unable to write a blog post. What follows is the post that she wrote for me. (I'm not kidding.) Today Russell...
According to everyone on earth the Pirates have signed Russell Martin to a two year deal worth $17 million.  The Pirates were rumored to be heavily interested in Martin and were said to have offered him three years earlier this week. It seems the fanbase is pretty split on this deal.  Most of what I've [...]
The Pittsburgh Pirates have made the Russell Martin signing official via a team press release. The release includes the following quote from Neal Huntington. "With the signing of Russell Martin, we have acquired a quality defensive catcher who is a disciplined hitter that adds power to our lineup," said Huntington. "He also brings experience, leadership and a strong desire...
The New York Yankees were in no hurry to re-sign catcher Russell Martin. The Pittsburgh Pirates swept in when they had the chance. A person with knowledge of the deal says the Pirates have agreed to a $17 million, two-year contract with the three-time All-Star, hoping he can give them some pop at the plate and respectable defense behind it. The deal is pending a physical. The person...
Russell Martin, le Bête Magnifique Quebecois -- is no longer a Yankee. The Pittsburgh Pirates have agreed to a $17 million, two-year contract with the three-time All-Star -- ripping him away from... Full story at Bob's Blitz ~ http://www.bobsblitz.com
After being a rock behind the plate for the Yankees for two seasons, Russell Martin has decided to leave for the Steel City. Earlier tonight, Ken Rosenthal of Fox Sports broke the story that Martin and the Pittsburgh Pirates have agreed to a two-year deal worth $17 million. In two seasons with the Yanks, Martin hit .224 with 39 homers and 118 RBIs. He also worked well with the rotation...
Source: #Pirates reach agreement with Russell Martin, pending physical. — Ken Rosenthal (@Ken_Rosenthal) November 30, 2012 After some talk about a three-year deal yesterday, it appears that the terms between the Pirates and Martin are two years and $17 million. I was really, really harsh on the idea of signing Martin yesterday, but both Martin and my main issues with signing...
As per Ken Rosenthal on Twitter, the Pirates have reached terms with Russell Martin, pending a physical.   We will continue to flesh this out with more details about the terms of the deal as they become available.
Pirates News

Delivered to your inbox

You'll also receive Yardbarker's daily Top 10, featuring the best sports stories from around the web. Customize your newsletter to get articles on your favorite sports and teams. And the best part? It's free!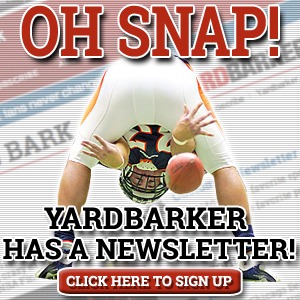 Latest Rumors
Best of Yardbarker

Today's Best Stuff

For Bloggers

Join the Yardbarker Network for more promotion, traffic, and money.

Company Info

Help

What is Yardbarker?

Yardbarker is the largest network of sports blogs and pro athlete blogs on the web. This site is the hub of the Yardbarker Network, where our editors and algorithms curate the best sports content from our network and beyond.