Found October 08, 2012 on Pirates Prospects:
The Pittsburgh Pirates finished the 2012 season three games below .500 (79-83) to extend their losing streak to 20 consecutive seasons. Those 79 wins tie the 1997 season for the best record during the losing streak.
"You look at the pitching rotation, the pitching overall has continued to evolve in a much better fashion," Manager Clint Hurdle said on the positives of the season. "The starting rotation, the bullpen work that was done by those men this year. The fact that we were able to increase usable power offensively. I think that was a big part. I do think that when you get guys to buy in, some of the older guys that we got to come over and add. Our street creds picking up just by the conversations you have with opposing players now, managers, their perception."
Despite the collapse and not "finishing", there are some positives to take away from the season and some improvements along the way.
– Record: The Pirates showed a seven-game improvement from the 2011 season (72-90) and a 22-game improvement from 2010 (57-105). They also produced their best overall single season home record at PNC Park (45-36).
– Pitching: Pittsburgh ranked eighth among National League teams with a 3.86 ERA. The last time the Pirates pitching staff finished a season with an ERA below 4.00 was 1998 (3.91) and the last season in which the team ERA was lower than 3.90 was 1992 (3.35). The Pirates pitching staff established a club record with 1,192 strikeouts this season, breaking the previous mark of 1,124 set in 1969.
– Long Ball: The Pirates had three players – Andrew McCutchen (31), Pedro Alvarez (30) and Garrett Jones (27) – hit 25 or more home runs for just the second time in franchise history. In 1966, Willie Stargell (33), Roberto Clemente (29) and Donn Clendenon (28) all went deep at least 25 times for Pittsburgh. Alvarez and McCutchen hitting at least 30 long balls in a season was just the third time in club history the Pirates had two player blast 30 or more in the same season. Pittsburgh ranked fourth in the National League with 170 home runs hit this season, falling one shy of the club record of 171 hit in 1999. The Pirates led all N.L. clubs with 103 homers hit on the road in 2012.
– Andrew McCutchen: With 31 home runs and 20 stolen bases, Andrew McCutchen became just the fourth player in team history to reach those totals in one season. McCutchen led the National League with 194 hits, the first Pittsburgh player to do so since Andy Van Slyke in 1992 (199).
– A.J. Burnett: Resurrected his career from New York and became the leader in the clubhouse. He took several pitchers under his wing — James McDonald, Jeff Locke, Kyle McPherson — while becoming the first Pirates pitcher with 16 wins since 1991.
"Individually, the emergence of McCutchen," Hurdle said. "[Neil] Walker was about ready to have his best breakout season. Alvarez became a factor. Jones had a bounce back season. [Joel] Hanrahan backed up another closing season with another closing season. The emergence of [Jason] Grilli in that eighth inning role. The development of [Jared] Hughes and [Tony] Watson. The consistency of [Chris] Resop. Probably had one of the toughest roles in the bullpen and handled it all season long. We had our men go post to post in the bullpen."
However, if you look back at the Pirates in late July when they were 16 games over .500, playoffs were the big story and finishing .500 was a lock. But over their final six weeks, the team wasn't able to click on all cylinders as they went 7-21 in the month of September. The Pirates lost their final game of the season 4-0 to Atlanta but did take two of the final three games. None of that makes up for the collapse, but perhaps more of a look what's in store in the future.
"I could never try and brush over the last six weeks for the first four and a half months," Hurdle said. "I think you need to look at them. You step back, what did we do well? How do we get more of it? Why did we do well? When things didn't go well, why didn't they go well? Where were the break downs? Is it all about consistent play and execution? To a large part it is. Things that we can improve upon, possibly coaching, different strategies, different preparations. I think some things can be looked at and modified and improved upon."
"I believe we are heading in the right direction. Not happy with the finish at all…I just know there's more to do. They're unfinished business in front of us."
"We've continued to demand a lot out of ourselves. We'll continue to expect a lot out of ourselves. We are striving for excellence. We are not looking for external acceptance. I think that is something we will always revisit. We are really trying to continue to push the envelope and not only develop better ballplayers through repetition, drills, everything you can do in spring training and instructional throughout the season. But also grow up better men. And what a concept in today's society that I think it works. And sometimes you can get push back from that. What's there really to push back if you're trying to grow up better men and try and grow up better athletes and players that the community is going to respect."
The Pirates head into the offseason with a shopping list for next year. Among those things? Starting pitching, relievers, strengthening the bench, catching, could all be being looked at. The one battle for the club heading into the spring will be the corner outfield spot with four players (unless a trade, or sign is made) for the starting job. The other positions seemed to be pretty mapped out.
"There's no secret that [Alex] Presley and [Jose] Tabata were challenged this season," Hurdle said. "[Starling] Marte has come up and done what he's done. I think we know we have a better idea of what we have for a Major Leaguer at this level and the areas of improvement. I think you have two outfield corners that are going to be open for competition going in. You have your mindset on how you'd like to see them."
"McCutchen's going to play center. [Clint] Barmes is going to play short. Alvarez is going to play third. Walker is going to play second. I'd like to think Jones going in has added value to find a spot, and [Michael] McKenry is going to be back. Those are things that you know right going in. So you're talking about maybe two positions. And you've got four guys in-house right now that you're going to look at in Marte and [Travis] Snider and Tabata and Presley for the outfield spot. That's about as transparent and clean-cut as you're going to get."
Over the next week we will provide a breakdown of the players at each position this season, who could help in 2013,  and some of the prospects in the system who could help in the future.
Original Story:
http://feedproxy.google.com/~r/Pirate...
THE BACKYARD
BEST OF MAXIM
RELATED ARTICLES
The Pittsburgh Pirates backstops saw no lengthy injuries during the 2012 season, and they needed just two catchers for the entire season for the first time since 2000 (Jason Kendall and Keith Osik). The Pirates in 2011 used eight. Rod Barajas and Michael McKenry connected for 23 long balls. Only three National League teams had more home runs from their catchers this season: Colorado...
The 2012 Arizona Fall League begins Tuesday, with the Scottsdale Scorpions playing their first game at 12:35 PM MST (3:35 PM EST).  The Pittsburgh Pirates have seven players on the Scorpions this year.  Matt Curry, Gift Ngoepe, and Adalberto Santos will represent the Pirates on the offensive side of the game, while Vic Black, Brandon Cumpton, Kyle Kaminska, and Tyler Waldron will...
Today we started the 2012 recaps of the individual positions, focusing on the 2012 season and a look ahead at future seasons and the prospects in the organization. The first position was a spot that will probably lead to a lot of discussion over the off-season, and that was the catching position. In the writeup, Kristy noted that Michael McKenry could get the starting job next year...
Today was my first day covering the Fall Instructional Leagues this year. It turned out to be a good day to be at Pirate City, as top prospect Gerrit Cole was on the mound. Cole was going up against the Philadelphia farm system, and ended up throwing five innings of shutout ball.I was bouncing back and forth between the two fields, so I didn't see every pitch Cole threw. I did...
Going to make this a bi-weekly thing throughout the off season to cover the things that probably don't warrant their own post. Monday marks Opening Day for the 2012 Arizona Fall League. Victor Black, Brandon Cumpton, Kyle Kaminska, Tyler Waldron, Matt Curry, Gift Ngoepe, and Adalberto Santos will play for the Scottsdale Scorpions. My full preview is here. Pirates' pitching prospect...
Baseball America continued with its Top 20 prospect rankings and put out their list for the Eastern League (Double-A). Gerrit Cole was the lone Pirate on the list, coming in at #3 behind Manny Machado and Zack Wheeler.After a mid-season promotion, Cole started 12 games for Altoona and posted a 2.90 ERA and a 60:23 K:BB ratio over 59 innings.Baseball America does list Jameson Taillon...
Scottsdale lost to Phoenix 4-3 today in the opening of the 2012 Arizona Fall League season. Matt Curry was the only Pirates prospect to get a start, going 1-for-4 as the starting first baseman. Curry had an RBI, which was the only one of the day for Scottsdale. Gift Ngoepe came on as a pinch runner in the eighth inning, replacing Curry and ending his day.
Tomorrow will mark Opening Day of the 20th season of the Arizona Fall League, which has the reputation of having a very wide collection of talent. This year, 24 of of MLB's top 100 prospects will participate. The Pirates will be sending seven prospects of their own to play for the Scottsdale Scorpions. Victor Black Black was selected by the Pirates in the supplemental first round...
If you've been watching the playoffs, it's impossible to avoid seeing former Pirates thrive. They're everywhere. Here's a quick breakdown…if you can stomach hit. I don't mind rooting for some of these guys, but it really is ridiculous (and often very frustrating) to see so many former Bucs doing so well all of a sudden. Orioles Nate McLouth. Sigh. McLouth was beyond...
Baseball America released their 2012 Florida State League Top 20 Prospects today and it included a surprise addition.Gerrit Cole and Jameson Taillon both appeared on the list ranked #2 and #3, respectively. At the #20 spot, shortstop Gift Ngoepe appeared.Cole started 13 games for Bradenton in his first taste of pro ball before a mid-season promotion to Double-A Altoona, and finished...
Baseball America released their Florida State League top 20 prospects today, and three Pittsburgh Pirates prospects were on the list. Gerrit Cole, Jameson Taillon, and Gift Ngoepe were all named to the list. The list can be seen here, and scouting reports can be seen here for subscribers. Cole and Taillon were ranked second and third respectively. Baseball America noted Cole's...
I've been on the road a lot the last two days, so no updates over the weekend. I'm in Florida right now, and will be reporting from instructs this week, while getting the final content needed for the 2013 Prospect Guide. The Pirates play at home tomorrow, which usually means one Triple-A game and one Double-A game. You can follow my Twitter feed (@timwilliamsP2) for updates from...
Pirates News

Delivered to your inbox

You'll also receive Yardbarker's daily Top 10, featuring the best sports stories from around the web. Customize your newsletter to get articles on your favorite sports and teams. And the best part? It's free!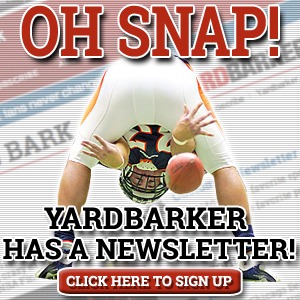 Latest Rumors
Best of Yardbarker

Today's Best Stuff

For Bloggers

Join the Yardbarker Network for more promotion, traffic, and money.

Company Info

Help

What is Yardbarker?

Yardbarker is the largest network of sports blogs and pro athlete blogs on the web. This site is the hub of the Yardbarker Network, where our editors and algorithms curate the best sports content from our network and beyond.