Found March 30, 2013 on Pirates Prospects:
It should be an interesting season for the Pirates outfield. At one position you have a perennial All-Star entering the prime of his career with the weight of a fan base on his shoulders. At another position you have a raw talent entering his first full major league season and a potential revolving door at the other outfield position. Let's start with what we know: Andrew McCutchen is coming off a career year. Andrew McCutchen — Center Field It's no secret that McCutchen is the best player on the Pirates' roster, and it's not even close. He's 26, finished third in the National League Most Valuable Player voting last season and made his second consecutive All-Star team. It's easy to forget with all that he's done on the field for Pittsburgh, but McCutchen has only played four major league seasons. Last season he posted a career-high .328 batting average, had and OPS of .953, and topped 30 home runs for the first time. He's below-average defensively (despite winning a Gold Glove last season) but has speed and can fly around the outfield and base paths. So where does he go from there? Anything less than another MVP-caliber performance from McCutchen will be a letdown, and barring injury there is every reason to expect him to live up to the huge expectations.  Fangraphs has five different projections for McCutchen, with a few differing opinions but nothing significant. Of course, projections and predictions mean very little in reality. I'm certain I will write about McCutchen at length this season — whether it's because he's failing to meet expectations or because he has somehow found new ways to amaze with his stellar play remains to be seen. If his career to this point has been any indication, bank on the latter. Starling Marte — Left Field Marte is an especially interesting player to watch this season. This will be his first full season in the big leagues and he's going to play an important role for the Pirates this year. Marte should see plenty of time at the top of the Pittsburgh batting order and will be depended on to get on base for guys like McCutchen and Pedro Alvarez. With his speed, he can help the Pirates with stolen bases (which the club ranked last in the National League in last year with just 73). He needs to improve his strikeout and walk numbers (which should help with his on-base percentage), but in an article Tim wrote earlier this month about Marte, manager Clint Hurdle said when it comes to being a major league leadoff hitter the "conventional" approach is becoming a thing of the past. "If you think about it, name the five best leadoff hitters in the game right now," Hurdle asked. "It will take you some time, and then you think about how many of those guys are conventional. The game's kind of evolved in a different way from that aspect. I think he's got the tools to be a very dynamic leadoff hitter. And you've gotta love the swing. The bat, the ball's there. It's loud, it's crisp, it's from line to line. He's showing what I think is some maturity and a slow heartbeat when he gets on base now. [He's] going to be a fun player to watch grow." Jose Tabata/Travis Snider — Right Field Since making his Major League debut in 2010, Tabata's statistics have steadily gone downhill. His offensive splits went from .299/.346/.400 as a rookie to .243/.315/.348 last season. His defense and blunders on the bases, in addition to his lack of production at the plate, led to a July demotion to Indianapolis. His Spring Training numbers have been respectable — .269/.304/.442 — but not respectable enough to win the right field job outright. Enter Travis Snider. Snider came to Pittsburgh from Toronto in a July trade last season after wearing out his welcome with the Blue Jays. He was the 14th player selected in the 2006 draft and made his big league debut two years later as a 20-year old. He was great at first, but bottomed out in 2011 with a .225/.269/.348 line in just 49 appearances. He showed some signs of life early in 2012 but ultimately the honeymoon was over for Snider and the Blue Jays. After arriving in Pittsburgh for the stretch run last season Snider was nothing special but not especially bad either while dealing with a hamstring injury that limited what he could do. After entering the league with so much promise and not living up to the hype, anything you get out of Snider at this point of his career has to be considered a plus. With McCutchen and Marte solidly in control of the other two outfield position, right field remains the wildcard for the Pirates in 2013. ** - Tomorrow we'll have our final previews with a look at the bullpen by Tim and my offering on the bench players. - If you haven't followed along, I'll be covering the Pirates home games from PNC Park and providing the occasional update on the West Virginia Power this season but with a twist. I currently still live in West Virginia and will be making the trip north for the home games and bouncing between the couches and guest bedrooms of a few gracious friends until I can (hopefully) set up shop on a more permanent basis in Pittsburgh. I'll be preparing to leave/travelling today, so I won't be able to do much with responding to comments or tweets. - Fearless leader Tim hooked me up with a fancypants Pirates Prospects email address, so if you were hoping for yet another way to communicate with me I can be reached at tom@piratesprospects.com.
Original Story:
http://feedproxy.google.com/~r/Pirate...
THE BACKYARD
BEST OF MAXIM
RELATED ARTICLES
The Pirates starting rotation shaped up to be a battle for one spot, but Jeff Karstens started having shoulder problems. Karstens appears likely on his way to a spot on the disabled list to start the season, which opened up another place in the rotation. A.J. Burnett, Wandy Rodriguez and James McDonald have all been penciled in in the top three spots for a while now, and word came...
There's a debate this year about whether the Pittsburgh Pirates have a quality bullpen. Some argue that the bullpen is very talented, with a lot of hard throwers who have put up quality ratios throughout their careers. Others point out the question marks. They believe in the "Proven Closer" theory, which discounts anything Jason Grilli has done. They don't believe Mark Melancon...
We've already touched on the platoons of Garrett Jones/Gaby Sanchez and Travis Snider/Jose Tabata in the previews of the infield and outfield, so for today's preview of the bench players the focus will be on Michael McKenry, John McDonald and Josh Harrison. Michael McKenry will be the backup catcher again this year. Michael McKenry — Catcher McKenry gives the Pirates a serviceable...
I've been piecing together the minor league starting rotations, as well as the starting lineups. I've confirmed the rotations and the lineups with people in the Pirates' front office. There are still some things that could change, specifically in this case with Clint Robinson being claimed. For the most part things are set. Below are the lineups, and the rotations can be seen...
Zack Dodson Zack Dodson Zack Dodson started off looking a little shaky Wednesday against the Phillies. But he quickly shifted to dominance. In a 3-2 win, very much a group effort, with Dodson the star of the show. His wildness got him into trouble in the early innings, but he mixed in a consistent fastball that topped out at 91 mph, throwing it 86-90 through four innings. 61 pitches...
Clint Barmes knows his glove kept him in the Pittsburgh Pirates' lineup a year ago. The veteran shortstop hopes his bat chips in this season. Barmes says he spent the winter focusing on keeping things simple at the plate. He admits he tried to do too much too soon in 2012, when he hit a miserable .170 during April and May. Manager Clint Hurdle stuck with Barmes, however, because...
The cuts from major league camp left the Pittsburgh Pirates with a lot of options at the Triple-A level. Those options ended up holding a few players back in Altoona for the 2013 season. Early in minor league camp, the Pirates were playing Matt Curry, Adalberto Santos, and Andrew Lambo with the Triple-A squad. After the late cuts, all three were pushed back to Altoona. That created...
James McDonald was tagged for four runs and three hits in the first inning, and the Pittsburgh Pirates lost to their Double-A Altoona affiliate 8-6 in their final exhibition game Saturday. Starling Marte hit a grand slam in the second that tied the score at 4. Russell Martin also had two hits for Pittsburgh. McDonald left in the second, but all the damage was done in the first...
The Pittsburgh Pirates have acquired catcher Brian Jeroloman from the Cleveland Indians for cash considerations. Jeroloman will go to Indianapolis. The Pirates claimed him last off-season from Toronto, then lost him on waivers to Toronto later in the off-season. His player page, from his brief time in the system, can be seen here.
Pirates' shortstop Clint Barmes had a steady season with the glove last season, but struggled big time with the bat. He told PiratesDugout.com's George Von Benko that he is hoping to build off a strong finish at the plate last season.
There is nothing quite like Opening Day. Growing up, I remember going to Opening Day with my father numerous times to Three Rivers Stadium. It was a national holiday for me. I remember being able to miss school to watch baseball. It was literally a dream come true. Even after going off to college and leaving the city of Pittsburgh, I always try to make it back for this glorious day...
Pirates News

Delivered to your inbox

You'll also receive Yardbarker's daily Top 10, featuring the best sports stories from around the web. Customize your newsletter to get articles on your favorite sports and teams. And the best part? It's free!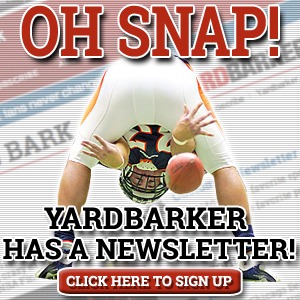 Latest Rumors
Best of Yardbarker

Today's Best Stuff

For Bloggers

Join the Yardbarker Network for more promotion, traffic, and money.

Company Info

Help

What is Yardbarker?

Yardbarker is the largest network of sports blogs and pro athlete blogs on the web. This site is the hub of the Yardbarker Network, where our editors and algorithms curate the best sports content from our network and beyond.