Found October 28, 2013 on Pirates Prospects:
PLAYERS:
Jose Tabata
,
Travis Snider
,
Alex Presley
,
Jerry Sands
,
Joel Hanrahan
,
Garrett Jones
,
Gaby Sanchez
,
Felix Pie
,
Andrew Lambo
,
Justin Morneau
,
Russell Martin
,
Brandon Inge
,
Marlon Byrd
,
Vic Black
,
Starling Marte
,
Johnny Cueto
,
Gregory Polanco
,
Andrew McCutchen
TEAMS:
Pittsburgh Pirates
,
Minnesota Twins
,
Boston Red Sox
,
Cincinnati Reds
,
New York Mets
Jose Tabata started slow, but had a strong finish to the 2013 season. (Photo Credit: David Hague) During the 2012 season, the Pittsburgh Pirates had a few options in right field, and none of them worked out. Heading into the 2013 season, it looked like they would solve this problem by going with a quantity of starting candidates, giving them a chance that one could break out. They traded for Travis Snider last year at the deadline. Jose Tabata was returning, with inconsistent production under his belt. They had Alex Presley on reserve in Triple-A. Jerry Sands was one of the top pieces that came in return for Joel Hanrahan, and looked like the top alternative to Snider or Tabata heading into the season. Even with those options, the Pirates ran into right field problems again this year. For the second straight season, the issues in right broke up the first base platoon, forcing Garrett Jones into right field, and forcing Gaby Sanchez to play full-time at first, when he should only be a platoon option. Snider and Tabata started the year in a sort of platoon. I say "sort of" because neither one of them was good at hitting left-handed pitchers, with Tabata having the slight edge with his career numbers, but lacking the dominant numbers you'd want to see from a right-handed hitter in a platoon. At the start of the season things looked great for Snider. He had a .300/.382/.417 line in 60 at-bats during the first month of the season. Things quickly went downhill from there. Over the next three months he posted a .192/.254/.291 line in 182 at-bats. That ended on July 27th when Snider was placed on the disabled list with a toe injury. The injury was described as something Snider was dealing with for some time. It's hard to say if this led to the horrible numbers after April. Snider returned in September and didn't do much better, although he did have two key home runs in a 3-for-19 campaign, mostly as a pinch hitter. The Jose Tabata half of the "platoon" had the exact opposite season. Tabata was horrible in the first month of the year, with a .178/.260/.289 line in 45 April at-bats. He caught fire in May, hitting for a .389/.436/.556 line in 36 at-bats, yielding most of the playing time to Snider. Tabata went down at the end of May with a strained left oblique, and didn't return until the beginning of July. He started off strong, with a .941 OPS in his first ten games back. However, Tabata went on a cold streak right after the All-Star break. August was an interesting month for Tabata. He hit for an .851 OPS in 84 at-bats, getting time as a regular starter. There was a strange phenomenon where he would immediately go on a hot streak when someone else was called up, whether that was Alex Presley, Felix Pie, or Andrew Lambo. But it could have just been that he stayed hot the entire time, regardless of who was coming up. That happened again in September, as he carried his hot streak over with a .315/.351/.493 line in 73 at-bats. Overall, Tabata had a .312/.357/.490 line in 157 at-bats over the final two months of the season. The Pirates tried some other players in right field throughout the season. Alex Presley got a few starts, then was later traded to Minnesota for Justin Morneau. Andrew Lambo had a hot bat in the minors, but didn't get much playing time in the majors due to the hot streak from Tabata. The Pirates even resorted to starting Russell Martin in right field early in the season, and gave Brandon Inge five starts. They couldn't turn to Jerry Sands, as he was struggling in Triple-A, and also injured. They solved the right field problem in late August when they traded for Marlon Byrd. Byrd passed through waivers to the Pirates, surprisingly making it past the Cincinnati Reds. In exchange, the Pirates gave up Dilson Herrera and Vic Black. Byrd hit for a .318/.357/.486 line in 107 at-bats. His production came at a key time, as Starling Marte was out with an injury. That allowed the Pirates to use Byrd and the hot hitting Tabata down the stretch. Byrd's biggest moment might have been the solo home run off Johnny Cueto in the Wild Card game, which started the unraveling of Cueto, and eventually led to the Pirates advancing to the NLDS. The Future Gregory Polanco is the future third outfielder in Pittsburgh, and that future will arrive in 2014. Byrd is a free agent this off-season, and it's doubtful that the Pirates could bring him back. He's going to be looking for a multi-year deal after his career year. That type of deal doesn't make sense for the Pirates, since their top hitting prospect, Gregory Polanco, is due to arrive in the second half of the 2014 season. Polanco is the future. He might not play right field, but he will be the third outfielder. Polanco is a potential impact player with a ton of tools. He's got speed that makes him a weapon on the bases, and allows him to cover a ton of ground in the outfield. He also has a strong arm, which can allow him to play any position in the outfield going forward. He shows an advanced approach at the plate, hits for average, gets on base, and has a lot of power potential. Polanco already hits for some home run power, but there is room in his frame to allow you to dream of 30 homers per year. Even if that doesn't happen, his ability to get on base and hit for average will help set the table in the lineup. Because of his advanced approach, and all of his tools, it's hard to see Polanco missing as a prospect. There's risk with any prospect, but the risk here is minimal. Even if one part of his game doesn't work out, Polanco draws value all over the field. If he doesn't hit for a strong average, he's still going to get on base. If he doesn't hit for power, he still has plus speed on the bases, and plus defense. And if it all comes together, then the Pirates could have the best outfield in the majors with Polanco, Starling Marte, and Andrew McCutchen. The question about the future isn't a long-term question, but a short-term question. The Pirates need to find someone to bridge the gap until Polanco is ready. That could come from a stop-gap free agent, although they might have trouble finding quality on a one year deal. It could come from internal options like Jose Tabata and Andrew Lambo. Either way, the Pirates need to cover about 2.5-4 months of the 2014 season until Polanco is ready to come up.
Original Story:
http://feedproxy.google.com/~r/Pirate...
THE BACKYARD
BEST OF MAXIM
RELATED ARTICLES
In the Dominican, Gregory Polanco extended his hitting streak to eight games on Sunday with a double in five AB's. Despite the hitting streak, he has gone 3-for-13 in his last three games with five strikeouts. He is hitting .394 in 33 AB's, just two less AB's than he had all of last Winter in the Dominican. Mel Rojas made his Winter debut last night Carlos Paulino went 1-for...
Andrew McCutchen (Courtesy of Jared Wickerham/Getty Images North America) Rawlings announced the finalists for the 2013 NL Gold Glove awards today, and the Pittsburgh Pirates had three players in contention. Russell Martin, Starling Marte, and Andrew McCutchen were all finalists at their positions. Martin was one of the three finalists at catcher, which also include A.J. Ellis of...
Earlier today I looked at the right field position for the 2013 season, then looked at the free agent options this off-season. Right field was an issue for the Pirates this year, to the point that they had to trade for Marlon Byrd before the August trade deadline to shore up the position. In the future, right field won't be an issue with Gregory Polanco close to the majors, and...
Gregory Polanco had his second straight 1-for-4 game, picking up a single. He has hits in seven straight games to start the Dominican League season. Polanco is 12-for-28 with four doubles and three homers. Polanco has hits in all seven games he has played in Winter Ball Luis Sanz allowed one run on one hit and he a hit batter in two innings of work. He also threw a wild pitch. In...
One of the few positions of need in 2014 is right field. As I pointed out in the 2013 right field recap, the Pirates struggled throughout the 2013 season with their right fielders. That changed in late August when they traded for Marlon Byrd, although Byrd is a free agent this off-season and will likely be looking for a multi-year deal after his career year at the age of 36. The...
Gerrit Cole was named to Baseball America's All-Rookie team. (Photo Credit: David Hague) Baseball America released their All-Rookie team for the 2013 season, and Gerrit Cole was named as one of the top five starters. That's not a surprise, as Cole was fantastic in his rookie campaign, especially during the month of September when he started looking like an ace. The other four...
Alen Hanson was named to the AFL Fall Stars Game. The Arizona Fall League announced their "Fall Star Game" rosters, which is the new term for the former Rising Stars Game. Alen Hanson was named to the roster for the East Division, and is the only Pirates prospect who will be in the event. The selection is usually reserved for the top prospects in the league. Last year Vic Black...
The Pittsburgh Pirates' biggest need in the offseason is first base. Garrett Jones will likely be non-tendered, Gaby Sanchez may or may not be back, and Justin Morneau isn't worth bringing back unless there aren't any better options. Sanchez is a good player, but only against left-handed pitching. If the Pirates plan on keeping Sanchez to put him in a platoon, then they need...
Would it be worth the Phillies time to recreate this picture in 2014? Each day until free agency begins, we at Phillies Nation will take a look at a player who will become a free agent five days after the World Series' conclusion. We will explore potential performance, fit, cost, and feasibility. We continue today with right-handed outfielder Marlon Byrd. And a reminder: you can...
On Monday afternoon in the Arizona Fall League, the Scottsdale Scorpions lost their fourth straight game, going down 4-0 to Peoria. They have been a streaky team this year, losing five in a row after winning on Opening Day, then winning five in a row prior to this current losing streak.  Alen Hanson was the only Pittsburgh Pirates player in the starting lineup. He was at shortstop...
MLB News

Delivered to your inbox

You'll also receive Yardbarker's daily Top 10, featuring the best sports stories from around the web. Customize your newsletter to get articles on your favorite sports and teams. And the best part? It's free!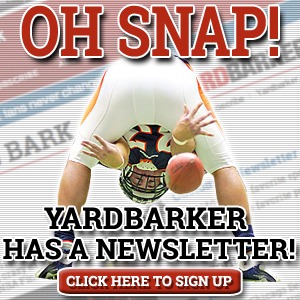 Latest Rumors
The Backyard

Today's Best Stuff

For Bloggers

Join the Yardbarker Network for more promotion, traffic, and money.

Company Info

Help

What is Yardbarker?

Yardbarker is the largest network of sports blogs and pro athlete blogs on the web. This site is the hub of the Yardbarker Network, where our editors and algorithms curate the best sports content from our network and beyond.