Found September 08, 2012 on Pirates Prospects:
During the 1909 season, the Pittsburgh Pirates won their first World Series title, winning 110 games during the regular season, then defeating the Detroit Tigers 4-3 in the seven game postseason series. The star player on that team was Honus Wagner, but his rookie double play partner that year had a helping hand in getting the Pirates to that first title.
Born on September 9,1886 in Kearny, NJ, John Barney "Dots" Miller had played just two months of pro ball before the Pirates signed him in June of 1908. Prior to signing with Easton of the Atlantic League, he had only played semi-pro ball near his hometown. He was a star shortstop for Kearny's Parkway Athletic Club in the Fall of 1907, when the manager of the Easton club(Larry Rutlon) signed him. Miller didn't last long in Easton as the Atlantic League folded and the Pirates quickly signed the young shortstop. For the rest of the minor league season, he was assigned to the McKeesport Tubers of the Ohio-Penn League. Miller collected 52 hits over the last 43 games of the season, finishing with a .306 average.
The Pirates were impressed with their new player and after the minor league season ended, they had him working out with the major league team, although he didn't get into any games. Their initial plans with Miller didn't include him starting at second base for the 1909 team. In fact, when he reported to Spring Training early, he was playing shortstop in place of the late-arriving Honus Wagner. Jack(as he was often referred to in the papers) was performing so well during Spring, that when Wagner arrived, they moved Miller over to second base in the place of Ed Abbaticchio. The move was significant in that a rookie was replacing a veteran player the Pirates had paid a huge price to acquire just two years earlier.
It was said that Miller being of German descent, hit it off right away with the Flying Dutchman. Wagner was known to visit Miller quite often in Kearny during the off-season for stays at his Dukes St residence. As a side note, the house Miller grew up in was still in the family up until just three years ago. Wagner took the young player under his wing during that rookie season, helping his transition into major league life. The nickname of "Dots" came from Honus Wagner and his thick German accent. The story goes that a reporter asked him who the new shortstop was in camp and Wagner replied "Dot's Miller", though he was actually saying "That's Miller" and the nickname stuck.
During the 1909 season, Jack played 151 games, all but one of those at second base. He batted either fifth or sixth in the lineup during the season. When he was in the fifth spot, it was right behind two Hall of Famers, Wagner and Fred Clarke. That rookie season he hit .279, third on the team behind Wagner and Clarke, and Miller drove in 87 runs, trailing only the 100 RBI's tallied by Wagner. He finished ninth in the league in hits(156), fifth in total bases(222), fourth in triples(13) and third in both RBI's and doubles with 31 two-baggers.  In the field, he was just as strong despite the move to a new spot. He led all NL second baseman with 426 assists and his .953 fielding percentage ranked second in the league.
In the World Series, Miller batted fifth every game, finishing with a .250 average and four RBI's. In the deciding game seven, he had two hits and two RBI's, helping the Pirates to an 8-0 win. 
His second season with Pittsburgh looks like a sophomore slump, though he was slowed all year by an early season leg injury. At one point he was sent home(begrudgingly) to rest. He quickly rejoined the team, but never got going and finished the year with a .227 average in 120 games, with 48 RBI's.
Miller was back to his rookie season form in 1911, batting .268 with 51 walks, 17 stolen bases, 78 RBI's and a career high 82 runs scored, in 137 games. In 1912, his job with the Pirates took on a new role, playing first base.
Pittsburgh had trouble filling first base ever since Kitty Bransfield was traded away after the 1904 season. They went through a large group of first baseman over the next seven years, but when a young infielder named Alex McCarthy showed enough promise to play everyday, manager Fred Clarke decided to move Miller. While he was a strong defensive fielder in all aspects, he was recognized as being above average at catching the ball. With Wagner at shortstop taking most of throws at second base, Miller never ranked near the top in putouts. The move seemed like a natural one at the time, and Miller took quickly to first base.
In 1912, Dots played 148 games, hitting .275 with 87 RBI's and 72 runs scored. He finished fourth in the league in doubles, tenth in triples and seventh in RBI's. The 1913 season was even better, as he finished with a career high of 90 RBI's, also setting personal bests with 20 triples and seven homers, while playing 154 games. Miller finished eighth in the NL MVP voting. What happened next turned out to be a surprise and the initial reaction surrounding it, turned out to be wrong.
On December 12,1913, the Pirates traded Miller, along with star right fielder Chief Wilson and three other players, to the St Louis Cardinals for three players. The Cardinals gave up their star first baseman Ed Konetchy in the deal, but wouldn't make the deal without Miller coming to St Louis to take his place. The Pirates wanted Konetchy bad, but they also wanted to keep Miller and move him to another spot in the infield. It was said at the time that they Pirates got the best of the deal, but that turned out to be far from true.
In his first year with the Cardinals, Dots hit a career high .290, with 88 RBI's, finishing fifth in the NL MVP voting. It was said by many at the time, especially those around St Louis, that he was the best first baseman in the league. Konetchy on the other hand, played just one season with the Pirates, and his numbers on offense didn't approach those put up by Miller.
It was with St Louis that Jack received one of his highest praises. The Cardinals had no trouble moving him around the infield wherever he was needed, playing his often at his three positions he had experience at, as well as seeing time at third base. A well-known sports writer at the time named Ring Lardner, named Miller to his All-Star team, calling him the best utility player in baseball.
In 1915, Dots hit .264 with 72 RBI's, 73 runs scored and a career high of 27 stolen bases. He played two more years with St Louis in the super utility role before enlisting in the Marines in September of 1917. His offensive numbers had dropped off a little during his last two seasons before his military duty, but he still played everyday and in 1916, he led all NL first baseman in fielding percentage. It was said at the time, there was a chance he could've been the manager of the 1918 Cardinals, replacing Hall of Fame manager Miller Huggins.
After missing the entire 1918 season, Miller returned to the Cardinals for one more season. He was sold to the Phillies in January of 1920 and spent his final two seasons in the majors as a backup infielder, seeing time at all four spots. He played 1589 major league games, hitting .263 with 715 RBI's, 711 runs scored and 1526 hits. With the Pirates, he hit .266 with 390 RBI's and 347 runs scored in 710 games. Jack played 737 big league games at first base, 681 at second base, 111 at shortstop and 68 at third base. He had 127 sacrifice hits with the Pirates, eighth most in franchise history.
After his major league career ended in 1921, Miller moved on to manage the San Francisco Seals of the Pacific Coast League. He was there two years, winning the PCL pennant in 1922, his first season with the team. He also played the last 12 games of his pro career that season. In 1923, he was again leading the Seals towards another pennant, when he became ill in August. He had contracted Tuberculosis and was sent home to rest. Dots was sent to a retreat in Saranac Lake,NY by doctors who thought the area would help him recover, but he never did, passing away just shy of his 37th birthday. His nephew Jack Tighe, was the manager of the 1957-58 Detroit Tigers
Original Story:
http://feedproxy.google.com/~r/Pirate...
THE BACKYARD
BEST OF MAXIM
RELATED ARTICLES
Outfielder Starling Marte has been recalled from his rehab assignment and activated from 15-day disabled list. He is in the Pirates starting lineup batting second and playing in left field today. Marte was placed on the disabled list on August 19 due to a right oblique strain that he suffered running the bases. Marte went 0-for-5 with three strikeouts in his first rehab assignment...
The Pirates had an interesting situation in the fifth inning today. And by "interesting situation" I mean an extremely frustrating series of managing that has become common for Clint Hurdle. To lead off the inning, Jeff Locke stepped to the plate. He laced a single down the third base line, giving the Pirates a gift runner at first base with the top of the order coming up. The...
The Indianapolis Indians were eliminated from the International League playoffs tonight, ending their season. That also wraps up the minor league season for the Pittsburgh Pirates. The major league season has a little less than a month to go. But do the Pirates have anything left to play for? I've got to be honest here. I didn't watch much of the last two games. On Friday I was...
On a busy date for Pittsburgh Pirates birthdays, we have a Hall of Fame first baseman, one of the best sluggers of the 1950′s and a player from the 1909 World Series champs. John Fredland, in his Jolly Roger Rewind, takes a look back at a game from 1958 that broke a very long losing streak. Before we get into the former players, we have one current player to mention. Second baseman...
Pirates' infielder Brock Holt is batting .400 since being called up from Triple A on September 1. He has eight hits in 20 at bats, with three RBI. PiratesDugout.com's George Von Benko caught up with Holt recently.
We have six former Pittsburgh Pirates players born on this date, including one that played for the first team in franchise history and another who was part of a father-son combo in team history. In his Jolly Roger Rewind, John Fredland recaps a record setting game by Roberto Clemente from the 1958 season. Mike Dyer (1966) Pitcher for the 1994-95 Pirates. He was originally a fourth...
Cubs (51-86) at Pirates (72-64) 7:05 PM EST–PNC Park, Pittsburgh Here is the MLB.com Gameday TV: ROOT Sports The Pirates welcome the Cubs to town for part two of their homestand against the new cellar-dwellers of the NL Central. This weekend should be another chance for the Bucs to inch closer to that 82nd win and gain ground on some wild card contenders, since the Cubbies have...
Charlotte Knights  6,  Indianapolis Indians  4 (Box)   Kris Johnson started but pitched only one inning. The Indianapolis Indians' 2012 season has come to an end, as they lost to the Charlotte Knights at Knights' Stadium tonight.  The Knights won this best-of-five playoff series, 3 games to 1, and they will move on to face the Pawtucket Red Sox in the Governor's Cup series...
The third-place Pittsburgh Pirates aren't likely to catch the NL Central-leading Cincinnati Reds, and could soon find themselves out of playoff contention entirely. Facing Mat Latos isn't likely to help their cause. Losers in seven of their last nine, the Pirates could be hard-pressed to snap their longest road losing streak in two years in Monday night's series opener...
Downright pathetic weekend if you're a Pittsburgh sports fan.  Steelers played Pirate-like defense and the Pirates played Pirate-like baseball in general. I remember when I buried the Pirates a few weeks ago, they won like two games or something and I had little pang.  Maybe I was wrong.  I was started to get a little [...]
MLB News

Delivered to your inbox

You'll also receive Yardbarker's daily Top 10, featuring the best sports stories from around the web. Customize your newsletter to get articles on your favorite sports and teams. And the best part? It's free!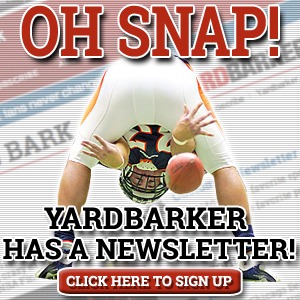 Latest Rumors
The Backyard

Today's Best Stuff

For Bloggers

Join the Yardbarker Network for more promotion, traffic, and money.

Company Info

Help

What is Yardbarker?

Yardbarker is the largest network of sports blogs and pro athlete blogs on the web. This site is the hub of the Yardbarker Network, where our editors and algorithms curate the best sports content from our network and beyond.