Found May 25, 2012 on isportsweb.com:
PLAYERS:
Starling Marte
,
Kyle McPherson
,
Tony Sanchez
,
Robbie Grossman
,
Neal Huntington
,
Gorkys Hernandez
,
Frank Coonelly
,
Jeff Locke
,
Rudy Owens
,
Rod Barajas
,
Clint Barmes
,
Clint Hurdle
,
Pedro Alvarez
TEAMS:
Pittsburgh Pirates
Pittsburgh Pirates: It's About to Get Interesting isportsweb
Despite being only 4 games under .500, Pirates' fans sense something catastrophic is brewing.
1.  Bob Smizik- one of the only Pittsburgh sports writers apparently unfearful of speaking negatively about the Pirates- hammered the team's farm system, arguging that it's far more hype than substance.  It's hard to ignore.  Outside of SPs Gerritt Cole and Jameson Taillon, the organization's top prospects have struggled significantly [preseason rankings in ( )].
(#3) OF Josh Bell (low-A)- Very young (19) and in his first taste of professional ball, the Pirates' 2011 2nd round pick has a .288 OBP and .691 OPS through 15 games.
(#4) CF Starling Marte (AAA)- Still has plenty of time to recover, but dropped from an .870 OPS at AA Altoona in 2011, to a .743 OPS through 40 games at AAA this year.  Marte is the organization's only highly-touted hitter in the upper levels of their system.
(#6) SP Kyle McPherson (AAA)- Has missed the season to date due to shoulder inflammation.
Allie in better times; Image credit blogspot
(#7) C Tony Sanchez (AA)- The future of the former 4th overall pick in the 2009 draft is in serious jeopardy.  After finishing 2011 with a .658 OPS, he's now repeating AA Altoona, to the tune of a .699 OPS and 0 home runs through 31 games this year.  There's been no improvement, despite Sanchez now being 24 years old, which is on the late side for true AA prospects.  (Multiple players chosen after Sanchez are already at the Major League level.)  With the Pirates' Major League catching system in full-on trainwreck mode, they desperately need Sanchez to excel.
(#8) OF Robbie Grossman (AA)- The 2011 Pirates' minor league player of the year is struggling to adjust to the AA level.  After finishing 2011 with an outstanding .859 OPS at high-A, Grossman has a .659 OPS through 44 games this season.
(#9) SP Stetson Allie (low-A)- Once praised as GM Neal Huntington's "steal" of the 2010 draft, Allie has an unbelievable 8 walks through 0.2 IP on the season.  His control has been non-existant.
2.  The offense on the Major League club is so bad that it's rivaling historic records for futility at its current pace.  The stat-heavy website Fangraphs recently quantified the Pirates' struggles.  Some highlights:
*"Their .269 team wOBA is tied for 5th worst since 1900. There are no modern teams ahead of them."
*"Of those teams that have strikeout numbers (the K didn't become an official hitting stat until 1913), the 2012 Pirates currently rank 2nd highest (out of 2164 teams) with a 24.3% strikeout rate."
*"Since 1919, the end of the Deadball Era, the 2012 Pirates rank as the 12th worst offense, scoring only 0.082 runs per plate appearance (the 2012 Padres are 15th with 0.083 R/PA; the 2010 Mariners sit at 28th with 0.086 R/PA)."
3.  The Pirates revealed that they would like to send down or release some of the most unproductive hitters from the team, yet there isn't anyone at AAA Indianapolis faring much better.  The club recently called up CF Gorkys Hernandez, who had a .698 OPS at AAA, and has only been given 4 MLB at bats since.
***4.  Despite all of Huntington and club president Frank Coonelly's talk over the past 5 seasons about "stockpiling depth" and "internal options"…there are no internal options.  Offensively, the choices are nonexistant, and while AAA SP like Jeff Locke and Rudy Owens are having nice seasons, most consider them to have the potential of back-of-the-rotation starters.  Taillon and Cole (both at high-A) are the next available "top of rotation" prospects in the system.
5.  The Pirates spent $4MM ($7.5MM with option) this offseason on C Rod Barajas.  He's currently posting a .255 OBP and .649 OPS.
6.  The Pirates spent $10.5MM this offseason on a 2-year commitment to SS Clint Barmes.  He's currently posting a .206 OBP and .493 OPS.  Those numbers almost aren't even possible.  That's below what some pitchers would bat over a full season.  It was just revealed that manager Clint Hurdle made a strong push to add Barmes this fall, so Hurdle now finds himself in a position where he either has to bench a player he is at least partially responsible for bringing in- costing the club millions- or continue to run him and his .206 OBP out there.
(It should be noted that this author and many fans panned these offseason acquisitions from the start.  Unfortunately once again, the fans had better foresight and judgment than the men actually running the Major League ballclub.)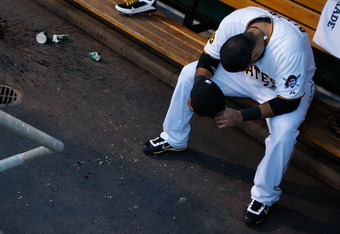 Alvarez; Image credit bleacherreport
7.  3B Pedro Alvarez has continued to struggle after being insterted in the cleanup position, but apparently has such a "fragile psyche" according to columinst John Perrotto that the Pirates won't move him, or even tell him anything negative. So how is he supposed to improve?
***8.  The Pirates currently have TWO (2) (dos) players with on base percentages above .300.  That's not a misprint.  Not batting average- on. base. percentage.  And yet, because the pitching staff has been throwing out of their minds, this team has somehow been competitive, despite no offensive support whatsoever.  It can't last.  Either the offense rebounds to some respectability (less likely), or the pitching staff eventually collapses with the mental and physical wear of knowing they'll receive next to no run support each night (more likely).
9.  During a recent interview, GM Huntington was apparently at such a loss for answers that he said the following, which is concurrently honest and utterly depressing:
"We're very aware of what our weakness has been so far this season.  However, our options are limited when it comes to helping the lineup.  There isn't a whole lot we can do."
Unfortunately Neal, there IS a whole lot that could've been done, but it needed to be happening over the past 5 years while you were on the job as GM.
Thanks for reading.  Follow me on Twitter @jim_krug
Pittsburgh Pirates: It's About to Get Interesting isportsweb
Original Story:
http://isportsweb.com/2012/05/25/pitt...
THE BACKYARD
BEST OF MAXIM
RELATED ARTICLES
The Pirates on Friday designated outfielder Nate McLouth for assignment, and recalled outfielder Matt Hague from Triple-A Indianapolis. McLouth, signed as a free agent on Dec. 7, hit just .140 with Pittsburgh, scoring four runs while driving in two more in 57 at-bats. Hague began the season with the Pirates, going 1-for-9 with two RBIs in five games before being optioned April...
(via Twitter) Hooray! This won't turn around the Pirates' offensive woes, of course, but everyone was growing tiresome of seeing Nate on the team. Hague was not hitting particularly well in Indianapolis, but certainly will be a much better  option as a pinch-hitter than McLouth was. ©2012 Raise the Jolly Roger. All Rights Reserved..
Pittsburgh Pirates Live Game Chat ©2012 Raise the Jolly Roger. All Rights Reserved..
Pittsburgh Pirates Live Game Chat ©2012 Raise the Jolly Roger. All Rights Reserved..
Sorry to have fallen off the face of the Earth the last couple of days; I've been working like a maniac trying to put together a talk for a conference next week and there just aren't hours in the day sometimes. The Pirates DFA'd Nate McLouth today, which pretty much anyone anywhere could've seen coming, and replaced him with Matt Hague. Hague probably won't help...
A.J. Burnett and four relievers worked out of trouble all game and the Pittsburgh Pirates sent the Chicago Cubs to their 10th straight loss with a 1-0 victory on Friday night. Burnett (3-2) gave up six hits, struck out six and walked two over 5 1-3 innings and the National League's best bullpen made it stand up as the Pirates extended Chicago starter Ryan Dempster's misery...
Jon from McEffect, Brian from Raise the Jolly Roger, Cory from Three Rivers Burgh Blog and myself are back at it with the twelfth of our weekly installments of the Pirates Round Table Podcast. This week we discuss the continued hitting woes, the bullpen, and the upcoming draft. Click here to listen/download. Listen on iTunes.
It's very rare I can combine things I really like. This time I knocked it out of the park. I love wrestling, CM Punk, Frank Sinatra, and of course the Pirates. So I just knew I had to include that! Hopefully the Pirates used their day off to LEARN HOW TO HIT A BASEBALL LIKE [...]
The Pirates and Mets finish up at PNC Park this afternoon with a 12:35 tilt that will pit Charlie Morton against Jon Niese. Morton, of course, has had trouble with his sinker this year and has pitched pretty poorly in the month of May. He'll continue his quest to straighten himself out against Niese, who's also having a fairly awful month. Niese gets a bonus this afternoon...
PITTSBURGH -- New York Mets pitcher Jonathon Niese found the perfect antidote to get back on track -- the Pittsburgh Pirates' anemic offense. The left-hander pitched 7 2/3 strong innings and the Mets beat the Pirates, 3-1, Wednesday afternoon at PNC Park. New York took two of three games in the series and have won three of their last four overall. The Pirates lost for the...
It kind of sucks that it takes a shutout to win these games, but hey, a win is a win.  I'll take em as they come. One run ballgames though? Tonight's game will be a "National" game on Fox. There you have it.  Pittsburgh's typical market for the most part won't even get the game. [...]
Pirates News

Delivered to your inbox

You'll also receive Yardbarker's daily Top 10, featuring the best sports stories from around the web. Customize your newsletter to get articles on your favorite sports and teams. And the best part? It's free!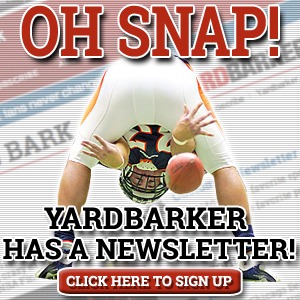 Latest Rumors
Best of Yardbarker

Today's Best Stuff

For Bloggers

Join the Yardbarker Network for more promotion, traffic, and money.

Company Info

Help

What is Yardbarker?

Yardbarker is the largest network of sports blogs and pro athlete blogs on the web. This site is the hub of the Yardbarker Network, where our editors and algorithms curate the best sports content from our network and beyond.