Found March 07, 2012 on Seed Spitters:
PLAYERS:
Mike Matheny
,
Benito Santiago
,
Bengie Molina
,
Matt Cain
,
Tim Lincecum
,
Brian Wilson
,
Sergio Romo
,
Buster Posey
,
Joe Mauer
,
Scott Cousins
,
Eli Whiteside
,
Chris Stewart
,
Hector Sanchez
,
AJ Pierzynski
TEAMS:
San Francisco Giants
,
Minnesota Twins
,
Miami Marlins
,
Chicago White Sox
The Giants have had some pretty unique catchers in the past. I remember as a kid the Giants catchers have been my favorite position to watch because of their heart, leadership and toughness. With several gold glove winners, typically batting .220, yet grittier than grits, Mike Matheny, Benito Santiago, A. J. Pierzynski and the big round Bengie Molina (his B-R page reads 190 pounds somehow…) were the ideal Giants catchers. While the Giants were drafting future star pitchers like Matt Cain, Tim Lincecum, Brian Wilson and Sergio Romo, they still managed to pick up a young catcher who happened to be a College World Series Champion and "Golden Spike" award winner. He could hit for power and average, played excellent defense and was a natural leader. His name is:   Buster Posey  Lord Posey, 24, was a godsend for the Giants organization. After being compared to a young future all-star such as the Twin's Joe Mauer straight out of college, Posey was sent into the Giants organization with high expectations. What I am impressed with the most from Posey is his ability to raise the bar each game he plays. He knows his footwork and values the defensive skill of the catcher position. He once played all nine positions once in a single game. Yes, including pitcher – his fastball was mid-90′s. Posey is a natural athlete,  he has high expectations and he is often compared to a God-like figure, but what has he done? Aside from his collegiate achievements, in just 108 games for the Giants in 2010, Posey had won the National League Rookie of the Year award in a very talented rookie class, won the N. L. West division title for the first time since 2003 and won the World Series for the first time in San Francisco since the team moved there over half-a-century ago. Oh, he has also caught one the the leagues best pitching staffs in the league. He caught the final pitch of the season in 2010 jumping for joy, sprinting out to his pitcher Brian Wilson facing his back to him, looking up to the sky crossing his arms. I'll never forget it. Mostly because he did it again in Atlanta to win the NLDS, in Philadelphia to clinch the NLCS, and for a fourth time in the big stage of the World Series in Arlington. Last season, he was on pace for a 14 home run, 76 RBI and 115 OPS+ season. An above-average season for a catcher and he was just catching fire when Scott Cousins started horse playing around home plate. Now he is is healed and ready to start playing catcher again because he is gritty, athletic and composed. Here is his prediction:
Prediction (MLB): .301 batting average, 367 on-base %, .505 Slug. % 20 home runs, 85 RBI, 75 runs An insanely high number of players caught stolen, and his first all-star game.
  Eli Whiteside Whiteside,32, is another typical catcher I grew up watching – tough, defensive-minded, and can call a game (no-hitters, specifically). Last year, Whiteside was prematurely forced to fill in for Posey once he became injured. He was never flashy with the bat, hitting .197 in 82 games last season with only four home runs and 17 RBI (four less than Posey in 37 more games played). He isn't too fancy with the glove, putting up a -0.3 dWAR in 2011 and committing five errors. He is fighting for a backup catcher position with two other guys this spring, so we will keep an eye on him.
Prediction (MLB): .210 batting average, .275 on-base %, .340 slug. % Three home runs, 14 RBI, 21 runs Backs up Posey, starts one to two games a week at most.  
Chris Stewart Stewart, 30, was the other catcher to fill in for the absence of Posey in 2011. Before last season, he had played in a total 26 major league games, hit only nine hits in 37 at-bats in a span of four seasons. Last year, Stewart had a slight advantage over Whiteside in batting average (.204), on-base percentage (.283), OPS (.592), OPS+ (68), runs (20) in 51 fewer at-bats. While both of them stuck around this off-season, Sterwart plans to compete against Whiteside and prospect catcher Hector Sanchez, for the big league back up position. Here is my projection:
Projection (MLB): .215 batting average, .286 on-base %, .318 Slug. % Four home runs, 12 RBI, 22 runs He has to out perform Whiteside and Sanchez this spring for that roster spot.  
Hector Sanchez Much like Posey's early professional career, 22-year-old Sanchez was signed out of Venezuela in 2006 with some high expectations than the average catching prospect. Since he joined the Giants organization, Sanchez has moved from rookie league to triple-A in a span of five seasons. He is still young, maintaining an .815 OPS in the minors. In 2011, Sanchez played in just 13 games for the Giants and had eight hits, two doubles, one RBI and a below average OPS+ of 84. His small sample size skews his numbers, but rest assured he will be a serious contender for the backup position behind Posey.
Projection (MLB): .289 batting average, .348 on-base %, .440 slug. % Five home runs, 22 RBI, 29 runs I think he can outperform Whiteside and Stewart for the job.  
I welcome you to share you're own projections for the catcher position in the comments below! (Photos courtesy of ESPN.com)
Original Story:
http://seedspitters.com/2012/03/playe...
THE BACKYARD
BEST OF MAXIM
RELATED ARTICLES
It's still very early in the Cactus League, but there is some good signs that this year might not be as much of an offensive struggle as it was in 2011. For starters Buster Posey and Freddy Sanchez should be back and healthy. Lets take a look at some players that are off to a hot start in Arizona. Let's start with Melky Cabrera. Cabrera is hitting .455 with 2 homers in his first...
Henry Schulman of the San Francisco Chronicle says Buster Posey and Freddy Sanchez could be back in the lineup Friday (Giants have confirmed Posey will play). Posey would be behind the dish, and Sanchez would be in a DH role. Sanchez doesn't think he will be able to play the field by the end of this week.   Hector Sanchez will be out of action for a couple of days to nurse his...
According to <a title="NBC Bay Area: "Giants Ink 7-Year-Deal With KNBR"" href="http://www.nbcbayarea.com/blogs/the-cove/Giants-Ink-7-Year-Deal-With-KNBR-141609163.html" target="_blank">NBC Bay Area, the San Francisco Giants have signed a new 7-year contract extension with flagship station KNBR. Giants games have been heard on KNBR since...
A visit to renowned orthopedic surgeon Dr. James Andrews' office in Gulf Breeze, Fla. yesterday by Dan Runzler confirmed that the Giants' left-handed reliever has indeed aggravated his strained lat and it will take 4-6 weeks to heal. Runzler, who turns 27 on Mar. 30, originally injured the muscle on the last day of the 2011 season and was hoping it would heal on its own during...
Angels scout Jeff Schugel was kicked out of a San Francisco Giants workout in Scottsdale Stadium on Wednesday morning, an incident that stunned and confused the 25-year veteran. "I got there early, and I was just doing my job, watching infield practice and grading arms," Schugel said. "The next thing you know, an usher told me I couldn't be there. I thought he...
There are a few ways to ponder Melky Cabrera. There's Cabrera in the context of how he was acquired: i.e. the Giants traded Jonathan Sanchez. There's Cabrera in the context of how he impacts the Giants — in pure terms of how much better they'll perform with Melky, as opposed to how they'd do without him. And then there's the simple one: Melky Cabrera, free of context...
San Francisco pitcher Matt Cain looked sharp in his Cactus League debut, but it was the Milwaukee Brewers who came away with a win 7-3 tonight at Scottsdale Stadium. [box score] Cain pitched two solid innings, allowing just two hits and a walk. He tossed 32 pitches. Pinch hitter Zelous Wheeler blasted a three-run homer off Jeremy Affeldt and former Giant Travis Ishikawa added a solo...
Good day for the G-Men Tuesday. Riding strong offensive performances from Melky Cabrera and Brett Pill, the Giants beat the Dodgers 8-4.
The San Francisco Giants, owners of baseball territory in the North and South bay, have been having to deal with the Oakland Athletics trying to move into San Jose after Oakland is becoming less of an attractive city for the sport. To the A's, it's simple. The A's want to move to San Jose, a much more popular sports venue location with years of successful growth with the San...
There was not a whole lot of bad blood between the Giants and Angels coming out of the 2002 World Series, and a decade later, the wounds inflicted on this then-12-year-old fan have mostly healed. The sight of a rally monkey still makes me cringe, but there is no longer any internal debate as to which Los Angeles-area franchise I find less tolerable. Wednesday's tiff between Angels...
On May 25, 2011, I left work just after 5 pm, like usual. I walked a few blocks to the gym, did my workout, showered, and came home. I got home just after 8, and ate my dinner while I turned on the night's Giants game. I had DVRed the game, and started watching on delay. As usual, I skipped through commercials, doing my best to avoid Facebook, Twitter, and all other social media...
MLB News

Delivered to your inbox

You'll also receive Yardbarker's daily Top 10, featuring the best sports stories from around the web. Customize your newsletter to get articles on your favorite sports and teams. And the best part? It's free!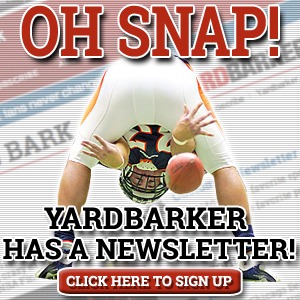 Latest Rumors
Best of Yardbarker

Today's Best Stuff

For Bloggers

Join the Yardbarker Network for more promotion, traffic, and money.

Company Info

Help

What is Yardbarker?

Yardbarker is the largest network of sports blogs and pro athlete blogs on the web. This site is the hub of the Yardbarker Network, where our editors and algorithms curate the best sports content from our network and beyond.