Found June 27, 2012 on The Nats Blog:
PLAYERS:
Ryan Zimmerman
,
Ian Desmond
,
Jed Lowrie
,
Starlin Castro
,
Tony La Russa
,
Tyler Moore
,
Bo Porter
,
Gio Gonzalez
,
Jesus Flores
TEAMS:
Washington Nationals
,
Colorado Rockies
,
Houston Astros
,
Chicago Cubs
,
St. Louis Cardinals
The Washington Nationals got some unexpected help on the way to their first win at Coors Field this season: their offense. The Nats put up 12 runs on 21 hits in a 12-5 win over the Colorado Rockies. That's as many runs as they put up in their previous five games combined, and the 21 hits tied a record for most hits for the Nats in one game since their Inaugural Season in 2005. 
It's nice to be able to talk about something positive related to the Nats offense, and there are plenty of things to hit today, pun absolutely intended. First is obviously Ryan Zimmerman's big milestone. Zimm recorded his 1000th hit, well his 999th, 1000th, and 1001st actually, in Tuesday's game. He became the first player to reach that number with all 1000 hits coming in a Nats uniform. Just another step in The Franchise's great career in DC. It's been nice to see him kill it lately. Since the cortisone shot, Zimmerman is 6-for-12 with a home run and two doubles.
Ian Desmond has quickly become the most clutch hitter for the Nats. I can't imagine you thought you'd hear that in early-April. Desmond went 4-for-5 with 2 RBI on Tuesday, and he brought his average up to .272. He has a team-high 2.1 WAR, which is good for third-best in the National League behind Jed Lowrie and Starlin Castro. With Tony LaRussa as the NL manager in the All-Star game, who has said Desmond is among his favorite players, Desmond has a legitimate shot of being in Kansas City for this year's Midsummer Classic. 
All-in-all, it was one of the most fun games to watch this year. The Nats desperately needed an offensive outburst, and they finally had the conditions to do it. They faced a starter with an ERA closer to 6.00 than 5.00 entering the game in one of the most hitter-friendly ballparks in America. So while you may not be able to read into the offensive improvement that much, it may be the confidence boost the team needs to look more comfortable at the plate. 
Some thoughts:
- Tyler Moore may be seeing a whole lot more at-bats after his game on Tuesday. He went 2-for-5, but his huge home run was the real story. His three-run blast in the fifth went a massive 462 feet to left-center field. It was the longest home run in baseball on Tuesday and is in the Top 10 longest MLB home runs this season. With Steve Lombardozzi's recent struggles, that left field job might be Moore's to keep. Hopefully, he can get some outfield practice with Bo Porter in the mean time, though. 
- Gio Gonzalez did what any top of the rotation starter should. He kept the team in it in the early innings and pitched to contact once he got a big lead. And to help out, he got a hit that scored Jesus Flores, which gave the Nats a 4-3 lead they never relinquished. Gio understands how to pitch a ball game based on situation, and it makes it even more fun to watch.
Original Story:
http://www.thenatsblog.com/2012-artic...
THE BACKYARD
BEST OF MAXIM
RELATED ARTICLES
To date, these 2012 Washington Nationals have been a resilient bunch, surviving DL stints by key contributors like Drew Storen, Mike Morse, Ryan Zimmerman, Wilson Ramos, and Jayson Werth. But now that Xavier Nady has been placed on the DL with a mysterious wrist injury, it's unclear how the team will respond. Here's Davey: "I put him in the same boat with Zim...
....and he didn't even have to do it himself! "It's nice. You've got a lot of room to breathe." (Jordan Zimmermann, via Washington Post, 6/28/2012) Nationals 11, Rockies 5: No Rally Napkin necessary, just the Rockies pitching staff. Put the Fire Rick Eckstein movement on hold for another day: 11 runs, 14 hits. Hire Rick Eckstein! J-Zimm'...
  The Nationals have tons of "what if" scenarios because of so many key players going on the DL, as well as the emergence of young talent.  With the Nats in first place and looking fairly decent, the answers to these questions actually mean something for the first time since they have been in DC. Once Jayson Werth gets healthy, what will the outfield look like? If Davey keeps...
Edwin Jackson's major league career has been irregular to say the least.  Since his debut in 2003 at the young age of 19, he has played for seven teams in his first ten seasons.  In addition, he has spent his past two seasons with three different teams.  Last year he even helped lead the St. Louis Cardinals to the their eleventh World Championship before being released back...
It's no secret that the Washington Nationals' starting pitching rotation is really, really good. But this weekend when Edwin Jackson's ERA dipped below the three mark, something truly incredible happened: the Nationals became the only team whose qualified starters all sport sub-three ERAs. Thirteen major league teams can't say that they have even one qualified starting pitcher...
Ratings for the Olympic Trials hit a twelve-year high on NBC Monday. In other news, Nationals ratings are up double-digits in Washington, D.C., and Saturday's Nationwide Series race increased as well. Olympic Trials Earns Highest Rating Since 2000: Coverage of the swimming U.S. Olympic Trials earned a 4.4 rating and 6.9 million viewers on NBC Monday night, up 267% in ratings and...
Jordan Zimmermann pitched seven strong innings, Ryan Zimmerman and Tyler Moore both homered for the second straight game and the Washington Nationals beat the Colorado Rockies 11-5 on Wednesday night. Moore finished with three hits, Ian Desmond also went deep and Bryce Harper had two hits for the Nationals, who had another big outburst at the plate. Washington scored nine runs once...
This turned out to be the Washington Nationals pitching podcast for the most part. We spent quite a lot of time talking about Ross Detwiler and Chien-Ming Wang, but even more time talking about the bullpen, including Tyler Clippard, Drew Storen, Sean Burnett, and Cole Kimball. We also hit the trade deadline a few weeks early.
Believe it or not, most of our writers didn't enter the world sporting an @baseballprospectus.com address; with a few exceptions, they started out somewhere else. In an effort to up your reading pleasure while tipping our caps to some of the most illuminating work being done elsewhere on the internet, we'll be yielding the stage once a week to the best and brightest baseball...
Denver, CO – Jeff Francis threw only 66 pitches through 5 innings to out duel the Washington Nationals ace Stephen Strasburg. Francis did not get the win but stepped up to limit the Nationals to 2 runs and only 5 hits. Francis baffled Washington's phenom Bryce Harper, striking him out twice on a wicked tailing … Continue reading »
Apparently all that Ryan Zimmerman needed was a cortisone shot. After slumping through a 5 for 48 stretch earlier this month, he has busted out the last three days with a 6 for 13 stretch that includes three extra base hits since getting a cortisone shot for his shoulder. Zimmerman elaborated in the story by The Washington Post that all his problems this season have been physical...
Nats tie club mark with 21 hits in 12-5 thumping at Colorado. [WaPo] The offensive explosion was due to the Rally Napkin. [Nats Enquirer] Ryan Zimmerman collects 1,000 hit, is hitting again. [Nats Journal] MASN's Nats ratings are up 54 percent year-over-year. Winning! [Bog] Bryce Harper is probably getting pretty tired already. [Nats Baseball] O's, Brian Matusz slapped around...
MLB News

Delivered to your inbox

You'll also receive Yardbarker's daily Top 10, featuring the best sports stories from around the web. Customize your newsletter to get articles on your favorite sports and teams. And the best part? It's free!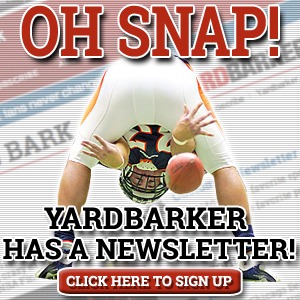 Latest Rumors
Best of Yardbarker

Today's Best Stuff

For Bloggers

Join the Yardbarker Network for more promotion, traffic, and money.

Company Info

Help

What is Yardbarker?

Yardbarker is the largest network of sports blogs and pro athlete blogs on the web. This site is the hub of the Yardbarker Network, where our editors and algorithms curate the best sports content from our network and beyond.