Found October 08, 2012 on Fox Sports Southwest:
PLAYERS:
Josh Hamilton
,
Cliff Lee
,
Ryan Dempster
,
Colby Lewis
,
Yu Darvish
,
Matt Harrison
,
Derek Holland
,
Alexi Ogando
,
Martin Perez
,
Jurickson Profar
,
Mitch Moreland
,
Ian Kinsler
,
Mike Adams
,
Koji Uehara
,
Mark Lowe
,
Scott Feldman
,
Joe Nathan
,
Tanner Scheppers
,
Michael Kirkman
,
Nolan Ryan
,
Michael Young
TEAMS:
Texas Rangers
,
Philadelphia Phillies
If this were a year that Texas Rangers have come to expect, they would have been preparing for Game 2 of the American League Division Series Monday at Rangers Ballpark.
Instead, the Rangers are watching the game if they want and still licking their wounds after a season that started with so much promise went so wrong.
But the Rangers won't be able to sulk for long as they have plenty of questions to answer before they can try to make another playoff run in 2013. Here are a six pack of them that need to be answered.
1. What happens with Josh Hamilton? The good news for the Rangers is that this isn't a question they really have to answer. The answer to this one will come when another team decides to spend big money on a player with immense baseball talent and just as immense non-baseball issues. If the questions about Hamilton just centered on baseball, the Rangers may have considered trying to match whatever offer Hamilton will get. But as good as he's been on the field for Texas in the last five years, the non-baseball issues make re-signing Hamilton too risky a move to make for the Rangers. Hamilton said it's 50-50 whether or not he signs with the Rangers. The odds aren't nearly that good. It's been a good five-year run for Hamilton with Texas, but it looks like that's all it's going to be. Getting rid of Hamilton should free the Rangers to find another bat through free agency or a trade.
2. How do they address the starting rotation?The Rangers have lost front-line starters to free agency each of the last two years in Cliff Lee and C.J. Wilson. They'll lose another this year in Ryan Dempster but he's someone they would have needed any upgrade over anyways. The free-agent market is thin. The Rangers could address the rotation but trade or they could try to piece things together until Colby Lewis is ready next summer. The Rangers have two All-Stars in Yu Darvish and Matt Harrison. Derek Holland had a bad year but he's still decent for a back-end starter. Moving Alexi Ogando into the rotation makes fiscal sense, but weakens the bullpen. Martin Perez could be ready to finally make the move to the rotation after getting a taste of big-league life.
3. What happens with Jurickson Profar and Mike Olt? The good news for the Rangers is that they could dodge this question by saying that neither are major-league ready and need a year at Triple A. That might not go over so well with the fan base and it might not make sense either. What has Mitch Moreland done at first base over the last two seasons that Olt can't do? He had a better year in 2012 (15 home runs, 50 RBIs, .789 OPS) than he did in 2011 but he's still viewed as a platoon first baseman by the job (only 327 plate appearances). He could be expendable if the Rangers feel Olt can handle the job. The Profar situation is stickier. He doesn't have a position available and he needs to play every day. The club could do something drastic like move Ian Kinsler to the outfield, but that might not happen despite Kinsler having a poor defensive year. They can't afford to have Profar be a utility player because he needs the ABs.
4. How do you rebuild the bullpen? There is going to be a lot of turnover amongst the relievers, especially if Alexi Ogando moves into the rotation. Mike Adams and Koji Uehara are free agents. Mark Lowe and Scott Feldman likely won't be back. Robbie Ross could also be an answer in the rotation if the Rangers are really desperate. If not, he and closer Joe Nathan would be the two most established relievers. Tanner Scheppers and Michael Kirkman need to step up. Re-signing Adams is a possibility as he'll likely be coming off thoracic outlet syndrome surgery but he's already said this is a business decision (i.e. big bucks). Uehara will also get a nice deal from someone after posting a 1.75 ERA and not allowing a run in September or October.
5. How do you handle the 16-million man? No one player this side of Nolan Ryan means more to the Texas Rangers organization that Michael Young. Young is entering the final year of his five year, 80-million deal. The Rangers could try and move Young, but they'd have to eat the majority of his contract and they won't get much back. The Rangers could hope Young accepts a reduced role, and he really wouldn't have room to argue after hitting just .277 and adding his lower on-base percentage in a decade. He doesn't have a position in the field because he's not a good defender anymore. He also doesn't provide enough offense to be a full-time designated hitter (eight homers, 67 RBIs). Young turns 36 later this month. If he is truly the team's captain, maybe he steps up and says he'll handle the backup role. One person in his corner is manager Ron Washington, who made it clear this year he'd ride Young as long as he could. That time may have passed.
6. Will the offseason help provide some closure? Sure the Rangers have plenty of personnel questions, and we didn't even get into who's going to catch for the team. But the club also needs some time to recharge the batteries. Last offseason the Rangers had to think about what life would have been like if they got one more strike and won a World Series. This offseason it's the September collapse that will linger and what would have happened if the Rangers had won one more game and the West division. The good news is that the Rangers will actually get some time to rest this offseason. Maybe the 32 extra postseason games the club played in 2010 and 2011 took a physical toll and that's why the Rangers looked so tired in September. The one extra they played this October should have them fresh for 2013.
Original Story:
http://www.foxsportssouthwest.com/10/...
THE BACKYARD
BEST OF MAXIM
RELATED ARTICLES
TAKE A DIP
Rangers head honcho Nolan Ryan questioned Josh Hamilton's decision to quit smokeless tobacco during the season, saying the timing "couldn't have been worse."
The Texas Rangers had a great season that ended in disappointment. It would be easy to say the season itself was a disappointment because of how it ended, but that would minimize the success Texas had throughout almost the entire regular season. They led the American League West from April until the final day of the regular season when the Oakland Athletics overtook them and forced...
Many things are known about Josh Hamilton -- far more details of the man's personal life have been made public information than just about any other athlete. We know he's a recovering alcoholic, we know he's devoutly religious, we know he's injury prone, we know he's trying to quit caffeine and we know, when he's on the field, he's one of the best, most...
Texas Rangers outfielder Josh Hamilton appears destined to become a free agent. The team won't make any offers to the slugger during the team's exclusive negotiating window, meaning he will hit the open market. Rangers' general manager Jon Daniels told ESPN.com that the team agreed with Hamilton's agents that the outfielder would field offers. "The realities...
After going 0-4 and being booed during Friday's 5-1 loss to the Baltimore Orioles in the AL Wild Card game at the Rangers Ballpark in Arlington, Texas center fielder and impending free agent Josh Hamilton insinuated he has played his … Continue reading →
Josh Hamilton said in June that he was attempting to stop his use of chewing tobacco. The process wasn't an easy one for the 2010 A.L. MVP and it probably affected his play. The Texas Rangers power-hitting outfielder also tried to kick the habit during the 2011 season. But was the timing right? According to a recent radio interview, Rangers president Nolan Ryan said it was...
The Texas Rangers are prepared to let Josh Hamilton test the market, Jon Heyman of CBS Sports reports. The Rangers at this point in time are not ready to offer the number of years or type of money Hamilton is looking for. The Rangers in essence are hoping teams around the league will develop the market for Hamilton and they will be able to come in at the end  and potentially reach...
Josh Hamilton's bat sat on his shoulder for the first strike. He fouled the second one off. He swung at the third delivery but missed, and in doing so unleashed pent-up boos from the Texas Rangers fans who once adored him. And so ended what had been a great baseball love story. This strikeout in the wild-card loss to Baltimore was his last at-bat as a Ranger. My man, Randy...
Jeff Zimmerman and I have done lots of work on player aging curves in the past 12 to 18 months. Jeff started things off with a series of hitter aging curves, which focused mostly on standard outcomes and WAR components. Jeff and I then joined forces this year for a series focused on pitcher aging.This time around, I wanted to know how a hitter's plate discipline changes over his...
NCAA violation College Football Jeff Driskel can't even get served at a local Gainesville restaurant – Throw The Flag Five Things: Nebraska – 11W North Carolina State Fans Did Gangnam Style During FSU Game [GIFs] – TheBigLead Geno Smith becomes Air Raid's greatest disciple – Forde tissues Must-watch video of military family reunion at USC-UGA game – SDS Other Sports...
MLB News

Delivered to your inbox

You'll also receive Yardbarker's daily Top 10, featuring the best sports stories from around the web. Customize your newsletter to get articles on your favorite sports and teams. And the best part? It's free!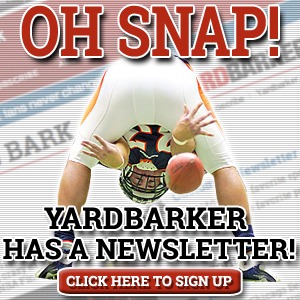 Latest Rumors
The Backyard

Today's Best Stuff

For Bloggers

Join the Yardbarker Network for more promotion, traffic, and money.

Company Info

Help

What is Yardbarker?

Yardbarker is the largest network of sports blogs and pro athlete blogs on the web. This site is the hub of the Yardbarker Network, where our editors and algorithms curate the best sports content from our network and beyond.