Found April 10, 2013 on Fox Sports Arizona:
PHOENIX -- In about a week, or whenever Cody Ross returns from the disabled list, the Diamondbacks likely will be forced to return either A.J. Pollock or Alfredo Marte to the minor leagues. It is the curse of the young and optionable on a deep, veteran team. On Wednesday, they belonged in an All-Star setting, as both rookies had career games. Pollock had his first three-hit game, his first two-home run game and his first four-RBI game in the Diamondbacks 10-2 rout of the Pirates. His three-run homer in the second inning gave Wade Miley a 6-0 lead, and he added a bases-empty home run in the fourth that led to a four-run inning for a 10-1 lead. Then there was his diving catch in center field with a runner on second base and one out to take a run away from the Pirates in the first inning. Marte doubled in the final run in a three-run first inning and reached base in his first four plate appearances, in four different ways. He also singled, walked and was hit by a pitch. The two give the D-backs the kind of outfield depth most major league teams would envy, and with it they have been able to get off to a 6-3 start while playing through spring injuries to projected starters Ross and Adam Eaton. The D-backs have led or been tied for the NL West lead ever since their Opening Day victory over the Cardinals. And while it has been only 10 days, both Pollock and Marte have given every indication that they belong in the big leagues, which will make the upcoming decision even more difficult. Ross is tentatively scheduled to return from his left calf injury on the road trip that begins in New York with an interleague series against the Yankees next Tuesday, the first time the D-backs will need a DH this season. Pollock, who had two homers in 31 games in his first major league time last year, has a professionals understanding of the possibilities after yo-yo-ing between the D-backs and the minors five times last year. After Chris Young got hurt, and Jason Kubel went on paternity leave, and Lyle Overbay went on maternity leave, and as the designated 26th player for a doubleheader, and ... "The easiest way to deal with it is youre in the lineup, youre a member of the team and youre expected to help the team win. If you do that enough, you dont need to worry about the rest. Its when youre not grinding it out for the team and competing for the team when it starts to happen, he said. Someone will bring it up. Thats what they do. They think ahead. But when you are a baseball player and you are in the thick of things during a season, there is a game today, and when that is done, there is another. If you are in there you are going to compete. When you are not, you are going to be the best bench player you can. Thats all you can do. Marte has a similarly mature stance. I dont think about it. that is something I cant control. The only thing I can control is my game, and thats all I am worrying about, he said through teammate Martin Prado's interpretation. Marte had a career-high 20 home runs at Class AA Mobile last year, more than double the amount he had in any previous four minor league seasons. He credited a top-hand approach suggested by then-Mobile hitting coach Jay Bell, who was in the other dugout Wednesday after becoming the Pirates hitting coach this season. Pollock has been more of a doubles hitter in his career, with 41 to go with 36 stolen bases at Mobile in 2011. Not that his home runs Wednesday were necessarily a surprise. For me, hitting home runs is not about power. Its about hitting the ball correctly and youre approach at the plate. Its 340 feet down the line. Its not like you need to hit it 600 feet to hit it out. Its more about getting the right pitch and taking the right swing in the right count, he said. Just trying to be a competitor up there. Follow Jack Magruder on Twitter
Original Story:
http://www.foxsportsarizona.com/mlb/a...
THE BACKYARD
BEST OF MAXIM
RELATED ARTICLES
PHOENIX Diamondbacks starting pitcher Brandon McCarthy said after his start Tuesday that he threw perhaps better than he ever had before, which is odd considering the first-year D-back is now 0-1 with a 7.71 ERA after a 6-5 loss to the Pirates. "That was as well as I've thrown a baseball in my professional career, without a doubt," a visibly perturbed McCarthy said...
PHOENIX (AP) -- A.J. Pollock homered twice, doubled and drove in four runs as the Arizona Diamondbacks salvaged the final game of their series against Pittsburgh, routing the Pirates 10-2 on Wednesday. Pollock began the day in an 0-for-14 rut. He also made a diving catch in center field to rob Andrew McCutchen in the first inning. Wade Miley (2-0) allowed two runs on five hits...
Cody Ross has been on the disabled list since the start of the season.  He was one of many players on the Arizona Diamondbacks' roster to start the season injured.  Fortunately, it seems Ross is closing in on making his return.  In fact, he may even make his season debut this week. According to Nick Piercoro of the Arizona Republic, Ross could return to the lineup as early...
Wade Miley is one of those pitchers who just gets outs. The Arizona Diamondbacks lefthander doesn't wow or dazzle, but that isn't what matters. What does is results, and he got plenty of those last year in his rookie season. The 26-year-old left-hander won 16 games with a 3.33 ERA and 3.15 FIP. How did he do it? Not with overpowering stuff. His primary pitch — which he threw...
A.J. Pollock homered twice, doubled and drove in four runs as the Arizona Diamondbacks salvaged the final game of their series against Pittsburgh, routing the Pirates 10-2 on Wednesday. Pollock began the day in an 0-for-14 rut. He also made a diving catch in center field to rob Andrew McCutchen in the first inning. Wade Miley (2-0) allowed two runs on five hits in 6 2-3 innings...
PHOENIX -- With Jackie Robinson Day set for Monday, 66 years after Robinson broke baseball's color barrier, and the movie "42" opening nationwide Friday, the spotlight will shine as it does annually on Robinson's legacy and the players carrying it on today. In the Diamondbacks clubhouse, that spotlight will shine alone on reliever Tony Sipp, who doesn't need...
Episode 323 Nick Piecoro is both (a) a fine Italian-American beat reporter for the Arizona Diamondbacks (for the Arizona Republic, specifically) and (b) the guest on this edition of FanGraphs Audio. Don't hesitate to direct pod-related correspondence to @cistulli on Twitter. You can subscribe to the podcast via iTunes or other feeder things. Audio after the jump. (Approximately...
It took more than a week, but the Pittsburgh Pirates finally showed something resembling consistency on offense in the Bucs' 6-5 win on Wednesday against Arizona at Chase Field. Starling Marte had two hits, including a two-run double in the fourth, in the Pirates 6-5 win at Arizona. Photo credit: David Hague The Pirates posted a season-high in runs scored and broke into double...
The final game of the series in Arizona was not a pretty one.  Jonathan Sanchez struggled with just about everything, and Wade Miley was his usual effective self, limiting the Pirates' offense to just 2 runs in a 10-2 loss. The Diamondbacks scored their first run in the 1st inning on a pickoff attempt.  AJ…
Here is a blow-by-blow description of what happened in the Pirates/Diamondbacks game this afternoon: - Clint Barmes and John McDonald both in the starting lineup. Oh crap.  - Jonathan Sanchez starting. Oh crap.  - 3-0 Diamondbacks after one. Oh crap. - 6-0 Diamondbacks four batters in to the second inning.  - Third inning, Jonathan Sanchez still out there. ...
Sometimes life can be challenging.  For example, I've spent basically the entirety of the past two days either in a hotel lobby, on a roof, snaking pipes, or shopping for a new toilet. That's not to complain, adversity is what makes life great.  Hopefully the Pirates have learned that lesson and this response is real. A series…
MLB News

Delivered to your inbox

You'll also receive Yardbarker's daily Top 10, featuring the best sports stories from around the web. Customize your newsletter to get articles on your favorite sports and teams. And the best part? It's free!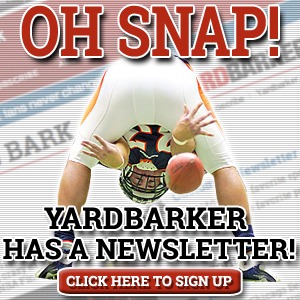 Latest Rumors
The Backyard

Today's Best Stuff

For Bloggers

Join the Yardbarker Network for more promotion, traffic, and money.

Company Info

Help

What is Yardbarker?

Yardbarker is the largest network of sports blogs and pro athlete blogs on the web. This site is the hub of the Yardbarker Network, where our editors and algorithms curate the best sports content from our network and beyond.