Found March 31, 2013 on Suicide Squeeze:
Buster Posey will be counted on to lead the Giants for the next several years. Tools of ignorance indeed.   Try telling that to Giants catcher Buster Posey. He just signed a nine-year, $167 million contract extension. It's the largest guaranteed contract in history for a player with three or fewer years of major league experience.   Posey rebounded from an horrific injury in 2011 to lead the National League in batting in 2012 with a .336 average, becoming only the third catcher in major league history to win a batting title.  Bubbles Hargrave hit .353 for the 1926 Reds, while Twins catcher Joe Mauer has won three batting crowns (2006, 2008 & 2009).   Posey entered the big leagues for good in 2010 as one of the most highly-touted prospects of the last decade. He was the fifth overall pick of the 2008 draft, and hasn't disappointed.  He was named the NL Rookie of the Year in 2010, hitting .305 with 18 home runs 67 RBI and an OPS of .862.   On May 25, 2011 Posey was involved in a violent collision with the Marlins' Scott Cousins as he tried to block the plate as Cousins scored the winning run in the 12th inning of a 7-6 win. Posey ended up with a broken left ankle and missed the rest of the season. At the time he was hitting .284 with 4 homers and 21 RBI.   Last season Posey posted career highs with his .336 average, 24 homers and 103 RBI. He led the league in OPS+ at 172 (OPS+ is a player's on-base plus slugging percentage as adjusted for ballpark and league variables. The average is 100.).   Posey turned 26 on March 27, so his best years are unquestionably ahead of him. With him behind the plate calling pitches for the Giants' rotation of Matt Cain, Tim Lincecum, Madison Bumgarner, Ryan Vogelsong and Barry Zito, the Giants have won the World Series two of the last three years.  At some point during the duration of his contract he'll be switched to first base, but if he can continue to stay healthy and guide the Giants' staff, he may get enough World Series rings to fill a hand.   To quote the 18th century British poet Thomas Gray: "Ignorance is bliss."    This article has been read (13) times
Original Story:
http://thesuicidesqueeze.com/?p=1209
THE BACKYARD
BEST OF MAXIM
RELATED ARTICLES
A day later, it's sinking in. I almost feel relieved and at peace, as if the news of Buster's new megadeal somehow alleviated some of life's other stresses. It also renews the faith that I have in the Giants organization. They're clearly committed to winning, have drafted and developed quality players with quality character, and those players want to continue winning...
  San Francisco Giants fans can rejoice, Buster Posey will likely never wear another uniform again. The icon of the Giants signed a 9-year deal that will keep him in a San Francisco jersey until 2022. The contract extension includes a full no-trade clause and can include incentives if Posey achieves certain accolades. It is an 8-year deal but could include a 9th year on a team option...
After leading their teams to last year's World Series, Justin Verlander and Buster Posey cashed in just hours apart Friday. The All-Star pitcher and MVP catcher were guaranteed nearly $350 million in contracts by the Tigers and Giants, a sure sign of the baseball times: Teams are awash with revenue from television and high-priced tickets. Verlander, an AL MVP and Cy Young Award...
"We goin' Sizzler. We goin' Sizzler." That's one of my favorite lines from from one of my favorite movies, "White Men Can't Jump." The line comes early in the movie when Sidney (Wesley Snipes) and Billy (Woody Harrelson) put money on a shooting contest. When it appears Sidney is about to make Billy look like the chump that he is, Sidney's friend starts mocking...
The Tigers and Giants each made a significant investment on Friday. Each deal was monumental, and each was necessary. The Tigers signed Justin Verlander to a five-year contract extension that will take him through the 2019 season. The right-hander reportedly will earn $180 million over the next seven seasons, and a $22 million vesting option for the 2020 season could bring the total...
The economics of Major League Baseball ownership has come a long way. Nothing illustrates this better than the recent contract extensions of the Giants' catcher Buster Posey, pitcher Justin Verlander of the Tigers, and Texas Ranger's shortstop Elvis Andrus. Contract extensions on top of existing multi-year contracts in baseball has become a template for ownership. And...
    We are just one day removed from the commencement of the 2013 Major League Baseball season opener, and with it there's a lot of questions to be answered. Some big movements have already transpired just days before the first pitch is due to be thrown out–the mammoth contracts given to Verlander and Buster Posey, Baseball's move to sue the Miami biogenesis clinic which...
There are some players who become premium draft targets despite statistical shortcomings (Buster Posey) or injury concerns (Troy Tulowitzki) solely because of how they compare to the available talent at their respective positions. Robinson Cano has no such flaws, producing annual stat lines that rival the game's best overall players, and the fact that he plays at a position with...
With the season opening on Sunday night, it's time for our last look at some of the risers and fallers in the recent ADP rankings. Again, since we're just looking to identify simple trends we're going to stick with the trend report on Mock Draft Central rather than be too concerned with actual ADP rankings from the NFBC as we have used through most of the spring. Besides, the...
1. Giants 0-0 -- Buster Posey & Co. are the defending champs until someone knocks them off. They won 94 regular-season games in 2012, and Tim Lincecum wasnt his usual self, going 10-15 with a 5.18 ERA. 2. Angels 0-0 -- Trout, Pujols and Hamilton, oh my. Mike Scioscias club is one of the four favorites in Vegas thats good enough for us. 3. Nationals 0-0 -- They had a...
Today is the eve of Opening Day eve. There are elite eight games on tonight and the Astros vs. Ranger opener tomorrow evening. Plus Wrestlemania 29 is on Sunday night. And then the main event of Opening Day on Monday. Here's all of the muck that's fit to rake in the way of baseball reads: -How the Nats went from ugly to elite, by Joe Posnanski. [NBC Sports] -ESPN's expert award...
MLB News

Delivered to your inbox

You'll also receive Yardbarker's daily Top 10, featuring the best sports stories from around the web. Customize your newsletter to get articles on your favorite sports and teams. And the best part? It's free!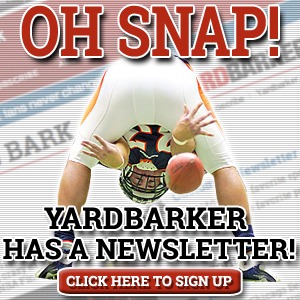 Latest Rumors
Best of Yardbarker

Today's Best Stuff

For Bloggers

Join the Yardbarker Network for more promotion, traffic, and money.

Company Info

Help

What is Yardbarker?

Yardbarker is the largest network of sports blogs and pro athlete blogs on the web. This site is the hub of the Yardbarker Network, where our editors and algorithms curate the best sports content from our network and beyond.