Found June 24, 2012 on The Daily Stache:
PLAYERS:
RA Dickey
,
Robinson Cano
,
CC Sabathia
,
David Wright
,
Scott Hairston
,
Curtis Granderson
,
Alex Rodriguez
,
Mark Teixeira
,
Nick Swisher
,
Andres Torres
,
Ruben Tejada
,
Justin Turner
,
Ronny Cedeno
,
Vinny Rottino
,
Kirk Nieuwenhuis
,
Miguel Batista
,
Boone Logan
,
Cory Wade
,
Tim Byrdak
,
Terry Collins
,
Bobby Parnell
,
Eric Chavez
,
David Robertson
,
Rafael Soriano
,
Lucas Duda
,
Ike Davis
,
Johan Santana
,
Travis Wood
TEAMS:
New York Mets
,
New York Yankees
,
Chicago Cubs
R.A. Dickey scoring the Mets' second run The New York Mets lost the last-ever regular season inter league game of this particular variety as Major League Baseball will see a drastic shift next year. The Mets fell by the score of 6-5 as a late inning home run off the bat of Robinson Cano was the difference in the game. The pitching matchup featured a pair of aces as R.A. Dickey took on C.C. Sabathia on Sunday evening, and both pitchers lived up to the hype in the first inning as Dickey threw nine pitches to retire the side and Sabathia allowed a two-out single to David Wright before getting Scott Hairston out. The game remained scoreless until the top of the third when the Yankees got four runs around on Dickey to end his earned run scoreless inning streak. Curtis Granderson walked with one out, followed by a single off the bat of Alex Rodriguez and another walk to Cano. Mark Teixeira got the first run in with a sacrafice fly in front of Nick Swisher's three run home run that cleared the new fence in right centerfield. In the bottom of the inning the Mets scratched across one of their own as Andres Torres reached then stole second and moved to third as the ball was thrown into centerfield. The next batter was fresh-off-the-DL Ruben Tejada who hit a fly ball to the outfield for a sacrifice fly to make the score 4-1. Both teams scored once more each in the fifth inning, starting with Granderson once again as he was hit by a pitch and then moved to second on Dickey's first wild pitch of the season. Cano singled to move him to third before Teixeira allowed him to score with a groundout. The Mets responded as Dickey notched a one-out hit as the Mets brought him in from base hits off the bats of Tejada and Wright to make it 5-2. Dickey set down the side 1-2-3 in the sixth, and then it was time for the Mets offense to take over in the bottom of the inning. Justin Turner reached on a one out error, and Ronny Cedeno singled and was replaced after Thole hit into a fielder's choice. Vinny Rottino walked to load the bases before Torres singled to score a pair of runs, Tejada followed with a base hit of his own to score Rottino and tie the game at five. Wright walked to load the bases but Kirk Nieuwenhuis struck out to end the bases loaded threat in the inning. In the top of the seventh Dickey was pulled in favor of Miguel Batista who went 1-2-3, as Boone Logan did the same in the bottom of the inning after replacing Cory Wade. With Tim Byrdak up in the bullpen and ready to go, Terry Collins decided to stay with Batista to face the Yankees' best hitter Robinson Cano who launched a leadoff home run over the Home Run Apple in centerfield to put the Yankees back on top at 6-5. Batista got three of the next four batters to end the eighth. Torres reached with two outs in the bottom of the inning and stole second and advanced to third on a balk but Tejada wasn't able to tie the game. Bobby Parnell came on to pitch the ninth and got the Yankees out in order including a strike out of Eric Chavez who pinch hit for David Robertson, which then brought in Rafael Soriano to pitch the bottom of the ninth. Soriano struck out Wright, and got pinch hitter Daniel Murphy to line out, Lucas Duda kept the game alive with a single but pinch hitter Ike Davis flew out to right field to end the game. Game Ball: Andres Torres, he seems to perform well on Sunday Night Baseball after his performance against St. Louis and now the Yankees, let's hope he can keep it up next Sunday against the Dodgers. Up Next: The Mets hop on a plane and head to the "Windy City/Chi-Town/The North Side" to square off with the Chicago Cubs, a series which includes two rare night games. Tomorrow's game begins at 8:05 p.m. as a battle of left-handers pits Johan Santana (5-3) against Travis Wood (1-3).
Original Story:
http://dailystache.net/archives/2173?...
THE BACKYARD
BEST OF MAXIM
RELATED ARTICLES
"I definitely believe that Dickey's success will lead to more interest in the knuckleball by other professional and even amateur pitchers. However, the interest in the pitch may be short-lived if no one out there can teach it. R.A. worked hard to connect with those who could help him develop his knuckleball. Others may not have the same perseverance.: Mets General Manager Sandy...
New York Mets pitcher R.A. Dickey had a knuckleball get away from him in the first inning, and it almost hit New York Yankees third baseman Alex Rodriguez in the head. However, it was obvious to everyone that it was just an accidental wild pitch, and Dickey was immediately apologetic afterwards. A-Rod ended up on the ground while ducking the pitch, but was smiling and laughing...
Mets right-hander R.A. Dickey had two big problems coming into Sunday night's Subway Series finale against the New York Yankees, and both were issues that any pitcher would love to have. The first was that in going 6-0 in his previous six starts -- with a 0.18 ERA, 0.49 WHIP and .131 opponents' batting average to boot -- the 37-year-old knuckleballer set the bar way too...
Listen up, Met fans -- my presence at Citi Field Friday meant nothing. Your team still beat the Yankees! So there. Now, I am about to head to your ballpark for the battle of the initials -- CC vs. RA -- but if Dickey's scoreless streak ends, don't blame me!I hope it doesn't rain tonight -- Jon and I and 40+ thousand fans had to wait out an hourlong rain delay Friday....
Last week we ran a poll asking who would win the National League Cy Young award if the season ended today? Matt Cain or R.A. Dickey? After a record number of votes, 77 percent of you would have voted for Dickey. I would have voted for Dickey as well, but I was really surprised the voting was that lopsided. Take a look at the Tale of the Tape:     Cain is right there with Dickey...
Well, R.A. Dickey's knuckleballing scoreless inning streak finally came to an end last night.  That was fun while it lasted, wasn't it?  At least ESPN was able to promote the Subway Series as something that "didn't feel like a regular season game," whatever that means.  At least there was a somewhat compelling baseball story not involving Albert Pujols'...
Robinson Cano hit a tiebreaking homer in the eighth inning and the New York Yankees touched up R.A. Dickey for five runs in a 6-5 victory over the Mets on Sunday night. Nick Swisher had an early three-run shot against Dickey, who was coming off consecutive one-hitters - making him the first major league pitcher in 24 years to accomplish that feat. But in a much-anticipated matchup...
R.A. Dickey, interleague play, Kevin Youkilis, the Miami Heat and the BCS. The Dovid Dobin Show
<span style="font-family: "Arial","sans-serif";">First off, let's be straight: <span style="font-family: "Arial","sans-serif";">Defeat is chickenhood.<span style="font-family: "Arial","sans-serif";">If a Met calls you "chicken," and then beats you… well Clucky, you...
The New York Mets will take on the New York Yankees tonight in search of taking this three games series. First pitch will be at 8:00 PM EDT. Tonight's Lineups:  ***Tejada's Back*** #Mets Sunday lineup vs. Yankees: Torres-CF, Tejada-SS, Wright-3B, Hairston-LF, Duda-RF, Turner-1B, Cedeno-2B, Thole-C, Dickey-RHP — New York Mets (@Mets) June 24, 2012 1) Derek Jeter SS 2) Curtis...
NEW YORK -- The anticipated pitchers' duel between R.A. Dickey and CC Sabathia slowly turned into a humbling outing for both starters, a wild ride full of sloppy defense and exchanged leads. Dickey, coming off back-to-back one-hitters, allowed his first earned runs in a little over a month for the New York Mets, and New York Yankees ace Sabathia was tagged for nine hits. ...
MLB News

Delivered to your inbox

You'll also receive Yardbarker's daily Top 10, featuring the best sports stories from around the web. Customize your newsletter to get articles on your favorite sports and teams. And the best part? It's free!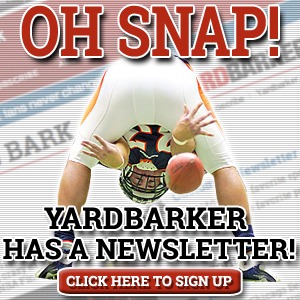 Latest Rumors
Best of Yardbarker

Today's Best Stuff

For Bloggers

Join the Yardbarker Network for more promotion, traffic, and money.

Company Info

Help

What is Yardbarker?

Yardbarker is the largest network of sports blogs and pro athlete blogs on the web. This site is the hub of the Yardbarker Network, where our editors and algorithms curate the best sports content from our network and beyond.