Found May 02, 2012 on Mets Fever:
The Houston Astros (11-14) completed their series sweep of the New York Mets (13-12) this afternoon in an 8-1 rout.
Chris Schwinden
(0-1, 11.25 ERA)
 appeared lost on the mound this afternoon much as he did in Colorado last Friday night. Schwinden, who's being given a legitimate chance to earn a rotation spot, allowed five runs on six hits through only four innings. Schwinden has allowed five earned two consecutive starts and has surrendered a walloping twelve hits in the effort.
In a deja vu moment,
Manny Acosta
 came in to relieve the struggling starter and only stabbed the already punctured wound. Acosta pitched two innings, allowing three runs on six hits and is now sporting a 9.69 ERA this season. Since beginning the season looking dominant, the Mets bullpen now boasts the second-worst ERA in the major leagues.
If there were to be any chance for the Mets this afternoon, it would be the offense picking up some steam coming off of two disappointing efforts. Unfortunately, there isn't much to be said about the offensive effort this afternoon. Ruben Tejada led the charge with three hits but made a huge mistake trying to stretch a double into a triple to lead off the top of the first inning and was thrown out easily. Andres Torres picked up the Mets only RBI this afternoon, driving in David Wright on a single. Kirk Nieuwenhuis and Scott Hairston both also picked up hits.
The series sweep represents the first of the season for the Mets, who entered having won five of six. The Astros, meanwhile, hadn't won a series in their last six efforts. The Mets had tied their high-water mark for the season at four games over .500 but now are only one game over the level mark heading into their weekend series against the defending NL West champion Arizona Diamondbacks.
The Mets will have an off day tomorrow before commencing their series Friday night at Citi Field at 7:10 PM ET with Dillon Gee looking to snap the club's losing streak.
Original Story:
http://www.metsfever.com/2012/05/post...
THE BACKYARD
BEST OF MAXIM
RELATED ARTICLES
Do you miss Mike Pelfrey yet? After two less-than stellar outings by Chris Schwinden, the Mets are looking more and more vulnerable and are now amidst a three-game losing streak after being swept in Houston by the Astros. Of course, Schwinden didn't pitch in every game and is not at most fault, but his two starts have been a major buzzkill. So far in two starts, Schwinden has only...
The Mets went into the season with no starting pitching depth. After Chris Schwinden's latest outing, the Mets' inability to spend any money on rotation depth has come back to haunt them.Schwinden has now given up five earned runs with two homers in four innings in both of his starts. His ERA is 11.25. Even if you give him a pass for his first start being at Coors, you want...
Chris Schwinden was not the hero the Mets needed, nor the one that Mets fans deserved. But he's the pitcher that New York sent to the mound on Wednesday afternoon.  The Mets' chances of winning —and avoiding a sweep at the hands of the Astros — didn't last long after he took the hill. Making his second start in the majors this season, Schwinden was rocked, allowing five...
We received some good news from the Mets that Mike Pelfrey had successful Tommy John surgery yesterday which was performed by Dr. James Andrews. Pelfrey is back home in Wichita, Kansas to recover and eventually begin the long road to rehab and recovery. We at MMO wich him all the best and a speedy recovery. This afternoon, Chris Schwinden will make his second start since replacing...
For all of Mike Pelfrey's flaws, the New York Mets are having some serious trouble replacing him in the rotation. A day after Pelfrey underwent Tommy John surgery, knocking him out for the rest of the season, rotation replacement Chris Schwinden served up five runs over four innings of an 8-1 loss to the Houston Astros. It was the second consecutive poor outing for Schwinden...
Terry Collins spent much of the day deliberating his options regarding Chris Schwinden and the Mets' rotation. After two rocky starts in place of Mike Pelfrey, Schwinden has proved not to be the answer. After yesterday's blowout, Collins wouldn't say if Schwinden would come out of the rotation. He didn't say he'd remain, either. The Mets' tissue paper thin depth was always...
On a night where Brad Mills' used 7 pitchers to face 7 batters in 1 inning, I don't think anyone expected the pitchers' duel he had through the 6th inning.  R.A. Dickey was once again brilliant, taking a no-hitter into said 6th inning.  That momentum would be taken away with one big swing, however, as Matt Downs hit a 2-run HR to put the Mets in a 3-0 hole with 3 innings...
Why are Manny Acosta and Miguel Batista still New York Mets? With ERA's of 9.69 and 6.92 respectively in a combined 26 innings of "work" –if you can call their awful outings work–, they do not deserve to be at the major league level in any way, shape or form. In an offseason centered around creating a strong and formidable bullpen, Sandy Alderson and the Mets are letting...
    1. I think we have seen enough of Manny Acosta. He has his moments, but he really is just a guy that should come in during garbage time. Keith Hernandez put it best the other day when he said "Acosta should not be in when the game is close". 2. I know Alderson was looking for a cheap alternative at closer when he signed Frank Francisco. I was not against the signing when...
Virtual Kirk in center field where he belongs RA Dickey had a good start turn a little rough when the Stros took a 3-0 lead. The Mets chipped away and kept fighting. NY tied the game when "Captain" Kirk Nieuwenhuis with the sacks full set his phaser to clutch and ripped a ball to right field. Manny Acosta blew the game in the 8th, the Astros took the lead, and that...
Ahh a day off before a 3 weekend homestand  against the D Backs.  It is something I am sure the Mets bullpen is looking forward too. Especially Manny Acosta who had a rough road trip.  The Mets were swept by the lowly Astros after taking 2 out of 3 in Colorado.  It is what you expect when you have team that is a .500 team.   The day off gives the Mets a little breather, the...
MLB News

Delivered to your inbox

You'll also receive Yardbarker's daily Top 10, featuring the best sports stories from around the web. Customize your newsletter to get articles on your favorite sports and teams. And the best part? It's free!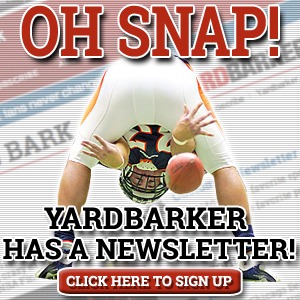 Latest Rumors
Best of Yardbarker

Today's Best Stuff

For Bloggers

Join the Yardbarker Network for more promotion, traffic, and money.

Company Info

Help

What is Yardbarker?

Yardbarker is the largest network of sports blogs and pro athlete blogs on the web. This site is the hub of the Yardbarker Network, where our editors and algorithms curate the best sports content from our network and beyond.