Following Monday night's thrilling win, set off by the three-run bomb by #TeamValdespin, the Mets send Miguel Batista to the mound this evening looking to take the series and extend their winning streak to four games. Pray for Rain.
When a team goes into a game on a losing streak, it's said they're looking for their start to be a stopper. I anticipate Batista to have the opposite effect this evening on the New York winning streak. He allowed six runs in less than four innings in his last start and I have no reason to believe that tonight will be any different. He'll be opposed by Joe Blanton, who only threw a three-hit shutout against the Braves his last time on the bump. Great matchup.
One upshot facing Blanton could have is jumpstarting New York's lefty-heavy lineup. Over their last six games, the Mets have faced four lefties and Roy Halladay. Tonight they send out six guys who will be hitting lefty and an average righthander like Blanton could be just what lefty sluggers Ike Davis and Lucas Duda need to get going. Or he could shut them down like everybody else has. Who knows really?
Though there are storms in the forecast, first pitch is still scheduled for 7:05 p.m. and the game can be seen on SNY or heard, as always, on WFAN 660AM.  Join the conversation on Twitter by following @dailystache or yours truly, @DevOnSports.
Mets Lineup:
Torres - Nieuwenhuis - Wright - Duda - Murphy - Davis - Valdespin - Nickeas - Batista
Stache Fact: Since his return to the lineup last week in Houston, Andres Torres has been hot, reaching base 11 of the 25 times he's stepped in the box. He's also driven in six runs since coming off the DL.
Phillies Lineup: 
Rollins - Pierre - Victorino - Pence - Ruiz - Polanco - Mayberry - Orr - Blanton
Stache Fact: Juan Pierre is quietly having a solid season for the Phillies. Pierre has 25 hits and seven walks in 86 plate appearances, giving him a .395 on-base percentage for the year so far.
Pitching Matchup:
NYM: Miguel Batista (0-1, 6.92 ERA, 2.23 WHIP, 11 K) - It's hard to express how painful it is to watch Batista pitch. It should be classified as a form of torture. His last start — against the inept Giants lineup — was abysmal. He lasted less than four innings, allowing six runs on eight hits. He also walked three, putting his WHIP for the day near 3.0. That's not good. His relief outings haven't been much better. He's just bad.
It comes as no shock that Phillies players have had success against Batista. Jimmy Rollins is 11-for-20 lifetime against him with a homer, two triples, a double and four walks and Placido Polanco is 11-for-33 lifetime against him. Even Phillies general manager Ruben Amaro has homered off of Batista, one of the 16 homers Amaro hit in his eight-year career.
HOU: Joe Blanton (3-3, 2.83 ERA, 1.06 WHIP, 21 K) Only twice in his nine-year career has Blanton posted a sub-4 ERA, but he's off to a great start in 2012. His last start was an absolute gem in Atlanta as he baffled the Braves over nine innings for a three-hit shutout.
For some reason, I thought the Mets had knocked Blanton around pretty well in his career, but that's not really the case. Tonight will mark his 10th career start against New York and over his 54 previous innings he's allowed just 21 earned runs. He sports a 1.19 career WHIP against the Mets and Mets hitters have hit just .250 against him. Ike Davis is 5-for-11 off Blanton in his career and Wright is 6-for-23 with three doubles, but Blanton has also struck him out once every four at-bats.
Stache Keys to the Game:
Rain Dancing- If the rains can push this game to sometime in August or September, allowing the Mets to bump Batista from the rotation this time around and go right to Dillon Gee tomorrow, that would be a blessing.
Give Us 5 of Your Best – If the game does go on, the best the Mets can hope for is five decent innings out of Batista. If they can get through five with under five runs allowed by the starter, I'll consider that a small victory.
Keep Hitting with Two Outs – The resiliency of this Mets team is the thing that perhaps makes them the most fun to watch. All five Mets runs last night were scored with two outs and for the season New York has scored 62 of their 111 runs with two down.
This Date in Mets History:
On this date in 1961, less than a year before New York's new national league team took the field it was christened with the name "Mets." The name was selected by owner Joan Payson out of a list that also included the Islanders, Rebels, Skyliners, NYBs, Burros, Jets, Continentals and, appropriately enough for this weekend at the box office, the Avengers.
Also on this date, back in 1983, Darryl Strawberry got his first major league hit and RBI in a 10-5 win over the Reds.
Original Story:
http://dailystache.net/archives/1103
MORE FROM YARDBARKER
MLB News

Delivered to your inbox

You'll also receive Yardbarker's daily Top 10, featuring the best sports stories from around the web. Customize your newsletter to get articles on your favorite sports and teams. And the best part? It's free!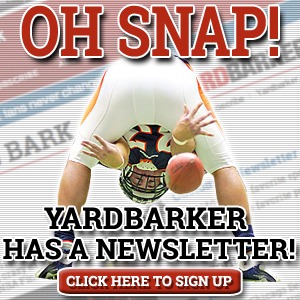 Latest Rumors
Best of Yardbarker

Today's Best Stuff

For Bloggers

Join the Yardbarker Network for more promotion, traffic, and money.

Company Info

Help

What is Yardbarker?

Yardbarker is the largest network of sports blogs and pro athlete blogs on the web. This site is the hub of the Yardbarker Network, where our editors and algorithms curate the best sports content from our network and beyond.