Found July 19, 2012 on The Daily Stache:
PLAYERS:
Miguel Batista
,
Adam LaRoche
,
David Wright
,
Jason Bay
,
RA Dickey
,
Gio Gonzalez
,
Ruben Tejada
,
Andres Torres
,
Scott Hairston
,
Ike Davis
,
Justin Turner
,
Josh Thole
,
Bryce Harper
,
Ryan Zimmerman
,
Danny Espinosa
,
Roger Bernadina
,
Jesus Flores
TEAMS:
Washington Nationals
,
New York Mets
This afternoon in the nation's capital, the Mets look to avoid being swept…again.  Another bullpen fiasco last night at the hands of Miguel Batista essentially killed the Mets chances of coming back.  Chris young pitched another solid game, but ran out of gas in the 6th inning, allowing an Adam Laroche 2 run homer to put the Nats up 2-0.  David Wright and Jason Bay hit solo homers in the 9th inning, but that wasn't enough.  The Mets lost 4-3.
R.A. Dickey (12-1 2.66 ERA) will face off against Gio Gonzalez (12-4 2.93 ERA) in a solid pitching matchup.  Hopefully for the Mets, the rain holds off, considering how poorly RA has pitched when it's been wet outside.
The game can be seen on SNY and head on WFAN 660 AM.
 STARTING LINEUPS via Metsblog.com
New York Mets
1) Ruben Tejada SS
2) Andres Torres CF
3) David Wright 3B
4) Scott Hairston RF
5) Jason Bay LF
6) Ike Davis 1B
7) Justin Turner 2B
8) Josh Thole C
9) RA Dickey SP
Washington Nationals
1. Steve Lombardozzi 2B
2. Bryce Harper RF
3. Ryan Zimmerman 3B
4. Adam LaRoche 1B
5. Michael Morse LF
6. Danny Espinosa SS
7. Roger Bernadina CF
8. Jesus Flores C
9. Gio Gonzalez LHP
Who's Hot for the Mets…?  Andres Torres is 8 for his last 17 with 4 RBI's
Who's Hot for the Nats…?  Ryan Zimmerman is 9 for his last 23 with 2 RBI's
Pitching Matchup
R.A. Dickey (12-1 2.66 ERA) gets the start for the Mets today.  Dickey has been downright terrible in 3 of his last 4 starts.  Aside from his 8 inning 3 hit performance vs the Dodgers, R.A. has allowed 15 runs in the other 3 starts.  He has been allowing a ton of hits with 2 strikes in the count for some reason.  R.A. NEEDS to stop the bleeding today.
Gio Gonzalez (12-4 2.93 ERA) will oppose Dickey today.  Gio has been the stud in this real good staff this year.  His 12 wins are tied with Dickey for the top total in the NL.  In his last outing Gio didn't get any run support and lost to the Marlins 2-1.  Gonzalez allowed 2 runs over 6 innings while striking out 9.
Original Story:
http://dailystache.net/archives/2665?...
THE BACKYARD
BEST OF MAXIM
RELATED ARTICLES
The Mets take the field this afternoon to try and avoid their second straight sweep, seventh consecutive loss, and a winless road trip. TC could send no better man to the mound than today's starter RA Dickey. Dickey (12-1) is coming off a couple of rough outings, and he, like the Mets need to Wright right his ship. Coming off a cluster of lousy losses, it has been difficult...
Lately the Mets have looked as though they spent the All-Star break thinking up  ways to piss off their fans.  After losing five straight to start the second half of the season and six straight overall, the Mets brass was struggling to stay positive (to put it lightly).  On Thursday afternoon R.A. Dickey and David Wright helped give the most resilient fans in baseball a reason...
After last night's loss to the Nationals, the New York Mets have now lost 6 straight. Miguel Batista gave up what ended up being the game deciding two-run double to Steve Lombardozzi in the 4-3 loss. But none of that has changed the way Batista feels about his team. In fact, despite the 6 losses in a row and 2-8 record in the last ten games, Batista still believes the Mets are...
You hated him in relief but you'll love him as a starter! Miguel Batista gets the starting nod in today's 1:10 matchup against the Dodgers. Enter your comments in the text box above where it says "Powered by Quick Chat" and the various emoticons. Right above that text box is a small rectangle where you type in your name for the chat. The default is "360fan_xxx" and...
Entering today's salvage operation against the Washington Nationals, the Mets were looking to avoid another sweep as they opened the second half of the 2012 season by losing five straight games to division opponents. R.A. Dickey and Gio Gonzalez, a pair of all-stars, took the mound today. Dickey set out to prove that he can retain his dominant stuff for the remainder of the season...
Can Dickey be the stopper the Mets desperately need today? Starting Lineup Ruben Tejada – SS Andres Torres – CF David Wright – 3B Scott Hairston – RF Jason Bay – LF Ike Davis – 1B Justin Turner – 2B Josh Thole – C R.A. Dickey – RHP The Mets try to avoid a sweep and an 0-6 road trip this afternoon as they take on the Nationals for an early 12:35 game in Washington...
David Wright homered twice and had five RBIs and R.A. Dickey won his league-leading 13th game and the New York Mets broke a six-game losing streak with a 9-5 win over the Washington Nationals on Thursday. Dickey (13-1) pitched 7 1-3 innings to break a streak of rare ineffectiveness this season. After throwing consecutive one-hitters last month, Dickey had won just one of four starts...
Starting Lineup Ruben Tejada – SS Andres Torres – CF David Wright – 3B Scott Hairston – RF Jason Bay – LF Ike Davis – 1B Ronny Cedeno – 2B Mike Nickeas – C Miguel Batista – RHP The Mets suffered a disappointing loss last night as they dropped the series opener 7-6 to the Dodgers. They look to move past it this afternoon as they take on the Dodgers and Chris Capuano...
Backed by an enormous offensive effort highlighted by a two homerun game by David Wright, R.A. Dickey held the first place Washington Nationals at bay to grab his 13th victory on the season and more importantly end the Mets six-game skid. Recap: In one of the more prominent matchups of the season, knuckleballer R.A. Dickey took the mound going head-to-head with the Nats' all-star...
Despite management's decision to have Miguel Batista start on Saturday, there is a great outcry to have 2010 first round pick Matt Harvey called up and fill the void in the rotation left by Dillon Gee's blood clot injury. The logic makes sense. Harvey has handled triple-A pretty well and the Mets seem to lack the depth necessary to effectively fill in for Gee. Even if Gee was...
  Does anyone want this guy pitching in relief in lieu of what we have now? No, we won't get that far, but at this point it has been becoming comical, hence the reason for the placement of a picture of third-string catcher Rob Johnson in this headline. Heck, Johnson does have the best numbers in the bullpen doesn't he? All kidding aside, getting back to the question that led...
MLB News

Delivered to your inbox

You'll also receive Yardbarker's daily Top 10, featuring the best sports stories from around the web. Customize your newsletter to get articles on your favorite sports and teams. And the best part? It's free!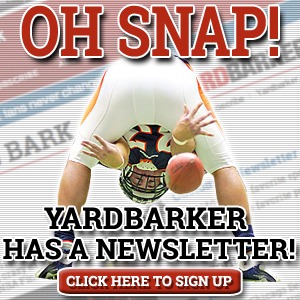 Latest Rumors
The Backyard

Today's Best Stuff

For Bloggers

Join the Yardbarker Network for more promotion, traffic, and money.

Company Info

Help

What is Yardbarker?

Yardbarker is the largest network of sports blogs and pro athlete blogs on the web. This site is the hub of the Yardbarker Network, where our editors and algorithms curate the best sports content from our network and beyond.