Found August 15, 2012 on hardballchat.com:
PLAYERS:
Jonathan Singleton
,
Delino DeShields
,
Matt Dominguez
,
Jonathan Villar
,
George Springer
,
Robbie Grossman
,
Jarred Cosart
,
Carlos Perez
,
Jose Altuve
,
Austin Wates
,
Dylan Bundy
,
Trevor Bauer
TEAMS:
Houston Astros
,
Baltimore Orioles
,
Arizona Diamondbacks
As the minor league season winds down, we begin a new series in the prospect section of Hardballchat. We are looking at each team's starting lineup of the future. The rules are pretty simple here. Each player on the list must at least retain their rookie status for the 2013 season and instead of specific spots for outfielders we will just take the top three guys. Included in the table below you will see their rankings among the organization according to Baseball Prospecus, Baseball America, and MLB.com. Some players will have asterisks by their name. Baseball Prospectus and Baseball America do their rankings at the beginning of the season while MLB.com updates them every time there is a trade. Players with asterisks next to them indicate the ranking they had with the sending organization. Finally, you will see a column indicating how they were acquired. The letter D indicates that they were drafted, T indicates they were acquired via trade, and I indicates they were an international free agent.   Age Level How BP BA MLB POS C Carlos Perz 21 A+ T 19 NR 15 NR 1B Jonathan Singleton 20 AA T 3 1 1 1 2B Delino Deshields 20 A+ D 8 8 10 7 3B Matt Dominguez 22 AAA T 6* 4* 4 7 SS Jonathan Villar 21 AA T 5 4 5 NR OF George Springer 22 AA D 2 3 3 NR OF Domingo Santana 20 A+ T 6 6 12 NR OF Robbie Grossman 22 AA T 6* 8* 17 NR SP Jarred Cosart 22 AAA T 1 2 2 NR Carlos Perez– Catcher Jason Parks of Baseball Prospectus indicated to me that he thought there was a very good chance that Perez would be the best player of any that the Astros acquired this season via trade. He is a catcher that can hit and we all know how rare those are. Those that want to see Perez up soon have to cool their heals. Most catchers take longer to develop and like most young catchers, he needs to work on his receiving skills. Still, it was crucial for the Astros to acquire some young catching. Jonathan Singleton– First Base I'm a huge Singleton fan, but then again there are a lot of scouts that are. He is rated as the number one first base prospect in baseball and this season has largely been successful. We must remember that he went from a hitter's paradise in Lancaster to a pitcher's park in Corpus Christi. Still, he is on pace to hit 20 home runs for the season and could be the opening day first baseman in 2013. Delino Deshields– Second Baseman Deshields opened the season and the seventh best second base prospect in baseball. He might be the top one entering 2013. He just got promoted to Lancaster, so it is likely that he will open the season there next year. He has plenty of upside as most scouts give him a seven in the speed grade (eight is elite) and say he should develop some pop in the future. Right now, he has more upside than Jose Altuve, but the Astros will be patient with him. Matt Dominguez– Third Baseman Think of Dominguez as the mirror image of Roger Dorn from Major League. His desire is questionable just like Corbin Bernsen's character and he struggles in one major facet of the game. Yet, in this case it is offense. Dominguez is a borderline Gold Glove quality catcher, but he simply hasn't evolved offensively. He rarely strikes out and has some pop, so there is still hope, but he might not be more than a stopgap type of player. Jonathan Villar– Shortstop Paul Bear Bryant once said that "potential means they ain't done nothing yet." That described Villar coming into the season. He has elite defensive tools and has enough natural power and speed to be dangerous. He hadn't shown any consistency in any of those areas coming into the season, but he has shown flashes this year. Baseball Prospectus rated his 2012 season (he is currently disabled) as above average defensively for the first time in his career. Before his hand injury, he was hitting with more power and even drawing a few more walks. The next step will be for him to cut down on the strikeouts. George Springer– Outfield Springer is a more advanced version of Jonathan Villar. He has elite skills all across the board, but he swings and misses way too often. The difference is that he started producing from the word go and has now been promoted to Corpus Christi. It says here that 2013 is a little too early to be seeing him, but he could become a significant factor in 2014. Domingo Santana– Outfield Santana produced one home run and ten RBIs in the month of April. At the last prospect update, he had 18 home runs and 82 RBIs. That means he's had 17 home runs and 72 RBIs since May 1st. For the math impaired that is not quite three and a half months. So, while we can expect some fallback once he leaves Lancaster, he has been more productive lately than his overall numbers would suggest. Robbie Grossman– Outfield I could have gone with Austin Wates, but I personally believe that Grossman has more of a future. He can play each of the corner outfield positions in addition to center and he has the one skill that makes me drool: patience. He was the first minor leaguer to score more than 100 runs and draw more than 100 walks in a season in 2011. He scored a whopping 127 runs that season. He is on pace to score only 80 runs this season with only 80 walks. That's terrible in a 142 game season. Jarred Cosart– Pitcher Jason Parks from BP told us at the Houston event that Jarred Cosart was the best pitcher he saw in the Futures Game a couple of years back. His stuff consistently sits in the mid to high 90s, but he has not dominated like many thought he would. His stuff is too visible and doesn't have a lot of movement. Still, he has a very good curve ball and a developing change. He might end up being one of those pitchers that pitches better in the big leagues than he does in college. He's not an elite prospect like a Dylan Bundy or Trevor Bauer, but he's in the next group of young pitchers.
Original Story:
http://www.hardballchat.com/2012/08/p...
THE BACKYARD
BEST OF MAXIM
RELATED ARTICLES
Jeff Luhnow The Houston Astros have a new sheriff in town who wears a coat and tie and goes by the name  Jeff Luhnow.  If anybody previously questioned how much latitude Luhnow had to run the team his way, his letter to season ticket holders should answer all those questions.  Take a gander for yourselves (courtesy of the Astros my imagination): Dear Houston Astros Season Ticket...
Houston Astros right-hander Bud Norris left Wednesday's game against the Chicago Cubs after being hit in the foot by a line drive in the fourth inning. Following David DeJesus' second homer of the game, Josh Vitters hit a liner up the middle that deflected off Norris' left foot toward the third base bag. Norris took two warm-up pitches before shaking his head toward...
Where is Michael Kay when you need him? This ***** of a Houston Astros 'fan' steps in front of a 7-year-old girl who was about to get a foul ball at Minute Maid Park and steals the thing. Why not... Full story at Bob's Blitz ~ http://www.bobsblitz.com
(Eds: Updates. With AP Photos.) By KRISTIE RIEKEN AP Sports Writer The Houston Astros knew they weren't going to win much this season, so with an eye toward the future they cast off their few pricey veterans before the trade deadline, slashing payroll and restocking their depleted farm system. It wasn't a plan to win now. Still, new owner Jim Crane didn't think it would...
Brett Wallace and Fernando Martinez each hit three-run homers to back Lucas Harrell's eight strong innings and the Houston Astros beat the Chicago Cubs 10-1 on Tuesday night. Harrell (10-8) scattered six hits and struck out six, helping the Astros win for only the third time in their last 28 road games. Harrell has allowed two runs or fewer in all seven of his starts since the...
The Blue Jays shipped right-handed pitcher Kevin Comer to the Houston Astros on Thursday to complete a 10-player trade made last month. Toronto got pitchers J.A. Happ, Brandon Lyon and David Carpenter in the deal made July 20. Along with Comer, the Astros received Francisco Cordero and outfielder Ben Francisco, along with four minor-league players. The 20-year-old Comer is in his...
CHICAGO (AP) -- Brett Wallace and Fernando Martinez each hit three-run homers to back Lucas Harrell's eight strong innings and the Houston Astros beat the Chicago Cubs 10-1 on Tuesday night. Harrell (10-8) scattered six hits and struck out six, helping the Astros win for only the third time in their last 28 road games. Harrell has allowed two runs or fewer in all seven of his...
(Before we go any further, I believe I should get some credit for avoiding the way-too-easy "Houston, we have a problem" line. Done to death) Let's head back to June 27th. The Houston Astros have just blanked the Padres for their 4th win in the last 5 games. While clearly headed for another losing season, the organization's fourth consecutive, the team has out-performed expectations...
MLB News

Delivered to your inbox

You'll also receive Yardbarker's daily Top 10, featuring the best sports stories from around the web. Customize your newsletter to get articles on your favorite sports and teams. And the best part? It's free!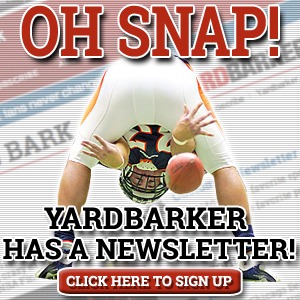 Latest Rumors
Best of Yardbarker

Today's Best Stuff

For Bloggers

Join the Yardbarker Network for more promotion, traffic, and money.

Company Info

Help

What is Yardbarker?

Yardbarker is the largest network of sports blogs and pro athlete blogs on the web. This site is the hub of the Yardbarker Network, where our editors and algorithms curate the best sports content from our network and beyond.