Found August 16, 2012 on hardballchat.com:
PLAYERS:
Joe Mauer
,
Chris Herrmann
,
Chris Parmelee
,
Pedro Florimon
,
Aaron Hicks
,
Oswaldo Arcia
,
Joe Benson
,
Kyle Gibson
,
Ryan Doumit
,
Justin Morneau
,
Nolan Arenado
,
Jamey Carroll
,
Brian Dozier
,
Ben Revere
,
Josh Willingham
TEAMS:
Minnesota Twins
,
Colorado Rockies
Up until 2011, the Twins were consistent contenders and the toast of small market teams everywhere. So, seeing them in last place for the second season in a row can easily make you forget how good they were. One of the consequences of being good is picking lower in the first round. It isn't as big a disadvantage as it is in other sports, but you don't get the Joe Mauer's of the world by picking in the twenties every year.
Because of that, the Twins farm system is somewhat barren when you look at the upper levels, but a second consecutive draft in the top five will give them more prospects in the pipeline. Their fall from grace was even somewhat predictable when you consider the dearth of pitching depth they have in the organization.
AGE
Level
How
BP
BA
MLB
POS
C Chris Herrmann
24
AA
D
NR
NR
15
NR
1B Chris Parmelee
24
AAA
D
15
1
NR
NR
2B Eddie Rosario
20
A
D
2
3
3
2
3B Miguel Sano
19
A
I
1
1
1
2
SS Pedro Florimon
25
AAA
I
NR
NR
18
NR
OF Aaron Hicks
22
AA
D
4
4
2
NR
OF Oswaldo Arcia
21
AA
I
5
5
4
NR
OF Joe Benson
24
AA
D
3
2
5
NR
P Kyle Gibson
24
A+
D
10
8
6
NR
Chris Herrmann– Catcher
The Twins probably aren't looking for catchers as much as they are looking for other players. They have Joe Mauer signed through until almost the next decade. He has a good arm behind the plate, but probably needs more work on his receiving skills. That shouldn't be a problem as both Mauer and Ryan Doumit should be able to hold down the fort for at least a couple more seasons.
Chris Parmelee– First Base
Sure, he probably isn't technically a rookie, but the Twins are pretty thin here and he is close enough for government work. Both Baseball America and Baseball Prospectus list him as a prospect, so that's good enough. He is a fringy prospect in terms of long-term prognosis. With Justin Morneau picking things up he will be involved in that kind of Bermuda Triangle they have going at first base and designated hitter.
Eddie Rosario– Second Base
Rosario continues to put up solid numbers in the minors, but he is just in A ball, so we need to temper our expectations. He is a converted outfielder, so he will take some time adjusting to the position, but the Twins are excited about how his bat will profile as a middle infielder. He has good speed and a little pop in the bat.
Miguel Sano– Third Base
Sano might end up being the difference maker in this farm system. He ranks second among third baseman in baseball and that was his rank coming into the season. He has 24 dingers and 90 RBI with a few weeks to go in A ball. Unlike Nolan Arenado, this did not come in an offensively dominant league, so he looks to be more real than Arenado. Yes, he has 130 strikeouts but he also has 75 walks. It's all good so far.
Pedro Florimon– Shortstop
Florimon is one of those fringy prospects the Twins have at their upper levels. He is 25 years old and has had a cup of coffee in Minneapolis, so I'm not even sure he registers on the Richter scale. The Twins have been playing a host of guys at the position (including Jamey Carroll and Brian Dozier) and none of them are distancing themselves. As they say, if you have three shortstops then you have no shortstops.
Aaron Hicks– Outfield
One of the ways you grade a farm system is by looking at how good it is in areas of need. The Twins have outfielders coming out of their ears and that is the one position where they are solid at the big league level. It's more a matter of luck than a matter of poor planning. Hicks must compete with the likes of Ben Revere and Josh Willingham at the big league level. He has developed his patience at the plate and profiles as closer to Revere than he does to Willingham.
Oswaldo Arcia– Outfield
Here is another hot outfield prospect that was raking in advanced A ball, so they promoted him to AA where he continues to hit. Arcia doesn't have elite power or speed, but as long as he continues to hit and get on base he will continue to be a prospect. Plus, he is only 21 so they can afford to be patient with him.
Joe Benson– Outfield
Benson was supposed to be a candidate to be one of the corner outfielders, but this season has been a lost season for him. He broke his hamate bone which took time away in addition to some other injuries. He has 20/20 potential at the big league level, but he might be giving way to Arcia and Hicks.
Kyle Gibson– Pitcher
Gibson came into the season universally regarded as the Twins best pitching prospect. He has 17 innings on the season, so he likely will be passed up next year by a few other arms. More importantly for him, he will be 25 years old and might start in AA. That limits your ceiling as a prospect and it puts him dangerously close to not being a prospect at all.
Original Story:
http://www.hardballchat.com/2012/08/p...
THE BACKYARD
BEST OF MAXIM
RELATED ARTICLES
MINNEAPOLIS The Minnesota Twins made a few roster moves after Wednesday's game, optioning pitchers Jeff Manship and Luis Perdomo to Triple-A Rochester. Minnesota will activate right-hander Anthony Swarzak from the 15-day disabled list and will make one more corresponding roster move before Friday's game in Seattle. Twins manager Ron Gardenhire said the corresponding move...
MINNEAPOLIS A glance at the American League batting race shows two names very familiar to Minnesota Twins fans high on the leaderboard. One has been there before, and the other is in that mix for the first time. The familiar one is catcher Joe Mauer, who, after going 2-for-4 Wednesday against Detroit, is batting .320 -- good for third among all American League hitters. Mauer is...
MINNEAPOLIS The Minnesota Twins are moving to the FM dial. The team announced Wednesday that the radio broadcasts for Twins games will be on KTWN (96.3 FM) beginning in 2013. The announcement was made at Target Field during a live broadcast on KTWN with host Eric Perkins and special co-host and former Twins first baseman Kent Hrbek. The KTWN station is owned by the Pohlad family...
To be honest, I don't know why any man — or any woman, for that matter — truly would want to see Minnesota Twins catcher Joe Mauer, who by all accounts appears to be a pretty nice guy and a damn good baseball player, get drilled by a foul ball straight in the crotchal region, but [...]
So let's boil this down. The Twins were not happy with Tsuyoshi Nishioka, and instead opted for Brian Dozier who had actually put up airly similar numbers to Nishioka this season. Nishioka, as I pointed out, was improving in Rochester. Dozier was called up because he had been playing well in the lower levels for almost a full season, between the Twins minor leagues and the winter...
The Minnesota Twins have selected the contract of outfielder Matt Carson from Triple-A Rochester prior to Friday's game in Seattle. To make room for Carson on the 40-man roster, the Twins outrighted outfielder Rene Tosoni, who is currently playing for Double-A New Britain. Minnesota made several roster moves Wednesday, including optioning pitchers Luis Perdomo and Jeff Manship...
When the Minnesota Twins took on the Seattle Mariners on Friday at Safeco Field, there were a few new faces in Minnesota's lineup.Shortstop Pedro Florimon and outfielder Matt Carson both made their Twins debuts in Minnesota's 5-3 loss to the Mariners. "A couple guys in the lineup for the first time. It was fun to see them out there," said Twins manager Ron Gardenhire...
• Hottest Weather Chick In The U.S.? Sheena Parveen • BLOOD! MLB umpire takes spike to the face • A Baylor cheerleader riding stuffed mountain lion • Cheerleader sues Colts, has lawsuit thrown out! • GIF: Joe Mauer taking shot to the nuts • Um, Ok: Kate Middleton's cousin in Playboy • Best Bikini Ass On A Bike Of The Day • This chick's rack: Real or Fake? Filed...
Minnesota Twins vs Seattle Mariners Friday August 17 Safeco Field - Seattle, WA 10:10PM Probable Starters: MIN: Nick Blackburn SEA: Hisashi Iwakuma Moneyline: Seattle -130, Minnesota +120 O/U: 8 Minnesota The Twins stumble into Seattle having won just one of their last 7 games. This team is the mirror opposite of the Mariners with a surprising middle of the pack attack...
MLB News

Delivered to your inbox

You'll also receive Yardbarker's daily Top 10, featuring the best sports stories from around the web. Customize your newsletter to get articles on your favorite sports and teams. And the best part? It's free!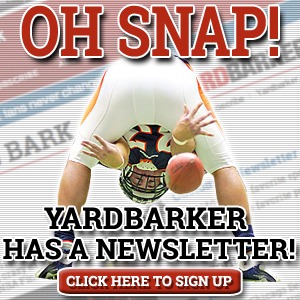 Latest Rumors
Best of Yardbarker

Today's Best Stuff

For Bloggers

Join the Yardbarker Network for more promotion, traffic, and money.

Company Info

Help

What is Yardbarker?

Yardbarker is the largest network of sports blogs and pro athlete blogs on the web. This site is the hub of the Yardbarker Network, where our editors and algorithms curate the best sports content from our network and beyond.