Found September 16, 2012 on hardballchat.com:
PLAYERS:
Bryce Harper
,
Gio Gonzalez
,
Sandy Leon
,
Anthony Rendon
,
Michael Taylor
,
Eury Perez
,
Alex Meyer
,
Wilson Ramos
,
Kurt Suzuki
,
Adam LaRoche
,
Danny Espinosa
,
Ryan Zimmerman
,
Ian Desmond
,
Stephen Strasburg
,
Brad Peacock
,
Matt Purke
TEAMS:
Washington Nationals
,
Oakland Athletics
The Nationals farm system is a lot like other farm systems. When teams move from the cellar to the penthouse, the farm system goes through a number of changes. Players either graduate from the farm system to the ML lineup or they are traded to acquire players that become integral parts of the teams turnaround. In the case of the Nationals, they had both at the same time.
Bryce Harper and Stephen Stasburgh came of age at the same time. Naturally, both took different paths to the regular lineup. Strasburgh went through some injuries before finally making it while Harper was the natural. Having both elevated to the big leagues coupled with the four key prospects they traded for Gio Gonzalez have changed the farm system, but Gonzalez is on the verge of winning 20 games. You'd have to say it was worth it.
Age
Lev
How
BP
BA
MLB
POS
C Sandy Leon
23
AAA
I
19
NR
15
NR
1B Chris Marrero
24
AAA
D
12
NR
5
9
2B Jeff Kabernus
24
AA
D
NR
NR
11
NR
3B Anthony Rendon
22
AA
D
2
2
1
6
SS Zach Walters
23
AAA
D
14
NR
14
NR
OF Brian Goodwin
21
AA
D
4
5
3
NR
OF Michael Taylor
21
A+
D
7
NR
6
NR
OF Eury Perez
22
AAA
I
13
NR
7
NR
P Alex Meyer
22
A+
D
5
6
2
NR
Sandy Leon– Catcher
This used to be Derek Norris and when you consider that they also had Wilson Ramos at the big league level, you'd have to say this was a position of depth for the Nats. Ramos tore his ACL and Norris was part of the deal for Gonzalez. Suddenly, a strength became a weakness. The club did acquire Kurt Suzuki to stave off the affects of having no regular catcher. Leon is likely not going make an impact.
Chris Marrero– First Base
Marrero is a decent first base prospect even if he is a little older than most. His presence makes the decision making surrounding Adam Laroche that much more interesting. Michael Morse can also move to first base, so Laroche may not be coming back even though he would prefer to come back. The fact that he is having a career season is complicating things.
Jeff Kabernus– Second Base
Danny Espinosa is the second baseman of the future and the second baseman of now. Furthermore, Steve Lombardozzi would have been in this spot last season, but he was promoted and is serving a very key role off the bench. Kabernus is likely not going to make it, but you never know.
Anthony Rendon– Third Base
Rendon has shown why teams avoided picking him and why the Nationals wanted to pick him at the same time. He continues to hit no matter what level you put him at, but he hasn't been through a healthy season since his sophomore season at Rice. If he can ever complete a season healthy he might be ready for the big leagues. The question is what position he will play since Ryan Zimmerman is signed long term.
Zach Walters– Shortstop
Some thought he would get an opportunity this year due to Ian Desmond's continued struggles, but Desmond has turned a corner. Of course, these things happen whenever a team goes from worst to first. Players that were shaky before suddenly become productive. So, Walters will have to wait his turn before he gets his opportunity.
Brian Goodwin– Outfield
There is a bit of an unknown going into 2013 when it comes to the outfield. The Nats have three outfielders right now, but none of them are really center fielders. Michael Morse might end up moving to first base full time if the Nats let Adam Laroche go, so that leaves center field as a potential open slot. Will the Nats wait for someone like Goodwin to develop (he probably will be ready by 2014) or will they sign a free agent? We will soon find out.
Michael Taylor–Outfield
Taylor gives the Nats some insurance if they should want to promote from within to finish the outfield. He probably will start 2013 in AA which means he could be in Washington by the end of the 2013 season or beginning of 2014 season. Like Goodwin, he has the talent to play center if the Nats are patient enough to wait.
Eury Perez– Outfield
Perez is not necessarily destined to become a center fielder, so the Nats are hoping he could become a decent fourth or fifth outfielder at the next level. He will likely get an invite to Spring Training and will get a chance to prove his worth. The Nats bench is one of the reasons they have come as far as they have. He will have a tough time breaking into that bench.
Alex Meyer– Pitcher
Stephen Strasburg is in the rotation. Brad Peacock, A.J. Cole, and Tommy Milone have all been traded, so now it is time for the next generation of pitching prospects to step up. Fortunately, the Nats have enough of them so that they aren't just relying on Meyer. Matt Purke in particular is someone to keep an eye on. The Nats are flush with pitching, so Meyer will have plenty of time to develop.
Original Story:
http://www.hardballchat.com/2012/09/p...
THE BACKYARD
BEST OF MAXIM
RELATED ARTICLES
Washington Nationals infielder Danny Espinosa underwent an MRI this afternoon to determine the extent of his shoulder injury.  While he will be out for at least the club's next three games, the Nationals could be without Espinosa for the remainder of the year, according to Adam Kilgore of the Washington Post: The Nationals are reviewing the results from an MRI of...
On his way off the field in the sixth after missing out on his 20th win of the season, Gio Gonzalez tipped his cap and gave a thumbs up to Chipper Jones (who was on third thanks to a walk and then a Freddie Freeman double). (Screen cap via ESPN/TV) Befriend Nats Enquirer on Facebook. Follow on Twitter.
Washington D.C. may have a pretty exciting sports couple on its hands. It looks like Angela Rypien and Nationals pitcher Gio Gonzalez might be dating. Angela, a quarterback for the Lingerie Football League's Baltimore Charm and the daughter of former Super Bowl MVP Mark Rypien, dropped the first hint about a possible relationship when she tweeted on Aug. 31 that she was attending...
Your browser does not support iframes. Nationals manager Davey Johnson earned his first ejection of the season after arguing an awful call at first base by umpire Marvin Hudson on Saturday. Braves left fielder Martin Prado was leading off the bottom of the sixth and hit a come-backer to pitcher Edwin Jackson. The ball went off Jackson's glove, but he recovered and threw to first...
The Washington Nationals seemed to be waiting to exhale ever since mid-September was pegged as the time ace pitcher Stephen Strasburg was going to be shut down. That day came a little earlier than expected following Strasburg's Sept. 7 start and loss to the Marlins. The Nationals had said Strasburg's final start would come on Sept. 12 in New York, but they announced on...
"I've got a prayer, basically, with Andrelton Simmons at third. Just tried to get it as quick as I could and get rid of it. If I set, he's already sliding in celebrating. There was a probably 1 in 10 chance, and didn't get him." (Ian Desmond, via Washington Post, 9/15/2012) Braves 2, Nationals 1: Nats lose on a walk-off fielder's choice, throwing...
There's Davey Johnson in the process of getting ejected for the first time this season on a blown call by first base umpire Marvin Hudson in the sixth, which was immediately followed by a game-tying home run by Jason Heyward. Here's Davey, via Washington Post: "If I can see it from 150 feet that the throw beats him, and he's on the bag and he was out...
Video: Smashing Grab to Rob An Extra Base Hit
"We're fine. We've put ourselves in a great position. We've played well all year, and we have two weeks left of playing baseball. Everything is right in front of us." (Ryan Zimmerman, via Washington Post, 9/17/2012) "I feel fine about where we're at." (Davey Johnson, via Nats Insider, 9/17/2012) Braves sweep Nats. NL East lead down...
MLB News

Delivered to your inbox

You'll also receive Yardbarker's daily Top 10, featuring the best sports stories from around the web. Customize your newsletter to get articles on your favorite sports and teams. And the best part? It's free!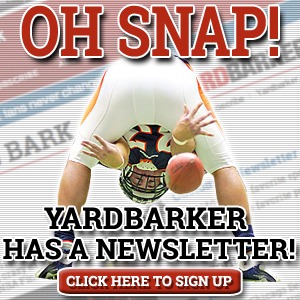 Latest Rumors
Best of Yardbarker

Today's Best Stuff

For Bloggers

Join the Yardbarker Network for more promotion, traffic, and money.

Company Info

Help

What is Yardbarker?

Yardbarker is the largest network of sports blogs and pro athlete blogs on the web. This site is the hub of the Yardbarker Network, where our editors and algorithms curate the best sports content from our network and beyond.