Found July 31, 2013 on The Daily Stache:
PLAYERS:
Bobby Parnell
,
Jonathan Papelbon
,
Frank Francisco
,
Wilson Ramos
,
Matt Capps
,
Craig Kimbrel
,
LaTroy Hawkins
,
Heath Bell
,
JJ Putz
TEAMS:
New York Mets
,
Philadelphia Phillies
,
Washington Nationals
,
Cleveland Indians
,
Minnesota Twins
,
Atlanta Braves
,
Arizona Diamondbacks
One of the most overlooked developments of the 2013 season has been Bobby Parnell emerging as a rock solid closer. Parnell has had his ups and downs as a Met, but he has finally managed to put it all together in one season. As of right now he has 22 saves and a 2.16 ERA. With the trade deadline on the horizon, Parnell's name has been swirled around as a potential candidate to be moved to another team. Now, the chances Parnell is moved are fairly low, although it could still happen. There are many positives and negatives that would arise from Bobby Parnell getting traded. One of the best parts of Parnell's stats this season are that his advanced indicators support the numbers he has put up. His FIP is 2.20, and his K/BB ratio is 4.0. What this shows is that the Parnell you are seeing this season is for real, and he is not just getting overly lucky in a relatively small sample size of innings. An argument can be made that the Mets should hang on to the first semi dominant relief pitcher that they have developed in quite some time based on these numbers alone. Another important factor with Parnell is his age and relative cost. Parnell is only 28 years old, and that is young enough to be a core part of the team moving forward. If Parnell were 33, the decision to trade him or keep him would be much simpler. Also, Parnell is under team control until 2016, which will ultimately be for below market value dollar wise. With the recent money that has been tossed around the league to closers (see Jonathan Papelbon, Frank Francisco), having a cheap option to close seems to be a pretty wise idea. The last argument I will make to keep Parnell has nothing to do with numbers, stats or money at all. For being only 28 years old, Parnell has a good amount of major league experience. For a team that is going to be very, very young in the upcoming years, Parnell can serve almost as a role model type veteran for the younger players. To me, these are the kind of things that you will not see on any stat sheet, but it is important to have on a winning team. Now on to why the Mets should send Mr.Parnell packing. On trade deadline day, teams are almost always desperate for reliable relief pitching. Take for example a few years ago when the Nationals acquired Wilson Ramos for Matt Capps. The Twins overpaid for Capps. There is no doubt in my mind that if they tried hard enough, the Mets could swing a similar deal. If the Mets can get a return equal to Ramos for Parnell, they must make that move. In general, relief pitcher success fluctuates on a year to year basis. There are not many RP's that are dominant for long stretches of time. This trend indicates that it is best to sell high on closers, as there is a good chance they will regress at some point. The Craig Kimbrel's of the world certainly do not grow on trees, but the fact of the matter is that it is not all that hard to find a good closer. LaTroy Hawkins has a 3.15 ERA this season. LaTroy's season shows that it is not that difficult to find effective relievers. He could have been the closer this season and the Mets only have been marginally worse than they are now. Some more examples of why selling high on relievers is a smart idea include Heath Bell, Ramon Ramirez, JJ Putz, and Frankie Rodriguez. All names that should ring a bell with Mets fans. Overall, the decision to trade Parnell is going to boil down to the return, just like any other player. I can see both sides of the argument, but I am more inclined to think it is in the best interest of the team's future to trade him.       The post Pros and Cons of Trading Bobby Parnell appeared first on The Daily Stache.
Original Story:
http://dailystache.net/proscons-parne...
THE BACKYARD
BEST OF MAXIM
RELATED ARTICLES
With Zack Wheeler and Jenrry Mejia now firmly entrenched after promotions from the minors, which Mets prospect are you now most excited to see? I posed the question to some of our writers and here is what they came up with: Daniel - I hope Travis d'Arnaud can get healthy and productive and make an appearance at some point. John Buck is definitely back to Earth and Anthony Recker...
While it wasn't a jaw-dropping performance, Jenrry Mejia had himself quite a second start when he dropped a 3-2 decision on Wednesday night to the Miami Marlins. Although he didn't receive the win, Mejia battled in an out of trouble (after giving up three runs in the second and third innings) and looked poised while on the mound. Mejia now has two quality starts under his belt...
With the trade deadline set to expire at 4:00 PM today, columnist Joel Sherman reports that one Mets official described interest in any of their as nibbles. One Mets official described "nibbles" on players, but nothing more serious. And the Mets have decided if they cannot obtain something they feel strongly about for their future, then why trade Marlon Byrd or Bobby Parnell...
In case you were wondering, left-hander Pedro Feliciano continues to make strides since his promotion to Triple-A Las Vegas last week. The veteran reliever is maintaining his higher velocity and getting the job done out of the bullpen for the 51s. Feliciano has retired all six batters he has faced — four lefties, two righties — over three appearances since the promotion from...
Zack Wheeler made his bid for history tonight as he took the Marlins to task with 6.1 innings of no-hit baseball — although he was eventually saddled with a no-decision. Wheeler was masterful through those first six and some innings and was keeping his pitch count low. The Mets also played solid defense behind him, and things were starting to look serious when he struck out Stanton...
OK, so the Mets lost in Miami. Again. That drops their record against the Fish – Bob Ojeda was annoyingly cute with this nickname on the postgame – to 5-9 overall, 3-6 in Magic City. In a vacuum, this record looks horrible — and it is –- but context is key. That loss last night was frustrating, to be sure, but before it was over, a fan could say that a dragon had been...
METS AT MARLINS Jenrry Mejia (1-0, 0.00) vs Henderson Alvarez (1-1, 2.64) *** I'm collecting on a few bets I made a few weeks ago that Marlon Byrd and Bobby Parnell would be with the Mets on August 1st. Hee hee hee… Starting Lineup Eric Young Jr., lf Daniel Murphy, 2b David Wright, 3b Marlon Byrd, rf Ike Davis, 1b John Buck, c Juan Lagares, cf Omar Quintanilla, ss Jenrry Mejia...
During the Mets telecast today, Kevin Burkhardt reported that Double-A pitcher, Noah Syndergaard, could be making landfall in the big leagues by July of 2014, according to Paul DePodesta. In case you're wondering, this would be the same pattern New York has followed to promote Matt Harvey and Zack Wheeler. So far, the results have been pretty good. If it ain't broke, don't...
Mets look to make it two in a row in Miami. Game time is 7:10 PM To get started just enter your email address and desired username: Name E-mail Related Posts:Game Chatter: Matt Harvey and Zack Wheeler (6/18/13)Game Chatter: Zack Wheeler vs. Matt Cain (7/10/13)Game Chatter: Zack Wheeler vs. Johnny HelwigGame Chatter: Zack Wheeler vs. Gio Gonzalez (6/30/13)Game Chatter: Zack Wheeler...
Is it me or does Harvey get a lot of starts during the day? Regardless today's game has a 12:40 start time. To get started just enter your email address and desired username: Name E-mail Related Posts:Game Chatter: Matt Harvey vs. Mat Latos (5/22/13)Game Chatter: Matt Harvey vs. Jeanmar Gomez (5/12/13)Game Chatter: All-Star game – Matt Harvey vs. Max…Game Chatter: Matt...
MIAMI (AP) -- Ike Davis had a go-ahead RBI double in a three-run seventh inning, Daniel Murphy drove in three runs, and the New York Mets snapped a five-game skid against the Miami Marlins with a 6-5 victory Monday night. David Aardsma (2-0) pitched an inning in relief of Jeremy Hefner for the win. Bobby Parnell retired Giancarlo Stanton with runners on first and third to end it...
MLB News

Delivered to your inbox

You'll also receive Yardbarker's daily Top 10, featuring the best sports stories from around the web. Customize your newsletter to get articles on your favorite sports and teams. And the best part? It's free!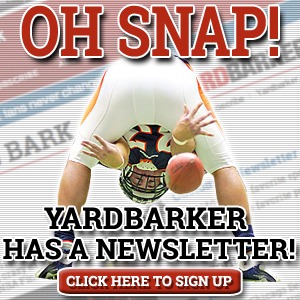 Latest Rumors
The Backyard

Today's Best Stuff

For Bloggers

Join the Yardbarker Network for more promotion, traffic, and money.

Company Info

Help

What is Yardbarker?

Yardbarker is the largest network of sports blogs and pro athlete blogs on the web. This site is the hub of the Yardbarker Network, where our editors and algorithms curate the best sports content from our network and beyond.