Found April 14, 2013 on Obstructed View OLD:
This is a continuation of the weekly series of of writing about a Cubs prospect. Early on, I will be writing about guys that Dave and I did not cover in our Prospect Ratings. Links for past ratings and past profiles at at the end. Who is Nick Struck? Nick Struck was drafted in the 39th round of the 2009 Draft out of Mount Hood Community College in Gresham, Oregon. He's 1 of 44 players who have been drafted out of that school. Only 4 of them have reached the big leagues and only Dave Veres has produced more than 0.0 rWAR. Veres was with the Cubs in 2003 and then he retired. Taylor Ard is the most recent draft pick to be signed who attended MHCC, but he had later attended a 4-year university. He attended high school in Clackamas, Oregon and Baseball Reference lists him at 6-0, 205 pounds. He was scouted by Al Geddes and signed with the Cubs for $125,000. Where is he? Struck is in AAA Iowa and is one of the team's starting pitcher's this season. The Cubs are already 7-deep into their big league rotation with Matt Garza and Scott Baker out. It's likely that someone like Chris Rusin or Brooks Raley would get the call up before he did if the Cubs needed him, so a lot of things are going to have to go wrong for the Cubs for him to get his shot this year. Is he any good? The Cubs 2012 Minor League pitcher of the year is usually an afterthought when it comes to prospect lists. In this organization, that's not good. The Cubs sure have gotten better on the position player side of things in the minor leagues, but the pitching, if anything, has taken even more of a hit. If you're going to have a number of legitimate prospects and you get to choose if they're position players or pitchers, I'll take position player every time. Still, this organization's pitching is as weak as it gets. Their closest pitching pitching prospect they have is Ben Wells and he's seen by scouts as someone who could be a middle of the the rotation starter if things work out. After him is Pierce Johnson and his ceiling isn't nearly as high as we might like. This ignores Arodys Chapman who might or might not be a starting pitcher, might or might not be healthy anytime soon and might or might not have the ability to stay healthy. The same could probably be said for Wells and Johnson seeing as both have already had some arm issues. Then there's a few guys who haven't even started their 2013 seasons yet and are years away from the big leagues. There sits Nick Struck in Iowa. Being a minor league pitcher of the year in the Cubs organization right now is like winning a tallest midget contest, but it's still an achievement that has been overlooked. Struck didn't impress anyone in high school or at Mt. Hood Community College (jc) in Oregon. His high 80s to low 90s fastball won't impress many hitters. His size isn't impressive (6-0, 205). He won't be a strikeout pitcher. He does have better than average command. He's made changes quickly in order to adjust. Last season he got off to a bad start, worked with his coaches and shortened his stride and then showed very good results. This isn't to say there's nothing to like about Struck. He's been healthy. He hasn't missed a start since he turned professional and there's something to be said about that. He's taken the ball every 5th or 6th day and slowly moved up the system without so much as skipping a start. Last year in AA he did strikeout 19% of the batters faced and walked only 6%. That's a pretty good K-BB%. Based on his career as a whole, I don't think we can expect him to strike that many out, but he does throw strikes so even if he's at 15-16% it could still be good enough. OV Prospect Rating Struck's potential is as a back of the rotation starter. He's already at AAA so his floor is going to be pretty close to his ceiling at this point. Considering the back of the rotation (4th or 5th starter), the ceiling be under a 5. He hasn't yet proven he's a quad-A talent so he can still drop below a 3. Rating: 4B This would put him at the end of the now 23 prospects we've done so far with 35 points. Read More… Prospect Profiles Ben Wells Nick Struck Prospect Ratings Explanation Cubs Prospects The post Prospect Profile: Nick Struck appeared first on Obstructed View.
Original Story:
http://www.obstructedview.net/minor-l...
THE BACKYARD
BEST OF MAXIM
RELATED ARTICLES
When the Ricketts family first took over the Cubs, some of the first words out of their mouths were expressions of unbridled love of Wrigley Field. They were going to win and they were going to win in Wrigley Field. That was their story. Tom went around telling anybody who would listen that he once lived across the street from Wrigley. He skipped classes at University of Chicago...
Chicago Cubs chairman Tom Ricketts believes the framework for a deal to renovate Wrigley Field will bring a World Series to a club and fan base that hasn't seen a championship since 1908. "This massive investment will help
The Chicago Cubs season has taken another step towards disappointment as the team has placed closer Kyuji Fujikawa on the 15-day disabled list with a strained right forearm. Instead of returning Carlos Marmol to the closer's role, manager Dale Sveum is going to focus on matchups, focusing on using Shawn Camp and James Russell in the ninth. Marmol lost the closer's job...
Injury update: Steve Clevenger, who was going to get another start at 3B today, is instead on the sidelines with a strained oblique, suffered on the final, ugly swing in Saturday's loss. He is expected to miss at least six weeks. The Cubs will go shorthanded today, then fill Clevenger's roster spot Tuesday, when Darwin Barney returns from his brief rehab stay in Iowa. (Barney...
Follow me on Twitter @DSchmelzerTSB A few weeks ago, I wrote a piece about the Chicago Cubs possibly moving out of Wrigley Field. Well, that is definitely not going to happen now, because late last night/early this morning, the Cubs and City of Chicago came to an agreement that will allow the Cubs to renovate Wrigley Field, and will keep them in the park for a very long time. The...
The Chicago Cubs tied a major league record when Edwin Jackson and Michael Bowden combined to throw five wild pitches in an inning. Jackson threw two and Bowden three as the San Francisco Giants scored four runs in the sixth to take a 5-4 lead Sunday. Rick Ankiel of the St. Louis Cardinals threw five wild pitches in the third inning of the 2000 NL division series opener against...
The historic home of the Chicago Cubs will get a $500 million facelift, including its first electronic outfield video board, as part of a hard-fought agreement announced Sunday night between the City of Chicago and the ball team. Wrigley Field also will host an expanded number of night games under the announced pact, as part of Cubs owner Tom Ricketts' plans to renovate the...
The Cubs got quality starts from Chris Rusin (pictured), Iowa; Dau-Eun Rhee, Tennessee; and Zach Cates, Dayton, as all three affiliates won on Sunday. Kane County was snowed out.
Edwin Jackson and Michael Bowden tied a major league record by combining to throw five wild pitches in an inning, and the San Francisco Giants got another big assist from a Cubs pitcher in a three-run 10th in Sunday's 10-7 victory over Chicago. The Cubs matched the record for wild pitches by a team in an inning during a four-run sixth that put San Francisco ahead 5-4, but the...
A deal on Wrigley Field renovations has been reached! Early in this young MLB season, the talk hasn't been about baseball but business negotiations instead. And it's easy to understand why, most experts have the Chicago Cubs projected to lose 90+ games this season. So the ballpark seems more interesting than the results of the 2013 season. Crain's Chicago reports the Chicago...
The Chicago Cubs today placed their closer Kyuji Fujikawa on the 15-day disabled list due to a muscular strain in his right forearm. The recently appointed finisher replaced Carlos Marmol who's approval ratings in Chicago are close to that of Kim Jong Un. And they should be that low, since Marmol was about as good at closing games as Nick Nolte is to staying sober. The Chicago...
Every now and then we just need to think out loud.  Or I guess in this case, since you're reading instead of listening to us (have you checked out our podcast by the way?), we're typing out loud.  Or just typing so you can see stuff before you.  Whatever, the analogy sucks.  Just keep reading.  I like to ramble.  This is definitely a ramble. Reflections I forgot who said...
Cubs News

Delivered to your inbox

You'll also receive Yardbarker's daily Top 10, featuring the best sports stories from around the web. Customize your newsletter to get articles on your favorite sports and teams. And the best part? It's free!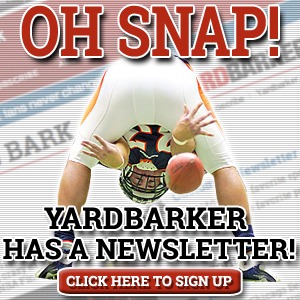 Latest Rumors
The Backyard

Today's Best Stuff

For Bloggers

Join the Yardbarker Network for more promotion, traffic, and money.

Company Info

Help

What is Yardbarker?

Yardbarker is the largest network of sports blogs and pro athlete blogs on the web. This site is the hub of the Yardbarker Network, where our editors and algorithms curate the best sports content from our network and beyond.