Found June 25, 2012 on Obstructed View OLD:
PLAYERS:
Anthony Rizzo
,
Brett Jackson
,
Bryan LaHair
,
Alfonso Soriano
,
David DeJesus
,
Reed Johnson
,
Joe Mather
,
Tony Campana
,
Mark Prior
,
Corey Patterson
,
Ian Stewart
,
Josh Vitters
TEAMS:
Chicago Cubs
,
Milwaukee Brewers
We're very close to the time of the season at which the Cubs guarantee that Anthony Rizzo, Brett Jackson and other prospects who could be called up won't become super-two players. While the first game after the all-star break happens to be that date this season, it's highly unlikely any prospect called up now would qualify. So who are the Cubs going to call up over the coming weeks?
Anthony Rizzo is the obvious one. He's probably only days away from being called up. Rizzo has boarded a plane and has left the Iowa Cubs to head to Chicago. While Bryan LaHair still has a .384 wOBA, he's slumped in June thanks to only a 7% walk rate and a strikeout rate over 36%. We should see LaHair bounce back. June's stats are a very small sample size and it would be silly to evaluate what to do with LaHair based on his worst month of the season.
When Rizzo comes up, LaHair has to go somewhere else. It will be rather easy finding LaHair a home in the outfield. Alfonso Soriano has been impressive this season all things considered. He's posted a .342 wOBA (111 wRC+), +8 UZR and 2.0 fWAR. Total Zone doesn't think as much of his defense and he's been worth only .9 rWAR. Still, if you'd told me on Opening Day that Soriano would be worth a win by this point in the season I'd have said no way.
The Cubs would obviously like to trade Soriano and his remaining 2+ years of club control, but it's not going to be easy. He has a surplus trade value of -$24.25 million so the Cubs will have to send at least that much to get anyone to talk. More than likely they'll have to send a lot more than that because I imagine he'll be viewed as a DH and therefore have less future value. The Cubs have already tried to trade Soriano and failed so I'm going to assume they fail again. Despite that, the Cubs still have other places in the OF LaHair can go.
David DeJesus has been league average at the plate, but below average defensively according to both UZR and Total Zone. His rWAR is .5 and his fWAR is .4. It's hard to image the Cubs replace him though I could see him traded at the deadline. My guess is the Cubs shift him to CF and put LaHair in RF where he's recently played.
It's a waste of time talking about the other outfielders in depth. Reed Johnson has been better than Joe Mather and Tony Campana and that really says it all. There's a place for LaHair in the outfield and the Cubs will find room for him. That place is likely to be RF.
If you're wondering what we can expect from Rizzo at the big league level there's really only one answer: who the **** knows? Going back to 2009 we get these numbers for Rizzo.
2009 A: .390 wOBA, 144 wRC+, 287 PA
2009 A+: .357, 120, 229 PA
2010 A+: .363, 123, 135 PA
2010 AA: .361, 120, 467 PA
2011 AAA: .433, 149, 413 PA
2011 MLB: .248, 59, 153 PA
2012 AAA: .466, 180, 278 PA
Rizzo has been consistently above average in his minor league career and damn good at times. We can definitely expect some regression as he moves up to MLB and simply because it's unlikely he really was a .466 wOBA hitter in AAA. The expectations for this kid are through the roof. Of all the Cubs prospects I've followed in my years of being a Cubs fan, I can't think of another one whose expectations were so high. Mark Prior comes the closest, but I'm not even sure his were as high as Rizzo's are right now. There might have been higher expectations for Corey Patterson, but other than him I can't think of a single player.
The better question might not be what we can expect from Rizzo, but whether or not Rizzo can live up to the expectations others have for him? The answer to this question is almost always no. If he struggles in his first 150 plate appearances how many fans are going to be looking at his 300 PA sample at the big league level and completely ignoring what he did at the minor league level? It's obviously stupid. Rizzo is a very good ballplayer and should be productive player for the Cubs for several years. But the big league team sucking and Rizzo's performance in the minors has placed unreasonable expectations on him.
You have to look hard to find something in Rizzo's performance that stands out in a negative way. The only thing that does stand out is that his walk rate was down to 7.9%. it had been at 10 or so since 2009 so it's not a huge drop, but it's a noticeable one.
Rizzo won't be the only one the Cubs call up this season. Brett Jackson is the next obvious choice, but that muddies the water a bit for Bryan LaHair. If Jackson comes up and takes over in CF, DeJesus returns to RF and LaHair is without a position. The Cubs could trade Soriano or DeJesus and that would change things, but right now I just don't see Jackson coming up. The Cubs are going to put LaHair in the outfield (probably RF), move DeJesus to CF and keep Soriano unless some team really wants him. We'll talk more about Jackson next month as I think his call-up is delayed a bit to see if the Cubs can clear some space in the outfield.
Third base has been a black hole of suck this year for the Cubs. Ian Stewart, Luis Valbunea and the transformative season of Joe Mather have hit like they belong in AAA.
Josh Vitters has hit .286/.336/.481 for AAA Iowa in 283 plate appearances this year. While his OPS is just a bit above average for the league, he is still quite young at 22. He has more to work on and will never be all that great a player. He doesn't walk much, he has no speed whatsoever (19 SB in 1953 PA, 18 CS, 7 triples) and questionable enough defense that has led to him seeing some action at 1st base already. His walk rate will never allow him to get on base much higher than his batting average so he'll be relying on his ability to hit for power. HIs career slugging is just .445 and it's only .479 in the hitter friendly PCL. He's hit 58 home runs in his career and has 113 doubles in nearly 2000 plate appearances.
Despite that, he might not be any worse than the three the Cubs have run out there all season long. He might even be a bit better. He's played well enough at AAA and thanks to the black hole at 3rd base I see no reason why the Cubs shouldn't call him up in the near future. He's someone I wouldn't even worry about becoming a super two player because I think it's unlikely he sticks on MLB roster for the next 2+ seasons. More than likely he'll be sent back down at some point so I see no risk in calling him up.
One thing I noticed with Vitters is that Fangraphs has his walk rate at 5.7%, but they include intentional walks. I noticed this after looking at his page on Statcorner and his UBB% (NIBB% is what I call it) is 4.3%, which is the same as last season and lower than 2010. Statcorner also has a few discipline numbers. His swing% is 52.9%. MLB average is about 45.5%. His Mis% (swing and miss) is 20.3% while MLB average is 18.5%. His TkS% (called strike) is 25.9% while MLB average is 31%. MLB average isn't necessarily PCL average, but it's probably not that far off. Vitters is going to swing the bat. A lot. His swing and miss rate right now is higher than what the MLB average is, but it might be right about average in the PCL.
Regardless of the numbers, it's not like any of the other 3rd baseman is making a claim to the position and Vitters is who Vitters is going to be.
Original Story:
http://www.obstructedview.net/comment...
THE BACKYARD
BEST OF MAXIM
RELATED ARTICLES
In case you hadn't heard, Anthony Rizzo is making his debut with the Cubs today. Since this is probably the lone highlight of the season, let's do a live chat! In case you weren't around last time, or your memory is as bad as mine, let me remind you Mini post about posting: IF YOUR COMMENT DOES NOT APPEAR RIGHT AWAY, DON'T PANIC CoverItLive kind of sucks in that...
It was nice of the Cubs to start Wells to temper any real expectation we may have had for tonight's game. Mets Cubs *Nieuwenhuis, CF *Rizzo, CF Tejada, SS Rizzo, SS Wright, 3B *Rizzo, 1B *Duda, RF Rizzo, LF *Davis, 1B *Rizzo, RF Hairston, LF *Rizzo, 3B *Murphy, 2B Rizzo, 2B *Thole, C *Rizzo, C Gee, P Rizzo, P As everyone knows by now, Anthony Rizzo has...
Last season, Anthony Rizzo, then in the Padres organization, absolutely bombarded Pacific Coast League pitching to the tune of .331/.404/.632 with 26 long balls in 413 plate appearances. However, once he reached the big leagues, the mammoth production halted. In 153 plate appearances for the Friars, Rizzo hit .141/.281/.242 with only one home run and a 30-percent strikeout rate....
There have been rumblings for awhile now that the Cubs wanted to call up their star prospect, first baseman Anthony Rizzo. Now it seems the Cubs are finally ready. Rizzo is supposed to be called up Tuesday although he is unlikely to face Johan Santana, which is completely understandable. I don't think I'd want my young lefty getting owned in his first major league game. But it's...
Knowing the end of his reign here is near, I braved the heat and the Zooperstars today and went to Principal Park in search of something to remember Anthony Rizzo by. Normally I perch behind the plate in the shade of the mezzanine. Today I transplanted myself to the rightfield bleachers where I'd be positioned to fetch long balls aimed in that direction. There's a fountain...
Cubs fans have not had much to cheer about when it comes to the 2012 team. With an abysmal record, a fire sale on the horizon and guys like Jeff Baker and Luis Valbuena seeing significant playing time, fans have been just looking for something to cling to as a reason to get excited. Well, that item has arrived, as the Cubs' top prospect, Anthony Rizzo, made his debut last night...
The Iowa Cubs announced that Cubs top prospect, 22-year-old first baseman Anthony Rizzo, will join the big-league club today.
Anthony Rizzo had two hits and drove in the go-ahead run in his first game with the Chicago Cubs, who rallied for a 5-3 victory over the sliding New York Mets on Tuesday night. Rizzo's two-out double drove in Steve Clevenger in the fourth, making it 4-3 and sending the Mets to their fourth straight loss - matching a season high. Rizzo was called up earlier in the day for his...
Update: the Des Moines Register is reporting that Cubs uber-prospect Anthony Rizzo was taken out of last night's Iowa Cubs game in the 4th inning, and is being called up to the parent club. So far, there hasn't been word from the big league team as of yet. So this is call-up for real, and not an error/publicity stunt like last time? What we wrote on Memorial Day weekend: The...
The Chicago Cubs will probably lose 105+ games this season (the club record is 103), so in this most dreadful of seasons tonight was pretty much their Super Bowl. It's the first "green shoot" of the Theo Epstein- Jed Hoyer regime, a huge night for Cubs fans and the long term view. And a reason for extra media to show up. With over a century on ineptitude, Cub fans are always...
First off, my apologies for the lack of a DD over the last two days. I had some very interesting computer problems. Technology just hates me this month. Anyway, last night in the Cubs-Mets game, highly touted Cubs first base prospect Anthony Rizzo made his Chicago debut. Hitting in the three hole in the Cubs lineup, Rizzo lived up to the lofty expectations (at least for one...
Cubs starter Randy Wells didn't last long in this one, but four Chicago relievers held the Mets scoreless for the last six innings of this one. Wells only went three innings, but Gee couldn't get through more than five, and Anthony Rizzo's fourth inning RBI double turned out to be the difference in the 5-3 Cubs win. Gee got through the first two innings without much issue...
MLB News

Delivered to your inbox

You'll also receive Yardbarker's daily Top 10, featuring the best sports stories from around the web. Customize your newsletter to get articles on your favorite sports and teams. And the best part? It's free!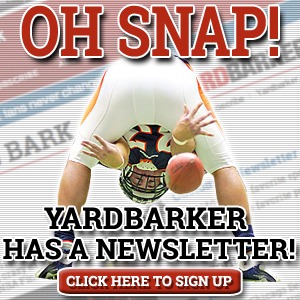 Latest Rumors
The Backyard

Today's Best Stuff

For Bloggers

Join the Yardbarker Network for more promotion, traffic, and money.

Company Info

Help

What is Yardbarker?

Yardbarker is the largest network of sports blogs and pro athlete blogs on the web. This site is the hub of the Yardbarker Network, where our editors and algorithms curate the best sports content from our network and beyond.