Found October 26, 2011 on Fox Sports Midwest:
ST. LOUIS Cardinals first baseman Albert Pujols estimates he's done somewhere between 150 and 200 hit-and-runs in his career. But none has been talked about like the failed attempt that potentially changed the look of Game 5 on Monday night. With the Cardinals and Texas Rangers tied 2-2 in the top of the seventh inningin Arlington, Pujols sent a signal to third base coach Jose Oquendo that he wanted to attempt a hit-and-run with Allen Craig on first base. Craig took off for second but the 0-1 pitch from Alexi Ogando was high and outside, causing Pujols not to swing. Craig was thrown out at second base by several feet, slowing what appeared to be a promising rally. Speaking Wednesday afternoon about the postponement of Game 6 due to rain, Pujols was asked about his decision to put on his own hit-and-run in such a crucial spot. "I've been at this level for 11 years and that's not the first time that I've put a hit-and-run on," Pujols said. "I don't have any problem with that play, and I know there was a lot of discussion about, 'If he put the play on, why didn't he swing?' I mean look at the pitch, it was high and away and I wouldn't have been able to touch it. "I think if I would have been able to put the bat on it, I would have swung even if I would have missed it. Now to get an 0-2 count, you don't want to be in that situation with a great pitcher on the mound. It's one of those things that didn't go our way. If he throws that pitch down, I probably put a good swing and it would be a different story." Manager Tony La Russa told reporters Tuesday that he allows Pujols to call his own hit-and-runs because of the trust he's earned over the course of his career. Pujols will sometimes ask La Russa in the dugout for his approval but does have the authority to make the call himself while in the batters box. La Russa cited Edgar Renteria as one of the players in the past who's been allowed to call the play themselves and noted other former players who have done it before. Had Pujols checked with La Russa in the dugout before batting in the seventh, "I would have said don't put it on because they're obviously being very careful with him. You can't really expect the ball to be around the plate. The guy has got a live arm." Pujols was intentionally walked following the putout at second base and was eventually stranded on third base when David Freese popped up with the bases loaded to end the inning. Asked why he decided to put the play on in that situation, Pujols said, "I felt that they tied the ballgame right there, and I felt like if we can go back and put a little pressure on them and maybe get first and third, we could change that a little bit. "Allen got on base and I was thinking about putting it on, on the first pitch, but I was thinking they might throw me a ball and I didn't want to chase a pitch." Pujols said he called his own hit-and-run two other times this season, one of which came earlier in the playoffs.On both occasions, Pujols said, the play worked. "People can throw rocks and blame everybody, Tony or myself or whatever you want but it's just part of the game," Pujols said "If it would have worked out like the past, we wouldn't be talking abut this. I can tell you out of those 150 hit-and-runs that Tony has put on or he has given me the opportunity to put on, believe me, we've won a lot of games too. "This one just didn't work. It is what it is. You just need to move on and don't let that game ruin the rest of the series. Just come back tomorrow knowing we are still alive and if you want to look that we lost that game because of that play, then you can do whatever you want to do."
Original Story:
http://www.foxsportsmidwest.com/10/26...
THE BACKYARD
BEST OF MAXIM
RELATED ARTICLES
Game 6 of the World Series was postponed tonight, which gives sleeveless Cards slugger Albert Pujols ample time to watch the DVD he picked up at Best Buy this afternoon. FYI, Pujols is the one on the left…your left.  Took me a while to figure it out too.  That lady has some impressive guns. Any guess on what DVD Pujols picked up? Looks like newly released: The First Avenger...
They have nice Best Buys in suburban Chicago, though, too.
I will openly admit that Albert Pujols deserved this spot. So I'll give him a little love right here: 3 yak yaks in one game in the World Series is amazing. Albert, I know you did steroids, but you are the best hitter of my generation. Done. For those of you who drafted Arian Foster and had to put up with his hamstring, you were rewarded handsomely this weekend. I think it's...
In what may seem a surprise, Lance Berkman unseats Albert Pujols as the top position player on the St. Louis Cardinals as selected by The Cardinal Nation.
For Albert Pujols, Edwin Jackson and C.J. Wilson, the future is now. Every time they get a hit or make a key pitch during the World Series, their accomplishments are being noted by general managers and scouts throughout the major leagues. Less than a week after the postseason's final out, they'll be on the free agent market, and their performances under the highest pressure...
Also, Rafael Furcal and Skip Schumaker protesting Albert Pujols' intentional walks
MLB News

Delivered to your inbox

You'll also receive Yardbarker's daily Top 10, featuring the best sports stories from around the web. Customize your newsletter to get articles on your favorite sports and teams. And the best part? It's free!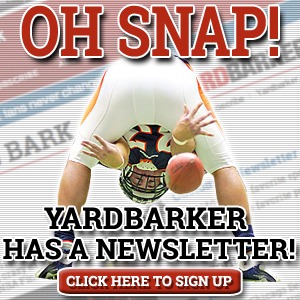 Latest Rumors
The Backyard

Today's Best Stuff

For Bloggers

Join the Yardbarker Network for more promotion, traffic, and money.

Company Info

Help

What is Yardbarker?

Yardbarker is the largest network of sports blogs and pro athlete blogs on the web. This site is the hub of the Yardbarker Network, where our editors and algorithms curate the best sports content from our network and beyond.