Found December 05, 2012 on Fox Sports Detroit:
DETROIT -- Tigers manager Jim Leyland told reporters that the pivotal decision Gene Lamont made in Game 2 of the World Series had nothing to do with Tuesdays announcement that Lamont would move from third-base coach to bench coach. But there's no denying that Lamont's unsuccessful attempt to score Prince Fielder all the way from first on a Delmon Young double put Lamont on the hot seat with those who pay the clubs coaches and players. And Im not referring to owner Mike Ilitch, but rather the fans. Lamont, along with hitting coach Lloyd McClendon, were human piatas for Tigers fans last year. Lamonts ill-advised decision to send the lumbering Fielder home with nobody out became a symbol of the frustration that came with getting swept by the underdog Giants. Now know this: Giants manager Bruce Bochy thought Fielder would score and allowed that it took two perfect throws, from left fielder Gregor Blanco and shortstop Brandon Crawford, to get Fielder. And Tigers on-deck batter Jhonny Peralta failed to aid Fielder by coaching him on the slide. Still, Lamont took the blame afterward, and Leyland agreed with Lamonts assessment that he was overly-aggressive. When the first out of a potential big inning comes at home plate, the third base coach cant really justify such a decision. Its that simple. Leyland is big on having your back if you work for him. That's why he protected Lamonts decisions in postgame press conferences whenever asked. Its also why he told reporters this while discussing the decision to move first-base coach Tom Brookens over to third base: I think Gene Lamont is as good of a third-base coach as anybody in the American League. Terrific judgment -- terrific. But it might be time for him to come over to the bench with me and put Brookie out there. Lamont and Leyland have been close friends since meeting in Detroits minor-league system as players nearly 50 years ago, so the move had to be tough on Leyland. He likely made it because, deep down, he knew Lamonts terrific years were behind him. He'll turn 66 on Christmas Day. I thought Lamont, a former major-league manager who has manned third base for the Tigers since 2006, was a terrific third-base coach until the second half of the 2010 season. Thats when I began, for the first time, wincing at some of his decisions while watching from the press box. Over the next two years, I winced even more. It was time for a change, and Brookens, 59, will be an excellent third-base coach because he's also the club's base-running and outfield coach. His anticipation on relays beginning in the outfield and knowledge of the clubs runners is keen. Perfect combo, isnt it? Leyland has never had a bench coach here, opting instead to have Rafael Belliard as strictly an infield coach. Now Belliard will add first-base coaching to his job description. Leylands game instincts are so good that he's one of the few who could prosper without a bench coach, but he'll greatly benefit from having Lamont next to him all nine innings. Sparky Anderson considered his bench coach, Billy Consolo, central to his decision-making. Consolo, a Bonus Baby with the Red Sox and Andersons friend since childhood in Los Angeles, was somebody Anderson could bounce things off of with total confidence because Consolo was smart and not a yes man. A great bench coach can be a very beneficial to a manager, and Lamont will be a terrific one. He has a baseball IQ that is off the map, and thats not just me talking. While speaking during the playoffs with ESPNs Orel Hershiser, the Dodgers 1988 Cy Young Award winner and World Series MVP, he told me, Gene Lamont is a brilliant baseball man -- just brilliant. Coaches are being placed in their areas of strength, so these moves give the Tigers a much better coaching staff without hiring or firing anyone. Even the fans are bound to like it.
Original Story:
http://www.foxsportsdetroit.com/12/05...
THE BACKYARD
BEST OF MAXIM
RELATED ARTICLES
Jim Leyland is a pretty popular guy. And it's not just because he led the Tigers to the American League pennant last season. Turns out, the Tigers manager was voted as most popular as a senior superlative back in high school. On the heels of his high school's 50-year reunion, Leyland told reporters at the winter meetings about the distinction. "I was kind of wondering, when...
Detroit Tigers manager Jim Leyland apparently wants Gene Lamont beside him on the bench next season. Leyland said he's shifting the 65-year-old former manager from third-base to bench coach in a move designed to give him "a great baseball mind who will be there with me," acccording to the Detroit Free Press. Tom Brookens will rotate from first-base coach to third...
The Detroit Tigers pulled off trades with the Red Sox for infielder Jeff Kobernus and with the Mets for lefty reliever Kyle Lobstein. Continue reading →
Is Bruce Rondon the Detroit Tigers' closer heading into 2013? Jim Leyland is ready to see what his young fireballer can do. Continue reading →
The Tigers signing Torii Hunter to a two-year $26 million contract earlier this offseason was pretty big news.  And it seemed to come out of nowhere as Hunter called the Tigers and invited himself into town for a visit. The Tigers made another move today – one that was a long time coming.  They're moving Gene Lamont from his post in the third base coaching box to the bench...
It happens every off-season, teams get into a frenzied bidding situation for a high profile free agent.  Just when we think we know who he is going to sign with- BAM!  They strike out of nowhere!  The mystery team!!! You never believe it when they are mentioned in rumors.  You scoff and mock the reporter who even suggests their presence.  But then, lo and behold, that'...
DETROIT -- So just what did the Tigers do at baseballs winter meetings, which concluded Thursday in Nashville? General manager Dave Dombrowski, for the third straight year, did nothing of major significance. Perhaps the groundwork was laid for a trade or free-agent signing later this winter. But the signing of free-agent shortstop Stephen Drew and the trading of shortstop Jhonny...
Triple Crown winner Miguel Cabrera is going to play for Venezuela in the upcoming World Baseball Classic. Cabrera was among the first 32 players -- 12 major leaguers -- to commit to playing in the tournament that begins March 2 with games hosted by two-time defending champion Japan and Taiwan. The Mets' David Wright and Minnesota's Joe Mauer will play for the United States...
Organizational Talent Rankings via Baseball America 2012 (22) | 2011 (25) | 2010 (27) | 2009 (28) | 2008 (27) 2012 Affiliate Records MLB: [88-74] AL Central AAA: [60-84] International League – Toledo AA: [57-84] Eastern League – Erie A+: [73-58] Florida State League – Lakeland A: [72-68] Midwest League – West Michigan A(ss):  [35-40] New York-Penn League — Connecticut...
Its a coincidence really but its appropriate. In a confluence of cultures, baseballs winter meetings are smack dab in the middle of the Christmas shopping season. Its the time when baseball fans become 5-year-olds. They develop some uncharacteristic brat. The universal whine becomes Gimme! There's a wish list without much consideration into what Mom and Dad can afford. Usually...
The Detroit Tigers, at least as far as Jim Leyland and GM Dave Dombrowski have let on, have not chased Rafael Soriano much yet, if at all. Continue reading →
MLB News

Delivered to your inbox

You'll also receive Yardbarker's daily Top 10, featuring the best sports stories from around the web. Customize your newsletter to get articles on your favorite sports and teams. And the best part? It's free!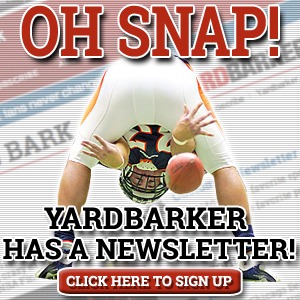 Latest Rumors
The Backyard

Today's Best Stuff

For Bloggers

Join the Yardbarker Network for more promotion, traffic, and money.

Company Info

Help

What is Yardbarker?

Yardbarker is the largest network of sports blogs and pro athlete blogs on the web. This site is the hub of the Yardbarker Network, where our editors and algorithms curate the best sports content from our network and beyond.