Wednesday, June 13, 2012. 9 innings pitched. 1 hit. 0 earned runs. 12 strikeouts. The second best pitching performance of the night. R.A. Dickey and Matt Cain were part of one of the most impressive nights of pitching in baseball history last Wednesday as Cain threw a perfect game against the Astros while Dickey posted the nearly as impressive line above. Cain's outing marked the fifth time this season that a pitcher has twirled a no-no. The only other time that many no-hitters have been thrown this early in the season was 1917.  In fact, there have only been 11 other seasons in MLB history where five no-hitters have been thrown in an entire season. Cain pitched the 22nd perfect game in MLB history Cain's strength has always been in his ratios as he's the owner of a 2.97 ERA and a 1.11 WHIP over the last three seasons. This season, he's improved his middling strikeout rate thanks to his improved ability to miss bats and generate swinging strikes. After averaging 7.41 strikeouts per nine innings coming into this season, he has managed to strikeout slightly over a batter per inning in 2012. He has also significantly enhanced his control as his current BB/9 of 1.52 is nearly a full walk less than his previous career best. The most surprising stat to see next to Cain's name is his 8 wins, which currently puts him on pace for 20 wins. Cain has struggled to amass wins throughout his career thanks to a lack of run support from the Giants – his career high is 14. The Giants currently rank 23rd in baseball in runs scored and Cain hasn't received much more run support than he has in the past, so you can chalk this up to a bit of lady luck for the Giants' ace. That being said, Cain's ability to miss bats is totally legit and I'd take him over any pitcher not named Kershaw or Verlander for the rest of the season. Boy oh boy, what has gotten into R.A. Dickey? The Mets' knuckleballer has easily been baseball's best pitcher over the last 30 days as he hasn't given up an earned run in his last four starts and has a ridiculous 50:3 KK:BB ratio over his last five starts. Dickey's elite strikeout rate has come out of nowhere as he's fanned at least eight batters in each of his last six starts. Before this stretch, he had only totaled eight strikeouts in a game four times in his career. Dickey has been the best pitcher in baseball over the past month What a lot of people don't realize is that Dickey had been a pretty good pitcher before this. He's posted a 3.28 and 2.84 ERA over the last two seasons and his above average control has led him to be one of the National League's most underrated pitchers. His ERA, WHIP, strikeout and walk rates over the previous two seasons are eerily similar to those of Johnny Cueto – a pitcher who has been more highly regarded due to name recognition.
Being a knuckleball pitcher, the initial reaction might be to chalk Dickey's recent strikeout numbers up to randomness. However, Dickey's bread and butter pitch has been much more successful during his last six starts. He has generated 6% more swings on his knuckleball and 8.2% more swinging strikes. Dickey has also recognized that his knuckler has been more effective as he's thrown it 86.2% of the time compared to the 79.3% before this stretch. The common perception about knuckleballers is that they don't have the ability to strike batters out. The comparison many like to make is to Tim Wakefield – the owner of a career 6.01 K/9. However unlike Wakefield, Dickey doesn't float his knuckler in at 65 MPH. Dickey's knuckleball has averaged nearly 77 MPH this season while he peppers in his 83 MPH fastball more often than most knuckleballers throw the fastball. Dickey converted to a knuckleball pitcher in 2005 after he realized that his 89 MPH fastball wouldn't cut it with the Rangers. Unlike other knuckleballers, he has zip on a fastball that was once his primary pitch. Do I think Dickey is going to continue to post Verlander-esque strikeout numbers? No. But I think a rate between around 7-7.5 strikeouts per nine innings is realistic for the rest of the season given the strides that the converted knuckleballer has made this season.   Double-Start Pitchers   Set It and Forget It Matt Cain (@LAA/@OAK) C.C. Sabathia (ATL/@NYM) David Price (@WSH/@PHI) R.A. Dickey (BAL/NYY) Cole Hamels (COL/TB)   Price got knocked around by the Mets in his last start, but had been enjoying a very solid year before that. Chalk it up as a bad start and throw him back out there this week in a very good matchup against the Nationals and Phillies. Cole Hamels has struggled lately as he has given up four earned runs or more in three of his last four starts. He has maintained a solid 28:6 KK:BB over that time, so I'm not overly concerned about him. Colorado is without Tulo and isn't particularly intimidating away from Coors Field while the Rays are a middle of the pack team offensively. I'm still a Hamels believer.   Solid Plays Jake Peavy (CHC/MIL) Shaun Marcum (TOR/@CHW) Lance Lynn (@DET/@KC)   Lance Lynn is the real deal After going through a bit of a rough stretch in May, Lynn has been remarkable as of late, striking out 12 and 11 batters in his last two starts, respectively. His production has slowed down from the elite pace that he was on in April, but he has proven that he's here to stay and that his performance is for real.     Middle of the Pack Clay Buchholz (MIA/ATL) Matt Harrison (@SD/COL) Wade Miley (SEA/CHC) Matt Garza (@CHW/@ARI) Mat Latos (@CLE/MIN) Scott Diamond (@PIT/@CIN)   Buchholz has turned around what had been a disastrous season around with a string of excellent pitching performances, striking out at least six while limiting his opponents to two earned runs or less in each of his last four starts. Buchholz was excellent in 2010 and 2011 before seeing his season end early last year due to a stress fracture in his back. He appears to be back on track and should be picked up in all leagues where he's still available. Harrison has quietly put together a solid season and has a 3.54 ERA to accompany his eight wins. He has put together five straight quality starts and is currently riding a 16.33 scoreless innings streak. He gets a dream matchup at Petco Park and then faces the Rockies at home.   AL/NL Only
Aaron Harang (@OAK/@LAA) Randy Wolf (TOR/@CHW) Mark Buehrle (@BOS/TOR) Jonathan Sanchez (@HOU/STL) Henderson Alvarez (@MIL/@MIA) Derek Lowe (CIN/@HOU) Jason Marquis (TEX/SEA) Jerome Williams (SF/LAD) Kevin Correia (MIN/DET)   You can't possibly be THIS desperate for a two-step? Hector Noesi (@ARI/@SD) Tommy Milone (LAD/SF) Mike Minor (@NYY/@BOS) Rick Porcello (STL/@PIT) Jake Arrieta (@NYM/WSH) Chien Men Wang (TB/@BAL) J.A. Happ (KC/CLE) Josh Outman (@PHI/@TEX)   Single-Start Pitchers   Top 30 1. Clayton Kershaw (@OAK) 2. Justin Verlander (STL) 3. Stephen Strasburg (TB) 4. C.J. Wilson (SF) 5. Zack Greinke (@CHW) 6. Gio Gonzalez (TB) 7. Cliff Lee (TB) 8. Madison Bumgarner (@OAK) 9. Chris Sale (CHC) 10. Felix Hernandez (@SD) 11. Adam Wainwright (@KC) 12. Dan Haren (SF) 13. James Shields (@PHI) 14. Ian Kennedy (CHC) 15. Colby Lewis (COL) 16. Josh Johnson (TOR) 17. James McDonald (MIN) 18. Johnny Cueto (MIN) 19. Brandon Beachy (@BOS) 20. Yovani Gallardo (TOR) 21. Johan Santana (BAL) 22. Andy Pettitte (@NYM) 23. Ryan Dempster (@CHW) 24. Matt Moore (@WSH) 25. Jordan Zimmermann (@BAL) 26. Yu Darvish (@SD) 27. Jon Lester (ATL) 28. Max Scherzer (@PIT) 29. Ryan Vogelsong (@LAA) 30. Hiroki Kuroda (ATL)   Down by the river stream (Pitchers owned in less than 30% of ESPN Leagues Last Week Jarrod Parker: W, 7 IP, 3 H, 0 ER, 1 BB, 6 K A.J. Burnett: W, 6.6 IP, 6 H, 2 ER, 4 BB, 2 K Phil Hughes: W, 6 IP, 6 H, 1 ER, 2 BB, 9 K Francisco Liriano: ND, 6 IP, 1 H, 3 ER, 4 BB, 6 K   This Week Trevor Cahill (SEA) Kevin Millwood (@SD) Francisco Liriano (@PIT) Wei-Yin Chen (WSH)   Trevor Cahill has taken care of business lately, allowing just two earned runs in his last 23.33 innings while posting a 20:8 K:BB ratio. He has seen his strikeout rate this year rise slightly thanks his switch over the NL and has quietly lowered his ERA for the season to 3.08. He is a solid streaming play against the light-hitting Mariners. Millwood combined with five relievers to no-hit the Dodgers in his last start Millwood has been excellent over the last month, giving up one earned run or less in five of his last six starts. He has dominated the likes of the Yankees, Rockies, Rangers, and Dodgers, so he should have little problem against to the punchless Padres. One note is that his latest start was pushed back to Saturday against he Giants due to a groin injury. Keep an eye on his injury, but if healthy he should be a solid play against San Diego next week. I touched on Liriano's renewed confidence in his slider in last week's article and he followed up by generating eight more swinging strikes on the pitch in last week's start against the Brewers. One concern is that he walked four batters – the most since rejoining the rotation. However, he gets the free-swinging Pirates this week who have the fifth most strikeouts in baseball this year. As always, Liriano has high potential this week, but he is not for the risk averse.
Original Story:
http://www.rotostars.com/quality-star...
PLAYERS:
RA Dickey
,
Matt Cain
,
Johnny Cueto
,
Tim Wakefield
,
CC Sabathia
,
David Price
,
Cole Hamels
,
Jake Peavy
,
Shaun Marcum
,
Clay Buchholz
,
Matt Harrison
,
Wade Miley
,
Matt Garza
,
Mat Latos
,
Scott Diamond
,
Aaron Harang
,
Randy Wolf
,
Mark Buehrle
,
Jonathan Sanchez
,
Henderson Alvarez
,
Jason Marquis
,
Kevin Correia
,
Hector Noesi
,
Mike Minor
,
Rick Porcello
,
Jake Arrieta
,
Josh Outman
,
Clayton Kershaw
,
Justin Verlander
,
Stephen Strasburg
,
C.J. Wilson
,
Zack Greinke
,
Gio Gonzalez
,
Cliff Lee
,
Madison Bumgarner
,
Chris Sale
,
Felix Hernandez
,
Adam Wainwright
,
Danny Haren
,
James Shields
,
Ian Kennedy
,
Colby Lewis
,
Josh Johnson
,
James McDonald
,
Brandon Beachy
,
Yovani Gallardo
,
Johan Santana
,
Andy Pettitte
,
Ryan Dempster
,
Matt Moore
,
Jordan Zimmermann
,
Yu Darvish
,
Jon Lester
,
Max Scherzer
,
Ryan Vogelsong
,
Hiroki Kuroda
,
AJ Burnett
,
Phil Hughes
,
Francisco Liriano
,
Trevor Cahill
,
Kevin Millwood
,
Wei-Yin Chen
TEAMS:
New York Mets
,
San Francisco Giants
,
Cincinnati Reds
,
Boston Red Sox
,
New York Yankees
,
Tampa Bay Rays
,
Philadelphia Phillies
,
Chicago White Sox
,
Milwaukee Brewers
,
Texas Rangers
,
Arizona Diamondbacks
,
Chicago Cubs
,
Minnesota Twins
,
Los Angeles Dodgers
,
Miami Marlins
,
Toronto Blue Jays
,
San Diego Padres
,
Pittsburgh Pirates
,
Seattle Mariners
,
Atlanta Braves
,
Detroit Tigers
,
Baltimore Orioles
,
Washington Nationals
,
St. Louis Cardinals
,
Los Angeles Angels
MORE FROM YARDBARKER
MLB News

Delivered to your inbox

You'll also receive Yardbarker's daily Top 10, featuring the best sports stories from around the web. Customize your newsletter to get articles on your favorite sports and teams. And the best part? It's free!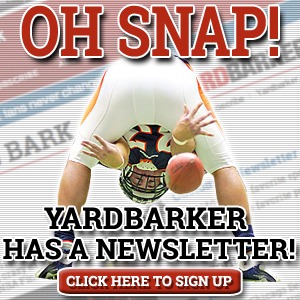 Latest Rumors
Best of Yardbarker

Today's Best Stuff

For Bloggers

Join the Yardbarker Network for more promotion, traffic, and money.

Company Info

Help

What is Yardbarker?

Yardbarker is the largest network of sports blogs and pro athlete blogs on the web. This site is the hub of the Yardbarker Network, where our editors and algorithms curate the best sports content from our network and beyond.