Found June 21, 2012 on StraitPinkie.com:
The National League All-Star starter should be one the games most unique pitchers the game has seen in a long time. R.A. Dickey isn't just having a good season for a knuckleballer but is having a great season for any pitcher. At 37 Dickey has as many wins,11, as he has had in any one season. He has thrown 3 complete games this season and has thrown back to back one hitters with his baffling 80 mph knuckle magic.
Dickey struggled through years in Texas after being drafted 18th overall in 1996. He was determined to be missing a ligament in his elbow that caused the Rangers great concern. He was still given a chance and made it to bigs in 2001. His career up to this point has been a mixed bag with Minor league success including 2007 Pacific League pitcher of the year and Major League control issues that have included most wild pitches in an inning (4). He spent some time in the Minnesota and Seattle system, including stints in the Majors but never lived up to the lofty draft selection.
In 2010, the New York Mets decided to give him a chance. It has paid off for the Mets and has allowed Dickey to blossom. He has started 72 games and compiled a 30-23 record with a 2.86 E.R.A. Even more staggering is that he is averaging over 6 strikeouts per 9 innings pitched to just over 2 walks, which is very difficult for a knuckle ball pitcher who has shown Rick Ankiel control in the past. His 2012 season has been mind boggling great posting a 11-1 record, an E.R.A. Of 2.00 and over 9 strikeouts per 9 innings pitched. He deserves to be the All-Star starter and I hope he continues his success.
Original Story:
http://www.straitpinkie.com/sports/pr...
THE BACKYARD
BEST OF MAXIM
RELATED ARTICLES
R.A. Dickey of the New York Mets has been about as dominant as humanly possible over the past few weeks, and it has put him in a spectacular position in the NL Cy Young race. R.A. Dickey's amazing start to 2012 has him leading Cy Young discussion in the National League. Dickey has been extremely impressive over his past several starts, baffling batters with his unhittable...
Over the last six weeks, R.A. Dickey has established himself as the best starting pitcher in baseball, stringing together one of the more successful runs of any pitcher in history. His specialty, of course, is the knuckleball, which puts far less stress on his arm than conventional pitches do. In theory, then, the Mets could use Dickey more often than once every five games, which...
1995 SUMMIT BRET SABERHAGEN R.A. Dickey is on track to have one of the seminal pitching seasons in Mets' history, one to rank right up there with '69 Seaver, '85 Gooden, and '88 Cone. A lesser man might be tempted by Dickey's initials to call his season-in-progress "rad"– but you'll get none of that from this dude… But Dickey's stellar performance has led me...
Yeesh. Coverage of the Subway Series' upcoming marquee matchup – CC vs RA - is like watching a reality TV show from Death Row. Right now, if R.A. Dickey only throws a shutout, he'll be a failure. Today's NYT remembers the Hoyt Wilhelm no-hitter – last pitcher (a knuckleballer) to throw one against us (if you discount the team of Astros a few years back, which disgraced...
So Squawker Jon and I will be at Friday and Sunday's Subway Series games. Sunday, in particular, looks to be shaping up as a great matchup, what with R.A. Dickey facing CC Sabathia. And just in time for the Subway Series, a Met has said something dopey and ridiculous.I am not talking about closer Frank Francisco telling the New York Post that "I can't wait to face those...
Welcome back to the Waiver Wire Watch.  I'm sure I'm not the only person this week that is in complete awe of what R.A. Dickey has been able to do over his last two starts.  Back-to-back one-hitters while striking out a combined 25 batters?  Are you kidding me? Dickey has been absolutely unbelievable this year, and it looks like the National League has a pretty good chance...
Yes, Tony La Russa is considering Mets right-hander R.A. Dickey to start the All-Star Game.
Today I'm going to canvas starting pitchers focusing on five hurlers who made starts Sunday. Are any of the hurlers options you would benefit from having on your roster the rest of the season, or would you be better off if you sent them packing right now in a deal if their currently taking up one of your roster spots? Josh Johnson: 4-5, 4.18 ERA, 1.46 WHIP In his last eight...
The Factor12 Rating (F12) is an analytic measurement utilizing league average performance to compare the value of all MLB pitchers. (1) R.A. Dickey flutters into the number one spot this week after twirling his second consecutive one-hitter.  The knuckleball specialist has not allowed an earned run over his last 42 innings pitched.  The 37 year-old leads MLB with a 31.172 Factor12...
I am no Steve W. Sparks. OK, fellas, now I'm ready to talk about how a journeyman pitcher has taken over the world with the use of his trusty knuckleball.  RA Dickey!  What a story.  As I mentioned on Monday, I just finished his autobiography last week and it is a really good book and story.  He was molested multiple times as a child.  He carried that burden for over 20...
<span style="font-family: "Arial","sans-serif";">First off, let's be straight: <span style="font-family: "Arial","sans-serif";">Defeat is chickenhood.<span style="font-family: "Arial","sans-serif";">If a Met calls you "chicken," and then beats you… well Clucky, you...
Ask any fan of the New York Mets where they thought their team would be on June 21, and they would have said dead last. Instead, the New York Mets are in second place in the NL East, three games behind the Washington Nationals, and six games over .500. Perhaps even more surprising than that is the fact that the divisional front-runners, the Phillies sit in last place...
MLB News

Delivered to your inbox

You'll also receive Yardbarker's daily Top 10, featuring the best sports stories from around the web. Customize your newsletter to get articles on your favorite sports and teams. And the best part? It's free!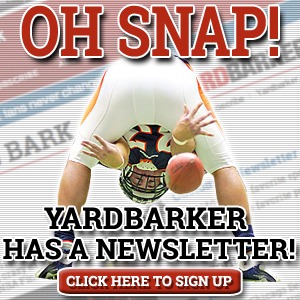 Latest Rumors
Best of Yardbarker

Today's Best Stuff

For Bloggers

Join the Yardbarker Network for more promotion, traffic, and money.

Company Info

Help

What is Yardbarker?

Yardbarker is the largest network of sports blogs and pro athlete blogs on the web. This site is the hub of the Yardbarker Network, where our editors and algorithms curate the best sports content from our network and beyond.