Found December 24, 2012 on Larry Brown Sports:
Professional baseball may be nothing more than a business to certain players, coaches and ownership groups, but it seems safe to say it means a bit more to NL Cy Young Award winner R.A. Dickey. The knuckleballer bounced around from team to team during his nine-year MLB career, but the New York Mets were the first one to give him a chance to prove himself as a full-time starter. It's safe to say Dickey exceeded expectations. In three seasons with New York, Dickey compiled a 39-28 record and an impressive 2.95 ERA. He struck out 230 hitters last season and made his first All-Star appearance at the age of 37. The Mets traded the right-hander to the Toronto Blue Jays last week, which inspired Dickey to write a heartfelt letter for the NY Daily News thanking his former team and the fans of New York. Here is a sample: I never expected to be writing a farewell "holiday card" to Mets fans. I never expected to be doing anything but celebrating the joy of the season with my wife and kids and ...
Original Story:
http://larrybrownsports.com/baseball/...
THE BACKYARD
BEST OF MAXIM
RELATED ARTICLES
SAYING GOODBYE
Reigning Cy Young Award winner R.A. Dickey was recently traded to the Blue Jays, so he wrote a farewell message to Mets fans.
R.A. Dickey pens bittersweet farewell to the team and city that gave him a 'chance'
So if you had not heard by now, RA Dickey took the time to write a farewell message to the Mets fanbase recently. Being a humble and classy man, he was met with emotional goodbyes and people wishing him well. You would be hard pressed to find any fan out there had a negative opinion of Dickey. I have had some time to think about the whole thing…and I have come to a conclusion on...
It's that time of year once again. Time to open presents and fake being exceptionally pleased by the gesture of a loved one, even if the gift is below expectations. It's supposedly the thought that counts. This time of year, I am reminded of the many acquisitions our beloved New York Mets have given to us. There are some good, though I can't recall any at this particular time...
The Mayan Apocalypse has come and gone and the world is still here, which means it's time to start Christmas shopping. No doubt lots of you want to leave coal in the stockings of everyone related to the Mets but let's at least give the players something that they really need. With that in mind, here's what I think these guys need for the upcoming year: Mike Baxter – A RH...
The Mets are drafting 11th in the upcoming 2013 draft.  We have no shot at getting a compensation pick and I think I'd rant for days if Alderson jeopardized a pick by signing the wrong free agent.  So let us look at some of the names that may linger around through 10 picks to fall to the Mets. Players like Mark Appel, Ryne Stanek, Austin Meadows, Sean Manaea, Austin Wilson and...
Updated by HoJo on 12/23 Wallace Matthews of ESPN New York, reports that  while the New York Yankees remain interested in free agent Scott Hairston, he would prefer to return to the Mets where he believes he'd be able to log significantly more playing time. Hairston has been holding out for the Mets since the season ended, but they must be far apart on dollars or a reunion would...
The Blue Jays have turned over much of their team this winter, but they`re still depending on a bounceback season by Jose Bautista. Will they get it?
The Mets have not added a starting OF yet this off-season, unless you count Collin Cowgill, and with options dwindling, it looks like the Mets will have to look inwards for a lead off hitter, especially if the Mets bring in an OF that is a slugger not an on-baser. That means the Mets realistic options for lead off hitters for 2013 are: - Ruben Tejada - Kirk Nieuwenhuis - Collin Cowgill...
Last Tuesday, the Mets obtained outfielder Collin Cowgill from the Oakland Athletics for minor league infielder Jefry Marte. Honestly, I knew very little about Collin Cowgill and decided to do some research on him to quench my curiosity. Here is what I was able to learn about him as well as some input on Jefry Marte as well. My first stop was to Baseball America where I was hoping...
Outfielder Collin Cowgill – As good as it gets? Although finding a power hitter, particularly one who could man an outfield spot and bat righthanded, was one of the Mets top priorities this offseason, the strategy of waiting the market out has proved futile. Unless upgrading the outfield was never the priority that the front office wanted us to believe, lets call this a failure...
This isn't the blockbuster deal you have become used to from the Toronto Blue Jays, but it's one that could have a serious impact down the road.  Specialists out of the bullpen are not very highly regarded by the press or the fans but to a team in contention they are as valuable as anyone in the clubhouse.  Tony Davis a left-handed reliever with the Quebec Capitales of...
MLB News

Delivered to your inbox

You'll also receive Yardbarker's daily Top 10, featuring the best sports stories from around the web. Customize your newsletter to get articles on your favorite sports and teams. And the best part? It's free!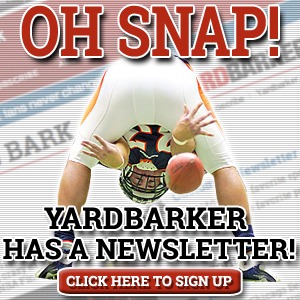 Latest Rumors
Best of Yardbarker

Today's Best Stuff

For Bloggers

Join the Yardbarker Network for more promotion, traffic, and money.

Company Info

Help

What is Yardbarker?

Yardbarker is the largest network of sports blogs and pro athlete blogs on the web. This site is the hub of the Yardbarker Network, where our editors and algorithms curate the best sports content from our network and beyond.