Found March 23, 2013 on Suicide Squeeze:
PLAYERS:
Hanley Ramirez
,
Don Mattingly
,
Luis Cruz
,
Tom Gordon
,
Adrian Gonzalez
,
Juan Uribe
,
Nick Punto
,
Carl Crawford
,
Josh Beckett
TEAMS:
Los Angeles Dodgers
,
Boston Red Sox
,
Chicago White Sox
The Dodgers' Opening Day plans took a big hit this week after shortstop Hanley Ramirez underwent surgery Friday to repair a torn ligament in his right thumb.   Ramirez suffered the injury earlier in the week playing for the Dominican Republic against Puerto Rico in the championship game of the World Baseball Classic.   The 29-year old is expected to miss eight weeks.   And while this would seem to feed into the opinions of those "I told you so" pundits who loath all things WBC, Ramirez and Dodger manager Don Mattingly weren't having  any part of that.   "It's something I can't control," Ramirez told reporters at the Dodger spring training camp in Glendale, Az.  "It could've happened anywhere. It could've happened here. It unfortunately happened in the WBC. It's very disappointing."   Added Mattingly, "You've got to go back to what the WBC is all about. Just because one of our guys gets hurt, doesn't change that," he said. "The tournament, to me, was great, totally cool."   So what's the Dodgers' next move? Who plays shortstop?   This is the part of the story that gets really ugly.   The choice at shortstop is between Dee Gordon and Luis Cruz.  Gordon was slated to return to Triple-A Albuquerque before Ramirez was injured.  After hitting .228 with 32 steals in 87 games last season, the 24-year old son of former Red Sox pitcher Tom Gordon is hitting only .226 in 31 at-bats this spring. He has 7 steals and has not been caught thus far.   Cruz played in 78 games last year with the Dodgers, 51 of those at third base.  He made the most of his time, hitting a career high .297 with six home runs and 40 RBI.  He's had a monster spring, hitting .309 with four homers, and hit .286 while playing for Mexico (with Dodger teammate Adrian Gonzalez) in the WBC.   Should Cruz end up playing short in Ramirez' absence, the Dodgers' options to start the season at third base are Juan Uribe, Nick Punto, and Jerry Hairston, Jr.   Told ya it was ugly.   Uribe just might be the most blessed man in baseball, having won World Series titles with the 2005 White Sox and the 2010 Giants. That last World Series year was Uribe's best, as he attained career highs in homers (24) and RBI (85). The Dodgers were dumb enough to sign him to a 3-year, $21 million contact prior to the 2011 season and for all that cash, he's played all of 143 games in two seasons, hitting .199 with 6 homers and 45 RBI.   Punto came over to the Dodgers last season in the blockbuster trade with the Red Sox along with Gonzalez, Carl Crawford and Josh Beckett. The 35-year old native of Southern California is a .247 lifetime hitter over 12 seasons. Hairston Jr. is the prime example of a utility player. The 36-year old played six different positions in 78 games with the Dodgers in 2012, hitting .273. The Dodgers are his ninth team in 15 years.   Hurry up and heal fast, Hanley.    This article has been read (17) times
Original Story:
http://thesuicidesqueeze.com/?p=1115
THE BACKYARD
BEST OF MAXIM
RELATED ARTICLES
The legend of Yasiel Puig continues to grow, and speculation that he will start with the year with the Dodgers went from 0% just a week ago to … something non-0% recently, though the long-term question remains where he'll end up playing for the team even if he does live up to the hype. Sure, Carl Crawford is out for a week or two (or a month) and he could get injured again, but...
Shortstop Hanley Ramirez of the Los Angeles Dodgers suffered a torn ligament in his thumb and will miss the next two months of action. His blow not only impacts the Dodgers, but fantasy owners as well at a position that is often times hard to find top tier talent at. For his fantasy baseball ranking, I knocked him down from the second ranked shortstop to number 11 and he now has...
PHOENIX Adrian Gonzalez is being held out of the Dodgers lineup on Sunday after he was hit by a pitch in his right forearm the previous night. The move was described as precautionary. Its not enough to be on the medical report, Manager Don Mattingly said. Juan Uribe, who is nursing a tight hamstring, will be out of action for the second consecutive day. Carl Crawford, who played...
The Los Angeles Dodgers wanted Hanley Ramirez to be their Opening Day shortstop. That is not going to happen, because of an injury he suffered during the World Baseball Classic. Ramirez will have surgery on his right thumb Friday and will miss about two months, the Dodgers announced Thursday. "The MRI on Hanley Ramirez's right thumb indicates that the ligament that stabilizes...
On this episode of "Dugout Blues," Jared Massey (Dodger Diamond) and talk about the recent injury issues and one prospect who's dominating. This is another abbreviated episode. We'll return to a full show for episode 30. Hanley Ramirez is out for at least eight weeks with a torn ligament in his thumb. That's going to hurt the offense, but could improve...
Carl Crawford hit his first home run for Los Angeles and played left field for the second time since elbow surgery in the Dodgers' 7-4 loss to the Oakland Athletics on Sunday. Crawford, recovering from ligament-replacement surgery on Aug. 23, didn't make his spring training debut until March 17 and played left field for the first time on Saturday. He hit a solo home run...
I find it fascinating that few bring up the 1941 Brooklyn Dodgers when talking about the series of Dodgers teams that lost to the New York Yankees in the World Series. The Dodgers won the NL Pennant in 1947, 1949, 1952, 1953, 1955 and 1956, losing to the Yankees in 5 of the 6 World Series. When those Dodgers teams are talked about, much is said about Gil Hodges, Jackie Robinson,...
In the This Is My Nightmare series, we'll take a look at what the absolute worst case scenario for each team would be in 2013. Think of it as the negative complement to our You May Say I'm A Dreamer series that we'll be running during our preview series. The nightmare has already begun for the Dodgers with the news that Hanley Ramirez will miss eight weeks after...
  There is a measure of consolation for teams that lose players to injuries related to the World Baseball Classic - insurance from the WBC may cover those players' salaries if they miss time during the regular season.   In general, a player must miss at least 30 days for the coverage to apply, according to a major-league source. Once he misses at least 30 days, his salary for...
It's Friday and that means baseball on the Phil Naessens Show!  Reading Between the Seams is proud to continue our partnership and bring you in depth baseball information from the premier show across the world wide web! Phil is joined by Eric Pleiss from Knuckleballs Blog to talk about the Minnesota Twins Starting Rotation, Alex Hall from Athletics Nation joins us to discuss which...
March is fantasy baseball draft month, and with only a week left, leagues are beginning to finalize and finish their drafts. The fantasy baseball season officially kicks off on Opening Day, which is a little over a week away. Over the past week or two, a number of high caliber players have gone down. Here is some injury news to be aware of as you head into the final week of drafting...
MLB News

Delivered to your inbox

You'll also receive Yardbarker's daily Top 10, featuring the best sports stories from around the web. Customize your newsletter to get articles on your favorite sports and teams. And the best part? It's free!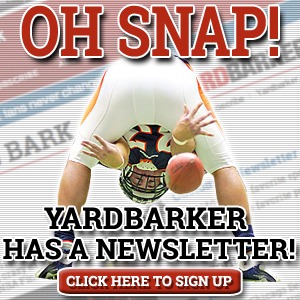 Latest Rumors
Best of Yardbarker

Today's Best Stuff

For Bloggers

Join the Yardbarker Network for more promotion, traffic, and money.

Company Info

Help

What is Yardbarker?

Yardbarker is the largest network of sports blogs and pro athlete blogs on the web. This site is the hub of the Yardbarker Network, where our editors and algorithms curate the best sports content from our network and beyond.