Found October 12, 2012 on Fox Sports Southwest:
PLAYERS:
Adrian Beltre
,
Josh Hamilton
,
Elvis Andrus
,
David Murphy
,
Craig Gentry
,
Albert Pujols
,
Ian Kinsler
,
Nelson Cruz
,
Mitch Moreland
,
Michael Young
,
Mike Napoli
,
Leonys Martin
,
Geovany Soto
,
Brandon Snyder
,
Yorvit Torrealba
,
Alberto Gonzalez
,
Jurickson Profar
,
Luis Hernandez
,
Luis Martinez
TEAMS:
Texas Rangers
,
Los Angeles Angels
,
Milwaukee Brewers
The Texas Rangers had an explosive offense when you look at the big picture. Texas ranked among baseball's best in all the sexy offensive categories batting average, home runs, runs scored, total bases. But if you looked at the individual players, those numbers didn't seem to add up all the time. The Rangers were also poor at situational hitting; failing to advance runners and getting them home from third with less than two outs. And as good as the club was defensively; statistically one of the best seasons in franchise history, there were also some glaring areas for concern. Here are the grades for the individual players. My grading system is simple. A's go to those who had excellent seasons, B's to those who were above average, C's to those who were average, D's to those below average and F's to those either need to give back the money they were overpaid or find a new city to play in. A 3B Adrian Beltre The star student for the Rangers this year, Beltre was not only the team's offensive most valuable player but was also once again the best third baseman in the American League. Beltre did everything from playing his best baseball when the rest of the team went into an offensive funk and played hurt, something the Rangers desperately needed down the stretch. B OF Josh Hamilton One of the toughest players to grade. He deserves an A for his April and May and an F for his summer. He didn't produce when the Rangers needed him the most and was a distraction in spring training, the middle of the season and at the end of it. If the grade were for off-field performance, it would be an F. But because of his production, and few could match his statistics, he gets the grade. He can't get a C because there was nothing average about his numbers. SS Elvis Andrus Andrus has career highs in doubles, triples and RBIs and may be the best shortstop in the American League. But Andrus may have tired down the stretch after also setting career highs in games played and at-bats. He started to argue more balls and strikes in September and hit just .233 in the final month. Andrus was again stellar in the field, giving the Rangers the best left side of the infield in baseball. OF David Murphy Murphy got more playing time this year than he ever has with the Rangers with manager Ron Washington's decision to start him against left-handers. He spent the final month of the season among the AL batting leaders but tailed off late. He had some key hits for the Rangers and finished with 15 homers and 61 RBIs. OF Craig Gentry At one point in April, Gentry had better power numbers than Los Angeles Angels star Albert Pujols. That of course didn't last but Gentry did stay with the big-league club for a full season for the first time. He ended up hitting .304 and was solid in the field. He saw his playing time decrease down the stretch as his outfield starts went to David Murphy. Still, for what was expected out of Gentry with the season started, he performed well. C 2B Ian Kinsler Still one of the most productive leadoff hitters in baseball, Kinsler didn't have a particularly productive season at the plate or in the field. It still was an average one by his standards and one that most other second baseman in the American League would take. Many fault Kinsler's effort, but body language doesn't equal effort. He scored more than 100 runs which is a leadoff hitter's job. He just wasn't as consistent as he has been in the past. OF Nelson Cruz The good news for Cruz was that he got through an entire season without being slowed by injuries, which is a first. But Cruz hit just .260 and set a career high for strikeouts. The Rangers kept waiting for Cruz to get on one of his hot streaks, but it never really happened. In 100 more at-bats than 2011, he had fewer homers and just three more RBIs. Once again, he made everything in the outfield interesting. 1B Mitch Moreland What we've found over the last three years is that Moreland is going to be a decent hitter against right-handed pitchers and not play much against lefties. So by that standard, his 2012 was average. His numbers were comparable to his 2011 numbers even though he had fewer ABs because of a hamstring injury. He hit just .239 against lefties but only had 46 at-bats. He was the best defensive option at first base but the other two were Michael Young and Mike Napoli. D C1B Mike Napoli He was on the verge of getting an F and that point could still be made. But Napoli is saved by a curve offensively. If you throw out last year's breakthrough season, 2012 wasn't awful by Napoli standards. But the bottom line is he was a .227 hitter who more than once in every three at-bats. Pitchers had a higher ERA when he was catching than any other catcher and he struggled to throw out baserunners (8 of 50). He also keeps himself from getting an F because he tried to play through an injury, which may have hurt his play. OF Leonys Martin You can't call Martin a bust yet because he's had just 54 at-bats with the Rangers in two seasons. But he failed to impress again this year, hitting just .174 in 46 at-bats. Martin is still just 24 but he's yet to have the kind of impact the Rangers had hoped for when they gave him a major-league contract last year. Maybe next year will be his breakout season. It wasn't this year. C Geovany Soto At least Soto was consistent. He hit poorly this year with the Cubs (.199) and carried that over with the Rangers (.196). But he did help the club when Mike Napoli went down with a quad injury. He was better than anything else the club could have put behind the plate. He threw out just 7 of 35 basestealers but the staff had a 3.90 ERA in games he caught. UTIL Brandon Snyder An argument could be made than Snyder could have earned a C based on expectations alone. But he gets the D because he didn't play well enough to stick with the club all year. Snyder hit .277 with three homers and nine RBIS, but had just one RBI in his final 27 at-bats before getting sent down and struck out 13 times. F Utility Michael Young There are no bonus points given for being the clubhouse leader, which Young still is. But even there, the clubhouse didn't have the same vibe as it has had the last couple of years. Just looking at sheer production, Young had an awful year. He was put in a production spot in the batting order for most of the year and didn't produce. A decent September doesn't make up for an awful April, May, June, July or August. The Rangers didn't pay him 16 million to produce like he did in 2002. C Yorvit Torrealba Anyone remember a big hit that Torrealba had in his time with the Rangers? Anyone remember a key play Torrealba made behind the plate. No the Rangers were right to designate him for assignment after trading for Geovany Soto. While Soto wasn't much of an upgrade over Torrealba, the bar was set extremely low. INF Alberto Gonzalez Harsh? Sure. But the Rangers thought enough to get rid of Gonzalez so he most of been failing. He only got 54 at-bats with the Rangers and hit a respectable .241. But it wasn't good enough to stick with the Rangers for an entire season. That's good enough for me. Incomplete 1B-3B Mike Olt It's hard to figure out which was harder for Olt to overcome, plantar fasciitis or manager Ron Washington's refusal to play Olt. He was supposed to get more playing time that he did when he was called up in August to play first and third. You can't just him on 40 at-bats, with just eight coming after Aug. 27. 2B-SS Jurickson Profar The Rangers didn't call him up to play every day and they made sure that was the case. Despite homering in his first at-bat, Profar got just 17 at-bats with the Rangers. The future is bright for baseball's top prospect. Just how soon that happens remains to be seen. INF Luis Hernandez Anyone remember the two at-bats Hernandez got this season for the Rangers? Neither do I. C Luis Martinez The third catcher for Texas, Martinez got just 18 at-bats this year for Texas. He did have two hits. All six basestealers who ran against him were successful.
Original Story:
http://www.foxsportssouthwest.com/10/...
THE BACKYARD
BEST OF MAXIM
RELATED ARTICLES
TAKE A DIP
Rangers head honcho Nolan Ryan questioned Josh Hamilton's decision to quit smokeless tobacco during the season, saying the timing "couldn't have been worse."
Texas Rangers reliever Mike Adams, who will be a free agent, will undergo surgery for Thoracic Outlet Syndrome Thursday in Dallas. Adams met with Dr. Greg Pearl yesterday and Pearl will perform the surgery. Adams missed the final five games of the season because of what was thought to be a mild neck strain. He was diagnosed with TOS Sept. 30. Adams went 5-3 with a 3.27 ERA for the...
Josh Hamilton said in June that he was attempting to stop his use of chewing tobacco. The process wasn't an easy one for the 2010 A.L. MVP and it probably affected his play. The Texas Rangers power-hitting outfielder also tried to kick the habit during the 2011 season. But was the timing right? According to a recent radio interview, Rangers president Nolan Ryan said it was...
Now that the season for the Texas Rangers has been over for almost a week and a lot longer in some peoples minds its time to hand out the report cards for the players. My grading system is simple. As go to those who had excellent seasons, Bs to those who were above average, Cs to those who were average, Ds to those below average and Fs to those either need to give back the money...
After losing a five-game lead with nine games to play, the Rangers enter what figures to be a very active offseason. The team that went to two consecutive World Series and held first place in the AL West for virtually all but the last day of the 2012 season is likely to change significantly. "I think it's a natural time to kind of reassess where we are, get back to what...
The Texas Rangers say reliever Mike Adams will have surgery for Thoracic Outlet Syndrome, a numbing sensation that sidelined him the last week of the season. Adams, who can become a free agent, is set for surgery Thursday in Dallas. The team said All-Star starter Matt Harrison had successful Lasik surgery Thursday. Catcher Mike Napoli, another pending free agent, is set to have...
Josh Hamilton's bat sat on his shoulder for the first strike. He fouled the second one off. He swung at the third delivery but missed, and in doing so unleashed pent-up boos from the Texas Rangers fans who once adored him. And so ended what had been a great baseball love story. This strikeout in the wild-card loss to Baltimore was his last at-bat as a Ranger. My man, Randy...
MLB legend, Rangers president says that kicking tobacco habit may have led to struggles.
The Texas Rangers have announced that right-handed reliever Mike Adams will undergo surgery for thoracic outlet syndrome next week, reports Anthony Andro of FOXsportssouthwest.com. Mike Adams will have surgery for TOS Oct. 18. — Anthony Andro (@aandro) October 12, 2012 Adams was diagnosed with thoracic outlet syndrome prior to the Rangers one-game Wild Card...
Texas Rangers president Nolan Ryan has criticized Josh Hamilton's decision to try to break his tobacco-chewing habit during the season, FoxsportsSouthwest.com reported Wednesday. Hamilton said in June that he was attempting to stop his use of chewing tobacco. Ryan said in a radio interview that he thinks that affected Hamilton's play. "His timing on quitting...
Given Josh Hamilton's production during his time with the Texas Rangers, critics would have been hard pressed to compare the outfielder to anyone else in the game.Thankfully, FOXSports.com's Jen Floyd Engel has some suggestions.Nobody will want to admit this, but Hamilton had quickly become the T.O. of the Rangers, a talented player whose production no longer justifies...
MLB News

Delivered to your inbox

You'll also receive Yardbarker's daily Top 10, featuring the best sports stories from around the web. Customize your newsletter to get articles on your favorite sports and teams. And the best part? It's free!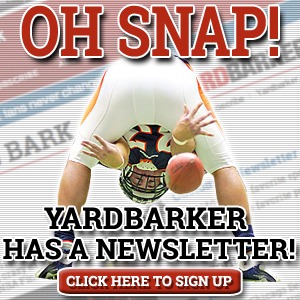 Latest Rumors
The Backyard

Today's Best Stuff

For Bloggers

Join the Yardbarker Network for more promotion, traffic, and money.

Company Info

Help

What is Yardbarker?

Yardbarker is the largest network of sports blogs and pro athlete blogs on the web. This site is the hub of the Yardbarker Network, where our editors and algorithms curate the best sports content from our network and beyond.