Found February 05, 2013 on Fox Sports Southwest:
A week from today the Texas Rangers pitchers and catchers will report to camp in Surprise. The Rangers are hoping the spring leads to a fourth-consecutive trip to the postseason but they'll have their work cut out for them after an uneven offseason. Texas general manager Jon Daniels talked with beat writers for nearly 40 minutes Tuesday about the state of the Rangers as they head to camp. Here are a few of his answers to questions. You've said you're prepared to go to camp with team you have despite what's available on free-agent market. Is that still your position? "I'm never going to 100 percent close the door on everything. I think it's our job to stay open minded and see if there's a way to improve the team. We are fully prepared and expecting to go to camp with the team we've got right now." How do you respond to those who've said you had a bad offseason? "A lot like people that give grades for the draft immediately afterwards or grade out the trade deadline on August 1. It doesn't matter what the review of the offseason is. It matters what happens during the season. What I'm excited about with this club is all the things we've talked about for years, we like the core of this team, recommitting ourselves to pitching, to the athletes, to giving our young guys a chance, to finding the right guys to fit the club, to finding the right veteran presence. We were able to build off our core and extend a guy like Matt Harrison that fits and to find some of the unique right fits for us in (Lance) Berkman and (Jason) Frasor and (A.J.) Pierzynski and (Joakim) Soria and (Josh) Lindblom and some of these guys. I'm excited about that. I genuinely like our chances." So you don't have any regrets or second guessed yourself? "No. I don't. I think part of our business is you're constantly evaluating and constantly making decisions. The number one thing for us is we really like the core of this club and where it's headed. We didn't want to do anything to disrupt that. We wanted to find some pieces that fit and we think we did. There were a couple of other guys; obviously we were involved with (Zack) Greinke and some other guys. It ultimately got the point where for the price it would have taken us to get them here we just weren't comfortable. You make those decisions and you move on. I'm proud of the work our scouting staff's done, our development staff's done to put in position to even consider some of those things and our ownership group for supporting us. But at the moment in time it wasn't meant to be and that's okay." With the roster you take to camp, what area to you feel like you'll improve the most in over last season? "I'm genuinely excited about our starting rotation. I think (Yu) Darvish in his second year, understanding the adjustments he has to make and what the league is about, the schedule, all of those things that were question marks, he's answered. He's hungry to do better. To see Matt Harrison operate at that level and continue to improve, I know he's hungry. Derek Holland feels like he has something to prove. He feels, and we feel he has more. He's committed to that and trying to stay focused and really kind of eliminate some of the other distractions. And then (Alexi) Ogando we saw what he was capable of in the first half of 2011. To have him build off that. We've got Colby (Lewis) coming back and we've got some young talent competing for that fifth spot. Our rotation is something I'm looking forward to seeing come together." How much different do you expect things to be for Darvish this spring? "I think Yu was as advertised. We had lofty expectations. We thought he was a real deal guy and he was. I'm really proud of him how he made some adjustments at different points physically and probably even more impressively mentally in the middle of the grind. He was able to figure out some things for himself. I think there's still going to be a lot of attention on him but maybe the circus atmosphere will have dissipated some. I'm hoping he has a little more space to breathe and focus on his craft." You've got a lot of new arms in the bullpen. Do you feel like you've got to find roles? "I think there's going to be a lot of competition. There's a good amount of competition for a couple of spots for position players. There's quite a bit of competition in our bullpen. (Joe) Nathan and (Jason) Frasor will be there. (Robbie) Ross, unless he's the fifth starter, I would expect to be there. Then you've got a few guys with more experience than some of the others. (Josh) Lindblom and (Tanner) Scheppers and (Michael) Kirkman will be in the mix. Everybody's going to compete for a spot outside of Nathan and Frasor." Do you need to re-emphasize baserunning and situational hitting? "Wash and I have talked about that some, just the idea of getting back to that aggressive approach. That's a mental thing but it's also the way we play the game. It's about making the opponent react to what we're doing which was something that was a huge part of our game. It was still last year, but I think to a lesser degree. I think personnel wise with some of the athletes and the versatility and the young players we've got in camp there's a real opportunity to get back to what Wash and the staff is great at, and that's teaching. I do think that's something we're going to talk about and you're going to see."
Original Story:
http://www.foxsportssouthwest.com/02/...
THE BACKYARD
BEST OF MAXIM
RELATED ARTICLES
The Texas Rangers are heading to Arizona next week with expectations that outfielder Nelson Cruz will be with the team. Cruz's name surfaced in a report on performance enhancing drugs in a Miami clinic. The report said Cruz bought 4,000 in PEDs. Last week Cruz denied the allegations through his lawyers. Texas general manager Jon Daniels sees Cruz as his right fielder but...
Texas Rangers pitchers and catchers report to Surprise, Ariz., next Tuesday and the return of baseball can't come soon enough for Texas fans. It's been an interesting offseason since the Rangers were bounced in the American League wild-card game by Baltimore last year. Josh Hamilton is gone. Michael Young too. So is Mike Napoli. A.J. Pierzynksi is now a Ranger. And Joakim...
The Texas Rangers will go to spring training with the expectation that Nelson Cruz will be their right fielder. Cruz was among several players named in a story last week by an alternative newspaper in Miami, alleging they used banned performance-enhancing drugs. Major League Baseball is investigating and has asked the Miami News Times for records it obtained for the story. Rangers...
Brandon Webb, who won the NL Cy Young Award in 2006 and was one of the top pitchers in baseball before being beset by arm injuries, is retiring. The right-hander's agents, Mike Montana and Jonathan Maurer of Millennium Sports Management, confirmed Monday night that Webb was calling it a career. ''He has worked so hard over the past three years to come back but his shoulder...
The Texas Rangers had what some may consider a rough offseason with the departure of slugger Josh Hamilton and fan-favorite Mike Napoli while failing to sign any big free agent names like former American League Cy Young Award winner Zack Greinke. Now the club also awaits news on a possible suspension for outfielder Nelson Cruz being linked to a Miami clinic that allegedly supplied...
The Texas Rangers selected sidearming right-hander Coty Woods in this offseason's Rule 5 Draft, and the reliever will get a chance to crack the Rangers' bullpen in spring training. Lone Star Dugout takes a look at the 24-year-old prospect with an in-depth scouting report.
Former catcher Ivan Rodriguez, one of the best Texas Rangers of all time, may have a presence in spring training with the Rangers this year. Rodriguez announced his retirement from baseball last year in Arlington after 21 years in the majors, 13 of which were with the Rangers. "That is something that we're working on," Texas Rangers general manager Jon Daniels said...
Brandon Webb has decided to retire from baseball. His agents, Jonathan Maurer and Mike Montana of Millennium Sports, broke the news to ESPN's Jerry Crasnick, making it known that the 33-year-old will not pursue another comeback. "With retirement, Brandon looks forward to focusing on more time with his family,'' the statement said. "He would like to...
With Johnny Manziel, the Heisman Trophy winner, eligible to play another three seasons at Texas A&M, it's hard to imagine another top-rated quarterback recruit signing on with the Aggies. Southlake Carroll's Kenny Hill heard all the same doubts, and still plans to sign with Texas A&M on Wednesday, the first day high school athletes can sign national letters of intent...
FOXSports.com Former Diamondbacks ace Brandon Webb, the 2006 National League Cy Young Award winner, is officially retiring from baseball, according to his agents. Webb, 33, announced his retirement Monday in a statement released by agents Jonathan Maurer and Mike Montana. "With retirement, Brandon looks forward to focusing on more time with his family," the statement...
Former Arizona Diamondbacks starting pitcher Brandon Webb is retiring at age 33, according to his agents. Webb hasn't pitched in the majors since starting on Opening Day 2009 for the Diamondbacks. He won the NL Cy Young award with Arizona in 2006, and was the runner-up in both 2007 (won by Jake Peavy) and 2008 (won by Tim Lincecum), making the NL All-Star team in all three of...
Rangers News

Delivered to your inbox

You'll also receive Yardbarker's daily Top 10, featuring the best sports stories from around the web. Customize your newsletter to get articles on your favorite sports and teams. And the best part? It's free!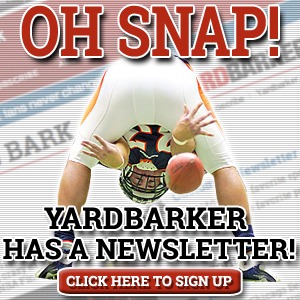 Latest Rumors
The Backyard

Today's Best Stuff

For Bloggers

Join the Yardbarker Network for more promotion, traffic, and money.

Company Info

Help

What is Yardbarker?

Yardbarker is the largest network of sports blogs and pro athlete blogs on the web. This site is the hub of the Yardbarker Network, where our editors and algorithms curate the best sports content from our network and beyond.