Found May 08, 2012 on B-More Birds Nest:
Wow. That one word pretty much sums up that past road trip for the Orioles. After taking their fourth consecutive L against division rival New York to start the 6 game trip, the frustration of being able to squeak out wins against lesser competition but never really being able to compete against powerhouses such as Boston and New York began to build in the minds of Orioles faithful. Was this just another great start that they would squander when it was do or die time against two of the annual playoff contenders (well almost annual, sorry Boston) or would they finally rise to the occasion and show these big boy clubs that they mean business? The Orioles stepped up to the plate and delivered, literally and metaphorically, going 5-1 on the trip including a sweep of the Boston Red Sox. I would have been happy if the Os would have gone 3-3 on this trip. I'm not about to get greedy when this club is playing some amazing baseball after 14 years of losing. Ultimately, 82-80 works for me. So what happens now? After watching our bullpen completely exhaust itself in Boston the O's desperately needed a 6 or 7 inning start from Brian Matusz against the reigning AL champion Texas Rangers to give our relievers a much needed rest. Unfortunately, Matusz couldn't get past the 6th inning – actually, he couldn't even get an out in the 6th which would force Buck to bring in reliever Stu Pomeranz, just called up from Norfolk earlier in the day. "Stuuuuuu" as the OPACY crowd quickly came to know him, pitched 3 scoreless innings for the Birds. Things got ugly when Jason Berken came into pitch the final inning for the Orioles as he gave up 7 runs on 6 hits. Its tough to watch guys like Matusz and Berken get slaughtered as bad as they did. I honestly want both of them to be successful and be a part of this club. Matusz has been one of the more confusing players to watch develop. He got rushed into the majors and found early success but eventually fell of due to a shattered confidence and injury. One inning he will show us he is the the lefty ace we so desperately wanted him to be and then the next inning the wheels come off and he looks like another failed prospect that the team rushed through the farm system. I'm pulling for this guy. I really am – I want our ball club to be a contender and be successful. In a perfect scenario Matusz is a big part of that happening but right now he just doesn't have the confidence it seems to bounce back after giving up a run or two which leads to the implosion we have seen far to0 many times for a starter at the major league level. I'm not about to panic though; why should I? So arguably one of our weakest starters gets lit up by one of the best teams in baseball, The Rangers aren't the twice repeating American League Champions for nothing. This season is a marathon not a sprint – the good clubs are the ones who get shelled one night and then bounce back from it and I think this club is more than capable of bouncing back. With the bullpen getting a full day's rest and Jake Arrieta set to pitch tonight I think we stand a pretty good chance. In a worst case scenario Arrieta can take us deep enough to give our relievers another day off and prevent us from dipping into the bullpen too early. So stay positive Oriole fans and get out to the yard at some point during the homestand to cheer on our guys, Ill be there and you should too!
Original Story:
http://feedproxy.google.com/~r/bmoreb...
THE BACKYARD
BEST OF MAXIM
RELATED ARTICLES
The Orioles had the highlight of the weekend. No, not Chris Davis pitching, but this: [Not sure where this originated, but I discovered it via Ryan Hudson] The Orioles should be feeling really good. Prior to the season the usual trio of the Yankees, Red Sox, and Rays were considered the contenders for the American League East, with the Blue Jays perhaps as the upcoming outsider...
Nick Johnson needs a typical Nick Johnson season to secure his legacy. Not as an injury-prone first baseman — that's his other legacy — but as an on-base machine. The 33-year-old left-handed hitter came into the year as one of fewer than 60 players in history [minimum 3,000 plate appearances] with a career OBP of .400 or better. Now with the Baltimore Orioles, Johnson was right...
From the good folks at the Baltimore Orioles... *** Orioles Introduce "Birdland Passport" Program The Orioles today unveiled the BIRDLAND PASSPORT program, which will reward fans who visit Oriole Park at Camden Yards and the Orioles' local minor league affiliates. All five minor league affiliates – the Norfolk Tides, Bowie Baysox, Frederick Keys, Delmarva Shorebirds...
The magic for the Orioles did not manifest itself tonight against the Texas Rangers in the start of their four-game set. After yesterday's win, everyone in the region was happy about the Orioles' recent run and were hoping for it to continue against the formidable Rangers; however, baseball can be a humbling game. There were no miracle comebacks, dazzling pitching performances...
From the folks at the Baltimore Orioles: *** The Orioles have announced new promotions to accompany the free MLB.com At the Ballpark application at Camden Yards during the 2012 season. At the Ballpark offers mobile check-in, social media, special offers, rewards and exclusive content for anyone with an Android or iOS device. Incentives for fans to "check-in" using At...
What a weekend at Fenway for the Birds. Not only did they complete their first 3-game sweep in Beantown since way back in 1994, but the way they did it on Sunday afternoon was something that O's fans will never forget. It took 17 innings, both teams using position players to pitch, a huge relay throw from J.J. Hardy to Matt Wieters, Wieters subsequently blocking the plate and flashing...
BALTIMORE (AP) -- Wednesday night's game between the Texas Rangers and Baltimore Orioles has been postponed by rain. The game was delayed for more than an hour before officials decided on the postponement. It will be made up as part of a single-admission doubleheader on Thursday beginning at 4:05 p.m. The second game will not start before 7:05, the starting time of Thursday...
Fresh* of taking 5 of 6 in New York and Boston, the O's come home to face off against probably the best team in baseball.* Actually, probably not very fresh at all, given the marathon yesterday.The Good: Stu Pomeranz was called up before the game to add some depth to the weary bullpen (32 K's to 2 walks in 19 minor league innings this year). I was impressed with what...
The Baltimore Orioles defeated the Boston Red Sox in a 17-inning marathon at Fenway Park yesterday afternoon, 9-6. Managers Buck Showalter and Bobby Valentine were required to go deep into their bullpen, and had to look outside it for help. After both skippers used 8 pitchers on their roster, they went to position players to [...]
Getting this one up a little late today due to the extremely busy news day....sorry about that. By the time you're reading this, the first game in the series will have already begun (and possibly concluded), so we'll see how accurate my analysis is pretty quickly, right? Anyway, there is a very weak slate of games going during this week. There are a total of four series between...
MLB News

Delivered to your inbox

You'll also receive Yardbarker's daily Top 10, featuring the best sports stories from around the web. Customize your newsletter to get articles on your favorite sports and teams. And the best part? It's free!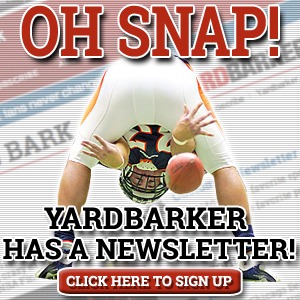 Latest Rumors
Best of Yardbarker

Today's Best Stuff

For Bloggers

Join the Yardbarker Network for more promotion, traffic, and money.

Company Info

Help

What is Yardbarker?

Yardbarker is the largest network of sports blogs and pro athlete blogs on the web. This site is the hub of the Yardbarker Network, where our editors and algorithms curate the best sports content from our network and beyond.