Found April 10, 2013 on Losers Bracket:
This week Josh Hamilton was booed relentlessly in his return to the Texas Rangers where he had spent most of his baseball adult life.  He signed this off season with the Angels for $125 million.  On his exit from the franchise he said about the Rangers fans, "They just are not a baseball town."   In a Don't Mess with Texas return he strikes out at his first at bat.   It's complicated though, he lives in Texas, he is a recovering drug addict and he played off the charts with the Rangers as they ascended back to baseball dominance.  He genuinely felt, well human, as boos reigned down.  It was REALLY uncomfortable.  The media loved it.   Oh, haven't we heard these same boos before… Of course we have.  The King left his hometown and his franchise the Cavs.  He moved his talents to South Beach with a special made for prime time announcement.  Oh, it was ugly.   But I still heard these boos once before much closer to home… In the confines of the frozen tundra, Brett Favre returned with the Minnesota Vikings and in Brett's words, "to get back at the Packers" after a messy divorce.  I was at that game in my Judas Favre jersey.  I have never heard anything like it.  Ever.  The vehement booing seemed to echo into the outer regions of every molecule in the building.   And a guy that was in Texas said basically the same thing.  Here's a link on the old Judas Favre t-shirt empire.   Please rank your best boo on the poll below, after you watch the boo videos for yourself. The Hamilton relapse Click here to view the embedded video. The King Returns to Akron Click here to view the embedded video. Judas comes to Lambeau Click here to view the embedded video. Ok, time to vote losers.  If you have a better boo…please comment below. Note: There is a poll embedded within this post, please visit the site to participate in this post's poll. – Roste Beefe.  Roste was never booed, but was mocked for wearing green shoes with red laces for a Holiday Basketball Tournament by an eager Waupan/Campbellsport crowd.  
Original Story:
http://losersbracket.com/2013/04/rank...
THE BACKYARD
BEST OF MAXIM
RELATED ARTICLES
Want to win a Josh Hamilton Louisville Slugger bat? Tweet us a picture of your baseball bat and show us why youre in need of an upgrade using hashtag LouisvilleSluggerUpgrade. Then, tune-in to Angels Live on Sunday at 12:30 p.m. to see if you are one of the two winners chosen at random to win an authentic Hamilton bat straight from the factory in Louisville.
When the Angels signed Josh Hamilton I knew it was going to be tough. Tough on Hamilton to meet expectations. Tough on the front office to prove signing Josh was a smart decision. Tough on the fans to embrace a former enemy. Tough on me just to figure out how to deal with Hamilton's presence and all that comes with it. As a general rule, I try and keep my own personal opinion...
Is Josh Hamilton a keeper? He is a bust? Or is it too late to proclaim? If you have been following my fantasy baseball woes, I traded Ryan Braun for Steven Strasburg and Josh Hamilton before the season started. Sure, Braun was named the 2011 National League Most Valuable player. Strasburg was named the Opening Day starter and Josh Hamilton can hit homeruns in his sleep. Strasburg...
Josh Hamilton's first series at the Ballpark in Arlington as a member of the Los Angeles Angels over the weekend went pretty much as scheduled. Texas Rangers fans booed him mercilessly and pretended to be reading newspapers while he was introduced. Then, there was reportedly an incident where Hamilton's wife and children needed to request additional security because some Rangers...
The April 9th, 2013 edition of daily news for the Los Angeles Angels including Hamilton says he'd 'suck anywhere right now,' Weaver a giant red flag and much more... The Story: Josh Hamilton says "he'd suck anywhere right now." The Monkey Says: He's trying to deflect but the other quotes suggest he is still very bothered by all of this. He not...
This last series in Texas reminded me of something: Angel fans no longer have anyone to boo! Just look at all the fun those Texas fans had booing Josh Hamilton. Down by five runs? Texas Ranger fan don't care, just boo Josh Hamilton. And let's face it, with the way things are going for the team right now, we really need someone to boo, if only to blow off some steam. Of...
The big-budget Los Angeles Angels are off to another low-rent start, going 2-4 away from Anaheim in the first week of the season. The Angels all realize they've got to fix it before they fall into the same type of hole that doomed them last season. Los Angeles plays the AL's final home opener Tuesday night against the AL West champion Oakland Athletics. The Angels began...
By Tad Dixon, AngelsWin.com | STNTV  - The LA Angels opened 2013 with a win, but lost 4 of the next 5 after that. On the bright side, backstop Chris Iannetta put up the kind of numbers in a week that Jeff Mathis would take half a season to compile. Unfortunately the big bats came up small. When asked about his struggles against his two former teams (Red and Rangers) Josh Hamilton...
By Brian Waller, AngelsWin.com Staff Writer -  I personally could not have imagined a rougher start to the season for the Angels in 2013. Not only did they go 2-4 against the Reds and the hated Rangers but the team's big offseason addition, Josh Hamilton, was basically a flop against both his former teams. The cherry on top of this turd sundae however has to be the news that...
MLB News

Delivered to your inbox

You'll also receive Yardbarker's daily Top 10, featuring the best sports stories from around the web. Customize your newsletter to get articles on your favorite sports and teams. And the best part? It's free!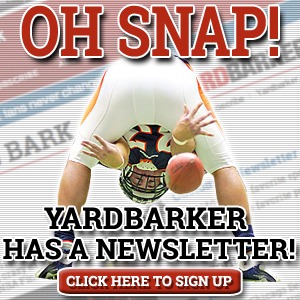 Latest Rumors
The Backyard

Today's Best Stuff

For Bloggers

Join the Yardbarker Network for more promotion, traffic, and money.

Company Info

Help

What is Yardbarker?

Yardbarker is the largest network of sports blogs and pro athlete blogs on the web. This site is the hub of the Yardbarker Network, where our editors and algorithms curate the best sports content from our network and beyond.