Found May 30, 2013 on The Rhino and Compass:
The Twins have faced the Milwaukee Brewers this week in their rivalry series. The Brewers this season has been woeful but they have had one very bright spot: Carlos Gomez is finally having his long awaited breakout. Gomez is in the first year of a new three year contract and is hitting .330 with 10 home runs, in addition to his blazing speed and quality defense, he has been the best player on the Brewers this year, and one of the best in baseball so far this year. If you look simply at FanGraph's WAR, then indeed, Gomez HAS been the best in baseball. Of course, the Twins can look at Gomez and wonder what might have been. Is this another "David Ortiz" situation, where the Twins let go of an elite prospect too early, before they had a chance to break out? What might have been? Take heart, Twins fans. There was a lot that went wrong in the past several years, and Bill Smith made a lot of mistakes in his tenure, but this whole Carlos Gomez situation wasn't among the most egregious. There are a few reasons for this. 1) As I said, Carlos Gomez is in the first year of a new contract. His rookie/arbitration salary would have expired after last year. It was arguably his best year, too. He hit .260 and only ended up on base 30% of the time. That's not exactly the stuff extensions are made of, especially for the Twins, and especially because… 2) The Twins had Denard Span and Ben Revere in the system already. After his ugly 2 years in Minnesota, and his ugly first 2 years in Minnesota, Revere and Span likely would have taken the two outfield spots as they did this year anyway. Not only would Gomez not have re-signed here, he likely wouldn't have brought back any more trade value than the Twins received when they moved him. 3) As it worked out, the Twins likely maximized value on all three of their system center fielders. Gomez likely would have seen his value plummet, so acquiring a starting shortstop was a good move. This also let Span and Revere see the field regularly, which allowed their respective profile and value increase to the point that both Span and Revere meant 2 top pitching prospects and a major league starter came back to Minnesota. Now, if you really want to be upset about the Carlos Gomez situation, be upset that the Twins traded JJ Hardy for virtually nothing and turned their middle infield into a white hot mess. Congratulations to the likable Gomez finally figuring it out.  
Original Story:
http://ryanhenning.com/?p=6117
THE BACKYARD
BEST OF MAXIM
RELATED ARTICLES
One of if not the coolest play for a team on offense has to be the home run. There is just something about being able to stand there and slowly jog to first as you watch the ball head into the stands. Of course when it comes to defense the coolest play has to be stealing a home run by making the last second grab before it clears the fence. Like Minnesota's Aaron Hicks did...
(Image: Benny Sieu-US PRESSWIRE) Jim Souhan of the Minneapolis Star Tribune had an excellent piece Tuesday about Carlos Gomez and his emergence as an All-Star caliber player in 2013, in which Gomez attributes his success largely to the lack of restraint on his swing and approach to the plate.  Gomez, a former Minnesota Twin, found that swinging harder rather than swinging calculatedly...
A sigh of relief likely came from the Milwaukee Brewers dugout when Alfredo Figaro walked off the mound Tuesday night after giving them five innings in a spot start. Sure, three home runs and four earned runs wasn't the ideal final line, but Figaro gave the Brewers the innings they desperately needed. By the time the final out of Tuesday's game was recorded just before...
MILWAUKEE -- If one loss could sum up one of the worst months in Milwaukee's franchise history, Tuesday night's setback was it. Through all the positives - and there were positives - the Brewers just couldn't find a way to win. A base hit away a few times from securing a win that possibly could have been the one needed to jump-start the club, Milwaukee fell 6-5 to Minnesota...
The Milwaukee Brewers haven't played good baseball in May, but they also haven't got many breaks, either. One night before the Brewers can finally turn the page on a historically bad month, Milwaukee had a few things go its way in an 8-5 victory over Philadelphia on Friday night. The win allowed the Brewers to avoid the dubious distinction of owning the worst month in franchise...
Chris Parmelee, subbing in for Justin Morneau at first base for the Minnesota Twins on Wednesday night for the team's tilt with the Milwaukee Brewers at Target Field, made a spectacular play in the field, holding on to the ball while tumbling down the steps of the camera well along the first baseline. With two [...]The post Twins 1B Chris Parmelee makes catch while falling down...
Playing with some confidence in their series against the struggling Milwaukee Brewers, the Minnesota Twins could get an added boost if one of their sluggers can return. The resurgent Twins will attempt to win four in a row for the first time since late April on Thursday night when they host Milwaukee, which is looking to avoid its longest skid of the season. Although third baseman...
Aramis Ramirez, the two-time All-Star third baseman, is in his 16th major league season. June has arrived, and his Milwaukee Brewers are last in the National League Central. He knows the trade rumors are coming. "If we don't turn this around, sooner rather than later, it's going to happen," Ramirez told FOXSports.com Friday, before his team began a weekend series...
The Minnesota Twins are back on track following their longest losing streak in two seasons. They still need to figure out how to win at home. Minnesota will try to end a season-high five-game skid at Target Field when its four-game series with the slumping Milwaukee Brewers continues Wednesday night. Since dropping 10 straight for their worst skid since an 11-game slide Sept....
Milwaukee Brewers (19-33) @ Philadelphia Phillies (26-28) Pitching Match-Ups:Friday, 7:05 - Yovani Gallardo vs. C'mon HamelsSaturday, 4:05 - Mike Fiers vs. Tyler CloydSunday, 1:35 - Wily Peralta vs Cliff LeeBeer Makers Bats:R - 208 (22nd)AVG - .256 (13th)OPS - .719 (17th)The Brewers have 5 players that are rocking this year- Jean Segura/SS leads the NL in batting average (.358...
Two home runs by Dom Brown weren't enough against the Brew Crew. (PHOTO: AP) The Phillies, who were averaging just 3.4 runs per game coming into tonight's contest,  put up five runs on Brewers starting pitcher Yovani Gallardo–but lost the game 8-5. Domonic Brown launched two home runs, but was outdone by Jonathan Lucroy who hit two homers along with a double en route to a...
Cole Hamels and Yovani Gallardo are front-line starters for their respective teams, but their records are unbecoming of that status as they fight through struggles. Yet both have reason to be optimistic when they square off in the opener of a three-game series between the Philadelphia Phillies and Milwaukee Brewers on Friday night. Hamels (1-8, 4.43 ERA) has exceeded his loss total...
MLB News

Delivered to your inbox

You'll also receive Yardbarker's daily Top 10, featuring the best sports stories from around the web. Customize your newsletter to get articles on your favorite sports and teams. And the best part? It's free!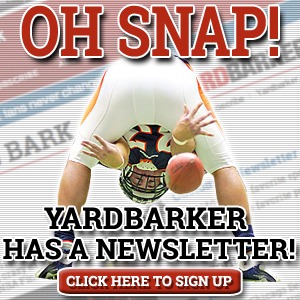 Latest Rumors
Best of Yardbarker

Today's Best Stuff

For Bloggers

Join the Yardbarker Network for more promotion, traffic, and money.

Company Info

Help

What is Yardbarker?

Yardbarker is the largest network of sports blogs and pro athlete blogs on the web. This site is the hub of the Yardbarker Network, where our editors and algorithms curate the best sports content from our network and beyond.