Found April 22, 2012 on Fox Sports Florida:
PLAYERS:
Jeff Mathis
,
Fernando Rodney
,
Joaquin Benoit
,
Rafael Soriano
,
Kyle Farnsworth
,
Joe Maddon
,
Evan Longoria
,
BJ Upton
,
James Shields
,
Jeff Keppinger
,
Jason Kubel
,
Jeff Niemann
,
Denard Span
,
Jamey Carroll
,
Josh Willingham
,
Justin Morneau
,
Wade Davis
,
Ryan Doumit
,
Justin Verlander
,
Albert Pujols
TEAMS:
Minnesota Twins
,
Toronto Blue Jays
,
Tampa Bay Rays
,
Detroit Tigers
,
New York Yankees
,
Arizona Diamondbacks
,
Boston Red Sox
,
Los Angeles Angels
ST. PETERSBURG - This is one day off the Tampa Bay Rays have earned the right to savor. Following their 6-2 victory over the Minnesota Twins Sunday at Tropicana Field, they can kick back Monday on the heels of their fourth victory in the past five games and second consecutive series win. If two out of three ain't bad, then that must mean the Rays are pretty good. They quietly took two of three in Toronto last week and repeated the feat at the Trop over the weekend against the Twins, each time after losing the series opener. That performance keyed Sunday by a club-record four sacrifice flies lifted them to a record of 9-7 in the crowded AL East and keeps the momentum rolling for the next opponent, the struggling Los Angeles Angels. But before they start their three-game home set Tuesday night, the Rays can catch their breath after a grueling 10-game road trip that spilled right into the Twins series without a break. They better enjoy the brief respite Monday it will be their only day off in the midst of playing 26 games in 27 days. Judging from how things went over the past three days, and how they've gone so far, the Rays have reason to be encouraged. Despite some rough spots, there's been a lot to like about the team 16 games into the 2012 season. Once again, they've displayed the resiliency that characterized last year's club the current hot streak follows a listless stretch on the road in which they lost five of their previous six in Detroit and Boston. And once again, they're establishing themselves as a tough team to beat at home, winning 10 of their last 11 and 17 of their last 10 games at Tropicana Field. Their 5-1 start at home this season is the best in club history. And number of folks who've come out to see the team in that span has to be pleasing to Rays brass with the total of 175,613 representing an increase of more than 66,000 over their first six home games in 2011 when the started out 0-6. It's no doubt helped that all six this year have fallen from Friday to Sunday unlike the Tuesday-through-Thursday dates in the dreary start last year but it's still a legitimate positive among many emerging for the Rays. Some of the highlights: They're 7-0 when leading after seven innings this season. Their team ERA in the last seven games stands at 2.47, a considerable improvement over their unsightly mark of 6.75 after getting battered in Boston. Their pitching staff has now gone 43 innings since yielding its last home run (a solo shot by Jeff Mathis last Wednesday in Toronto). The club record is 59.2 innings set in 2006, but this is the longest they've gone without giving up a long ball since 2010. Fernando Rodney continues to emerge as this year's surprise free agent shut-down man. Two years ago, the Rays rode the unexpected dominant arms of set-up reliever Joaquin Benoit and closer Rafael Soriano. Last year, Kyle Farnsworth rose to the forefront as the unofficial closer. And with Farnsworth still out with a sore elbow, Rodney has been a rock. Consider that of the 26 batters he's faced this season, only four have reached safely (two hits and two walks, and one of those passes was intentional) and opponents are hitting .083 against him. Rodney has finished all but one of the Rays' wins this season, and did so Sunday with a 1-2-3 ninth that included one ground out and a pair of strikeouts. "He's been very good so far," said manager Joe Maddon. "He's had great command of all of his pitches. He threw the fastball for a strike and the Bugs Bunny' change-up for a strike. His demeanor has been great. He's nice and calm out there and is a strike thrower. Any time any of us gain in confidence, normally something good is going to happen. His confidence is definitely on the rise." The same appears to be true with third baseman Evan Longoria, methodically erasing any lingering memories of last year's frustrating, injury-plagued start. Longoria hit a recent 3-for-24 skid after beginning the season on a 10-for-20 tear. But he's found the groove again, going 7-for-14 over the past four games. On Friday night, he put the Rays in position to beat the Twins, hammering a two-run homer that put the Rays up 4-2 before the middle relief corps crumbled en route to a 5-4 loss. Saturday, his sixth-inning single helped set up B.J. Upton's bases-clearing single (compounded by a throwing error) for a 3-0 lead in an eventual 4-1 win and another James Shields gem. And Sunday, Longoria notched the game's first hit in the fourth, a towering shot that hit the B-ring catwalk. The ball landed in play and was ruled a double, though Longoria unsuccessfully pleaded his case with umpires that the ball would have cleared the left-field wall. But the deflected double still helped the cause. Longoria moved to third on a Jeff Keppinger's fly out to foul territory in right and dashed home on the first of two Upton sacrifice flies for a 3-0 lead. It was the second time the catwalks played a role in a Rays-Twins game the last time coming in 2010 when a high pop by Jason Kubel off Benoit fell for a go-ahead single in the ninth, propelling Minnesota to an 8-6 win after Tampa Bay tied the score with a six-run eighth. "The fact we're playing Minnesota is part of that," Maddon said of Longoria's catwalk hit. "This always happens when we play Minnesota, it must be a dome thing. That ball was well struck. That was one of the few times that when the ball hits that ring, that it would have been a home run, I believe. Normally it's a pop-up, but that ball was properly struck. That would have been in the blue seats out there had it not struck the catwalk." There was no doubt, however, about the blast lofted by leadoff hitter Desmond Jennings in the fifth, a two-run homer putting the Rays ahead 5-0. It was Jennings' second homer in four games, after hitting only two in his previous 41. The second-year leftfielder has now hit safely in seven of his last eight games, batting .324 (11-for-34). The run support was much appreciated by starter Jeff Niemann, who didn't yield a hit until the fifth inning in his best start of the season. Niemann got in trouble in the sixth, though, giving up back-to-back singles by Denard Span and Jamey Carroll to start the inning and loading the bases with one out after hitting Josh Willingham with a pitch. Jake McGee came on to strike out Justin Morneau marking the fourth straight time he's fanned a lefthanded hitter with the bases loaded. But Wade Davis replaced McGee and was tagged for a two-run single by pinch-hitter Ryan Doumit for Minnesota's only runs. "Everything felt pretty good tonight," said Niemann, who improved to 1-2, going 5.1 innings with three hits , two walks and five strikeouts. "We were throwing a lot of strikes the fastball and we were using the off-speed stuff to keep them off balance." Of course, no Rays starter has kept opponents off balance this season better than Shields (3-0, 2.76). He had three-hit shutout going through eight innings Saturday night, before giving up two hits in the ninth and finishing with a five-hitter in the 4-1 win. That effort followed his superb showing at Fenway Park last Monday, beating the Red Sox 1-0 with three hits over 8.1 innings. Shields has now worked eight or more innings in 18 of his last 34 starts. And he joined Detroit's Justin Verlander as the only other pitcher this year with three starts of eight or more innings. It's worth noting that the Rays have won Shields' last nine starts at home dating back to last July. And he's allowed only one run or less in 14 of his last 24 starts. The Rays have chance to keep the mojo going this week against the Angels, who come to town with a record of 6-10, last in the AL West. Even their prized free agent, slugger Albert Pujols, is struggling. Who'd have guessed he would still be looking for his first home run? Maddon and Co. are fortunate to be catching the Angels for a three-game series when they're down, especially with a three-game road trip to Texas against the dangerous Rangers looming next. But for now, all Tampa Bay players can simply enjoy Monday off a well-earned rest before the grind of a young season kicks back in.
Original Story:
http://www.foxsportsflorida.com/04/22...
THE BACKYARD
BEST OF MAXIM
RELATED ARTICLES
WRONG SPORT
Matt Geiger is a lot of things. He's a former NBA journeyman center who played for the 76ers, Heat and Hornets. He's a Tampa Bay Rays fan. And today, he tried to become Steve Bartman. Rays 1B Carlos Pena was chasing a foul pop-up down over by the wall down the first baseline and had a beat on it until Matt Geiger's seven foot frame appeared out of nowhere. Geiger interfered...
Back in the lineup, B.J. Upton appears ready to once again contribute for the Tampa Bay Rays. Coming off a big performance in his second game of the year, Upton looks to help the Rays to a second straight victory and a series win over the Minnesota Twins on Sunday at Tropicana Field. Coming off a 2011 season where he hit 23 home runs and drove in 81, Upton began this year on the...
Back in the lineup, B.J. Upton appears ready to once again contribute for the Tampa Bay Rays. Coming off a big performance in his second game of the year, Upton looks to help the Rays to a second straight victory and a series win over the Minnesota Twins on Sunday at Tropicana Field. Coming off a 2011 season where he hit 23 home runs and drove in 81, Upton began this year on the...
Date: April 6, 2012 Bottom 2: Matt Joyce struck out swinging against C.C. Sabathia (6 pitches) Bottom 4: Joyce struck out swinging against Sabathia (4 pitches) Bottom 6: Joyce struck out swinging against Sabathia (5 pitches) Bottom 8: Called out on strikes against David Robertson (5 pitches) Final Line: 0-for-4, 4 K  RE24: -1.1 WPA: -0.222 Notes: Clearly an off night for Joyce...
ST. PETERSBURG, Fla. (AP) -- James Shields carried a three-hitter into the ninth inning, B.J. Upton had a key two-run single and the Tampa Bay Rays beat the Minnesota Twins 4-1 on Saturday night. Shields (3-0) allowed one run and five hits over eight-plus innings while winning his third consecutive start after getting a no-decision on opening day against the New York Yankees. Upton...
The Tampa Bay Rays appear close to reaching a deal to sign free agent Hideki Matsui, according to multiple sources. The 37-year-old last played with the Oakland Athletics in 2011, batting .251 with 12 home runs and 78 RBIs. At this point in his career, Matsui is primarily a designated hitter, as his knees make his defense even less suspect. Matsui is expected to sign...
The Tampa Bay Rays would like to bolster their depth at designated hitter and in the outfield and have had discussions with free agent Hideki Matsui. If signed, Matsui likely would receive a minor league contract and be sent to extended spring training before reporting to Triple-A Durham. The 37-year-old has played nine major league seasons for the New York Yankees, Los Angeles...
After two seasons out west, "Godzilla" has returned to the American League East.This...according to Jack Curry of the YES Network.Hideki Matsui is expected to soon sign a minor league deal with the Tampa Bay Rays. Matsui hit .251 with 12 hrs and 72 RBI for A's last yearSure, Matsui heading to the Rays won't make that much of a splash, but this is a guy who, at...
Should have given him two outs just for the sheer entertainment value
Jack Curry of the YES Network is reporting that the Tampa Bay Rays are signing Hideki Matsui to a minor league deal. Last season, Matsui played for the A's, and he had his worst season yet in America. Matsui had a .696 OPS and homered just 12 times in 141 games. Matsui will be 38 in June, and his best years are clearly behind him. Since leaving the Yankees after the 2009 season...
Hideki Matsui might be heading back to the AL East. The former Yankees slugger is close to signing a minor-league contract with the Tampa Bay Rays, according to the YES Network's Jack Curry. Matsui has played the last two years on the West Coast, one with the Angels and one with the Oakland A's. The 38-year-old outfielder hit .251 last year for Oakland with 12 home runs while...
ST. PETERSBURG, Fla. (AP) -- Desmond Jennings had one of the Rays' team record four sacrifice flys and drove in three runs as Tampa Bay beat the Minnesota Twins 6-2 on Sunday. Jennings had a sacrifice fly during a two-run third and made it 5-0 in the fifth with a two-run homer off Francisco Liriano (0-3). Liriano went five innings, allowing five runs, three hits and four walks...
MLB News

Delivered to your inbox

You'll also receive Yardbarker's daily Top 10, featuring the best sports stories from around the web. Customize your newsletter to get articles on your favorite sports and teams. And the best part? It's free!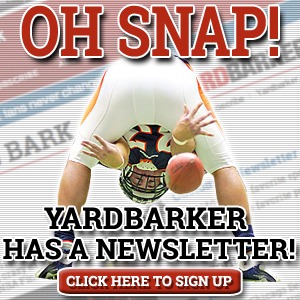 Latest Rumors
The Backyard

Today's Best Stuff

For Bloggers

Join the Yardbarker Network for more promotion, traffic, and money.

Company Info

Help

What is Yardbarker?

Yardbarker is the largest network of sports blogs and pro athlete blogs on the web. This site is the hub of the Yardbarker Network, where our editors and algorithms curate the best sports content from our network and beyond.