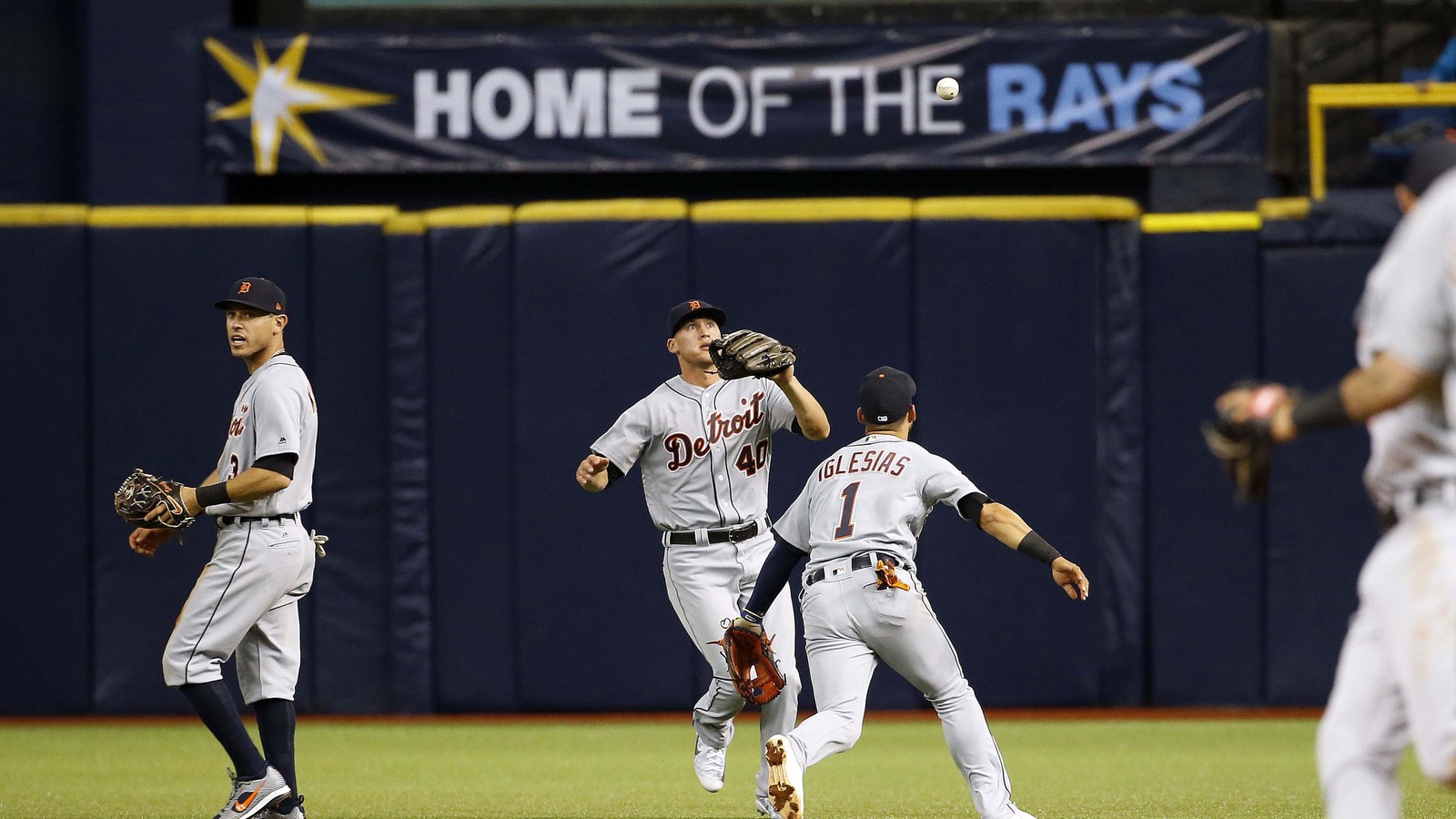 Oh that's just messed up.
Kim Klement-USA TODAY Sports
Very few fans have been showing up to Tampa Bay Rays games this season, but the ones who do are creating one heck of a home field advantage for their team.
In their 8-7 loss to Tampa on Wednesday, the Detroit Tigers allowed two very catchable fly balls to fall between them in the outfield during the game's first three innings. Both happened when second baseman Ian Kinsler ranged into shallow center field and two of his teammates came running in. It's the type of communication play 10-year-olds practice often, so what went wrong?
Following the game, Tigers manager Brad Ausmus admitted that one of the 12,000 or so fans at Tropicana Field was making life difficult on the visiting team.
"Unfortunately, the source of confusion was coming from the stands," Ausmus said, per Evan Woodberry of MLive.com. "Someone in the stands was yelling, 'I got it!' That's why Kinsler went out acting like he had it and then he heard someone say, 'I got it!' so he backed off.
"We had to change our signals. It was the Rays' fans causing confusion."
Alex Rodriguez infamously pulled that move against the Toronto Blue Jays a while back, but Ausmus said it was the first he had seen a fan doing it.
"Never heard of a fan doing it," he said. "I'm not blaming the fan, he's within his rights. … We have to make the adjustment."
Somebody get that fan season tickets.
MORE FROM YARDBARKER:
QUIZ: Name every roster member of the 1984 MLB World Champion Detroit Tigers
The 1984 Detroit Tigers won the MLB World Series, beating the San Diego Padres 4 games to 1. The Tigers were lead by a lights out closer who won the American League's Cy Young Award and the MVP Award. Can you name every player on the Tigers roster?
Clue: Position
MORE FROM YARDBARKER
MLB News

Delivered to your inbox

You'll also receive Yardbarker's daily Top 10, featuring the best sports stories from around the web. Customize your newsletter to get articles on your favorite sports and teams. And the best part? It's free!