Found June 28, 2012 on Fox Sports Florida:
PLAYERS:
Ben Zobrist
,
Hideki Matsui
,
Jose Lobaton
,
Billy Butler
,
Burke Badenhop
,
CC Sabathia
,
Andy Pettitte
,
Everett Teaford
,
Matt Moore
,
BJ Upton
,
Carlos Pena
,
Kelvin Herrera
,
Jeff Keppinger
,
Brooks Conrad
,
James Shields
,
Max Scherzer
,
David Price
,
Justin Verlander
,
Rick Porcello
,
Drew Smyly
,
Luke Scott
,
Jose Bautista
,
Matt Joyce
,
Kyle Farnsworth
,
Fernando Rodney
,
Evan Longoria
TEAMS:
Boston Red Sox
,
Detroit Tigers
,
Tampa Bay Rays
,
Kansas City Royals
,
New York Yankees
,
Toronto Blue Jays
Don't look now, but the Tampa Bay Rays have company an unwelcome visitor that has been trudging upstairs from the AL East cellar and suddenly has made itself right at home. Their bitter rivals, the Boston Red Sox, have tied them for third place. And if things don't improve in a hurry against the Detroit Tigers, who come to town for a four-game series starting Thursday night at 7:10, the Rays could tumble down another flight in the division and find land uncomfortably close to the last-place Toronto Blue Jays this weekend. That's what getting swept in three by the lowly Kansas City Royals will do to you. After two dismal outings against the Royals this week resulting in losses of 8-0 and 8-2 Tampa Bay enjoyed a glimmer of hope Wednesday afternoon in Kauffman Stadium. They battled back from a 4-0 deficit to tie the score 4-all in the top of the eighth inning on a two-run triple by Ben Zobrist. It was Zobrist's third hit of the day in four at-bats, resulting in his third RBI. Unfortunately, there was another three in the mix for Zobrist that undercut his big day at the plate. When the next batter, pinch-hitter Will Rhymes, grounded to short with the infield pulled in, Zobrist bolted for home and was an easy out. That marked the third time in the game he was thrown out on the bases Wednesday, including twice at the plate. The play loomed particularly large when the next man up, Desmond Jennings, lashed his third hit of the game to left field a knock that would have given Tampa Bay its first lead of the series and a chance to leave town on a high note. But slumping Hideki Matsui, pinch-hitting for catcher Jose Lobaton, struck out to end the inning with Rhymes and Jennings aboard. And Kansas City proceeded to make the comeback moot in the bottom of the eighth, when Billy Butler blasted a Burke Badenhop pitch into the left-field seats for what proved to be the difference in a 5-4 victory. So it goes for the Rays, who have now lost 10 of their last 15 games. Just over two weeks ago, they led the AL East by a half a game with a record of 35-25. Now they teeter at 40-35 alongside Boston, and just two games ahead of the Jays (38-37). The best news they got all day came out of New York, where the Yankees announced that lefthanded ace CC Sabathia was going on the disabled list with a strained groin muscle and reinvigorated southpaw Andy Pettitte suffered a broken ankle pitching against the Indians. The Rays certainly can use all the help they can get next week when they host the first-place Yankees (46-28) at the Trop. On the other hand, they made a virtual Royals newcomer, lefty Everett Teaford, look like an ace himself Wednesday in only his second big-league start. Called up from Triple-A to pitch, Teaford held Tampa Bay to only two runs on four hits in five innings on a sweltering day that saw temperatures rise past 100 degrees. His performance topped that of Rays' rookie lefty Matt Moore, who lasted 7.1 innings, yielded four runs two off of solo shots early in the game and was tagged for a season-high 10 hits. The Rays, meanwhile, had their chances but couldn't cash in. In the top of the sixth, they started off with a Teaford walk to B.J. Upton and a Carlos Pena single against the shift to center. Reliever Kelvin Herrera then gave up a single to Jeff Keppinger, scoring Upton to make it 4-1. But Brooks Conrad, who has had his share of big moments since joining the Rays last week in Philadelphia, grounded into a doubleplay. Zobrist followed with a single to score Pena and cut the deficit to two, but he was thrown out trying to steal second to end the threat. It was that kind of day for Tampa Bay and ultimately that kind of road trip starting with the tumultuous three-day visit to Washington, improving with the double-header sweep Sunday in Philly and ending with a 3-6 showing overall following the collapse in K.C. The Rays missed a chance to capitalize on their momentum against the Phillies, getting roughed up by a Royals team that began the series at 31-39 and fourth in the AL Central. Now they have an opportunity to get back on their feet against a struggling Tigers team, third in the Central at 36-38. Detroit took two of three from Tampa Bay at home early in the season, but hasn't looked nearly as tough since then. The Rays could certainly use a big game from Thursday's starter James Shields (7-4, 3.99) against Max Scherzer (6-5, 5.12) to set a positive tone for the series. Friday's 7:10 contest will pit David Price (10-4, 2.95) against Tigers' ace and reigning AL Cy Young Award winner Justin Verlander (8-4, 2.52). The Rays haven't announced their starters for Saturday's 7:15 game or Sunday's 1:40 showdown, though the Tigers will go with Rick Porcello (5-4, 4.71) and Drew Smyly (2-3, 4.48). History hasn't been on their side lately against Detroit. After winning six in a row against the Tigers in 2010, they've gone 3-8 since and have scored only 26 runs in those games. They'll likely regain the services of designated hitter Luke Scott, who has been out the past two weeks with a back injury and completed his rehab assignment in Durham this week. Scott has struggled at the plate this season, hitting .220. But that's been the story for the Rays as a team. Heading into Thursday's game, they were batting .221 in the month of June, tied for the Dodgers for lowest in the majors. As a point of reference, Tampa Bay's lowest batting average in club history for one month is .230 in May 2002. And their 13 homers as a team this month equal the number hit by Toronto's Jose Bautista. Having so many players out with injuries including slugger Matt Joyce, who missed most of the road trip with a sore back has certainly played a part in their current woes. Last year's closer, Kyle Farnsworth, could return to the Rays soon, adding depth to the bullpen though Fernando Rodney is in no danger of losing his stopper status with 21 saves to date. But there's no clear timetable the return of star third baseman Evan Longoria, out since May 1 with a partially torn hamstring. The Rays were 15-8 with Longoria, and now are 25-27 without him. They miss his offense (he was hitting .329 at the time of his injury) and clearly his defense. Tuesday night, they passed the Orioles for most errors committed in the majors with 64, only nine fewer than they made all of last season. They're on track to break the club record of 139 set in 2001. Perhaps seven games at home now can change their luck. If not, the Red Sox appear ready and willing to move into third place and bump the Rays one flight closer to the division basement.
Original Story:
http://www.foxsportsflorida.com/06/28...
THE BACKYARD
BEST OF MAXIM
RELATED ARTICLES
Charles Sweatt, the police chief of the small town of Parker in the Florida Panhandle, was in attendance at Tropicana Field on June 16 for the Rays game against the Marlins, when he felt something sting his leg. At first Sweatt thought he must have been nicked by a foul ball, although upon further inspection there was no ball to be found in his vicinity. What was found, by another...
BULLETS OVER BROAD-RAY?
A fan taking in a Tampa Bay Rays game at Tropicana Field earlier this month was struck in the right thigh by a falling bullet of unknown origins.
BLOODIED AND BATTERED
A ground ball by Tampa Bay Rays batter Carlos Pena deflected off the glove of Kansas City Royals first baseman Eric Hosmer and hit first base umpire Brian Gorman in the face during Wednesday's game at Kaufmann Stadium. Hosmer's error in the top of the eighth inning bloodied Gorman, who had to be treated by trainers for a cut on his face. However, Gorman was able to stay...
If it wasn't already difficult enough for the Tampa Bay Rays to attract fans to its decrepit ballpark, Tropicana Field, to root, root, root for the home team, marketing folks are now faced with dealing with yet another deterrent: fans being struck with what police have deemed a "falling bullet." Charles Sweatt, 54, a police [...]
ST. PETERSBURG, Fla. (AP) -- The Tampa Bay Rays activated designated hitter Luke Scott from the 15-day disabled list and have him batting cleanup against the Detroit Tigers on Thursday night. Scott has been sidelined since June 15 because of back stiffness. To make room on the roster, right-handed pitcher Chris Archer was optioned to Triple-A Durham. Scott is batting .220 with...
James Shields made his 200th career start Thursday, but the milestone turned into a mess. The Tampa Bay Rays right-hander allowed a career-high and team-record-tying 14 hits in a 5-2 loss to the Detroit Tigers. Shields matched the dubious mark shared by Edwin Jackson, Jeremi Gonzalez and Tanyon Sturtze. "Everything I was throwing, they were finding a hole," Shields...
David Price and Justin Verlander are set to start against each other for the first time. Verlander will be searching for his fourth straight win Friday night when his Detroit Tigers try to hand Price's Tampa Bay Rays a season-high fifth straight defeat. The marquee game of this four-game set that began Thursday figures to be this matchup of Verlander (8-4, 2.52 ERA) - the reigning...
Tampa Bay Rays starter James Shields said the only bad pitch in his last outing turned into a three-run homer. The three-run homer Max Scherzer surrendered the last time he took the mound was the least of his concerns. Shields will try to help the Rays avoid a season high-tying fourth consecutive loss in Thursday's four-game series opener in St. Petersburg, where Scherzer gets...
ST. PETERSBURG, Fla. (AP) -- Max Scherzer struck out seven in six innings and Miguel Cabrera had four hits and drove in two runs to lead the Detroit Tigers to a 5-2 victory over the Tampa Bay Rays on Thursday night. Scherzer (7-5) allowed two runs and four hits in his second start following the death of his brother earlier this month. The right-hander was replaced after walking...
Billy Butler greeted reliever Burke Badenhop with a solo home run in the eighth, powering Kansas City to a 5-4 victory on a scorching Wednesday afternoon and a three-game sweep of the Tampa Bay Rays. Mike Moustakas and Alcides Escobar also homered for the Royals, who got their first three-game home sweep of the Rays since 2001. Aaron Crow (1-1), the fifth Royals pitcher, was the...
MLB News

Delivered to your inbox

You'll also receive Yardbarker's daily Top 10, featuring the best sports stories from around the web. Customize your newsletter to get articles on your favorite sports and teams. And the best part? It's free!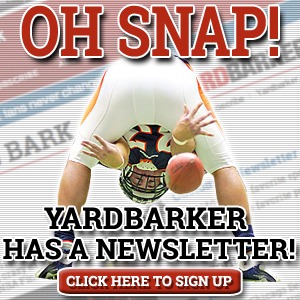 Latest Rumors
The Backyard

Today's Best Stuff

For Bloggers

Join the Yardbarker Network for more promotion, traffic, and money.

Company Info

Help

What is Yardbarker?

Yardbarker is the largest network of sports blogs and pro athlete blogs on the web. This site is the hub of the Yardbarker Network, where our editors and algorithms curate the best sports content from our network and beyond.